Barrel Aged ThunderSnow
| Flossmoor Station Restaurant & Brewery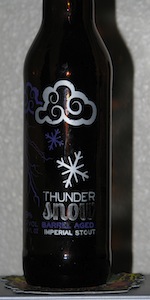 BEER INFO
Brewed by:
Flossmoor Station Restaurant & Brewery
Illinois
,
United States
flossmoorstation.com
Style:
Russian Imperial Stout
Alcohol by volume (ABV):
9.00%
Availability:
Limited (brewed once)
Notes / Commercial Description:
Russian Imperial Stout aged in Woodford Reserve barrels.
Added by MasterSki on 04-21-2013
This beer is retired; no longer brewed.
Reviews: 9 | Ratings: 77
3.67
/5
rDev
-0.5%
look: 4 | smell: 3.75 | taste: 3.5 | feel: 3.75 | overall: 3.75
Thanks to Robbie for this bottle. White Wax.
Poured in to snifter.
A - Black with a thin layer of mocha-brown head.
S - Chocolate fudge, charred oak and lighter bourbon and vanilla aromas with just a touch of roast coming through.
T - A huge charred oak presence dominates throughout and is complimented by a big roast profile, espresso and a piney hop flavour. An ashy flavour that is not off-putting at all, but is defintiely present. Not much bourbon or vanilla at all.
M - Medium body. Light carbonation.
O - There was a little too much oak in this one without the complimentary bourbon and vanilla notes that I expect from bourbon barrel again.
656 characters

3.62
/5
rDev
-1.9%
look: 3 | smell: 4 | taste: 3.5 | feel: 3.75 | overall: 3.5
On-tap at the brewpub.
A: Black body with clear garnet highlights; thin ring of fine light brown bubbles. Average.
S: Nice mix of roasted coffee and barrel - vanilla, bourbon, and char. Some dark chocolate and anise, too. Good.
T: Bourbon up front, with spice, oak, and vanilla standing out. Roastiness toward the end, with lots of coffee. Huge, boozy finish. Raw bourbon-drenched oak on the aftertaste. Intense, and a bit unbalanced.
M: Initially slick, ultimately creamy, medium-full body. All right.
O: Pretty tasty, and very flavorful, but too boozy for 9% and just not terribly coherent. I expected better.
Cheers!
625 characters
2.39
/5
rDev
-35.2%
look: 3.5 | smell: 2 | taste: 2 | feel: 3.5 | overall: 2.75
I had this on tap at the pre-Dark Lord party, so I bought a few bottles and aged them. I thought the beer was decent when I had it on tap, but something is very wrong with the bottle version.
Appearance - The most appropriate part of the beer was the appearance. Brownish-black with a vey modest head was the appearance. Did I mention that I needed a chisel to get the wax off the bottle?
Smell - I first I noticed the bourbon, but then it was not quite bourbon. There was something lime-like about the aroma.
Taste - The booze came to the front with some chocolate and coffee, but then there was this intolerable lime taste. What the hell happened to this once good beer. I could not continue. It was a dumper.
Mouthfeel - It had the thickness of a stout, but not the taste.
Overall - I had this on tap and thought it was pretty good. I don't know what happened to the bottle. And I still have another bottle.
916 characters

3.3
/5
rDev
-10.6%
look: 3.75 | smell: 3.75 | taste: 3 | feel: 3.25 | overall: 3.25
I know it's simple and whimsical, but I like the labeling.
L - Pours a black body, doesn't seem too thick, and has a khaki one finger or less head.
S - The oak bourbon barrels hit you first. Afterwards, big whiffs of roasted malts and caramel/toffee.
T - In your face oak at first with boozy bourbon following. Then some bitter dark chocolate and roasted malts. It's all over the place. Not refined or svelte, just a take it or leave it hit to the taste buds.
F - For an imperial stout, very watery body. Has medium carbonation, slick and a wet finish.
O - Just not put together well at all. Something was off with the look, the smell was on point, the taste was all over the place and the feel wasn't imperial stout like. Overall, could have been better at a number of categories.
788 characters
4.27
/5
rDev
+15.7%
look: 4.25 | smell: 4 | taste: 4.25 | feel: 5 | overall: 4.25
Big thanks to sleuthdog for hooking me up with this bottle!
Pitch black with a creamy thin beige head that retains well, leaving thick lace and clouds of beading beneath, subtle booze legging.
Charred milk chocolate aromas with vanilla and cinnamon (?). Some nutty brown ale notes, mild fruit character, marshmallow or something like that. Not your typical BA imperial stout in this regard. Smells nice.
The first thing I notice is the mouthfeel... perfect creaminess that provides a great platform for the rest of the beer. S'mores, milk chocolate, very mellow bourbon, honey... I can see why this beer would receive a mixed set of ratings. It's rather unusual but, personally, I really dig it. Perfect consistency with a wide range of unexpectedly mild flavors.
I wish I had another one of these. Thanks Jon!!
817 characters

3.33
/5
rDev
-9.8%
look: 3 | smell: 3.75 | taste: 3.25 | feel: 3.5 | overall: 3
On tap at Release
A - Dark black coffee with a small cocoa colored head 3
S - Vanilla, burnt malt, dark chocolate and anise
T - Roasted chocolate and lots of anise up front. There is a heavy barrel presence that comes throught that gives it a slight bourbony sweetness. There are also plums and other
dark fruits. The finish is where the beer starts to lose me as it is very bitter from roasted malt and dark chocolate flavors
M - Medium body with light sweetness. The finish is a bitter astringency. You also get some warming presence from the booze.
O - A really roasted and dark chocolate dominated RIS that is too bitter in the finish for me to really enjoy it.
671 characters
3.83
/5
rDev
+3.8%
look: 4 | smell: 4 | taste: 3.75 | feel: 3.75 | overall: 3.75
poured from a bottle into founders snifter glass
pour dark small head maybe 1/4 inch
smell is nice roasty malty not much bourbon
taste is smooth has a nice coffee bite to it really good stout
not hot although not much bourbon flavor to it
smell is pretty good it has nice coffee smell to it and taste
pretty good stout not in the top level but it was enjoyable
361 characters

3.96
/5
rDev
+7.3%
look: 4.25 | smell: 3.75 | taste: 4 | feel: 4 | overall: 4
A: typical RIS colored boded, poured into a tulip created about 1/2 fingers worth of khaki colored head that dissipated rather quickly.
S: bourbon and caramel right up front with very subtle chocolate and coffee presence. not a whole lot going on here, but i do enjoy that bourbon
T: again bourbon is the main player here, but there is a nice sweet caramel,an ever so slight touch of vanilla in the finish but doesn't linger too long before a bitter dark chocolate and slight hops wash it away. similar to the nose, there's not a whole lot going on here
M: lighter than I'd like for a bourbon barrel aged beer. it leaves a slight bitterness on the palate that forces me to take another sip to acquire that sweet bourbon and caramel that my taste buds first recognized.
O: lacks complexity that is usually seen in BBA brews, but it does have a fairly nice balance in its flavors. I'd like to see it have a bit more body as well. but with that being said, it is fairly decent brew, but most likely not worthy of its price.
1,024 characters
4.54
/5
rDev
+23%
look: 4 | smell: 4.25 | taste: 4.75 | feel: 4.25 | overall: 4.75
The pour results in a dark brown/black oil slick with tan foam and light lacing.
The nose imparts a lot of oak, mixed with toffee, alcohol phenols, caramel, roast, and slight char.
The taste mirrors the nose with an emphasis on the bourbon and toffee.
Mouthfeel is on the thin side of what I prefer, but it sits well and keeps this very drinkable.
Overall, No single part is overwhelmingly fantastic, but when combined in the whole- this is truly a great beer. Very enjoyable.
481 characters
Barrel Aged ThunderSnow from Flossmoor Station Restaurant & Brewery
3.69
out of
5
based on
77
ratings.