Eichhofener Eichator
| Schlossbrauerei Eichhofen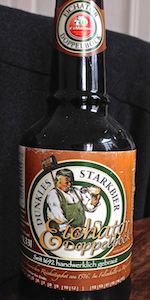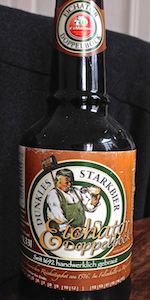 BEER INFO
Brewed by:
Schlossbrauerei Eichhofen
Germany
Style:
Doppelbock
Alcohol by volume (ABV):
8.00%
Availability:
Winter
Notes / Commercial Description:
No notes at this time.
Added by Ciocanelu on 11-22-2013
HISTOGRAM
Ratings: 5 | Reviews: 3
Reviews by boddhitree:

4.81
/5
rDev
+15.6%
look: 4.75 | smell: 5 | taste: 4.75 | feel: 4.75 | overall: 4.75
The best buy date on the label below is April, 2014, and I ordered it on Nov. 23,2013 so it was right from the brewery to my living room table. It's also a 0.33L bottle, which for a 7.0% beer isn't too bad.
Appearance: Dark amber, browns, reds, not black but verging on it, very dark but still see through and clear when held up to the light. The beer is under a vanilla-white head that dissipated quickly. The pic makes the head look tan and darker, but in reality, it's not.
Aroma: The first whiffs give you sweet, roasted malts exploding into the nose. I get lots of München malt, Aroma, maybe Wiener malt, incredible amounts of caramel with a hint of burnt brown sugar and lots of umami. Wow... love the aroma... no alcohol and a almost no hops, either, just a blast of malts. Just the aroma is WOW.
Flavor: The front has a lot of burnt roasted malt with a hint of bitterness of the hops. I also get a little tang of tartness here. The tartness spreads into the center of the tongue, and here is also where we feel the slight burn of alcohol to remind us of its bockness, giving a slight whisky cask flavor to it with complex flavors of tart cherries, raspberries and underlying tones of vanilla and the burnt sugar of a creme brûlée. The back is all caramel malts, whatever the combo they used of München and Melanoidens, Amber and Red malts, as also evidenced by the beer's red/amber color. Here's also where the alcohol kick is a little noticeable, not burning at all, but just there like a 40+ old whiskey. It really tastes like it's been lagered in a whiskey cask, though I don't think it was. The back also has that wonderful tart/sour cherry flavor that reminds me of a homemade cherry-rum concoction a student of mine gave me as a Christmas present. Maybe it's a hint of smoked malt? I don't think so, but it's incredibly complex. It's also got a hint of plums, a very little red wine going for it, too. The aftertaste is all malts, roasted and caramel, and cherries, the same flavors as all through the beer.
Mouthfeel: Very thick, warming, wonderful, feels "wet" (the opposite of dry?) and süffig, going down wonderfully like a 40+ year old whiskey.
Overall: WOW... the complexity of this beer is outstanding. It's vinous, like an old bottle of port stowed away in a cellar for 30 years, it's got caramel of a Märzen, it's got roasted malts, it's got umami of burntness, though I don't get the chocolate and other flavors mentioned by other reviewers on BA and RB. I have to say when i drank it dinner a few weeks ago, I wasn't impressed. The sweetness probably interfered, yet as a post-dinner, it's wonderful. It's such a complex beer, no straight-forward flavors except the malts, but all kinds that hit you on all sides of your mouth. I also like that it's not a cloying sweetness I've had from some Bayrische beers so strong I couldn't finish the glass, let alone the bottle. The tartness upfront and in the center is refreshing and gives a nice balance to all the roasted and caramel malt sweetness. Again.... a WOWwow beer.
3,057 characters
More User Reviews:

4.05
/5
rDev
-2.6%
look: 4 | smell: 4 | taste: 4 | feel: 4 | overall: 4.25
My first beer in the excellent Weiss-Blau, a Bavarian beer and food set up in Charlottenburg, Berlin on 17th Jan 2014.
0.33 litre bottle.
Good dark amber/brown body, large head beige to off-white in colour: I poured it my self into a half-litre glass, so had plenty of room to pour robustly.
The nose is all about over roasted malts and what aromas they produce, caramel being the dominant one in this brew, other malty molasses type smells arrive by the bucket load as you take deep sniffs of this obviously sweet beer.
The taste is again all about those roasted malts, the flavours given off being very similar to the aromas but with an undertone of balsamic vinegar which gave an oldness feel to the flavours, this added an extra dimension to the whole thing. It almost became Port like in taste.
Rich, tasty, interesting, complex and powerful: a very good Doppelbock in every sense.
892 characters


4.45
/5
rDev
+7%
look: 4 | smell: 4.5 | taste: 4.5 | feel: 4.25 | overall: 4.5
Pours dark brown, with red tones, nice sticky head.
Smells of milky chocolate, vanilla, dark spices, nuts and some toasted biscuity malts.
Sweet and rich dark chocolate up front, the kind of taste expected from a chocolate stout. Coffee notes,lots of caramel and lots of nuts, dark roasted biscuits. Spicy, with cinnamon, vanilla and also some anise. A certain earthy/woody feel. Herbal hops are felt in the finish, producing a nice bitterness, alongside the roastiness.
Very light and drinkable for its intense flavours. Warm alcohol, barely felt.
A great doppelbock, tasty and balanced, perfect for the winter season.
619 characters
Eichhofener Eichator from Schlossbrauerei Eichhofen
Beer rating:
4.16
out of
5
with
5
ratings