Terrestrial India Brown Ale
| Wellington County Brewery
BA SCORE
82
good
36
Ratings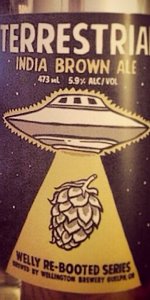 BEER INFO
Brewed by:
Wellington County Brewery
Ontario
,
Canada
wellingtonbrewery.ca
Style:
American Brown Ale
Alcohol by volume (ABV):
5.90%
Availability:
Rotating
Notes / Commercial Description:
No notes at this time.
Added by hopsolutely on 03-17-2012
Reviews: 11 | Ratings: 36

3.27
/5
rDev
-7.6%
look: 3.5 | smell: 3.25 | taste: 3.25 | feel: 3.25 | overall: 3.25
Comes across as rather light given it has s slightly higher than average alcohol​ content. Hoppier than you'd figure a brown ale to be, a little too sweet. Just makes for something a little unusual in not quite a good way. The malt sorta wins out in the end, but call it a pyrrhic victory. A noble effort, but not something i would go looking for.
349 characters
3.94
/5
rDev
+11.3%
look: 4 | smell: 3.75 | taste: 4 | feel: 4 | overall: 4
I don't mind this beer but the end result of hopping this brown ale doesn't quite bring the flavours together all that well. Not quite as much smooth malty/caramel/bready taste as a good stout or porter and yet enough to mask what I might enjoy from the hops if they were more forward. A touch of unpleasant bitterness can be sensed just at the finish. As someone who enjoys a nice hoppy IPA or a good smooth stout, I would have this again & enjoy it, but won't seek it out.
477 characters

4.63
/5
rDev
+30.8%
look: 5 | smell: 4.5 | taste: 4.5 | feel: 5 | overall: 4.75
This is one of the best beers I've tried this summer. Pours a gorgeous dark brown with a slight red tinge with a thick, luscious ample tan head. I am not normally attracted to the beers from the Wellington brewery, but this one is a great blend.... A nice zippy hop bite with a very nice caramel-roasty backbone from the malt. Medium finish. This begs to be paired with some fish and chips!
392 characters

3.64
/5
rDev
+2.8%
look: 4 | smell: 3.75 | taste: 3.5 | feel: 3.5 | overall: 3.75
Funny enough, Terrestrial has an earthy brown tone. It's dark but not muddy; clarity and even the odd highlight are pretty easily observed. Its head is so ultra foamy that you'd think a milk frother had to have been used. And the lacing it leaves clings to the glass like tight, wet leather.
There's a fair amount of underlying cocoa in this bouquet, but it's the hops that catch your attention. A blend of five very fragrant varieties (Chinook, Centennial, Cascade, Sorachi Ace, Amarillo) provide a perfumed mix of herbal, grassy, and vaguely citric aromas.
But for all their efforts, those pithy and weedy notes don't amount to enough; malt is still very much part of this picture. Flavours of milk chocolate, toasted nuts and faint suggestions of dried fruits are in no short supply and mingle with the bitterness all through the finish.
I found it curious the brewery called this an "English-style Brown Ale" despite using a plethora of distinctively American hops. Now I get it. The increased hoppiness notwithstanding, this is very mild. In fact, that's my only complain about it: it's too restrained.
Terrestrial is very much of this world. Specifically, it is of the typically underwhelming, conservative world of OCB (Ontario Craft Brewers Association). It's a potentially rip-roaring recipe that needs to be let off the leash. I like it, but I'd love it if only it were a little further outside Wellington's usual comfort zone.
1,448 characters

3.33
/5
rDev
-5.9%
look: 4 | smell: 2.75 | taste: 3.5 | feel: 3.25 | overall: 3.5
750 ml bottle served just above fridge temperature into a snifter. Purchased for under $10 CDN at the LCBO.
Appearance - hazy dark brown coloured beer capped with two fingers of ivory head.some lacing and good retention.
Smell - nuts, dark fruit and some caramel. Maybe some leafy hops. Repeated sniffs give off an off aroma of subtle cat piss. Thankfully it's not prominent but still some demerits for that.
Taste - nuts and a hint of dark fruit with some wooden flavours. A touch boozy, you can tell this is a stronger brown ale. Some substantial bitterness in the second half of the beer.
Mouthfeel - smooth and some creamy, light enough body and good carbonation. However it's a bit hot with boozy at times which isn't what I'm looking for in a brown ale.
Overall - a beer that has its merits, but definitely not a great brown. A bit too much cat piss on the nose and while it was never the first sniff it did show up at multiple times ( I really wanted this to be better ). The heat on the end sealed this as disappointing, might try again from a can bony wont repeat the bottle purchase.
1,098 characters

3.92
/5
rDev
+10.7%
look: 4.25 | smell: 3.5 | taste: 4 | feel: 3.75 | overall: 4.25
750 mL flip-top bottle from the LCBO; packaged Mar 18 2015 and served slightly chilled.
Pours a deep, translucent chestnut-brown colour, with some ruby-red tinges under the light. Seated atop is a one-inch crown of creamy, light beige-coloured head that becomes lumpier and sparser over the next five-plus minutes, eventually dissipating away into a filmy cap and wide, frothy collar. Tons of beautiful lace; this is a nice-looking brown ale. The aroma is a balanced mélange of sweet toffee, brown sugar and bready, lightly-toasted nutty malts, with an equivalently-sturdy complement of earthy, floral, and mild citrusy notes, courtesy of the hop bill. Not particularly aromatic, but still appealing - albeit in a subtle way.
This is a pleasant little brown ale - well-hopped, for sure, but nothing too out-of-proportion in relation to the rest of the flavour profile. A touch of toffee/caramel sweetness comes through initially; some bread crusts and toasted nuts, with citrusy flavours of grapefruit and orange pith also contributing strongly. Not particularly resiny/piney, but I do get mild hints of those flavours. Finishes with an earthy, somewhat floral astringency, which (along with some of those toasted malts) carries on into the lovely bittersweet aftertaste. The mouthfeel is on the lighter side of medium-bodied, with light carbonation levels and a somewhat creamy, frothy feel on the palate. Could use a bit more viscosity, but that's a minor complaint; it's still a mostly-satisfying presence in the mouth. Not really sessionable, but for a 'strong', hoppy beer it's more drinkable than average.
Final Grade: 3.92, a very respectable B+. Wellington's Terrestrial India Brown Ale is a highly quaffable little beer, and certainly one of my favourite Wellington brews to date. It's not too complex, but quite well-constructed - I'd definitely recommend picking up at least one bottle to try. I enjoyed both of the two bottles I picked up, but given the premium price point it's hard to justify further repeat purchases - the large-bottle format seems unnecessary for this beer (although the swing-cap makes them nice for homebrewers). But if they pump some tallboys full of this stuff, and make it a seasonal/permanent fixture at the LCBO? I'd definitely change my tune.
2,289 characters

3.69
/5
rDev
+4.2%
look: 3.5 | smell: 3.25 | taste: 4 | feel: 3.5 | overall: 3.75
Quite an interesting ale. The nose has hints of bread yeast with caramel and a slight hint of citrus.
Dark mahogany colour with a cream to tan coloured head. It poured thick yet dissipated quickly. As I sipped the brew, a decent lace was on the glass.
Mouthfeel was smooth.
Taste at the beginning is a combination of caramel, a hint of chocolate and malt. The finish is dry with a generous bitters end.
405 characters

3.16
/5
rDev
-10.7%
look: 3.75 | smell: 3.25 | taste: 3 | feel: 3.5 | overall: 3
Terrestrial India Brown Ale pours nice and dark with a foamy brown two finger head which breaks eventually leaving sticky lacing in its wake. For a beer that claims to be hop heavy, the nose is remarkably underwhelming. One can pick up malts and caramels as well. The taste was low on hops again, but they were present later in the palate. The dominant tastes were malts, nuts and chocolate, which is perhaps typical of a brown ale. a light feel and medium carbonation add to the enigma of this beer.
I was expecting something else. I admit it. I wanted something hoppier and with more oomph. Even without the hoppy oomph Terrestrial left me wanting more. I see potential in this beer, it just needs to be amped up and let loose.
736 characters
2.75
/5
rDev
-22.3%
look: 3 | smell: 3 | taste: 2.5 | feel: 2.5 | overall: 3
Can: Poured a clear medium brown color ale with a medium size foamy head with OK retention and some lacing. Aroma of grainy malt with light dry caramel notes with some funky and lightly citrusy hops notes. Taste is a weird mix between some unrefined grainy cereal notes and some stale hoppy notes with light citrus undertones. Body is about average with good carbonation. I either got a bad can of this or maybe it just didn't fit my style but I though the hops were stale and lacking and the malt base used wasn't the greatest.
532 characters

3.5
/5
rDev
-1.1%
look: 3.5 | smell: 3.5 | taste: 3.5 | feel: 3.5 | overall: 3.5
Can at C'est What, 473ml into a tulip.
Dark brown with some violet highlights and a beige head. Creamy in texture, but extremely short lived. A collar remains and only a shred of lace. Nose has some brown ale character, but substantial hop notes are dominating. Harsh grapefruit and some other citrus, some dark bread and a bit of caramel. Flavour has both prominent breadiness and malt flavour, again, grapefruit among other citrus. Just a ton of bittering hops here, not much in the way of flavouring or dry-hopping. Medium body, and a lingering bitterness that I didn't really care for. An OK beer, but doesn't have enough flavour or intrigue to warrant revisiting again.
676 characters
3.73
/5
rDev
+5.4%
look: 4 | smell: 3.5 | taste: 4 | feel: 3.5 | overall: 3.5
Pours a beautiful dark and clear mahogany amber, with decent off-white head and lacing. Mouthfeel is pleasant, but a tad thin and carbonation is not overwhelming.
Am currently enjoying a can purchased at the brewery on the day of its release. Have enjoyed this beer on draught at Wellington and at the Kick Off (Waterloo) - and it is has a much superior aroma and flavour depth when on tap. However this is a review of the can, from which the aroma is almost uni-dimensional caramelized malts with a subtle nut spice undertone. The flavour has a delightful dry hopped finish, but a rather simple caramelized malt sweetness in the mouth. Again, a better balanced and more complex taste in the 3 kegs I've tried.
Although this first batch can't compete with DogFish Head India Brown Ale (of which I just had a sip and it remains superb), it is fantastic to see Wellington attempting hopped one-offs and I hope they continue!!! Definitely moving in the right direction...
975 characters
Terrestrial India Brown Ale from Wellington County Brewery
3.54
out of
5
based on
36
ratings.