Whole Hog Smoked Porter
| Indian Wells Brewing Company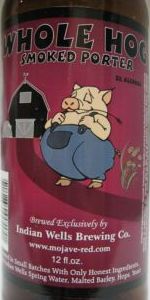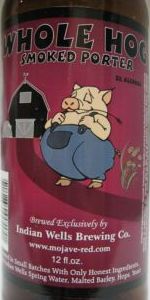 BEER INFO
Brewed by:
Indian Wells Brewing Company
California
,
United States
mojavered.com
Style:
American Porter
Alcohol by volume (ABV):
5.00%
Availability:
Year-round
Notes / Commercial Description:
No notes at this time.
Added by jonziefle on 02-17-2010
HISTOGRAM
Ratings: 9 | Reviews: 9
None found.
More User Reviews:

2.06
/5
rDev
-22.3%
look: 3 | smell: 2 | taste: 2 | feel: 3 | overall: 1.5
12oz bottle from Whole Foods Los Altos.
Pours very dark brown with a quickly fading tan head.
Whole hog, huh? It really smells like they threw a whole hog into this beer. Aroma is burnt smoked bacon and pork rinds. Lots of pork rinds. I am really disturbed right now. Apparently they only used water, malt, hops, and yeast, but did they happen to store the malt in a burning pig carcass by any chance?
Flavor starts off like an average, but somewhat lightly flavored, smoked porter. Roasted malt and smoke dominate. But then, bam! You get a massive pork slap across the face. Smoky bacon, pork rinds, and beef jerky. The pork rind taste is so strong that you can almost feel the crispiness. The aftertaste is brutal. Just pork rinds all the way. This is really one of the strangest beers I have ever tried.
Medium-light body and actually a fairly smooth mouthfeel with less wateriness than most other Indian Wells beers.
Drinkability is really low, especially because I started to get sick after about 2 ounces of this beer. Overall, well, I feel bad faulting this beer too much, because they really pulled off the bacon/pork rind thing well, if that's what they were going for. They should rebrand this as a straight-up pork rind beer and go for the niche market. They could probably do pretty well among hardcore pork rind fans. There really aren't any off-flavors besides that, which is nothing short of a miracle considering the intense cooked veggie notes that other Indian Wells beers tend to have. For those of us who don't love pork rinds, this is a little tough to stomach. Drain pour for me.
1,606 characters
2.9
/5
rDev
+9.4%
look: 2.75 | smell: 2.75 | taste: 3 | feel: 3.25 | overall: 2.75
Consumed June 19th, 2010. Bottle obtained directly from brewery on May 30th, 2010. Consumed in "special" Samuel Adams glass.
Beer is a very dark brown with slightly lighter brown highlights. Almost no head on a moderate pour; a thin ring of tan foam was gone very quickly.
Aroma is vague: hint of roasted malts is all I'm getting.
This is a salty beer! As others have noted, it is similar to eating pork rinds and washing them down with a porter. The porter part of the flavor is not bad, though not bold, either; dark roasted malts, a hint of smoke and chocolate. They ought to have come out with this as a standard porter and the pork version as a special beer, IMHO. Interestingly, no mineral water or vegetable flavor as in other Indian Wells beers.
Mouthfeel is average, save for a nice touch of creaminess.
The most drinkable of the Indian Wells beers I have tried, though that's actually fairly faint praise.
922 characters

2.61
/5
rDev
-1.5%
look: 3 | smell: 2 | taste: 3 | feel: 2.5 | overall: 2.5
Black with a tan head, thin ring of retention leaves hints of lace.
Aroma of sour grain, cola/caramel, licorice and a faint smoke. That had me a little worried, but the taste is alright: dark rye bread, balanced bitterness, cola, light smoke, licorice and a slight acidity.
Light to moderate body has a pleasantly modest carbonation, light grainy acidity.
There's not really anything wrong here, it's just not that good.
423 characters
3.08
/5
rDev
+16.2%
look: 3 | smell: 2.5 | taste: 3.5 | feel: 3 | overall: 3
Poured from a 12oz bottle into my Sam Adams Perfect Pint glass...
A - Pours a very dark, deep mahogony color, letting only a little light come thru. Almost no head.
S - Smokey, salty aroma. On a second smell, kinda has the smell of olives, salty and slightly vinegary.
T - Vinegary smell carries over to the taste a little, while the smoke hits you on the aftertaste.
M - Has a medium-light mouthfeel, but slightly lacking in carbonation.
O - This is definately a different smoked porter, because of the salty, smokey, vinegary smell and taste. This beer would be great with your favorite salty snack, and at 5%, you can drink a few of these. Not bad...
659 characters
3.63
/5
rDev
+37%
look: 4 | smell: 3.5 | taste: 3.5 | feel: 3.5 | overall: 4
poured from a bottle into my new belgium tulip pint glass. Minimal head with a vigorous pour, splotchy off white tan and dark mocha colored. The body is dark, just straight up jet black with no tints or tinges around the edges.
The scent is very malty, the smoked aspect comes through in the forefront alluding to a bacon flavoring that many smoked brews take on.
The flavor is smokey with slight hints of bacon but I get more of the actual woodiness in that, like dark mahogany and oak set over a fire. The malt takes a creamy aspect which sweetens the brew with a kind of undefinable straight dark brown sugar flavor. The hops are definitely there if you care to look, for a straight up porter style brew they are right where I would expect them to be, a refreshing aftertaste but out of the way so the malty flavors hit the palate in the forefront.
The mouthfeel is pretty good, very balanced to be honest. The malty thickness imparts a creamy feel initially while the hops and carbonation keep that from getting to imperial-stout like thick. The mouthfeel and flavor combined give this brew some solid drinkability session-wise, this wouldn't be my go to darker type sessioner but it's not bad, worth a try at least if your trekking through the desert up the 395.
1,271 characters
2.8
/5
rDev
+5.7%
look: 3 | smell: 3 | taste: 2.5 | feel: 3 | overall: 3
I logged in to see the experiences of others. I bought a 6-pack of this and just tried the first one... upon the first sip I tasted like this weird roasted red pepper kind of thing. I guess that is the smoky part of it? I don't usually eat pork rinds so maybe they taste like that as well? Anyway, this is indeed a very very weird beer and I am glad it was heavily discounted at Whole Foods. Not worth a cent more than the $5.99/6 I paid.
Definitely not my favorite beer, but an ambitious experiment, I guess. Might be fun to cook with it.
541 characters
1.84
/5
rDev
-30.6%
look: 3.5 | smell: 2 | taste: 1.5 | feel: 1.5 | overall: 2
I love Smoked Porters, my favorite being the Alaskan Smoked Porter. I was obviously looking forward to trying this.
I had it on tap at their tasting room.
It was dark in color, about what you'd expect from a smoked porter.
The aroma was your basic run of the mill porter. No overpowering notes of anything. It smelled like a beer, nothing more.
The taste was quite light, practically no carbonation. In fact it tasted flat (which i've found most of their beers to be), like a light version of a porter.
It had almost no mouthfeel to it. No lingering notes on the taste buds. It went down smoothly.
Overall, one pint on tap was enough for me. It's not a beer i'd rush back to try.
687 characters

2.5
/5
rDev
-5.7%
look: 4 | smell: 1.5 | taste: 3 | feel: 3 | overall: 2
I wanted to review this beer because hardly anyone has. This beer is not as bad as people have said. I found it to be a nice tasty sipper. I am kinda drunk, but still, this beer is kinda tasty... It's way better than drinking anything you can find at a liquor store open this late.
281 characters
2.44
/5
rDev
-7.9%
look: 4 | smell: 2.5 | taste: 2 | feel: 3 | overall: 2.5
Appearance: Poured a completely opaque black color. 1.5 finger brown pillowy head, with only okay retention. Too dark to see any visible carbonation. Decent lacing.
Smell: Roasted malts and an odd strong smell of cooked popcorn. Mild sweetness and some coffee fragrance.
Taste: Roasted, maybe burnt, malts with the same popcorn like flavor. Some coffee and some dark chocolate, but in the background. Mild sweetness.
Mouthfeel: Medium bodied with a big carbonation bite on the front of the tongue.
Drinkability: A good looking beer, but the popcorn like smell and taste are very off putting. I found it hard to keep drinking this one.
Buy Again? No
663 characters
Whole Hog Smoked Porter from Indian Wells Brewing Company
Beer rating:
2.65
out of
5
with
9
ratings