Ballistic Brewing Co. - Gorgon Red Ale
| Indian Wells Brewing Company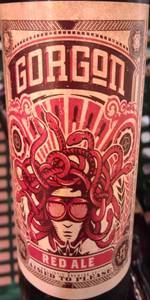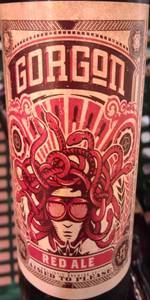 BEER INFO
Brewed by:
Indian Wells Brewing Company
California
,
United States
mojavered.com
Style:
American Amber / Red Ale
Alcohol by volume (ABV):
5.50%
Availability:
Year-round
Notes / Commercial Description:
None provided.
HISTOGRAM
Ratings: 13 | Reviews: 7
Reviews by Garrett092112:
More User Reviews:

2.54
/5
rDev
-9.6%
look: 4 | smell: 2.5 | taste: 2.5 | feel: 3 | overall: 2
Beer label says it is from "Ballistic Brewing Co." but Indian Wells really brewed and bottled it. This is another Fresh & Easy beer.
Clear red colored beer with a small tan colored head.
Smell is strongly malty with lots of caramel scent. No real hop aroma.
Starts out dry and bready with a soda cracker malt flavor. Some scorched sugar flavor. Little bit of British style hop but not really bitter. Still not a lot of flavor here.
Mouthfeel is OK.
Overall not much to this one. Pretty close to a flavor free beer, who wants that?
545 characters

1.35
/5
rDev
-52%
look: 2.75 | smell: 2 | taste: 1 | feel: 1 | overall: 1
I bought a 4-pack at the Eagle Rock, CA Fresh n Easy. Beer was undrinkable. It was spoiled and sour. I'm a homebrewer so I know what a infected bottle looks like. We've all had one batch go bad! This was it. The bubbles never stop rolling out. What a waste of malts.
266 characters


1.91
/5
rDev
-32%
look: 3 | smell: 2 | taste: 1.5 | feel: 2.5 | overall: 2
Got a four pack for cheap at Fresh & Easy. Poured from a 12 ozer into a pint glass. Reviewed from notes.
A- Nearly 2 finger white head. Minute long retention. Moderate lacing. Deep red color.
S- Stale smelling malts. Not very good.
T- Stale malts. Extremely flat flavor with an acrid unappealing linger. Creamy though which is the best part of the beer.
M- Medium carbonation and medium to light body.
O- Not good. Avoid this one. Would not buy again.
456 characters

2.47
/5
rDev
-12.1%
look: 3.5 | smell: 2.75 | taste: 2.25 | feel: 2.5 | overall: 2.25
I picked this up at Fresh & Easy along with their IPA. It was $5 for a 4-pack. I've never had any of their beers, so I was interested in trying them. It poured a very nice clear red, right on the money. The light cream colored head was small - ~1/2" and dwindeled down quickly; probably less than 2-3 minutess. Very little lacing. The aroma was very malty and somewhat metalic to me. I really didn't pick up any hops. For me, the taste was malt, mild bitterness, no hop flavor, and again - some kind of metalic taste. This beer was also very sweet to me; syrup sweet almost.
While some may like it, I can't say I'm a fan. Not sure what I'm going to do with the other 3 bottles. Honestly, Kilian's is preferable to this and I can't say I would by it again.
757 characters
3.18
/5
rDev
+13.2%
look: 3.75 | smell: 3.75 | taste: 3 | feel: 3 | overall: 2.75
Doesn't taste good, doesn't taste bad. Smells like a good beer, doesn't taste great. Kind of a metally taste. Not terrible. Cool logo. It is a very cheap beer for being a craft beer, so that is nice. Got a case with a bunch of their beers interested to see if the others are any better. Wouldn't recommend unless you wanted cheap beer.
335 characters

3.22
/5
rDev
+14.6%
look: 3 | smell: 2.75 | taste: 3.5 | feel: 3.25 | overall: 3.25
I picked up this beer in a variety pack at fresh n easy in california and really enjoyed it. It was malty not too sweet and the hops were very mild. If you enjoy ambers with a moderate amount of hops or more you wouldn't enjoy this beer due to its mildness. To me it tasted like great homebrew. The box and bottles state it "aimed to please" and I interpreted that as if a non-craft brew drinker bought this he or she wouldn't find anything offensive in the case.
463 characters
4.3
/5
rDev
+53%
look: 4 | smell: 4 | taste: 4.5 | feel: 4.5 | overall: 4.25
The only place it appears to purchase this beer is Fresh & Easy. I buy 2 4-packs at a time. Very clean, smooth tasting beer. I would compare this beer to the quality products Shiner distributes. Great beer in all respects. Wish it was available by the case.
257 characters
2.75
/5
rDev
-2.1%
look: 2.5 | smell: 2.5 | taste: 3 | feel: 3 | overall: 2.5
Ballistic Brewing Co. - Gorgon Red Ale from Indian Wells Brewing Company
Beer rating:
2.81
out of
5
with
13
ratings