Ballistic Brewing Co. - Bumblebee Golden Ale
| Indian Wells Brewing Company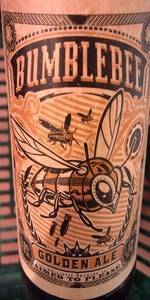 BEER INFO
Brewed by:
Indian Wells Brewing Company
California
,
United States
mojavered.com
Style:
American Blonde Ale
Alcohol by volume (ABV):
5.50%
Availability:
Year-round
Notes / Commercial Description:
No notes at this time.
Added by Zorro on 12-08-2011
Reviews: 5 | Ratings: 17

3.1
/5
rDev
+30.8%
look: 3 | smell: 3 | taste: 3 | feel: 3 | overall: 3.5
Another of these beers that seem to be Fresh & Easy only beers.
Clear gold colored ale with a small white colored head.
Smell is sweet and malty with just a hint of noble hop. This isn't very aromatic though.
Starts out mildly sweet with a strong soda cracker malt flavor. Taste fairly savory in the mouth with the sensation of salt in the beer. Little bit of caramel and herbal hop in the flavor but it stays mostly soda cracker flavored.
Mouthfeel is light.
Overall pretty darn inoffensive. Fairly dumbed down but you could drink a lot of these fast. Not much of a craft beer though, just something to wash down lunch with.
640 characters
2.16
/5
rDev
-8.9%
look: 3 | smell: 2 | taste: 2 | feel: 2 | overall: 2.5
Bottle from Fresh and Easy. Glad to hear I wasn't the only one who was disappointed - would not get this again.
First few sips were pleasant enough - a little bit of malt sweetness and yeast up front. No real hops to speak of. The rest of the bottle started to seem watery and bland, with some off notes - almost soapy/dirty dishwater, rather than skunked.
Better than a mass-produced adjunct lager, perhaps, but disappointing for a craft beer!
446 characters
1.91
/5
rDev
-19.4%
look: 2.75 | smell: 2.25 | taste: 1.5 | feel: 2.5 | overall: 1.75
Pours an honey crisp apple golden color with a small quickly dissipating head
Slightly funky phenolic smell and some champagne grapes
Tastes of heavy malt with the slightest corn taste.
Mouthfeel is way too over carbonated. I'd rather have a shot of Tijuana tap water
Fresh and easy did me dirty
299 characters
1.42
/5
rDev
-40.1%
look: 4 | smell: 2 | taste: 1 | feel: 1 | overall: 1
Unfortunately, I bought this Fresh & Easy beer in a sampler to test before I use them in my beer class.
I am now going to use them for sure... to demonstrate flaws.
On a positive note, the color and clarity are good.
I know the rules are to not "slam" a beer, well sometimes a beer needs to be slammed.
This beer has almost no mouthfeel, and worse, is full of band-aid phenolics. It is undrinkable, and probably one of the worst beers I have had in a long time.
I don't recommend anyone waste their money on this. It is horrid. And, yes, I tried the others in the box, and they all have the same flaw. No body, no mouth feel and bacterial or yeast issues. No quality control whatsoever.
Caveat Emptor
709 characters

1.3
/5
rDev
-45.1%
look: 2.75 | smell: 1.5 | taste: 1 | feel: 1.25 | overall: 1.25
Picked this up at my local Fresh N' Easy. It's made by a brewery from southern California and is exclusive to FnE. I wanted a light beer - and this made Miller Lite seem like a better option. Boring smell, effervescent feel in mouth, and a taste that is funky and sour. It was really terrible. Bad enough I'm trying to get the flavor out of my mouth and failing, and debating on if I should leave it in the fridge to give it to guests I'm not that fond of...but do I really want to do that to them?
Bad stuff. Don't do it!
524 characters
Ballistic Brewing Co. - Bumblebee Golden Ale from Indian Wells Brewing Company
2.37
out of
5
based on
17
ratings.