Ballistic Brewing Co. - Gargoyle India Pale Ale
| Indian Wells Brewing Company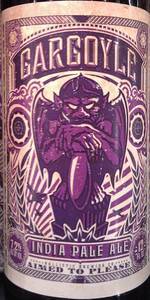 BEER INFO
Brewed by:
Indian Wells Brewing Company
California
,
United States
mojavered.com
Style:
English India Pale Ale (IPA)
Alcohol by volume (ABV):
7.20%
Availability:
Year-round
Notes / Commercial Description:
No notes at this time.
Added by Zorro on 12-08-2011
Reviews: 8 | Ratings: 19

3.18
/5
rDev
+28.2%
look: 3.5 | smell: 3 | taste: 3 | feel: 3.5 | overall: 3.5
My mom picked this up for me last night at Fresh and Easy I think.
Appearance- amber color, thin but nice looking head, good retention
Smell- some hops but the smell is pretty light
Taste- light flavor for an IPA, some hops, slight bitterness but very little
Mouthfeel- medium bodied
Drinkability- I thought it was ok. pretty light but still very drinkable.
362 characters

2.62
/5
rDev
+5.6%
look: 3 | smell: 2.75 | taste: 2.5 | feel: 2.75 | overall: 2.5
Picked this up at Fresh & Easy along with the Indian Wells Red for $5/4-pack. I've seen their beers and have been wanting to try them. This beer poured a clear medium yellow with a small ~1/2" white head that dissapated very quickly; in less than 3 minutes. There was a light spicy hop aroma with some malt aroma. Inital flavor was a very light spicy hop flavor, mildly bitter, followed by a light malt flavor. The mouthfeel was on the light watery side for me.
All in all, a very mild IPA; more like an ESB or regular English ale. This is not the worst beer I've every had, and it was certainly better then the Irish red, but I doubt I would buy it again. There are just too many good beers out there to waste time, taste, and money on mediocre.
748 characters

2.54
/5
rDev
+2.4%
look: 2 | smell: 3 | taste: 2.75 | feel: 2 | overall: 2
bottle poured violently into an imperial pint glass. almost zero head with slightly more than zero lace
hazy honey color with a little chocolate and a tiny bit of spice on the nose
taste is lacking, tiny bit of spice with a touch of bitter chocolate
mouth feel is thin and watery
overall, not good
301 characters
2.41
/5
rDev
-2.8%
look: 3 | smell: 2 | taste: 2.5 | feel: 2.5 | overall: 2.5
I bought a 4pk (not sure why this would be in 4 pk - probably a marketing tactic) at Fresh and Easy market. I normally check out beer on BA right in the store with my smart phone but I was feeling extra lazy and just bought it blind. Sooo here's what I say:
Appearance - looks like a pliny but tastes like a Boston Lager
Smell: biscuit, malty almost no hop aroma
mouthfeel: my mouth feels fine thankyou
taste: very mild, very little hops for the style, not a true IPA, barely a pale ale for that matter.
The only redeeming quality is that this is a 7% abv and you can barely tell - somehow they've managed to make this beer taste like a run of the mill Boston Lager yet it has a fairly high ABV.
save your money and get something else when you're at Fresh and Sleazy
769 characters

2.31
/5
rDev
-6.9%
look: 3.5 | smell: 2.5 | taste: 2 | feel: 3 | overall: 2
Fresh & Easy only beer.
Clear amber colored beer with a small white colored head. Some sediment in this that settles out fairly quickly.
Smells sweet and hoppy with the scent of leaf tobacco, no pine or grapefruit or any other scent you would normally expect. This is much closer to BIPA than it is AIPA.
Starts out lightly smoky with a trace of caramel and some apple. Mildly bitter this isn't what I expected. Taste-wise this really is closer to an ESB.
Mouthfeel is OK.
Overall this is a "WTF am I Drinking" type of beer. Nothing I would every buy again. Tastes like an ESB, but not a great one.
615 characters
2.01
/5
rDev
-19%
look: 3 | smell: 2 | taste: 2 | feel: 1.5 | overall: 2
Appearance: Light amber. Despite the "BIG HEAD" claim on the label, it produced a burst of white bubbly head that quickly diminishes to almost nothing.
Smell: Struggling to smell a hop.
Taste: Minimal hop bitterness fades quickly. A little astringent, medicine/can taste. Sweet malt stands out. Overall taste falls way short due to lack of hop aroma.
Mouthfeel: Feels very carbonated. Very light body. Feels like macro lager.
Drinkability: 4 packs + 7.2 abv, can't session + not a real IPA = do not buy.
Its not an IPA and its not a great example of anything else. Its pretty weird.
588 characters

1.88
/5
rDev
-24.2%
look: 2.5 | smell: 2 | taste: 1.5 | feel: 2.5 | overall: 2
12 ounce bottle. Decanted into a pint glass.
Appearance: Murky copper. Fairly persistent, thin head.
Smell: Sugary sweet. Very sweet. With a touch of aged lawn clippings.
Taste: The label promotes this beer as "explosive". The explosive flavor may be hiding in the last two and a half inches of my glass, but I certainly haven't found it yet. It's watery, ridiculously sweet, and almost unpalatable.
Mouthfeel: Thin and light.
Overall: Awful. Tastes like a newbie homebrewer's mistake. I don't get it.
517 characters
1.42
/5
rDev
-42.7%
look: 1.5 | smell: 1.25 | taste: 1.5 | feel: 1.25 | overall: 1.5
I bought this at Fresh and Easy in California. I spend 6 months in the Pacific Northwest and this beer would be banned from that area. It is a poor excuse for an IPA. I can hardly notice hops. It has a weak body and reminds me of some green bottled beers (not a great smell). It sells here in a 4 pack which makes it look like a premium beer. That fooled me. When I took the bottle cap off, the head comes rushing up the neck. I don't like the aftertaste also. Very dissapointing.
480 characters
Ballistic Brewing Co. - Gargoyle India Pale Ale from Indian Wells Brewing Company
2.48
out of
5
based on
19
ratings.