Hirschbrau Heller Bock
| Der HirschBrau/Privatbrauerei Höss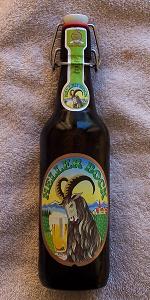 BEER INFO
Brewed by:
Der HirschBrau/Privatbrauerei Höss
Germany
hirschbraeu.de
Style:
Maibock / Helles Bock
Alcohol by volume (ABV):
6.50%
Availability:
Spring
Notes / Commercial Description:
No notes at this time.
Added by Bierman9 on 05-14-2005
Ratings: 14 | Reviews: 12
None found.
More User Reviews:

2.58
/5
rDev
-25.4%
look: 3 | smell: 2.5 | taste: 2.5 | feel: 3 | overall: 2.5
500ml bottle. Lager glass. Golden color, crystal clear appearance. White froth creates close head & shows fairly good retention. Floral hues, intense sulfur & grainy aromas to the nose. Dried sensation & pale malts at first sip. Medium body. Moderate to high carbonation. Dense texture. ABV is felt as an artificial sweetish flavor. Floral, earthy & harsh bitterness, apple, biscuit & honey hints touched by acidic banana peel notes are shown in the middle. Cloying sweetish apple juice & honey finish & aftertaste.
515 characters
2.3
/5
rDev
-33.5%
look: 3.75 | smell: 2.5 | taste: 2 | feel: 2.75 | overall: 2
L:
-pours a clear amber with a small to medium,foamy,grey-ish head
-medium carbonation visible
S:
-caramel,honey,rye bread,spicy,syrup,alcohol fumes,grainy,cooked potatoes
T:
-caramel,honey,cooked potatoes,spicy,bready,grainy
-finishes dry
-very sweet
F:
-medium carbonation
-light to medium body
-alcohol noticeable
O:
A really underwhelming and way too sweet Heller Bock.
For German Beer it's really expensive as well.
420 characters
3.37
/5
rDev
-2.6%
look: 3.25 | smell: 3.75 | taste: 3.25 | feel: 3.25 | overall: 3.25
An orange, golden beer with a small head.
The smell is super malty with clear melanoidines, which give the beer a caramellic smell. The beer has a typical full-bodied maibock smell.
The taste is sweet and super malty. The beer has notes of honey, sweet bready malts and drxtrines. The bitterness is low and maybe only a touch of herbal hops is tasted.
354 characters
3.78
/5
rDev
+9.2%
look: 3.5 | smell: 3 | taste: 4 | feel: 3.5 | overall: 4.5
A- a very light golden color, poured with an finger thickness of head that died off to a thin layer that stayed throughout the rest of the beer
S- a light sweet malty smell with a hint of fruits
T- just as light as the smell there is a sweet malty taste with a hint of caramel with a light fruity after taste
M- Light body and low carbonation
D- Perfect beer for a warm summer day
388 characters
3.55
/5
rDev
+2.6%
look: 3.5 | smell: 3.5 | taste: 3.5 | feel: 4 | overall: 3.5
BB 21-11-05. hardly any head seen. Nice and cristal clear bronze-orange beer. Nose is very light; sweet maltyness and even less hops to be detected. Taste is almost as light as the nose is with litle sweetnes of malt, alcoholic and then hoppy dry aftertaste. As the nose is fresh but also quiet dull. Feels very smooth though in the mouth and easy to drink cause there is not that much to taste or snif.
403 characters
3.01
/5
rDev
-13%
look: 2 | smell: 2.75 | taste: 3.25 | feel: 3.25 | overall: 3
500 ml. bottle. Golden colour, it pours a minimal head that doesn't hold long enough, no lace. Smell of grains, floral and herbs. Medium to full body, sticky palate. Taste is very sweet, malt is everywhere, though some hops come by at times. Caramel, honey. Good.
263 characters
3.82
/5
rDev
+10.4%
look: 3.5 | smell: 4 | taste: 4 | feel: 3.5 | overall: 3.5
Pours a rusty gold with a thin white film that leaves faint trailers. Honey grahams, flowers and maybe a bit of booze off the nose. Crusty white bread, stewed apples and golden syrup malts with coriander spice hit and grassy noble hops. Medium, chewy and clingy, slight burn.
Functional mai-bock, maybe a bit high in ABV. Good interplay between big sweetness and assertive spice. From this brewery, which has often disappointed, a solid outing. Cloys a bit, though.
467 characters
3.4
/5
rDev
-1.7%
look: 3 | smell: 3 | taste: 3.5 | feel: 4 | overall: 3.5
From Hipercor. In Bavaria glass. Watching True Detective 1x02. Thin body, with a noticeable sweetness that in the long run becomes a bit tiresome. However, it can still be enjoyed.
180 characters
4.47
/5
rDev
+29.2%
look: 4 | smell: 4.5 | taste: 4.5 | feel: 4.5 | overall: 4.5
I picked up a 0.5l bottle of this while in Ettal, and enjoyed it while relaxing in the Burggarten in Rothenburg, 24SEP06.
This Bock had a clear, medium golden hue, with sustained carbo within heading topside. Head was white, light and fine; mainly a thin layer on the top, leaving a smidge o' lace. Aroma was malty sweet, with lovely honey-like notes and a hint of fruitiness. Body was medium-plus, nice and near-full. 'Twas fairly smooth on the tongue, with a bit of a creamy, bubbly feel. Quite solid overall on the palate. Flavor hits you with light malty notes all over; a touch sweet yet toasty, with a honey character coming through once more. A nice bit of fruitiness, like green apple or pear, steps forward, finishing with light, floral hops in a dryish finish. Quite a good Hell Bock, and an easy quaffer!
Zum Wohl!!
overall: 4.4
appearance: 4 | smell: 4.5 | taste: 4.5 | mouthfeel: 4.5 | drinkability: 4.5
928
924 characters

3.5
/5
rDev
+1.2%
look: 3.5 | smell: 3.5 | taste: 3.5 | feel: 3.5 | overall: 3.5
500ml bottle served in a big weizen glass.
A: Pours a clear golden yellow color forming a small bubbled white head which dissipates quickly leaving only few lacings. A thin layer remains for long time om the top
S: Very malty. Sweet grains, honey, alcohol, flowery hops and Lager yeasts
T: Pretty much like the nose: A simple bock. Slightly sweet upfront. Sweet malts, caramel malts, honey, white bread, earthy yeasts. Very light hops bitterness
M: Medium and creamy body. Medium to low carbonation. Sweet malty aftertaste
O: Medium drinkability. Compromised by its sweetness
580 characters

3.88
/5
rDev
+12.1%
look: 4.5 | smell: 3.25 | taste: 4 | feel: 4.25 | overall: 4
A: The color is clear golden and the medium tall, creamy and compact head is white. Dissipation is slow and leaves rich lacings.
S: MIld smell; bready sweet malt and bitter hops. A bit grassy.
T: Bready sweet malt. Lots of dark dried fruits. Honey-like sweetness. Just as it should, the malt totally dominates over the malt, eventhough there is hops, both floral and bitter.
M: Aftertaste is short, and mainly sweet. Body is full, and very creamy. Carbonation is low. This is a very smooth experience.
O: A lovely Maibock, very sweet - just how I like it!
561 characters

3.81
/5
rDev
+10.1%
look: 3.75 | smell: 3.25 | taste: 4 | feel: 4 | overall: 4
500 ml bottle poured into a dimple mug
Appearance... amber/yellow beer with head colour white of 1 fingers
Aroma... grass, floral, . Fresh and not too strong smell with a little touch of malty aroma
Taste... herbal, sweetness appears soon lasting all the time, with fruity touch (apple)
Mouthfeel... medium body and medium/soft carbonation
Overall... very nice , refreshing beer too.
384 characters
Hirschbrau Heller Bock from Der HirschBrau/Privatbrauerei Höss
3.46
out of
5
based on
14
ratings.