Wildbräu Meistersud
| Brauerei Grandauer - Wildbräu Grafing vor München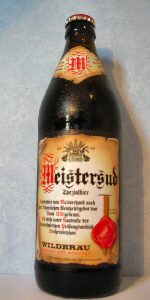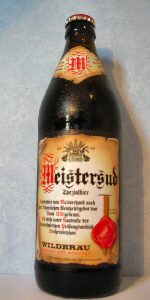 BEER INFO
Brewed by:
Brauerei Grandauer - Wildbräu Grafing vor München
Germany
wildbraeu.de
Style:
Munich Helles Lager
Alcohol by volume (ABV):
5.30%
Availability:
Year-round
Notes / Commercial Description:
No notes at this time.
Added by paterlodie on 11-09-2005
HISTOGRAM
Ratings: 10 | Reviews: 9
Reviews by pinkano:
3.2
/5
rDev
-9.1%
look: 3 | smell: 3 | taste: 3 | feel: 4 | overall: 3.5
A - clean yellow and gold
S - I smell sweet malt and overall sweetness and at the end kind of dried grassy smell.
T - first of all little sweet taste followed by some pretty high carbonation and sweet malt. The aftertaste is little bit sweet and dry. Not so hoppy.
M - medium to low body with higher carbonation
D - pretty good drinkability, but I had better German helles beers.
380 characters
More User Reviews:
4.34
/5
rDev
+23.3%
look: 3 | smell: 4 | taste: 4.5 | feel: 4 | overall: 5
paterlodie is right about the beer having "to be fresh for sure otherwise this unbelievable freshness will be gone." Even pouring this beer in a less then perfectly-clean glass will ruin a lot of the subtle flavors contained in this beer. if you are buying this beer outside of bavaria, most of what makes it special is probably gone.
it has a great "tail" for a helles, where the flavor lingers in the mouth, soft and chewey.
i do not like most helles, but i have named this beer "nectar from the teat of la virgen de la guadalupe."
535 characters
3.24
/5
rDev
-8%
look: 2.5 | smell: 3.5 | taste: 3 | feel: 3.5 | overall: 3.5
A clear, piss-yellow golden beer with no head at all.
Smell is very malty with a wort-like sweetness. There is a typical German sulfur smell coming from the yeast.
Taste is malty with biscuity and bready notes. The beer is a bit sweet and has a light bitter. There is a nice balance in the beer, but if only one of the beer characteristics was a little more abundant it would make the beer more exciting. Now the beer is not very special. Aftertaste is dry and a little sweet.
482 characters
4.07
/5
rDev
+15.6%
look: 3.5 | smell: 4 | taste: 4 | feel: 4 | overall: 4.5
The brew is straw colored, slightly hazy, a white high head that settles rather quickly leaving some lacing but has small curtains.
Malty and citric, a rather fresh smell.
Sweet bread start, some fructose sugar, then fruity aromas, red apple, a hint of cherry, a fresh modest acidity.
Medium carbonation, small foamy bubbles, soft and refreshing texture, a medium body and a slightly dry finish.
A very good fresh lager, aromas that reminds of good pale ales.
463 characters
4.75
/5
rDev
+34.9%
look: 4.5 | smell: 4.5 | taste: 5 | feel: 5 | overall: 4.5
BB 05-04-06. Great presentation with forever lasting foam and beatifull pale golden beer. Nose is highly delicte and fresh giving good maltsweetnes, freshest hops of Halletau and deepness with maltarome. Woww this is in realy one of the finest noses i had from a vollbeer or any beertype. Great taste also great and full maty sweetness, probably stopped somewhere. Yes this is how I want my bottom fermented pale beer to taste. Great but undertoned bitterness that's very fine and clean. Has this one alcohol, must be but except that is gives an even mor mouthfeel hardly noticable. Great carbonisation that makes mouthfeel also perfect. Yes my favorite bavarian I had in quiet some time but had to be fresh for shure otherwise this unbelievable freshness will be gone.
769 characters
2.03
/5
rDev
-42.3%
look: 2.5 | smell: 2 | taste: 2 | feel: 2 | overall: 2
Yellow to greenish, lightly veiled. A quite compact white head.
Slightly oxidated in the smell, with wet cardboard. And metallic too. Beside that, malty notes.
Some metallic in the taste, too. Stale hop. Quite heavy.
Even without the defect (cardboard and metallic), nothing to remember.
287 characters
4.09
/5
rDev
+16.2%
look: 3.5 | smell: 4.5 | taste: 4 | feel: 4 | overall: 4
This bottle looks way to much the infamous Schlenkerla Rauchbier aus Bamberg. I was very excited when I saw it from a distance aber dann entäuscht. It wasn't Rauchbier although admittedly this was a stupid thought considering I was Bier shopping in München. Oh well what I had found was nice Helles. On to the Bier...
This Bier is a very nice depp stram color and brilliantly clear. The head could of used some oomph and didn't stick around long. Probally better on tap. The aroma features a very nice malt tone with hints of toasted grain. The Bier smells very fresh and clean. Hints of spent grain with fresh grassy hops fill out the background. The flavor is very balanced and has very distinctive malt character that is slightly toasty. A slight grain flavors give into a mild sulfur geschmuck. It finishes dry and has a crisp bitterness that lingers and then fades nicely. A very nice Helles....
Zum Wohl
917 characters


3.16
/5
rDev
-10.2%
look: 4 | smell: 3 | taste: 3 | feel: 3 | overall: 3.5
Really not as bad as some of the reviewers below make it seem, but I can understand how one would be unimpressed with this brew.
Appearance was this beer's best asset. A good head with a yellow-gold color, a ring of head stuck around for the rest of the way. Nose was slightly grassy.
Taste was uninspiring, but not bad. First taste was really sweet and then a small amount of bitterness at the end. Not enough hop bitterness for me, which is what makes a helles or lager refreshing and crisp. Just kind of flat overall (not in the sense of bubbles, as I felt this brew was actually a little over-carbonated). There are better beers to be found in Germany.
658 characters

3
/5
rDev
-14.8%
Has a golden, clear color, with a decent head.
Aromas of toffeish malts, cane sugar, while containing rich wheat aspect.
Begins with bready malts, which got a biscuity note to them, as well as a lively, well integrated carbonation. Adds a decent dry note, while malts remain dominant, with a gentle earth infusion included. While this is definitely on the sweeter side, the malts differ on the palate to remain interesting.
425 characters
Wildbräu Meistersud from Brauerei Grandauer - Wildbräu Grafing vor München
Beer rating:
3.52
out of
5
with
10
ratings