Simon Weissbier
| Weissbierbrauerei Simon KG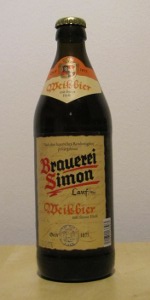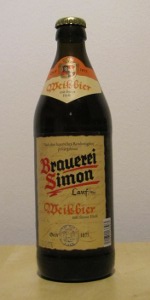 BEER INFO
Brewed by:
Weissbierbrauerei Simon KG
Germany
brauerei-simon.de
Style:
Hefeweizen
Alcohol by volume (ABV):
5.40%
Availability:
Year-round
Notes / Commercial Description:
No notes at this time.
Added by Bierman9 on 08-16-2010
HISTOGRAM
Ratings: 11 | Reviews: 7
Reviews by Jsteez:

4.1
/5
rDev
+11.1%
look: 4 | smell: 4 | taste: 4.25 | feel: 4 | overall: 4
Poured from a can into a makeshift beer jar in China.
A-A nice and deep yellow-white-gold color, almost brownish looking. Quite cloudy. It poured a creamy and white 2-finger head that really never went away. Great sticky lace left on the sides of the glass.
S-Banana bread, crackers and some slight spice and cloves.
T-Right down to the nose: banana bread and clove. Spicy-sweet going in, and the aftertaste was slightly bittersweet from the hops, but fairly balanced. I really enjoyed the taste of this brew. There were some bits of cracker and zesty-citrus in there as well. Pretty balanced German Weissbier Hell.
M-Light bodied, balanced, and somewhat refreshingly carbonated. Quite fresh and crisp. It was nice!
Overall-It is currently winter and I prefer to drink this style of beer in the warmer spring and summer months, but I am in China right now and I will take what I can get! I recommend this beer to anyone who can find it. Cheers!
953 characters
More User Reviews:
3.78
/5
rDev
+2.4%
look: 3.75 | smell: 3.75 | taste: 3.75 | feel: 4 | overall: 3.75
500ml can - is it Weissbier, or is it Hell? We'll apparently never know.
This beer pours a hazy, medium apricot yellow colour, with a teeming tower of puffy, finely foamy, and sort of silken bone-white head, which leaves a few instances of thick, streaky lace around the glass as it lazily sinks out of sight.
It smells of bready and doughy wheaten malt, a lesser caramel sweetness, bruised bananas, a minor earthy minerality, muddled white pepper and clove spice, some subtle old-school yeastiness, and very tame leafy, weedy, and floral noble hop bitters. The taste is gritty and grainy wheat malt, a further breakfast cereal thing, semi-sweet banana pudding, some fading generic spice notes, a further mixed pome and citrus fruitiness, laid-back yeast, and more ephemeral earthy, musty, and dead floral hoppiness.
The carbonation is average in its palate-tingling frothiness, the body a solid middleweight, and generally smooth, with a wee airy creaminess evolving as things warm up a tad around here. It finishes well off-dry, the cereal wheat character showing who the lingering boss really is.
Overall - this is a pleasantly and ably rendered version of the style, nice and wheaty, with a reserved yeasty and spiced offset. Easy to drink, even on a day where the best one can hope for is a bracing 15 degrees below Celsius. More beer, please!
1,357 characters
4.12
/5
rDev
+11.7%
look: 4 | smell: 4.5 | taste: 4 | feel: 4 | overall: 4
At the end of summer, here's one more hefe tasting; this one bought in Germany, on a short trip.
Looks brown, cloudy, with a good creamy head.
Smell is glorious banana bread.
Taste is also banana, together with citric fruits and mild spice. Very nice indeed.
Aftertaste is sweet, bittersweet, complex yet balanced.
Mouthfeel is lively, light, but still flavourfull.
Very refreshing.
All in all, a very good hefeweizen beer. It surprized me very positively.
Recommended. Try it if you can find it.
(a later sampling - 2 july 2011- disappointed me a bit. It was quite different. I adjusted the ratings about 0.5 point because of that).
637 characters

3.71
/5
rDev
+0.5%
look: 3.5 | smell: 3.75 | taste: 3.75 | feel: 4 | overall: 3.5
rustic nice amber hefeweizen with a quite bready character subdued spice and little banana. nice creamy mouthfeel. Good hefenweizen maybe a bit too muddy to excel
162 characters
3.16
/5
rDev
-14.4%
look: 3.75 | smell: 3.25 | taste: 3 | feel: 3 | overall: 3.25
Like the previous reviewer I found this in a store in China. This was in Jing An district in Shanghai.
A: Poured from the 500mL can into a pint glass. The beer is a nice hazy orange color. The head is slightly offwhite and large. True to style.
S: Right away you can smell the banana bread, spice, gum. Average smell for this kind of beer. Good but not as refreshing as many others I've had - missing a truly fresh fruit character and some citrus peel.
T: Light in the taste department. Good amount of bread and spice, but overall it's a bit thin. The beer lacks a certain depth, even though the essentials are all there. Not bad but nothing special
Overall, not bad for the price. If you want to pay a bit more you can get Franziskaner, one of the leaders in this style. This was a good change up but probably won't try it again.
835 characters

3.72
/5
rDev
+0.8%
look: 4.25 | smell: 4 | taste: 3.5 | feel: 3.5 | overall: 3.75

3.93
/5
rDev
+6.5%
look: 4.25 | smell: 3.75 | taste: 4 | feel: 3.75 | overall: 4
Dark orange pour, big three finger foamy head, nice retention and lots of bubble strings from the bottom of the glass.
Smell of soft white bread, banana and a bit lower clove, but all of the elements come together nicely.
Taste of bread, not too sweet banana, mild fruitiness (some apples, pears, oranges) and just enough spices (clove, touch of pepper). Nice hops present in the back, with a mild bitterness that cleans up the aftertaste nicely (some wheatiness remains, not much else).
Medium body, prickly fizziness, on the refreshing side of weizens.
Classic. Maybe it doesn't stand out too much, but it's a perfect go-to beer if you want a benchmark hefeweizen.
666 characters

3.6
/5
rDev
-2.4%
look: 3.5 | smell: 3.5 | taste: 3.75 | feel: 3.5 | overall: 3.5

3.26
/5
rDev
-11.7%
look: 4.5 | smell: 3.5 | taste: 3 | feel: 3.5 | overall: 3
Pours a hazy amber-orange color, with a big, spongy white head.
Smells of citrus, a mineralic note, then unfolds its typical spiciness among a hint of copper. There is a layer of ripe banana underneath, but it nearly gets overpowered by the spices and copper.
Has a bubbly, high carbonation, leading to a very refreshing finish, while its metallic quality numbes the spices and banana quite a bit.
Tastes of an aqueous minerality, coated up by toffee malts and clove. Adds a peppery note, once its carbonation rushes over the tongue, slowly letting banana become detectable. Finishes with a well developed banana sweetness, toffee, a coca-cola sweetness and the omnipresent, effervescent carbonation.
While featuring a restrained spiciness, this puts its focus on refreshing characteristics, unfortunately pushing it a little to far as for its carbonation, which is just too high and too present, distracting from picking up the different flavors.
951 characters
Simon Weissbier from Weissbierbrauerei Simon KG
Beer rating:
3.69
out of
5
with
11
ratings