Imperial Stout
| Gamla Slottskällans Bryggeri AB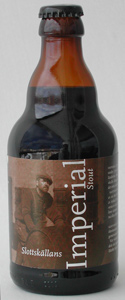 BEER INFO
Brewed by:
Gamla Slottskällans Bryggeri AB
Sweden
slottskallan.se
Style:
Russian Imperial Stout
Alcohol by volume (ABV):
9.00%
Availability:
Year-round
Notes / Commercial Description:
Malt: Pilsner, dark caramel, chocolate and black malt.
Hops: Northern Brewer, East Kent Golding, Fuggle
20,0° Plato, Original Gravity 1,083
Added by bark on 02-29-2004
Reviews: 39 | Ratings: 52
4.3
/5
rDev
+7.8%
look: 4 | smell: 4 | taste: 4.5 | feel: 4 | overall: 4.5
Another classic swedish beer that i've forgot to review.
A: Black with a thin ring of beige lace on top.
S: Grain, Pear, Caramel, Dark chocolate, Roasted malts.
T: Cocoa, Prunes, Coffee, Fruits, Portwine.
M: Smooth and balanced with a nice dry bitterness at the end. Low carbonation. An easy drink!
Wow, this is way better than the last version i tried a couple of years ago. This is a really drinkable imperial stout and something
i should buy more often. Highly recommended!
481 characters
3.85
/5
rDev
-3.5%
look: 3.5 | smell: 3.5 | taste: 4 | feel: 4 | overall: 4
The color is absolutely a dark black, with a foam cappuccino-like.
And a good cocoa/coffee smell. Good. Not too sweet, more on the coffee side, and chocolately.
The taste is more bitter, but still very smooth. Intense.
Bitterness in the aftertaste.
Good one.
258 characters
4
/5
rDev
+0.3%
look: 4 | smell: 4 | taste: 4 | feel: 4 | overall: 4
A: Pitch black (red overtones). Practicly no head. At the finnish: dark amber with black fallout (? Is it fallout?) Makes you wonder if the dark color is really the result of a very, very cloudy beer.
S: Chocolate, roasted malt, burnt caramel, fudge, pear, dried fruits.
T: Coffe, chocolate, dark roasted malt, bitter after taste that lingers.
M: Large body, low carboration with tiny bubbles.
Very nice look and feel. Winelike qualities, madeira without the sugar. But one will do, not something you sip the evening through. A bit to strong for that anyhow.
564 characters
3.93
/5
rDev
-1.5%
look: 4.5 | smell: 4 | taste: 4 | feel: 4 | overall: 3.5
Enjoyed a 2005 vintage at The Delirium Cafe in Sweden.
Clear, deep, dark mahogany, almost opaque. Medium sized mocha colored head. Faded fast, but easily renewed.
Aroma was port and alcohol. Raisins and other dark fruits. Earthy and some toast.
Taste was sweet and malt dominant. Almost a bit cloying. Picked up toast, coffee and chocolate. Had just a bit of hop bitterness to balance, could definately use more. Struck me as a dark barley wine...
Fairly heavy, with low carbonation. Very sweet and non-drying.
My second "heavy" Swedish beer, and they are doing quite well. Not as good as the Stormaktsporter, but very good nonetheless.
651 characters
3.5
/5
rDev
-12.3%
look: 3.5 | smell: 3.5 | taste: 3.5 | feel: 3.5 | overall: 3.5
Aroma is very roasty with lots of chocolate and medium coffee notes. Pours a dark hazy brown and settles a ruby tinted dark brown with a diminishing thumb thick tan head. Fore is extremely bitter and burnt like overbrewed black esspresso. Mild chocolate notes and hints of darker fruit, but the bitter roast/burnt elelments are by far the dominant flavor elelment and that makes for narrow range. The body is also very thin for the style as I am used to it in America.
468 characters
4.35
/5
rDev
+9%
look: 4 | smell: 4 | taste: 4.5 | feel: 4.5 | overall: 4.5
Bought this from Høkeren based on a reccomendation from the store clerk. Poured a jet black with quite a bit of porous brown head. Aroma of chocolate, toast and caramel were inviting me into the glass. I found the mouthfeel to be spot on for the style, hefty, but not undrinkably so. Roasted malt was quite apparent with a nice sweet caramel undertone. Hops made themselves known on the back of the tongue and as the beer slid down it left a nice coffee and chocolate aftertaste in the mouth. Alcohol was well hidden in the flavor but definitely hits you after a while. Very well brewed. Hats off to the brewer!
612 characters
4.23
/5
rDev
+6%
look: 5 | smell: 4.5 | taste: 4 | feel: 4.5 | overall: 4
330 ml bottle, ABV is 9.0%. Very dark reddish brown colour, nearly black. Excellent large and thick brown head. Lovely roasty aroma with strong notes of dark chocolate. Flavour is very roasty with strong notes of coffee, also some chocolate but not very sweet. Bitter finish, it's hard to tell how much of the bitterness comes from the roastiness and how much from the hops - obviously both elements are plentiful. A first class imperial stout!
445 characters
4.62
/5
rDev
+15.8%
look: 4 | smell: 4.5 | taste: 5 | feel: 4 | overall: 4.5
Appearance: Pours a dark dark brown body with a nice tan head; decent lacing
Smell: Nice and roasty with dark fruit base and definite coffee and chocolate tones
Taste: Rich and luscious; overwhelming abundance of long-lasting roasted coffee and chocolate flavors with a trace of almond
Mouthfeel: Full-bodied with a nice touch of carbonation
Drinkability: Among the very best Russian Imperial Stouts I have tasted; a tip of the hat to the brewmaster
462 characters
4
/5
rDev
+0.3%
look: 4 | smell: 4 | taste: 4 | feel: 4 | overall: 4
Fine small bubbled brown head tops a very very dark brown body. Great stout aroma. Deep roasty character, very chocolatey and herbal. Nicely balanced on the tongue, the copious dark chocolate working perfectly with that all but tedious roastiness. I couldn't name too many flavors, I know there's some fruitiness in there, but nothing to point out. The thing is: this had great integration of every component and felt better than the sum of its parts. Firm oily medium body, light-medium carbonation. This one does everything right without trying to show off. Cheers Per!
573 characters
4.38
/5
rDev
+9.8%
look: 4.5 | smell: 4 | taste: 4.5 | feel: 4.5 | overall: 4.5
The beer has a very dark black colour with a medium thick foam that stays throughout the drinking.
A superb aroma with strong coffee and chocolate smells, some roasted and fruity traces.
Taste close to perfection. It gives a sprinkling first impression, then comes the dark chocolate and fruity taste. Citrus, coffee, chocolate, roasted and yeasty it lingers in the mouth. Theres is a tasty bitterness that fills in after a while and leaves a long and soothing aftertaste.
Would be interresting to lay this down for some years. Impressive swedish brew aswell.
568 characters
3.88
/5
rDev
-2.8%
look: 4 | smell: 3.5 | taste: 4 | feel: 4 | overall: 4
Good stuff. Rich roasted coffee/chocolate flavour. Bitter coffee/choclate flavours, vanilla, with some grapefruit/citrus in the finish, i guess due to the hops. Full rich mouthfeel, smooth, with a well balanced alcoholic kick and bitterness, nicely balanced, tasty. Thanks Per.
277 characters
2.92
/5
rDev
-26.8%
look: 4 | smell: 4.5 | taste: 2.5 | feel: 2 | overall: 2
Jet black with a thick active crema that quickly disappears.
Huge caramel aroma upon opening the bottle. Huge charr and bleachy aroma.
Tastes of charred coffee and huge bitterness is all that comes off. This an assault on the palate.
The alcohol readily shows with a hotness on the palate. Extremely carbonated.
I enjoy big beers, but this is rather more of a chore to choke down.
395 characters
3.98
/5
rDev
-0.3%
look: 4 | smell: 3.5 | taste: 4 | feel: 4 | overall: 4.5
This imperial stout pours a brown-black brew into the glass, with a brown grey head, that disappears quickly. It has a big taste, a big bitterness and a big roasted taste. With some hint of coffee and chocolate. The smell is a little burned with some nice hint of chocolate and coffee. This is a strong beer, but you don't feel the alcohol in the taste. I like this beer and i think it will taste even better with a chocolade cake
430 characters
3.12
/5
rDev
-21.8%
look: 4 | smell: 4.5 | taste: 3 | feel: 3 | overall: 1.5
The beer is dark black-brown, its consistency must be described as "stout". The foam is brown-grey, medium thick and almost as soft as one would expect from a nitro-can beer (although there is no nitro in this bottle). The foam disappears after a short while.
The smell? Like a full coffee-roasting business! Besides the smell of French roast coffee, there are traces of smoke, cocoa powder and roasted malt. Heavy stuff!
The carbon dioxide is surprisingly strong, but the small bubbles decreases at once. The result is a little strange, as the carbon dioxide first explodes in the mouth, then, its just gone.
The taste is really potent; it is full-bodied, dry with tones of black coffee and plain bitter chocolate. There is also a touch of black treacle.
Then, the aftertaste is dry, roasted with notes of malt, coffee and some bitter almonds.
The high percentage of alcohol is skilfully hidden; I cannot say that the smell or taste revealed any hints of 9.0% abv. But the alcohol made the beer a bit... hard to drink. The only way I could describe the feel is a resistance in my throat to swallow more than small sips. The 33 cl bottle took me almost two and a half hour to drink.
Once again, the small Slottkällans brewery has proven to be very capable in their craft, although this beer simply was too much for my personal taste. I am impressed!
1,366 characters
Imperial Stout from Gamla Slottskällans Bryggeri AB
3.99
out of
5
based on
52
ratings.