Slottslager
| Gamla Slottskällans Bryggeri AB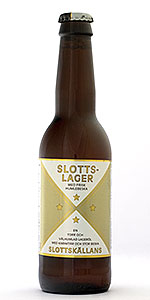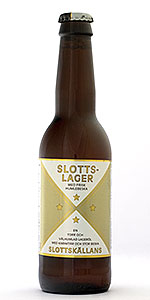 BEER INFO
Brewed by:
Gamla Slottskällans Bryggeri AB
Sweden
slottskallan.se
Style:
Munich Helles Lager
Alcohol by volume (ABV):
5.00%
Availability:
Year-round
Notes / Commercial Description:
Introduced in October 2008.
Malt: Münchener, pilsner and pale caramel.
Hops: Northern Brewer, Styrian Golding and Hersbrucker.
Added by Ch1mpy on 10-19-2008
HISTOGRAM
Ratings: 7 | Reviews: 6
None found.
More User Reviews:
4
/5
rDev
-2.4%
look: 4 | smell: 4 | taste: 4 | feel: 4 | overall: 4
This was brought to me from Sweden by my friend Johan Thyberg!
Pours a darker shade of yellow-leaning towards a saffron color. Active carbonation throughout that feeds a small white head.
Aroma- plenty of hops and an essence of corn that is very pronounced. Dried hay too.
Mouthfeel-rather intense bitterness for a lager-assertive. It actually dies down then finishes with some lingering medicinal flavors-hops and herbs. A froth on the palate sweetens the brew, revealing some of corn and malt flavors. This lager is quite bold, the hops are quite bitter.
I was going to say this more than your average Euro/Scandanavian lager, but I see it is a Helles Lager and that might explain why this one has a touch more body and hops. This lager has some backbone and it is solid!
774 characters


4.18
/5
rDev
+2%
look: 4.5 | smell: 4 | taste: 4.5 | feel: 3.5 | overall: 4
Appearance A dirty yellow brew with traces of light amber. Sitting on top is an off-white robust foam cap about a finger in height. Rentention is really good, even after two whole minutes, sturdy sturdy I may say. After another few minutes the head collapses and seperates in to a creamier middle and a flatter outer ring.
Smell A Mike Tyson-punch of hops hits my nose with an upper cut. Underlining the punch of hops is a super sweet malty fundament. Dotting the experience is notes of citrus.
Taste Extremely well hoped for a lager. Initially sweet, very sweet for lager beer. Then a pleasent and friendly enough bitterness circles around for a while. I also pick up a little floral and citric flavors.
Mouthfeel A thin body lager that's tame and a bit wet. Aftertaste is strong and bitter, very noticable of both tongue and palate. It's a smooth and clean sort of bitterness though making it very enjoyable. Carbonation is weak and bland, merely a few dazed bubbles making their way to the surface.
You will surely never get more bang for the buck than this. A heavily hoped lager beer, making me think of pale ale. Yes, if lager tasted like this in general I'd definitely have more lagers than I do today. Here comes the perplexing bit of info. Systembolaget just annouced they'll be phashing it out of the permanent assortment come the end of October. This is truly a mystery to me! Out of all the lagers avaiable the choose one of the better ones to discontinue. I can totally understand replacing Wells experimental freak Banana Bread Beer with whatever else but this is one great lager.
1,606 characters
4.22
/5
rDev
+2.9%
look: 4 | smell: 4.5 | taste: 4 | feel: 4 | overall: 4.5
Clear, golden colour with a nice, firm, butter-coloured head. There is relatively heavy lacing left on the glass.
Fresh smell of grass, peach and citrus fruits.
The Slottslager has a well-hopped, spicy taste with a fresh sting of bitterness in the finish.
The beer has a rough and dry mouthfeel. As for drinkability, I must say this is one of the better Swedish premium lagers I have had lately, on par with Hell from Jämtlands Bryggeri.
Additional note. This new beer (released at Systembolaget October 1st) won the silver medal in the category well hopped light coloured lager at the 2008 Stockholm Beer and Whisky Festival.
639 characters
4.55
/5
rDev
+11%
look: 4.5 | smell: 4.5 | taste: 5 | feel: 4 | overall: 4
The colour is deep gold; the high white head is airy and firm. Lots of lacing occurs.
The smell is hoppy with lots of flowery/grassy notes. Some butter, hard cheese and lots of fine white bread. Very fresh and crispy.
The taste is hoppy and the bitterness is generous and crispy. Some mildly sweet malts, earthy and dough-like notes are blended with grassy flavours. There are some light sour flavours of cheese, roasted nuts and fresh exotic fruits. The aftertaste is bitter with lots of hoppy flavours: Grass, bitter herbs, toasted bread and some fruity notes.
The carbonation is medium strong; the medium sized bubbles are fresh. The liquid is quite light.
A very hoppy lager that isn't too bitter: A well balanced, demanding and still drinkable lager.
763 characters

4.28
/5
rDev
+4.4%
look: 4.5 | smell: 4 | taste: 4.5 | feel: 4.5 | overall: 4
33 cl brown long-necked bottle with a white and golden label.
A: Pours golden with a really large white head that slowly sets leaving rich lacings.
S: Floral hops, rich citric notes. Malty, white bread.
T: Both floral and bitter hops. Dry and citric. Creamy/buttery maltyness.
M: Aftertaste lingers for a long time and is somewhat bitter and very smooth. Body is creamy light and carbonation is medium.
D: Smooth and hoppy. This is a very nice lager for beeing made in Sweden - not like the macro-crap most swedes drink.
527 characters
3.95
/5
rDev
-3.7%
look: 3.5 | smell: 3.5 | taste: 4 | feel: 4 | overall: 4.5
Slottskällans Slottslager pours a golden color with a nice white head.
Smell is bready and malty. Notes of hops.
Taste is grassy, caramely, dry, crispy and bitter with notes of citrus. Very good actually! In fact, the bitterness reminds me almost of Brewdog Punk IPA - and that's not a bad thing!
Higly drinkable and well made lager from Slottskällans!
357 characters
Slottslager from Gamla Slottskällans Bryggeri AB
Beer rating:
4.1
out of
5
with
7
ratings