Old Ivy Brewery and Taproom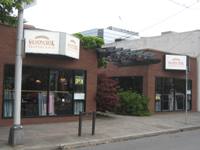 PLACE INFO
Type:
Brewery, Bar, Eatery
108 W Evergreen Blvd
Vancouver
,
Washington
, 98660
United States
(360) 993-1827 |
map
oldivybrewery.com
Notes:
Formerly "Salmon Creek Brewery & Pub".
Added by bridgeporter
Ratings: 10 | Reviews: 10
Reviews by AllThingsNinja:
3.35
/5
rDev
-10.2%
vibe: 2.5 | quality: 3.5 | service: 3.5 | selection: 3.5 | food: 3
I swung by the Salmon Creek while on the west coast, and had a hard time finding the small pub in Vancouver?s down town. The interior was rather plain, and quite blue. It's conventional and uninspiring. I didn?t feel like I was in a brew pub - it seemed more like my grandmothers house, with beer. The selection of house brews and guest taps was pretty good for a small pub, and the general quality was ok but not outstanding. The service was attentive but not always timely. It seems a bit repetitive, but the food was also unimpressive - although not terrible bad. I will say that I was disappointed that my salad was served at refrigerator temp.
648 characters
More User Reviews:

3.81
/5
rDev
+2.1%
vibe: 3.75 | quality: 3.5 | service: 3.75 | selection: 4.25
Old Ivy is a very pubby type of place with a big curving bar and a vaguely basement-like atmosphere. When I was there they had 12 of their beers on tap plus 9 guest taps, representing a very wide range of styles. They also offer 12oz pours, something I appreciate when trying a lot of different beers. The beers themselves were mostly decent, but nothing I had was without flaws. Service was typical for a pub; no complaints there.
435 characters
2.78
/5
rDev
-25.5%
vibe: 1.5 | quality: 2 | service: 3 | selection: 3.5 | food: 4
Well the much anticpated re-opening of Salmon Creek has occured. Unfortunately you can't use the word "Grand" for the re-opening since it doesn't look like they have really changed much in terms of distinguishing themselves from the old Salmon Creek. While the pub has gone through a "make over", it still is pretty boring inside, with nothing on the walls, except a chalk board the size of a legal pad with a beer list you need a magnifying glass to read! The food is an improvement but the beer is what we go for right? Well, again an improvement, but very non-descript at best. All on the light size, and even the Porter has no real body to it. The IPA and Red are balanced, but again nothing worth becoming a regular customer for. Apparently same owner as tap room next door, which is a winner! New (Old) Salmon Creek - not so much.
836 characters
3.78
/5
rDev
+1.3%
vibe: 3.5 | quality: 3.5 | service: 4.5 | selection: 3.5
Located in downtown Vancouver WA, Salmon creek has a homey feel to it due to owner Anna and staff. Features about a 10 seat bar and 5 or six tables, including bigger ones capable of accommodating larger parties. While the selection runs the usual gamut of NW style ales, the Brother Larry's Belgian, a Dubbel, was a special treat. I saw quite a few people ordering food, and the portions and quality looked above average. There is a courtyard with some tables to enjoy on a nice day. The day I visited a lot of people were having mixed drinks, and it appears they cater towards the locals. Worth a stop if in the area.
618 characters

3.85
/5
rDev
+3.2%
vibe: 4 | quality: 3.5 | service: 4 | selection: 4 | food: 4
Updated review for 11/24.
I went here the other night as I hadn't been by in a while.
I had a much better experience than prior times. I feel like the beer is getting much better over time. They are bottling now as well which is good and exploring styles.
Had a half roast beef sandwich and fries. Was very tasty and a good value for 6.95 I think it was. Everything else on the menu was seafood and way overpriced. Almost $20 for fish and chips? C'mon guys.
The staff was friendly. I went to middle school with one of the bartenders. They were knowledgeable as well.
However, they were busy this time around and not very attentive. Did quite a bit of waiting.
Either way this is the best of the two breweries in my hometown and I'm proud of the progress it is making. It's nice to support them and see them busy. I hope that the bottle sales are a success and that the brewery continues to thrive. I'll be back...especially since it's next to By the Bottle. Awesome.
972 characters
4.28
/5
rDev
+14.7%
vibe: 4 | quality: 4.5 | service: 4.5 | selection: 4 | food: 4
A great place, and certainly a comfortable atmosphere... nice daylight area in the center, and plenty of seating... and a nice bar with plenty of bottles to read at the full bar.
Quality is up near the top... the food was great and prompt, they all asked kindly if I was ok with my drinks and food without intruding in my staring contest with the bottles of booze at the bar. My eyes wander as my mind works...
So in quality, the service was great, and the owners are usually present as I have been there a couple of times.. and they are talkative and very friendly to their customers. They remember names, and Larry the brewmaster/owner loves to talk beer. We see many things on the same page.
Certainly a nice selection of foods, and some things are rather unique to the style of the place.... but they are keeping up with the trends in places... like having avocado on everything... like their BLT's etc.... (seems to be a newer trend)
Food was delicious, and I liked the home fried chips.. which that also seems to be the norm in a lot of brewpubs these days... quality was fantastic, and very home-like.
Value is great. You get some of the best finely crafted beers around.... at a very good price... and the food aint bad either. A growler refill is only $10 which beats most places my $2. I can go for that!
1,319 characters

3.56
/5
rDev
-4.6%
vibe: 4 | quality: 3.5 | service: 3.5 | selection: 3.5
While I've know of this pub for years I hadn't ever stopped in until last night with my brother in law. The pub is divided into two seating areas separated by an outside dinning area which is very cozy in the summer. We opted for the bar side, of course and sat down at the copper bar with a few other locals. The atmosphere is nice and the staff was friendly and attentive. The crowd was mostly older as there are no pool table or dart boards. We didn't try any of the food but judging from the menu, it looked like you typical brew pub fair. OK, we were really there for there Belgian dubbel. They have other beers but Brother Larry's Belgian is supposed to be good! It was, but that's another review. Vancouver only has one other brew pub and if you're in the area give this pub a whirl. In addition you can stop by Vancouver finest beer shop which is right next door, 'By the Bottle". I plan on stopping in again, trying more of theirs beers and revising my review accordingly.
Prost
988 characters
3.9
/5
rDev
+4.6%
vibe: 3 | quality: 4 | service: 4 | selection: 4 | food: 4
This is a cool spot in the heart of Downtown Vancouver. The beer is very good. My favorite would have to be the Belgian style dubbel but the scottish ale and others are good as well. Food complimented the beer very nicely, standard pub food, and service was adequate as well. Not a huge selection of products, but stop by the little store next door for a super selection of beers 'by the bottle'. Very small location and get crazy packed at times, but overall a fun place to sip some home made suds.
499 characters
3.74
/5
rDev
+0.3%
vibe: 4.5 | quality: 3 | service: 4 | selection: 4
The moment I walked in the door of the Salmon Creek Brewpub the elderly proprietress said to me, "You look thirsty." She spoke with a charming European accent, the exact origins of which I couldn't determine. I suppose I did look thirsty. But I admired her intuitions and innate sense of hospitality. I'd never been to Salmon Creek before.
The bar is made of copper. I sat down and perused the beer list, then enquired as to seasonal offerings. The proprietress brought me a sample of their summer brew; a dry-hopped golden ale brewed with orange peel. The taste was crisp, fruity, and genteel but I opted for their regular golden instead. My beer arrived in an imperial pint glass and as I sipped from it, I absorbed the scenery. Salmon Creek is a single room with the simple lines of an old luncheonette counter. An outdoor courtyard opens out from the bar and on the night I first arrived a man played guitar there in the open air. He played Cat Stevens and old Jethro Tull. Not bad. Inside, the ceiling is ornamented with pressed tin tiles. There is no mirror behind the bar, but tacked to the walls are printed quotations from Shakespeare, Dylan Thomas, and Norm from Cheers on the worthiness and nobility of beer.
This is a friendly, down-home family business with a palpable charm. The waitress works dayshifts at another restaurant. She's cheerful and sincere; it's like nobody's told her the world has gone to rot. She brings me a basket of pretzels.
Salmon Creek brews seven house beers but they're out of two tonight. A seasonal brew and a guest pilsner are on tap. There's also a small but thoughtful selection of bottled beers – Bass, Harp, Chimay, Pilsner Urquell. Wine is available but no booze, no smoking, no television.
I can't impress enough upon the reader what a treasure Salmon Creek truly is. No, the beers aren't the best in town. (There's only two brewpubs in Vancouver.) But I've never walked into such a quiet, unassuming family restaurant and instantly felt so comfortable and at home. My experience sitting at Salmon Creek's coppertop bar tossing back a few pints of the house beer was positively rejuvenating. It was like visiting a spa or taking a cross-town three-hour vacation. I left there thinking the world was a better place than before I arrived.
Aside from my gushing sentiment, visitors should know that Salmon Creek is closed on Sunday and features happy hours from 3-6 on weekdays and 1-6 on Saturdays when imperial pints are $2.75 and bar food is available in the form of beer battered everything. I haven't tried the food but the menu emphasizes seafood and burgers with a sandwich-laden lunch menu.
2,677 characters
3.55
/5
rDev
-4.8%
vibe: 4 | quality: 3.5 | service: 4 | selection: 3 | food: 3.5
This small brewpub in the old south part of downtown Vancouver has been in business for several years. Don't frequent it too often but went down recently to get a sample plate of all the beers on offer. Can't say I'm too thrilled about any of the beers but the Porter and stout were not too bad. Drop in and see what you think.
The thing that attracts me to this little place is the friendly atmosphere and beautiful bar interior. It's really quite a revelation in this desert area for good places to drink. They usually have several good offers on as guest beers. On this trip there was Guinness and Fuller's E.S.B on tap as well as several other local micro's to choose from.
There was a nice selection of food with good happy hour offerings for both food and drink. An excellent small outside seating area rounds out this report on the Salmon Creek Pub. Give this place a try , you might be surprised.
914 characters
Old Ivy Brewery and Taproom in Vancouver, WA
3.72
out of
5
based on
18
ratings.