Single Source Lager
| Monteith's Brewing Co.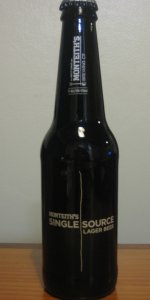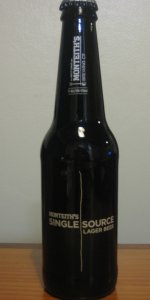 BEER INFO
Brewed by:
Monteith's Brewing Co.
New Zealand (Aotearoa)
monteiths.co.nz
Style:
Czech Pilsener
Alcohol by volume (ABV):
5.00%
Availability:
Limited (brewed once)
Notes / Commercial Description:
No notes at this time.
Added by juju7 on 05-05-2011
This beer is retired; no longer brewed.
HISTOGRAM
Ratings: 7 | Reviews: 7
None found.
More User Reviews:

3.13
/5
rDev
-0.9%
look: 3.5 | smell: 3 | taste: 3 | feel: 4 | overall: 3
330ml bottle purchased from Woolworths Liquor, West Ryde and poured into a Murrays tulip style glass.
Pours with a clear appearance and arguable about 2 units of colour as it is a very, very pale golden shade. Has a white head of compact-bubbled foam that laces a touch on the way down.
Smells a little bit like rice to start with. In fact it reminds me of the staple university student meal of white rice and tomato sauce. Having shared houses for 3 years i got used to this. The lemon citrus aroma comes through a little later along with some sweet malt and a bit of grass.
Taste is grassy with some solid malt sweetness after that. A little bit of a one-trick pony in this regard.
Mouthfeel is good, decent bodied lager with the slightly herbal hoppy finish to stop it becoming too predictable.
Overall it is unique, perhaps nowhere near as much as the bottle design. However, unique doesn't necessarily equal good or true to style. Doubt i could go to a pub and drink and enjoy this all night which is, i guess, a pretty good yardstick for this style of beer.
1,068 characters
3.44
/5
rDev
+8.9%
look: 4.5 | smell: 3 | taste: 3.5 | feel: 3.5 | overall: 3.5
Picked up at Vintage Cellars. Hadn't seen or heard of it before.
So, the idea is they've made a beer that reflects the terroir of NZ by specifically choosing good quality sources for the ingredients for this beer. (How do they choose the sources for the ingredients for their other beers?)
Using Southern Cross hops, which I haven't heard of (but that doesn't mean much) it is a fairly decent pils. Though not really representative of NZ in the way Emersons is for example. It looks great. A big collar of foam that doesn't dissipate and laces consistently. Aromas hint of lemon and citrus but mostly fresh grain, cereal aromas. Soft bitterness and medium carbonation make it very drinkable but not overly memorable.
Could've been better, could've been a lot worse.
774 characters
3.38
/5
rDev
+7%
look: 3.5 | smell: 3 | taste: 3.5 | feel: 3.5 | overall: 3.5
I was expecting more from this beer due to its effusive marketing and hype. There really isn't much to distinguish this beer from similar 'premium' lagers although look past the hype and you'll find a decent session beer that would come into its own in summer.
I could pick sherbet on the nose which was interesting, couldn't quite figure it out. The hops are fairly balanced and lack complexity but still better than typical macro fare.
If Monteith's are going to go to the trouble of making such a big deal then they should brew something that distinguishes itself from your typical lager. I still think the benchmark to a complex lager is Knappstein Reserve Lager.
671 characters
3.03
/5
rDev
-4.1%
look: 3.5 | smell: 3 | taste: 3 | feel: 3 | overall: 3
Never seen nor heard of this until yesterday and it pours a pale see through straw hue with decent carbonation that leaves behind a frothy two finger head and a rim of lacing,the smell is pretty weak with hints of barley and herbal grassy hops but thats it,the mouthfeel is very light bodied and well carbonated and in my mind only average with weak tastes of lemon water,fresh barley,grassy herbal hops and finish is pretty smooth and lagerish and overall i would not buy this again and it suprises me that this brew is worse than any of their normal lineup.
559 characters

2.08
/5
rDev
-34.2%
look: 3.25 | smell: 2 | taste: 1.75 | feel: 3 | overall: 2
Format: standard 330mL brown bottle with a simple but stylish label.
Appearance: pours out a light straw with light carbonation and a thin white head. Looks okay.
Aroma: smells of a pretty off grain fug. Not pleasant at all. I think this might be off.
Taste: some sickly sweetness from a hopscotch with grass hops and that grain fug. Doesn't taste like the typical light strike. Maybe it's just a shit beer.
Aftertaste: bleugh. A sink pour for sure.
Mouth feel: light to medium in body with moderate carbonation.
Overall: not Monteith's best effort - pretty awkward and awful stuff. I won't be trying this one again.
622 characters
3.7
/5
rDev
+17.1%
look: 4 | smell: 4 | taste: 3.5 | feel: 4 | overall: 3.5
Didnt care much for the hyperbolic dross regarding the beers provenance, but did appreciate the final result.
Ticks a lot of boxes for balance , clean tasting with some moderate fruity/herbaceous hints the biggest non tick is the finish .
It has a slightly bruised fruit offness right at the end , which I guess is not uncharcteristic of the style , but this just doesnt quite gel
380 characters
3.36
/5
rDev
+6.3%
look: 4.5 | smell: 3.5 | taste: 3 | feel: 3.5 | overall: 3.5
Clear, light straw colour with a smooth foamy white head. Decent head retention.
Slightly sweet, grainy aroma with notes of butterscotch. Okay.
Mild, grainy malt with a slight caramel note and some bitterness. Plain.
Medium-light body with moderate carbonation. Good.
A simple, crisp lager with some flavour. Not bad.
322 characters
Single Source Lager from Monteith's Brewing Co.
Beer rating:
3.16
out of
5
with
7
ratings