Dominikaner Pils

Holsten-Brauerei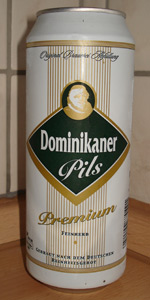 Rate It
Beer Geek Stats
| Print Shelf Talker
Style:

ABV:

4.8%

Score:

Avg:

3.05

| pDev:

15.08%

Reviews:

11

Ratings:

From:

Avail:

Year-round

Wants

Gots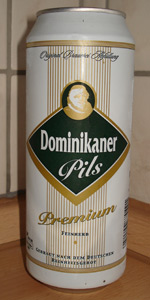 NeroFiddled from Pennsylvania
3.64
/5
rDev
+19.3%
look: 3.75 | smell: 3.5 | taste: 3.75 | feel: 3.75 | overall: 3.5
Holsten-Brauerei "Dominikaner Pilsener"
,5L can coded "Mindestens haltbar bis: 30.06.22 17 F31 51". Sampled on 05.10.21.
€,99 @ Shell, Martin-Luther Str. 29, Berlin, DE
Look: Clear golden colored body. Short head of white foam. Better than avereage head retention and lacing.
Smell: Grainy malt. Hops are missing given that this is labeled as a Pilsener.
Taste: Grainy and bready malt with a touch of floral and grassy hops. A firm bitterness balances it nicely. Dry finish.
Feel: Medium to medium-light in body and crisp.
Overall: I can only assume that this is intended as a price point beer. It's almost ghost-like in a way considering that the malt is dull and limited, and the hops are even more so. The bitterness is at least on-point. It lacks the finesse of a good German carbonation in the mouth, and it doesn't seem to be really that well-fermented. It's not the worst beer you'll find at gas stations, train stations, and kiosks along the streets but that's not really saying much.
Review #7,521
Oct 06, 2021
BeerAndGasMasks from Virginia
2.83
/5
rDev
-7.2%
look: 3.25 | smell: 2.75 | taste: 2.75 | feel: 3.25 | overall: 2.75
From the can, it pours a clear yellow gold color with a modest white head that soon diminishes to a thin layer. In the nose, it is some malt but not much hops. In the mouth, a good bit of malt, little hops.
Jun 25, 2019
stcules from Italy
2.4
/5
rDev
-21.3%
look: 3.75 | smell: 2.5 | taste: 2.25 | feel: 2.25 | overall: 2.25
Greenish blonde, good perlage, white foam, elegant.
Some problems in the smell, old malts and hops, oxidation.
Same for the taste, a old effect, not too pleasant.
Posiitve note: it is dry.
Beside that, nothing.
May 25, 2019

AAG from New York
3.04
/5
rDev
-0.3%
look: 3 | smell: 2.75 | taste: 3.25 | feel: 3 | overall: 3
A - Transparent, light, golden; minimal head; decent lacing, though.
S - Alcohol, sweet, lemon-lime
T - Grain, hay, nice and sweet for a pilsner; dry hoppiness towards the end; alcohol bitterness more pronounced towards the end as well.
M - Not bad; smooth and crisp; minimal carbonation
O - Slightly above average pilsner; worth drinking as a session beer; very refreshing.
Dec 24, 2017
bark from Sweden
2.81
/5
rDev
-7.9%
look: 3.5 | smell: 2.5 | taste: 3 | feel: 2.5 | overall: 2.75
The colour is yellow, the two finger head compact and white. It sinks slowly leaving some lacing on the glass.
The smell is somewhat sweet with pilsner malt, grains and some wood. Spicy-sharp alcohol in the background.
The taste is rather sweet for a pils. Dense notes of pilsner malt and French loaf. Passing herbal light bitterness. Medium body. The aftertaste is soda-sweet with some frowsy bitterness and notes of old wheat bread. The short finish is sweet with some wet paper.
The carbonation is mild, the mid-sized bubbles are long-lived. The liquid is a bit sticky.
A very pedestrian German Private label pils.
Dec 27, 2016
BlackHaddock from England
3.35
/5
rDev
+9.8%
look: 3.25 | smell: 3.25 | taste: 3.5 | feel: 3.25 | overall: 3.25
Half-litre can: BBD 11 Aug 2014, poured at home into my rarely used 'Paderborner Goldpilsner' vase shaped glass on 27 Sep 2013.
Typical German Pilsner look, golden, bright, clear and clean: on top a snow white head of bubbles.
The nose is grain and hay, with bread notes.
The taste was refreshing and crisp in nature, dry hops leading the flavour stakes. The semi-sweet malt content is just about noticeable, just before the hops re-assert themselves in a bitter finish.
I enjoyed it.
Sep 27, 2013
crossovert from Illinois
2.56
/5
rDev
-16.1%
look: 3 | smell: 2 | taste: 2.5 | feel: 3 | overall: 3
500ml can from Woolworth. MHB: 09.03.12.
It pours a clear yellowish gold, hinting more towards yellow. It has a frothy white head that kind of sits on top of the beer, not receding fully.
The smell is sweet and alcoholic, with an almost soda-like presence and some metal. It smells like it is form Mexico, minus the corn.
The taste is more promising, but it definitely is cheap and rough-edged. It has a noticeable alcohol flavor despite the abv, it is a very messy pils. There is a bit of a hop note but it is over-ridden by the mundane malt bill.
It is not that great.
May 05, 2011
BucBasil from Rwanda
3.85
/5
rDev
+26.2%
look: 3.5 | smell: 3.5 | taste: 4 | feel: 3 | overall: 4.5
Appearance: Poured from the can into a large mug. The beer is a great pure gold color with a nice big pure white head that sticks around a while.
Smell: Very lemony, though some light hops can be detected as well. Hay. A prototypical pils aroma.
Taste: Very crisp on first sip with hints of citrus. Surprising bready maltiness in the middle there, but a nice dry hoppiness to finish things up. Nice and clean.
Overall: A well balanced session beer, and a big surprise form a can found in a small town in Bulgaria. I can see myslef buying this a lot in the summer if it's still around here....
Apr 08, 2010
TheSarge from Virginia
3.3
/5
rDev
+8.2%
look: 4 | smell: 4 | taste: 3 | feel: 3 | overall: 3
Dominikaner Pils pours as a great specimen of what a pils should be: Lots of sticky white foam, and a golden clear body.
Aromas are on par too, with herbal lemon drop to freshly mown hay.
In the taste I'm not getting total cleanliness. There is a grainy sweet huskiness, but finishes with an herbal/stony taste.
This is pretty dry and leaves my mouth needing more to quench my thirst. Not too bad for a session beer. This is definitely on par.
May 26, 2008
stoutman from Michigan
3.7
/5
rDev
+21.3%
look: 3.5 | smell: 3.5 | taste: 4 | feel: 3.5 | overall: 3.5
I enjoyed this pils, better than I expected. Nice hop flavor, and really light. For a cheap pils that I bought at an autobahn gas station, I enjoyed this one very much. Nice looking lacing with a decent stream of bubbles and smells good. Nice aftertaste too, with very little metallic flavor for being in a can. Clean pils. I'd like to try this one real cold on-tap someday.
Dec 25, 2006

UncleJimbo from Massachusetts
3.47
/5
rDev
+13.8%
look: 3 | smell: 3.5 | taste: 3.5 | feel: 3.5 | overall: 3.5
Sampled in the main train station in Frankfurt am Main, Germany. 0.5 L can.
This pils poured a clear, very light yellow color with white foam that persisted a bit. The smell was malty with some bread and a bit of hops. The taste was lightly malty with some bread and some bitter hops with a touch of floral hops. There was a faint sweetness. The mouthfeel was smooth and overall dry with medium-light body and strong carbonation. The hoppiness lingered on the palate. This was a light, refreshing, easy to drink pils.
Dec 14, 2004
Dominikaner Pils from Holsten-Brauerei
Beer rating:
80
out of
100
with
17
ratings