Holsten Non-Alcoholic
| Hanseatische Getränke-Industrie (HGI) Holsten-Brauerei AG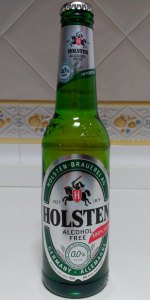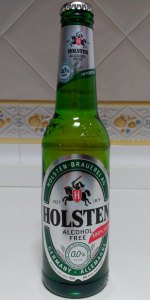 BEER INFO
Brewed by:
Hanseatische Getränke-Industrie (HGI) Holsten-Brauerei AG
Germany
holsten.de
Style:
Low Alcohol Beer
Alcohol by volume (ABV):
not listed
Availability:
Year-round
Notes / Commercial Description:
No notes at this time.
Added by allergictomacros on 04-07-2006
Ratings: 9 | Reviews: 6
Reviews by MTNboy:
2.71
/5
rDev
-11.4%
look: 3.5 | smell: 2.5 | taste: 2.5 | feel: 3 | overall: 3
It is not totally bad for a near beer but it does have some kick backs. When you're in the Middle East and you want some beer flavor this works. It has an average pils appearance with a golden carbonated body, good white head and lace. The taste is grainy, a bit sweet with the common metallic taste of a lot of NA's. The mouthfeel is thin with some bite.
359 characters
More User Reviews:
2.84
/5
rDev
-7.2%
look: 3.5 | smell: 3.25 | taste: 2.5 | feel: 3 | overall: 2.75

3.97
/5
rDev
+29.7%
look: 3.5 | smell: 4 | taste: 4 | feel: 4 | overall: 4
Considering this is zero alcohol...
A: Clear yellow, white head, verly little retention, initial lacing.
S: Floral, grassy, slightly spicy hops. It smells like a German Pilsner.
T: Floral, grassy, mineral, light sweetness, good bitterness.
M: Light to moderate body & carbonation.
D: Good for what it is.
319 characters
3.11
/5
rDev
+1.6%
look: 3 | smell: 2 | taste: 3.5 | feel: 3.5 | overall: 3.5
330ml can poured in a pilsener glass.
Clear, straw yellow in colour. White head is 1/8 inch on the pour, but quickly recedes to a thin ring around the edge.
Very sweet aroma. Kinda like candy corn. Hints of herbal hops in the background.
Lightly sweet at the very start, but the noble hop bitterness cuts through quickly and dominates until the end. Use of hops is perhaps a little heavy handed, but it's likely to give it atleast some flavour. It does have that traditional sweet Non-Alcohol beer flavour, but it's largely masked by the hops. Somewhat reminiscent of a German Pilsener.
Thin bodied with light carbonation. Smooth and crisp.
This is actually surprisingly drinkable. It almost tastes like beer. By far the best Non-Alcohol beer I've had to date.
775 characters
3
/5
rDev
-2%
look: 3 | smell: 3 | taste: 3 | feel: 3 | overall: 3
2.97
/5
rDev
-2.9%
look: 2.5 | smell: 3 | taste: 3 | feel: 3 | overall: 3
From Carrefour. Watching Game of Thrones 5x9. In Legado de Yuste glass. Nice. A bit herbal taste. Low bitterness. Without much of the metallic touch so common in other low alcohol beers
185 characters

3.48
/5
rDev
+13.7%
look: 3 | smell: 2.5 | taste: 4 | feel: 3 | overall: 4
Having taken the car to watch the footie I had to indulge in something a little less alcoholic than usual. After getting sick of Irn Bru I noticed this behind the bar and decided to give it a try.
The beer was a golden colour with a white head that offered some lacing for a short period of time. The smell was a let down, quite floral and sweet. I did not expect much after this.
However I was pleasantly surprised. An initial hint of fruit is then dominated by strong German hops (you really notice this diference compared to their English equivalent). This actually was very pleasant to drink and tasted like a beer.
The mouthfeel was a bit on the light side, but you can't expect everything with an alcohol free beer. It had a lovely aftertaste of slightly toasted hops.
A very surprisingly drinkable beer, it certainly made an alcohol free night a lot more enjoyable. Very drinkable, by far and away the best alcohol free beer I have tried.
949 characters
3.18
/5
rDev
+3.9%
look: 3.5 | smell: 3 | taste: 3 | feel: 3.5 | overall: 3.5
.. so the doctor sez: no alcohol. Sucks, but what can you do? I can't say I'm expecting a lot from this but let it not be said I didn't try. Rating inside the style is going to be hard perhaps...
A - Bubbling straw colour. Head is smallish, but there IS some lacing and a decent cover.
S - Fruity? Apples and a sweetness here. Something else that's familiar but not from a beer - reminds me of Japanese jellied sweet bean cakes. (yookan)
T - There's some bitterness, and that same apple taste. A touch of red bean flavour as well. Interesting and not all bad. Lacks depth though, but it IS 0.0%...
M - Lacks body of course, with no alcohol. Kind of like a slightly thicker, lightly carbonated water.
D - Not bad actually. I'd take this over the average macro, though not a decent craft beer/import. It has enough balance to not just be mildly bitter water, but it's still a bit lacking. A thumbs barely up overall, given the style.
946 characters

2.27
/5
rDev
-25.8%
look: 2 | smell: 2.5 | taste: 2 | feel: 2.5 | overall: 2.5
Holsten Non-Alcoholic from Hanseatische Getränke-Industrie (HGI) Holsten-Brauerei AG
Beer rating:
0
out of
100
with
9
ratings