Balthazar
| Picobrouwerij Alvinne
BA SCORE
80
good
37
Reviews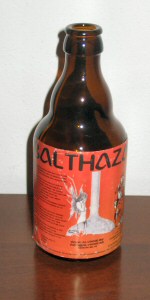 BEER INFO
Brewed by:
Picobrouwerij Alvinne
Belgium
alvinne.be
Style:
Belgian Strong Dark Ale
Alcohol by volume (ABV):
9.00%
Availability:
Year-round
Notes / Commercial Description:
No notes at this time.
Added by stcules on 03-01-2005
Reviews: 37 | Ratings: 67
3.13
/5
rDev
-8.7%
look: 3.5 | smell: 3 | taste: 3 | feel: 3 | overall: 3.5
A brown beer with a receeding head.
Smell is very spicy, hints of ginger, cardemom and melon. A bit tart and a little yeasty.
Taste is a strange taste, at first it appears tart, but then again it might be the spices that send the shivers down my spine. The cardemom and ginger are a solid combination, both spicy and to a certain point complementing each other, but this is just way beyond the point of subtle.
The malt is limited to light caramalts backed up by candisugar. No sweetness or syrupy taste. Mouthfeel is quite thin. Dry with spices. That's it.
560 characters
2.78
/5
rDev
-19%
look: 3.5 | smell: 3 | taste: 2.5 | feel: 3.5 | overall: 2.5
Bottle purchased at Winking Lizard in Mentor, Ohio last night for $7.00. This is one of their "World Tour of Beers 2009" selections. Served with an empty tulip glass. I really like that I was able to pour it!
A Dark brown body with ruby edges in front of direct light. The head is interesting in that it "snuck up" on my, not appearing at first pour but then rigorously gaining depth and breadth within about 15 seconds. It lingered for only a minute and a half or so, leaving only a trace ring around the top of the beer.
S Sweet malt with some spices, not a strong smell. I could certainly smell the alcohol.
T Sweet malt taste that explodes with other flavors of chocolate, spices. My bottle was served too cold for this style, though which gave this beer a sharpness that it likely should not have had. This is a beer that has so much complexity that it needs to be served closer to room temp. to really enjoy it. I let it sit for 15 minutes in front of me, waitress asking twice if I "Needed anything" while that was happening. The problem is the sharpness really did not dissipate that much with warmer temps. That was dissapointing.
M Full with big tastes, high ABV and that "sharp" taste that could be attributable to how cold it was served but it did not change enough after warming a bit.
D Not that great with high ABV, reasonably rare to find and that sharp taste that did not really improve with higher serving temps.
Notes: I think that there were too many grain and spice tastes in it which drove up the "sharpness" of it. I like my Belgian Strong Dark Ales to be more rounded and sweeter malt like a Gulden Draak. I have to say too that I was very dissapointed in this beer. A Belgian microbrew of one of my favorite styles, with the promise of some interesting spices and grains? I was llke, "sign me up!" Now I am like "only for completists."
1,866 characters
3.7
/5
rDev
+7.9%
look: 3.5 | smell: 3.5 | taste: 4 | feel: 3.5 | overall: 3.5
11.2oz bottle.
Poured a deep and cloudy reddish / brown color with an averaged sized off white head. Aromas of herbalness, lots of different spices, ginter and fresh mint leaves. Tastes of tart cherries, dark fruits, herbal, and spices. The light to medium tart and sour finish took me by surprise - a nice surprise as I liked it. Alcohol content well hidden.
Notes from 5/5/08
380 characters
3.49
/5
rDev
+1.7%
look: 3 | smell: 4 | taste: 3.5 | feel: 2.5 | overall: 3.5
Turbid dark chocolate with all sorts of floating (and sinking) bits are that easy to miss due to the beer's opacity. The fawn colored crown is massive and actually started oozing out of the bottle neck and onto the desktop before it could be corraled into the glass. The airy foam is smooth, unsticky, persistent and leaves a few sudsy streamers of lace.
If there's anyone out there who has never smelled cardamom, Balthazar is bursting with it. So much so that ginger and coriander are hard to appreciate. It's difficult to tell until the taste buds get into the act, but beneath the wall-to-wall spiciness just might lurk a pretty fair BSDA.
This Picobrouwerij Alvinne ale is only likely to find favor with those who love both Belgian beer and spiced beer. And I do mean spiced! It's obvious that the brewers went for the full monty in that department. Even though it's tasty, a single bottle in one sitting will be more than enough.
Thankfully, the dark fruitiness of the other ingredients stands up pretty well and avoids being overwhelmed by cardamom. Ginger is buried in there somewhere and coriander is still difficult to locate. Other flavors include dark caramel, dates, raisin paste, molasses and pipe tobacco. Alcohol is nicely buried.
Overcarbonation to such a degree that a beer explosion occurs on cap cracking is not a good thing. In this case, by the time I got the desk cleaned off and the remaining beer into the glass, it was essentially flat. Not completely, but close enough.
Now that I've had Gaspar and Balthazar, the only wise man left is Melchior. This spiced Belgian ale will probably never have a wide and adoring fanbase. Having said that, it's unquestionably unique and is worth a look... as long as you know what you're in for.
1,762 characters

1.9
/5
rDev
-44.6%
look: 4 | smell: 1.5 | taste: 1.5 | feel: 3 | overall: 2
Nasty stuff!!! Looked pretty inviting to start with. Poured a dense dark brown with a medium sized tan head. About average retention for a 9 % abv beer. No lacing.
Smell was an indicator of what was to come. It smelled like bitter cough medicine. Taste was the same, a somewhat malty beer mixed with nasty tasting cough medicine. The first few sips while cold were the worst. While not in the Budweiser Clamato class (what is?) it was still pretty close to a drain pour. I'm sure an impressive mix of spices were used. The combination of them, though turned out deadly for the tongue.
Leaving the lingering taste aside, the mouthfeel was fairly rich. As the beer warmed and numbed the tongue to the more unpleasant aspects, it became less objectionalble but still not pleasant.
Drinkability was bad. I'm sure the second one would go down easier than the first but why bother?
This is one to avoid.
901 characters
3.23
/5
rDev
-5.8%
look: 4 | smell: 3.5 | taste: 3 | feel: 3.5 | overall: 3
Appearance: Pours a hazy, dark brown body with a full, frothy, beige-colored head.
Smell: The nose is a disorderly heap of odd notes: smoked berries, herbs, menthol, shaved ginger, and spice. Heavens!
Taste: Sourish malt flavor initially. Then, you get some berries, spice, and a mild ginger taste. Gnarled wood bark bitterness. Slight acidity. Some mentholyptus. It gets a bit twangy midway. Spicy, lightly btiter finish.
Mouthfeel: Medium-bodied. Medium carbonaton.
Drinkability: For me, it was a mess as it never really came together for me. Ah well!
557 characters
2.22
/5
rDev
-35.3%
look: 4 | smell: 2 | taste: 2 | feel: 3 | overall: 2
11.2 oz. bottle, poured into a tulip glass:
Pours very dark brown - almost black. A one finger bubbly tan head tops it off. Eventually, it becomes a thick, swirling patch. Some dotted lacing sticks.
The smell is of ginger, coriander, cardamom. Yep - all the spicing listed on label is there. Unfortunately, though, it is intermingled with Grandma's home medicine. Sour and medicinal. Not inviting, but I continued on, nevertheless...
The taste is herbal/medicinal. This is not good. My second of this brewery (Caspar being the other), and I'm coming to think that this brewery likes to make beer that tastes like medicine that one would not willingly drink. Is this a spicy alternative to cod liver oil? This is damned near awful, well, not good. Licorice and rooty notes intermingle with gingerbread and pumpkin pie. Sour notes balance out spiciness, with candy sweetness in the mix (making it approaching somewhat tolerable). Finishes dry(ish).
Light-bodied and rather watery, though the flavors don't linger (a good thing, here). Mild to moderate carbonation. Feel isn't bad, though it misses the mark on the style. Almost helps drinkability, somewhat.
I hope this stuff is good for you, because that would be it's only real asset. I can enjoy an "experimental" brew (which, I'm thinking that this is trying to be???), but only if it works - this doesn't. Somehow, I managed to finish it (and without holding my nose and gulping it), but I'm thinking I should get a reward for doing so. I think I liked it less than the scores show. And, this from Belgium - a shame. And pricey, too - almost five bucks for this 11.2 oz. bottle. Not worth it.
1,650 characters

2.88
/5
rDev
-16%
look: 4 | smell: 3.5 | taste: 2.5 | feel: 3 | overall: 2.5
A dark mahongany body with a good off-white head. Nice retention, doesn't leave any lacing.
Smells spicy with a malt backbone.
Taste is sour. Overwhelmingly. Next you notice a mixture of spices. A slight malt backbone is noticeable, but this beer is dominated by sour flavors and then an odd spice mix.
Mouthfeel is pretty average, drinkability is kind of low because the unbalanced flavors. I wished I had ordered something else after trying this.
451 characters
2.92
/5
rDev
-14.9%
look: 3 | smell: 3.5 | taste: 2.5 | feel: 3 | overall: 3
Seeing the bottle produces a negative reaction as I used to work at the restaurant by the same name. Ack! Ack! Tourists! Away! Away!
Pours a dark brown with absolutely no head at all. What the hell? How can a Belgian brew have no head? Flavor is...yeeeeooow! What the hell is this? Tastes like apple cider with spices. This is just weird. Really. It's unlike any other of the style I have had (or would want to again). Feel has no carbonation and the liquid is about standard. What the hell is this mess people? Really. I have no idea what they were trying to go for here and wish this whole experience never would have happened. Seriously. What the hell is going on? This makes two things associated with the word Balthazar that I don't want to remember anymore. Wretched.
(Upon further thought, I have to guess that the bottles that made it over to the U.S. somehow got messed up and didn't come out as expected.)
917 characters

3.12
/5
rDev
-9%
look: 3 | smell: 3.5 | taste: 3 | feel: 3 | overall: 3
Short, fat, stout, 11.2 oz bottle purchased from Buy Rite on Oak Tree in South Plainfield for $4.99...
"Driekonigen Ale Brewed With Spices (Ginger, Coriander, and Cardamom) on the front, orange logo sticker...
Non-impressive appearance was the result of a hefty pour... deep, dark, mahogany-brown, very hazy and murky witha absolutely no head-at all, and hardly any carbonation... Bland, spice-dominated aroma... noticing some currants and coriander in the nose...
Very sour, slightly bitter flavor with obvious spice essences noticeable... Certainly not a very appealing or attractive taste... more sour than anything, and not particularly strong or appealing...
Bland, watered-down mouthfeel with a poor level of drinkability due to the cloying and slightly overbearing flavors... Although the alcohol isn't so noticeable, the slightly sour, bitter, and astringent flavors are...
Wouldn't particularly recommend this one...
925 characters
3.77
/5
rDev
+9.9%
look: 3 | smell: 3.5 | taste: 4 | feel: 3.5 | overall: 4
Very dark appearance, and still, a lot of thin floating bodies. Decent beige head, lacey. Not very longstanding.
The smell is spicy, and balsamic, with a backbone of lightly toasted malt. Pleasant. The alcohol is totally hidden. Notes of ginger, and liquorice.
Good taste. Here again, no alcohol spikes. Full, round. Malty, but not heavy. Liquorice, toasted malt, all quite light. Again notes of mint/balsamic.
Very interesting. Again spices, and then herbal notes from the hop, with the liquorice, showing a quite bitter result.
Average to light body, good drinkability.
Good bitterness and liquorice in the aftertaste.
Very good.
631 characters
3.67
/5
rDev
+7%
look: 3.5 | smell: 4 | taste: 3.5 | feel: 4 | overall: 3.5
Botteled apr. 2005, BB 2 years after filldate. Nice presentation with lasting yellow head and a black beercollor. Nose is lots of kruidnagel that gives a blackcurrant arome to the brew, dark candy, good carramellic maltyness and a overal fresh but spicy carracter. Taste is also lots of kruidnagel, sweetish and full maltbodied, moderate bittered and quiet good overall taste. Full and complex mouthfeel with fitting carbonisation. Easy drinkable and certainly something else, well worth a try.
494 characters
Balthazar from Picobrouwerij Alvinne
3.43
out of
5
based on
67
ratings.