Alvinne Mano Negra
| Picobrouwerij Alvinne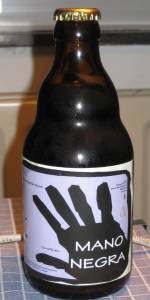 BEER INFO
Brewed by:
Picobrouwerij Alvinne
Belgium
alvinne.be
Style:
Russian Imperial Stout
Alcohol by volume (ABV):
10.00%
Availability:
Rotating
Notes / Commercial Description:
No notes at this time.
Added by ricke on 10-17-2009
Reviews: 14 | Ratings: 43

2.88
/5
rDev
-25.6%
look: 4 | smell: 3.5 | taste: 2.5 | feel: 3 | overall: 2.5
A 330ml bottle with a BB of Oct 2012 (lot 513). Acquired from a Belgian webshop ages ago and stored in my garage - hope it's still OK. The name is curious, and the label describes this as a Belgian-style Imperial Stout.
Major gusher - very highly carbonated. Poured into a Duvel tulip. Ultra-black in colour; revealed as a deep brown while pouring. Thick chunks of yeast sediment end up at the bottom of the glass. Forms a large head of creamy brown foam that lasts for a time before subsiding to a surface layer. Aroma of dark malt and faint roasted grain, with a dominant musty, sour note. Seriously funky - there is a hint of blue cheese or mould (and I'm not a fan of blue cheese). A subtle mélange of dried fruit, molasses, brown sugar, leather, wood and a warming whiff of booze. Complex but rather unappetising.
Tastes of fruity dark malt with a twinge of roasted/burnt grain. A distinctly musty/mouldy note pervades the flavour, along with an accompanying sourness. Some hints of dark cherries, dried fruit, molasses, sherry/port, earthy yeast esters, leather and wood. Alcoholic heat in the background. No real bitterness, but very dry and astringent upon swallowing. Mouthfeel is thin and insubstantial, with tingly carbonation. The body doesn't do the strength justice. Dries the palate considerably, with an aftertaste of dark fruity malt and a sour, mouldy character.
Blech - I'm not loving this at all. The mould/blue cheese note is vile - not what I want in my beer! Not sure what's up with this bottle - too old or is this sour character intentional? I suspect it's probably just age. The dark fruity notes that one might expect from an Imperial Stout are present, but weak and overshadowed by off-flavours in all their variation. The aroma is an improvement, but still flawed. Unimpressive body. The only element of this beer that seems right is it's appearance, and that doesn't count for much. Not good and not recommended.
1,946 characters
3.23
/5
rDev
-16.5%
look: 3.5 | smell: 3 | taste: 3.5 | feel: 3 | overall: 3
It would be nice to pour one of these beers without it being a gusher/overflowing after pouring into the glass...that's my major beef with Alvinne.
Pours a dark brown with a solid white head.
Nose is pretty mild, rich malts, brown sugar, some chocolate.
Strong earthiness upfront with notes of bakers chocolate, caramel, molasses, and a lingering earthy bitterness in the finish...a bit chalky.
Overall; I would have enjoyed this a lot more if less of it had ended up overflowing out of the glass.
A note to Alvinne; after tasting 5+ of your beers, it would be nice if you could dial in your yeast/carbonation... but for now, I'm writing off this brewery because it has been one disappointment after another.
713 characters

3.43
/5
rDev
-11.4%
look: 4.5 | smell: 4 | taste: 3 | feel: 3 | overall: 3.5
33cl, Jan 2012 on cap.
Very impressive light-tan head takes up more than half of the glass and builds over the rim. Body is an opaque, murky, near-black. Excellent retention.
Nose has some nice dark fruitiness--cherries and blueberry--coupled with alcohol and a fat roast redolent of tobacco.
Flavor is hugely roasty, but that's about it here. This is a one-note beer. You can make things interesting with two notes, but rarely with one. Improves as it warms, gaining a bit of dark chocolate and coffee, though not much. Mouthfeel is over-carbonated, and smooths out only if you're very patient with the drink.
An okay stout. Nothing wrong with it, just not very interesting or persuasive for the style.
707 characters
3.45
/5
rDev
-10.9%
look: 3.5 | smell: 3.5 | taste: 3.5 | feel: 3 | overall: 3.5
A: Very dark brown with a small pale brown head. Some lacings.
S: Roasted malts, notes of chocolate and dark fruits.
T: The taste is better than the smell. It's fairly sweet and dominated by roasted malts. Notes of dark fruits and coffee. A hint of chocolate and a very mild spicy note.
M: Medium body, slightly sticky texture despite the very bubbly carbonation.
D: A decent beer, but I was actually somewhat disappointed in this considering the reputation behind this brewery and the fact that I usually like Belgian imperial stouts very much.
558 characters
3.83
/5
rDev
-1%
look: 4 | smell: 3.5 | taste: 4 | feel: 3.5 | overall: 4
Head rises fairly quickly to a large almost 3 finger head, darker colored head fades semi slowly with big bubble pops, and a bit of lacing, over very dark molasses brown color with barely escaping light.
Nose a sour light funk, pretty sure infected, under the infection comes some roasty malts, a slight burnt coffee grind, touch of caramel malts, bit of chocolate covered cherry, not much else to get under the contaminated sour aroma.
Taste brings some roasty bitterness, roasted malts with a hint of coffee and burnt rinds, a slight sour cherry flavor, infection again I think, slight sweetness, hints of caramel, a bit of booze, hint of a chocolate milk cherry flavor, slight spices like nutmeg and cinnamon. Finishes with a long lingering sour cherry, bit of darker malts, slightly dry but sticky and flemmy at the same time.
Mouth is a bit heavier bodied, a bit flemmy too, some warming booze, and quite a bit of carbonation of many little bubbles.
Overall hard to tell, it would probably be pretty good without the infection normally, but I kinda like the added sour cherry flavor, the aroma on the other hand was a bit off.
1,135 characters
4
/5
rDev
+3.4%
look: 4 | smell: 4 | taste: 4 | feel: 4 | overall: 4
Thanks to bu11zeye for sharing this bottle.
When opened, the beer gushed for several minutes before calming down enough to serve. The beer pours a dark brown color with a cream-colored head. The aroma is notes of caramel, toffee and dark cherries. The flavor is heavy on the roasted malt, cherries, caramel, toffee and chocolate. There is also a little bit of smoke in the beer, which goes very well with the other flavor components. Medium mouthfeel and medium carbonation.
475 characters
4.06
/5
rDev
+4.9%
look: 5 | smell: 4 | taste: 4 | feel: 4 | overall: 4
Bottle: Poured a pitch-black color stout with a super huge slightly off-white foamy head with excellent retention and very good lacing. Aroma of lightly roasted malt with some very subtle dry coffee notes with a dominating medium-sweet Belgian malt base. Taste is also very dominated by lightly sweet Belgian style malt with light dry finish from roasted malt. Body is quite full with perfect carbonation and no signs of the alcohol. Very well brewed with great balanced between the different ingredient.
504 characters
4.08
/5
rDev
+5.4%
look: 4 | smell: 3.5 | taste: 4.5 | feel: 4 | overall: 4
33 cl bottle from Belgian Beer Station.
This is my 1st Alvinne beer ...
No gusher at all. There was lots of pressure when lifting the cap but no beer flowing out.
A light brown, almost creamy but a bit fizzy head tops a pitch black beer.
The aroma is very strong but oh boy, this is a surprising beer: this doesn't smell like a traditional stout. I smell roasted malts but also fruity sourness what I didn't expect at all.
The taste is a blend of a sour flemish red (Rodenbach Grand Cru) and a stout (Guinness). The flemish red is upfront, the stout comes afterwards. The aftertaste is also a mixture of these 2 tastes. It's an achievement to balance these 2 very different flavours from the start to the end. I like it but ... only for experienced beer tasters.
In Dutch there's an expression for this beer: "noch vis noch vlees", freely translated in English "Neither fish nor flesh".
This doesn't mean this is a bad beer ... not at all. It's amazing, unique, a one of a kind beer.
987 characters
4.08
/5
rDev
+5.4%
look: 4 | smell: 4 | taste: 4.25 | feel: 3.75 | overall: 4
A little bit of a gusher - be warned - but I was ready for the pour, so didn't lose any. Pours very dark muddy brown near-black into a tulip. Head is fawn coloured, crispy, and quick to recede to surface froth.
You can definately get a taster of what's to come with this beer from the aroma; sour cherries, perhaps a little bit of cinnamon apple, some dark fruits like fig and date, a little vinous quality, roasted malts, and something akin to rhubarb. There's definately a Belgian vibe going on, perhaps a Red Flanders inspired RIS.
This is so different than the traditional RIS, like a sour red stout hybrid; up front you get tart red fruit, some puckering vinous acidity, sherried apple, and a little funk, but underneath you still have the bakers chocolate, deep roasted malt flavours, burnt caramel, oak, leather and woodsmoke. It's a wonderful complexity with the tart and roast entwining in the mouth, a real bittersweet marriage. Best of all, the tart doesn't take over rather rolls into those deep roasty flavours before rising to a peak.
Mouthfeel is better than I expected; I was anticipating something quite carbonated but it falls into medium-bodied quite nicely; it isn't a chewy stout by any stretch of the imagination but it isn't thin. And that booze is very well hidden.
Very nice beer, a great Belgian twist on the traditional RIS. Usually not a fan of sour ales but this is something I would turn to again.
1,431 characters
4.2
/5
rDev
+8.5%
look: 4 | smell: 4 | taste: 4.5 | feel: 4 | overall: 4
Dumpy 33cl brown bottle, bought at the 2010 Pre-Zythos fest bottleshop within the event organised by GlennC at Alvinne (March time).
The bottle was opened and poured into a Westmalle chalice mid August 2010.
Dark brown, almost black in appearance, with a creamy tanned head sat on top. Everything looks good in a Westmalle chalice though!
The aroma was of chocolate, earthy molasses, some coffee and hints of liquorice.
The flavours follow the smells, but the coffee and liquorice advance to equal billing with the molasses and chocolate in the taste.
Rich, semi-creamy and very alcoholic (noticed more as the mouth dries).
Different and most drinkable.
659 characters
4.32
/5
rDev
+11.6%
look: 4 | smell: 4.5 | taste: 4 | feel: 5 | overall: 4.5
Precious gift from Davy and Glenn straight from the conditioning cask on day #10. Thank you gentlemen!
A: Dark chestnut color, flat
S: Aroma of dark chocolate and dark mixed fruits, with a hint of vanilla.
T: Flavor starts with milk chocolate and vanilla, very smooth, and progresses to roasted coffee beans.
M: Chewy!
D: Wonderful stuff, can't wait to see it at maturity!
372 characters

4.41
/5
rDev
+14%
look: 5 | smell: 4 | taste: 4.5 | feel: 4.5 | overall: 4.5
One of the many brews that I had on the AMAZING & GREAT Borefts Bier Festival 2009 organised by De Molen brewery.
Tasted this one while hanging out with the very sympathic Alvinne brewers Davy & Glenn.
A: Black color with a espresso like cream head.
S: Roasted malts, coffee, some liquorice and a bit woody.
T: Roasted malts, coffee, dark fruits and a winy woody taste. Slightly bitter and salty in the aftertaste.
M: Medium carbonation, viscous mouthfeel and a medium body.
D: Very high. Too bad that the bottles were sold out immediately at the Molen Beershop. Damm!!!
578 characters

4.45
/5
rDev
+15%
look: 3.75 | smell: 4.25 | taste: 4.75 | feel: 4 | overall: 4.5
On draught at In De Wildeman, Mano Negra is black with a tan head leaving light lace.
Smell is moderate, sweet and sour, some caramel.
Taste is awesome, flanders red RIS, reminds me a lot of De Dolle Oerbier Reserva, but more stout dominated. And that is one one of my favorites. Nice sour cherry, light roast. Some acid, somewhat vinous.
Mouthfeel is sticky, medium bodied.
Drinkability is really solid. Delicious beer, nice complexity and depth. Dangerously smooth. Fantastic beer.
491 characters

4.46
/5
rDev
+15.2%
look: 5 | smell: 4 | taste: 4.5 | feel: 5 | overall: 4.5
Had this beer at the 1st Borefts bier festival (BBF 2009), personally served by the brewers from the Alvinne brewery, thnx guys!
Poured into a de Molen sniffer. The beer pours a black color, with a beautiful very long lasting espresso-colored head.
Smell: Coffee, roasted malts, liquorish and a bit woody. Nicely mixed sweet- and bitterness.
Taste: Roasted malts and coffee again, with hints of dark fruits. There is also a nice woody wine-like taste in the beer. The aftertaste has hints of liquorish, with bitterness in the end. When the beer warms up, also some hints of a well balanced sourness appears.
Mouthfeel: Medium carbonation, the beer is thick, viscous and oily. So smoooth
Overall: Beautiful beer. Perfectly balanced. A master piece, brewed with love!
773 characters
Alvinne Mano Negra from Picobrouwerij Alvinne
3.87
out of
5
based on
43
ratings.