Alvinnes Naked Ladies
| Picobrouwerij Alvinne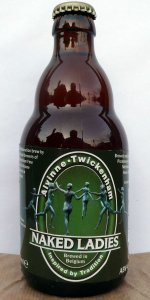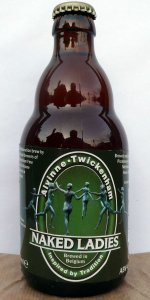 BEER INFO
Brewed by:
Picobrouwerij Alvinne
Belgium
alvinne.be
Style:
English Bitter
Alcohol by volume (ABV):
4.40%
Availability:
Limited (brewed once)
Notes / Commercial Description:
No notes at this time.
Added by Mora2000 on 12-15-2010
This beer is retired; no longer brewed.
HISTOGRAM
Ratings: 10 | Reviews: 6
None found.
More User Reviews:
3.58
/5
rDev
+3.2%
look: 4 | smell: 3.5 | taste: 3.5 | feel: 4 | overall: 3.5
Thanks to bu11zeye for sharing this bottle. I believe this beer is now retired.
The beer pours a golden color with a huge white head. The aroma is wheat, lemons and oranges. There is also a fair amount of caramel and toffee malt.
The flavor has a lot of hop components in it. I get some grassy and orange citrus notes, as well as some wheat, grain and toffee. Low to medium bitterness.
Medium mouthfeel and medium carbonation.
431 characters

3.13
/5
rDev
-9.8%
look: 4 | smell: 3.5 | taste: 3 | feel: 3.5 | overall: 2.5
A 330ml bottle with a BB of Feb 2013. This is a collaborative brew between the Alvinne and Twickenham breweries; purchased from a Belgian webshop. The name is taken from statues located in Twickenham (and is also the name of a Twickenham brewery ale).
Poured into a Duvel tulip. Highly effervescent - the excessive foaming makes it difficult to pour. A hazy orange-amber hue with strong carbonation and plenty of yeast sediment. Produces a gargantuan head of white foam with superb stability; it takes an age to settle to a surface layer. Aroma of dry, fruity yeast esters with hints of spices (coriander), fruit and a faint whiff of citrus hops. A yeasty sourness is present in the background.
Tastes of dry, earthy yeast with a bitter finish. Notes of yeast esters, spice and a hint of aromatic citrus and oranges. Considerable stewed hop bitterness upon swallowing, almost herbal in nature (much more so than most Belgian beers). Also somewhat sour. Mouthfeel is tingly, full-bodied and very dry. A yeasty sensation coats the palate. Highly astringent. Aftertaste of bitter earthy yeast.
I wasn't really sure what to expect from this one - I guess the brewers were aiming for a fusion of Belgian and English beer styles. I'm not sure that they succeeded. Very yeasty - this character dominates everything and smothers other flavours. Perhaps I left it to mature for too long, despite being in date? Also surprisingly bitter - perhaps excessively so. Mild aromatic hops notes, but not enough to overcome the yeast. At any rate, I didn't feel that the flavour was well balanced. Interesting but not brilliant.
1,613 characters
3.42
/5
rDev
-1.4%
look: 3 | smell: 3.5 | taste: 3.5 | feel: 3 | overall: 3.5
330ml Bottle: best before Feb 2014, poured into a Westmalle chalice on 5th Aug 2012.
Cloudy orange body, more cloudy after the sediment was added just before the end of my tasting. On top sat a big, soft off-white head of foam.
The smell was of oranges soaked in coriander and peaches: so a fruity aroma then.
The taste was also fruity with oranges again leading the way: different and interesting. Not really my 'thing' but enjoyable all the same.
451 characters
3.59
/5
rDev
+3.5%
look: 3 | smell: 3.25 | taste: 3.75 | feel: 3.75 | overall: 3.75
The beer comes gushing out of the glass and pours a hazy orange color with a big bubbled head.
The smell is mostly lactic, with notes of pine-apple and mango. No other smells that I pick up. The tart fruitiness is very present.
The beer is tart, but has a mild tartness. The abundant exotic fruits are overwhelming and give the beer a nice taste. The 46 EBU is not very apparent, the beer is a bit bitter, but this must be overpowered by the lactic acid. It is amazing to taste a beer of 4,4 % ABV with so much taste.
520 characters

3.58
/5
rDev
+3.2%
look: 4 | smell: 3.5 | taste: 3.5 | feel: 4 | overall: 3.5
Pours a clean orange-ish to yellow color with an off white head. In the aroma, a small sweet malt and mellow hop. In the taste, dry, grassy hops and a dry yeasty presence in the end. A bitter and medium bodied mouthfeel, with a dry, grassy hop in the aftertaste. Nice bitter with grassy hops, and a hint of Belgian though process with a yeasty undertone.
354 characters
3.68
/5
rDev
+6.1%
look: 4.5 | smell: 4 | taste: 3.5 | feel: 3.5 | overall: 3.5
Pours a cloudy, maize color. One inch head of a white color. Great retention and great lacing. Smells of citrus hops, floral hops, sweet malt, alcohol, slight sugar, and a hint of earthy malt. Fits the style of an English Bitter, but is a better fit as a Belgian Pale Ale. Mouth feel is sharp and crisp, with an average carbonation level. There is also a slight dryness. Tastes of slight alcohol, slight sweet malt, slight pale malt, citrus hops, hint of sugar, and hint of earthy malt. Overall, good appearance, aroma, body, and blend.
536 characters

Alvinnes Naked Ladies from Picobrouwerij Alvinne
Beer rating:
3.47
out of
5
with
10
ratings