Morpheus Dark
| Picobrouwerij Alvinne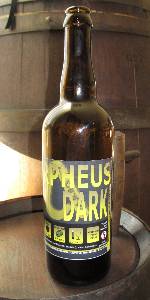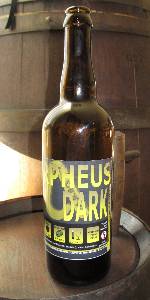 BEER INFO
Brewed by:
Picobrouwerij Alvinne
Belgium
alvinne.be
Style:
Russian Imperial Stout
Alcohol by volume (ABV):
10.20%
Availability:
Year-round
Notes / Commercial Description:
Called "Podge Belgian Imperial Stout" in the USA.
Added by beerdrifter on 02-07-2011
HISTOGRAM
Ratings: 15 | Reviews: 11
2.15
/5
rDev
-38.4%
look: 2.5 | smell: 2.5 | taste: 2 | feel: 2 | overall: 2
Since it's labeled and supposed to be an Imperial Stout, I am reviewing as such.
Finally, an Alvinne beer that isn't a gusher.
Pours a dark and murky brown with a standard white head.
Nose, very minimalt; some grains and caramel.
Flavor, more like a strong dark ale with notes of spices, earthiness, and a rounded chalky bitterness.
Overall; not impressive as an impy stout or a BSDA.
389 characters

2.73
/5
rDev
-21.8%
look: 4 | smell: 2.75 | taste: 2.5 | feel: 3.25 | overall: 2.5
A 330ml bottle with a BB of Dec 2012, so it's just out of date. Purchased from a Belgian webshop ages ago and stored in my garage. The ingredient list includes 7 types of malt.
Proves to be a minor gusher upon opening. Poured into a Duvel tulip. A very dark brown/black with reddish highlights; appears black in the glass. Intense carbonation. Produces a massive head of creamy light-brown foam with excellent retention - this slowly reduces to a thick surface layer. An aroma of musty funk with hints of blue cheese, earthy yeast, faint dark malt and stewed hops. Overtones of fruity lactic tartness are also present. Smells rather too ancient to me.
Tastes of musty, earthy yeast with a funky tart character and a dry finish. Notes of earthy yeast, sour funk, mild blue cheese, mould, faint dark malt and stewed hops. The malt is discernible but other flavours have since faded away. A very mild whiff of booze in the background, though for it's strength the alcohol is well hidden. A restrained dry bitterness upon swallowing. Mouthfeel is smooth and tingly with nice carbonation, but overall the body seems a bit insubstantial. Rather astringent and acidic, with an aftertaste of funk, earthy yeast and faint dark malt.
Oooof - this was a chore to get through. Like several other Morpheus beers I've had over the past few months, this one has evolved into a sour, funky mess that probably bears little resemblence to it's original flavour. There is a slight hint of malt in the aroma/taste, but not much. It certainly doesn't seem like an RIS to me - more of a strong dark Belgian brew. The body is too thin for an imperial stout, and the fruitiness that one might expect is missing. The best aspect is the appearance. At any rate, I think it's a bit too old and I didn't love it. However, I will try and re-review with a fresher bottle if I ever have the opportunity.
1,875 characters

3.24
/5
rDev
-7.2%
look: 4.5 | smell: 3 | taste: 3 | feel: 3.5 | overall: 3.5
A: Beautiful light dark beer with a beautiful head.
S: Not especially, can find not a specific smell.
T: Something on the sour side with a bit of fresh flavor. Furthermore what on the slack side.
M: Reasonable and delicious tingling in the mouth.
D: Average beer and well drink.
282 characters

3.35
/5
rDev
-4%
look: 3.5 | smell: 3.5 | taste: 3.25 | feel: 3.5 | overall: 3.25
Dark brown color with a large, light brown head. Aroma is very intense on the yeast notes. Booze soaked dried fruits and dark sugar are dominant. Taste starts with the same notes as the aroma but in the finish you get lots of roasted coffee and bitterness. There is also some kind of dry, dusty flavor which makes me think of an old cellar. Carbonation is on the high side and body is medium-light. Overall I didn't like it too much.
433 characters

3.4
/5
rDev
-2.6%
look: 3.75 | smell: 3.75 | taste: 3.25 | feel: 3.25 | overall: 3.25

3.44
/5
rDev
-1.4%
look: 3.75 | smell: 3.5 | taste: 3.25 | feel: 3.75 | overall: 3.5
3.5
/5
rDev
+0.3%
look: 4 | smell: 4 | taste: 3.5 | feel: 3 | overall: 3
A - A very dark red beer, say black. An enormous head, that is incredibly steady. Unfortunately lady gravity wins the battle and a fluffy head remains.
S - A very nice inviting scent of hops, pine, alp-fields, citrus fruits and yeast.
T - Chocolate, toffee are quickly pressed to the back to create space for the beautiful hops and fruit tones. The fluid is a little sweet and not so bitter. The alcohol percentage is nicely hidden, as is the amount of hops used.
M - A little to watery and to much carbonation for this type of beer.
O - I expected more. The taste is OK, but a RIS has to have more body and creaminess.
624 characters

3.56
/5
rDev
+2%
look: 4.5 | smell: 3.5 | taste: 3.5 | feel: 3.5 | overall: 3.5
I bought this beer a few weeks ago when i was in Belgium. Tonight the weekend is starting for me so i thought i would give myself this beer!
Poured in my Struise glass this beer looks devine.... very nice dark fluid like cola and a hughe lightbrown head.
Smell is not like the other Ris i have had untill now. Not a bad smell but a bit too thin. The taste has a bit of the same problem, The alcohol is well hidden but the taste is too thin, like coffeebeans which have been used three times.
Not a bad beer but certainly not one of the highlights.
550 characters

3.65
/5
rDev
+4.6%
look: 4 | smell: 4 | taste: 3.5 | feel: 3.5 | overall: 3.5
This a good brew, but hardly an Imperial Stout. Not much of a stout... maybe a Belgian stout...
A: Deep brown-black with a light tan head, good retention, light lace.
S: Floral perfume, steelie metallic, slight orange rind, some fusil alcohol, demerara, roasted nut, slightly burnt toast, hint of coffee.
T: I'd say this is a Belgian strong dark, with a good hopping and light roast. There's some dark fruit & sugar, balanced bitterness, alcohol is extremely well-hidden, light tartness in the finish.
M: Well-attenuated, moderate body is fairly bubbly.
D: This doesn't seem anywhere near 10.2%. I good drinker and fairly unique.
Big thanks to Phyl21ca for an awesome trade!
680 characters

3.69
/5
rDev
+5.7%
look: 4 | smell: 3.75 | taste: 3.75 | feel: 3.5 | overall: 3.5
Dark brown, two finger fluffy beige head that recedes in a long time.
Smell of sweet berries, light cherries, dark grape, with a light sourness on top of caramel and toffee. "Moldy" yeasts, with a light lactic acidity too, faint chocolate, light herbal hops, spices.
Alcohol shows up in the taste from the start, so does a lot of bitter orange peel, straight in the start, with fruity esters bringing a mix of dark fruit (cherry, date, cranberry) and orchard fruit (crunchy yellow apple, pear). Gets even rougher with strong spicy yeasts, moldy, dry, dusty, really really earthy, but also packing a nice tartness. Creates quite an impression of wood barrel, actually. Thick bready malts, kinda roasted, hinting some coffee powder too. Hints of pine and some grassy hops in the end, quite bitter.
Just in time, because they manage to cut off the booze, leaving room in the aftertaste for the earthy, thick spicy yeasts, burnt dark bread, a bit of dark fruit juiciness. A really long lasting aftertaste. Medium body, medium carbonation.
Tons of yeast in this one, working on more than one level. Not sure why people call this a RIS. A solid, thick, monster of a strong dark Belgian ale, another good showing for Morpheus yeast (tho, too much in the end).
1,252 characters

3.88
/5
rDev
+11.2%
look: 4 | smell: 3.5 | taste: 4 | feel: 4 | overall: 4
Bottle: Poured a dark cloudy brown color ale with a thick off-white foamy head with great retention and good lacing. Aroma consists of spicy yeast with sweet malt and light funky notes. Taste is a great mix between some funky yeast notes with a solid sweet malt backbone and light dry fruit notes with a quite powerful spicy yeast strain. Body is full with limited filtration and great carbonation with no apparent alcohol. Closer to a quad then an imperials tout but very enjoyable nonetheless.
495 characters
3.91
/5
rDev
+12%
look: 4.5 | smell: 3.5 | taste: 4 | feel: 4 | overall: 4
Picked up at ABS Drinks upon recommendation from weissbierdrinker, thanks Shawn! Ingredients include 7 moutsoorten, how exciting!
A - Pours a muddy dark brown with good carbonation. Two finger rocky head of a beige sorta colour. Great retention with a good rocky one finger remaining. Really strong lacing. It's like the head just barely went down. Good stuff.
S - Strong piney hops, roasted malt, coffee, some sweet malt, and alcohol.
T - Hoppy stout, here we come! Quite a bit of roasted malt. Strong hops. A little licorice maybe.
M - Good carbonation, with a great full body and a frothy nature.
O/D - Not your typical Impy Stout but it's quite good. Packed with hops that compliment the stouty qualities. Happy I tried it.
732 characters

4.08
/5
rDev
+16.9%
look: 4 | smell: 3.5 | taste: 4.5 | feel: 4 | overall: 4
Picked this up at an awesome beer store outside Ghent, Dranken Geers. Deep dark chocolate pour with a beige two finger head with decent retention and lacing. Somewhat subdued, malty, earthy nose with subtle hints of peat, chocolate, molasses, brown sugar and rasins with just a touch of coffee. The taste is vey earthy as well. I'm tasting toasty malts, milk chocolate, caramel, nuts, coffee and a subtle spicy, bitter hop bite. It was a bit thin and fizzy at first, but as it warmed it thickened up nicely. This thing is smooth as silk with a nice dry finish. The drinkablity is really scary. The 10.2 ABV is nowhere to be found. This has to be one of the most sessionable big Belgians I've had. This is my second experience with Alvinne and it's really got me stoked as I'm headed to their Craft Beer Fest next month. Will definitely be picking up some more Alvinne while I'm there.
884 characters
Morpheus Dark from Picobrouwerij Alvinne
Beer rating:
3.49
out of
5
with
15
ratings