Der Braumeister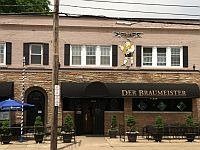 PLACE INFO
Type:
Bar, Eatery
13040 Lorian Avenue
Cleveland
,
Ohio
, 44111
United States
(216) 671-6220 |
map
derbraumeister.com
Notes:
No notes at this time.
Added by BeerAdvocate
Reviews: 11 | Ratings: 14
Reviews by neenerzig:

4.33
/5
rDev
+1.4%
vibe: 4 | quality: 4.5 | service: 4.5 | selection: 4 | food: 4.5
Stopped in here one evening after work recently. I was seated at a tall, round table in the bar area right away. the bar area is in the middle of this complex. If you are facing the front of the establishment, the deli with lots of meats is on the left side of the bar area and there is a dining room connected. I didn't go in the deli or dining room. The wood walls are lined with lots of beer signs/mirrors, the lighting was somewhat dim and there was what I would describe as German pop music playing, but not too loudly. The young waitress brought me a menu and list of their beers right away too. A middle aged couple were the only other patrons at this time, so that could have accounted for the very speedy service, at least partially. The other, older woman behind the bar very knowledgeably answered all my beer questions. Their bottled selection, which totaled 50 beers, included offerings from Unibroue, Lechaffe, Dinkel Acker, Leffe Blonde, St. Bernardus, Hof Brau, Grimbergen, Dab, Stieglbrauerei zu Salzburg GmbH, and Reissdorf Kölsch among many others. They also have 10 offerings on-tap and the selections included a lambic from Roderbach, Corsendonk Christmas Ale, an offering from Weihenstephan, and an offering from Samuel Smith. I believe you can also get bottled beer to go here. It looked like they also had a fairly good selection of wine and hard liquor. For food I got an order of German Potato Soup at $3.75 a bowl and an order of 4 big mushroom caps with cheese and crab meat baked on top. Very good and filling! The food came quickly which was good as I was very hungry at the time. For beer I got an Original Stieglbock. A very enjoyable experience overall.
Eric
1,693 characters
More User Reviews:
4.3
/5
rDev
+0.7%
vibe: 4.25 | quality: 4.25 | service: 4.5 | selection: 4 | food: 4.75

4
/5
rDev
-6.3%
vibe: 4 | quality: 4 | service: 3 | selection: 5 | food: 4
This is THE place that started me on the road to GOOD beer, mainly import but also micro, quality over quantity...have always gone for the amazing beer selection the food, though good was always an after thought as it's more of a dinner place than a pub food kinda place, very good German food nonetheless. They also have a very good "World Tour" that nets you a mug with your name on it that remains at the bar for the days when you stop by to enjoy some after work or lunch time elixir...I'll never forget this place and the beers on-tap that are still in my top five, Aventinus, St. Ambrous Oatmeal Stout and the mighty La Chouffe
633 characters
3.65
/5
rDev
-14.5%
vibe: 4.5 | quality: 4 | service: 3 | selection: 4 | food: 2.5
Took eleven of my closest family and friends to Der Braumeister after reading about it here at BA. Called ahead for reservations and everyone at the restaurant were accomodating about the reservations.
A Great...a german rustic interior whic was very approrpriate for the beer and food selection. Sure enough, I saw the chalkboard with the current tap selections. 10 beers listed, but only 9 available on tap (they did not have the St. Bernardus abt 12 listed there). They had bar stools, some wooden booths and places like our table which featured separate chairs. Cloth napkins, readily supplied with beer, food and wine menus.
Q Beer quality: quite good, especially if you like german beer. Served for the most part in the appropriate glasses (not always the EXACT labeled glass but appropriate none the less). I had two beers presented in their own labled glass. Food quality: Fair. I had the German sausage platter (Knockwurst and Bratwurst) with saurkraut with some German potato soup. The soup was thin for my taste but others told me that it is appropriate for "real" german soup. Oh well, I did not care for it that much.
Service: Only fair. Twice I ordered a beer and the waitress seemingly forgot about it. I had to go to the bar myself to get the beer in question. That was not very convenient at all. Sure, I was in a group of 12 but still...ordering beer cannot be something new to the waitress, can it?
Selection: Beer: great. 9 beers on tap and another 60-70(?) in bottles. Not limited to German. A few U.S. beers and some belgians but the focus was (approrpiately) German. Food: good and very appropriate (again) in being focused on German.
F Only fair (see comments on quality above). I do not recall being "blown away" by any german food but this was pedestrian.
V reasonable. Dinner for two with $12.00 of beer and tip was $55.00. Take out the drinks and it was something like $40. Not bad at all.
Notes: I really anticipated this first trip to Der Braumeister (which is why I brought eleven people with me) and while I like it, and recommend it, I will not be rushing back there. The beer experience was a positive one for sure but the food being only fair was a dissapointment. One last point: I could not help but compare it to Chef Paul's Bavarian House in Lisle, Illinois since they are both German places featuring large beer selection. It is not even close to the Bavarian House but then who could be?
2,435 characters
4.15
/5
rDev
-2.8%
vibe: 4 | quality: 4.5 | service: 4 | selection: 4 | food: 4
The first stop on our mini beer tour of the greater Cleveland area, Der Braumeister offers some great German and Belgian selections along side some good food and genuine European atmosphere. We arrived around 5:30 on a Monday and the place was all but empty. The four of us took a seat in the rustic old dining room. The decor and atmosphere was charmingly out-dated with an almost cabin-like feel. Wooden tables, booths, walls, trim, etc. The bar area was toward the front of the place but we spent most of our visit at a table in the dining room. We ordered up some mugs of the usual German stables and some appetizers. The meat, cheese, and fruit platter was tasty and appropriate. My cousin, being a bit more courageous, order the bacon wrapped scallops. I advised him on the potential ramifications of ordering scallops from an empty German restaurant on a Monday evening. He persistently ordered and the turned out to be very tasty. Both the beer and the food were reasonably priced and the service was friendly and prompt. Before we set off for our next location we visited the beer and specialty food shop connected to the bar. They had a decent selection of bottles and some interesting foods as well. We purchased some gourmet chocolate and a couple bottles of Kriek De Ranke (for a very reasonable $10/bottle). We had a great time and I would certainly suggest visiting. In fact I am even prepared to forgive the fact that it's located in 'The mistake by the lake.'
1,476 characters
4.38
/5
rDev
+2.6%
vibe: 4.5 | quality: 4.5 | service: 4.5 | selection: 4 | food: 4.5
A quaint little place in a blue collar looking neighborhood. Dimly lit interior with a nice dark wooden bar that probably seat a dozen or so shoulder-to-shoulder.
I spied most of the taps to be great German offerings outside of a St. Bernardus Abt 12 and possibly an IPA. The Dinkle Dark was tasty and true. The Franziskaner Hefe was spot-on. My buddy & I even tried the Schlenkerla Rauch beer (cellar temp. in the litre bottle) paired with some homemade German smoked (cold) sausage. This combination proved very pleasing and memorable.
We walked over to the dining section that had many cozy booths and tables in the center. A very wide wall was decorated with some kind of Bavarian castle towering over a majestic forest -which looked very cool and fitting.
Overall a place I sure wish was in my town. The bar area is quintessential warm, cozy, friendly and authentic as a local pub that you could imagine. Not trendy, not flashy, just great.
949 characters
4.38
/5
rDev
+2.6%
vibe: 4.5 | quality: 4.5 | service: 4 | selection: 4.5 | food: 4.5
Der Braumeister is a little piece of Germany that can easily be found in a small plaza on the corner of Lorain Ave and W 130th. Just look for a CVS and Der Braumeister is across the street from that. They only have a few free parking spaces behind the restaurant, but there are some residential streets near by. I've never beer to a German biergarden before, but if you had imagine one, this is what it would look like. When you first walk in, you're going to notice that it's very small, dark, and they decorated the bar area with vintage American and German beer signs all around the bar and tables. Walk past the tables and on the right you're going to notice two big stag heads on the wall pointing down to the doorway to the dining room. They packed the dining room with as many tables and booths that they could fit in. Past the dining room is another small hallway to a banquet room that looks like the owners of Der Braumeister took it out of German 18th century castle. If you walked past the 2 stag heads in the bar area to the end of the bar, you're going to come face to face with a big chalkboard that's filled with all the bottled beers they have. Their tap chalkboard list can be found above the bar. If you look to the left from the bottled chalkboard list, you're going to see 2 beer refrigerators filled with German and a few Belgian bottled beers and another doorway. That doorway leads you to their German market. Their German market has a deli case, shelves of German food and knickknacks, wine, and beer that they sell at the bar. Their market is definitely worth a stop after you're done eating and drinking next door. Hell, the market itself is worth a stop even if you're not going to the bar or restaurant.
When I was there on a Friday afternoon, it was almost dead in there. There was me, the group I was with, and just one or two restaurant patrons. That's good, because the waitress was friendly and not overworked. She knew how to pour the beer correctly and she knew the entire restaurant menu. The only minor problem I had, was when I asked if she had any Doppelbocks. She said they had this and this, but then she came clean that she really didn't know that much about the beer. I saw other bartenders, but I'm sure they would have some kind of knowledge when it came to the beer they sell. I've never tried to order bottled beer to go at other bars, but I'm glad that they do it here.
I was expecting them to have a wide diverse range of German and maybe some other European styles on tap, but most of the German beers on tap was either a Pils or Hefeweizen. Don't get me wrong, those are good, but I would have liked to see other German styles on tap. When I was there, the tap list consisted of Weihenstephaner Hefe Weissbier, Dinkelacker Pils and Dark, Hofbrau Pils and Dark, Franziskaner, La Chouffe, Leffe Blond, and 2 different Deliriums. Laying off to the side, I saw a Unibroue Maudite tap handle hooked up to nothing. That's too bad because I would have bought a pint of that. Their bottled selection was much more diverse than their draught line up. Their bottled list consisted of common and a few uncommon German beers, a few well know Belgian beers, and only 3 North American beers. The only breweries for North America they had was Unibroue, Ommegang, and Anderson Valley. They had only one kind of Anderson Valley, every Ommegang, and almost the entire line of Unibroue we get here in the States. They didn't even have any Great Lakes. Their extensive line of German beers with a few Belgian beers added into the mix, consisted of Chimay, Rochefort 8, 3 or 4 varieties of Aecht Schlenkerla Rauchbier, Moosbacher, Tucher Bajuvator, Ettal Curator, Paulaner, Schnieder, Aventinus, Warsteiner, Weltenburger Pils, Eggenberg, Kapuziner, Ayinger Celebrator, Augustiner Maximator, Uerige Doppelsticke, Stiegl, Tranquir, and plenty more where that came from. If you're looking for a German beer that's distributed to Ohio, it's more than likely to be found at this little piece of Germany in Cleveland called Der Braumeister. Don't go here if you're in the mood for an American micro.
While I was here, I just had to partake in their German food. I ordered their potato pancake Rueben with turkey and corned beef and topped with sauerkraut and 1000 island dressing. That was good stuff. I've never had German food before and that was a good start. I saw some of other food they served and looked really good too.
It's not the cheapest place in town to get a draught or bottled beer, but look what you're paying for. The draught beer was $4.50 to $6, but you get a big 16-20 oz. glass for that, but that was for the German beers. I don't know what glass you get if you order a Delirium. The prices for the food are what they are everywhere else. They don't serve any bar food here, unless you count German food as bar food. If you want to go to Germany and you don't want to leave Cleveland, then Der Braumeister is your best bet.
4,983 characters

4.4
/5
rDev
+3%
vibe: 3.5 | quality: 5 | service: 4 | selection: 5 | food: 3
A little part of Germany right in the middle of Cleveland. That's your first impression as you walk into this wood clad, lodge like pub decked in German steins, beer signs, mounted game heads. The only problem with the atmosphere was sometimes horribly cheesy german pop songs broadcasting throughout the meal. But then there was the beer, a wonderful selection of mostly German and Belgian's which immediately cause your mouth to water. About ten selections on tap and a hundred or more in bottles including many that Im not familiar with. The service was great although our server was only on her third day. We had to ask for a glass to pour an Orval into (drinking Orval from the bottle???). The food was a little lacking in appeal. I ordered the Sauerbraten and it seemed that the gravy on the spatzle and the sauce used on the roast beef were from a can or a bag. The beef was a rather small portion of 3 medium thick slices of beef that also seem like it was precooked, precut, or prepackaged. For $17 I wasn't all that impressed. Luckily the chalices full of St. Bernardus made me feel better. I will surely return and drink, but get to know my servers and bartenders and find out what they suggest eating.
1,215 characters
4.38
/5
rDev
+2.6%
vibe: 5 | quality: 4.5 | service: 4 | selection: 4.5 | food: 4
Der Braumeister is one of my favorite places in the Cleveland area.
The atmosphere is wonderful, dark paneling, wood booths etc. The place is divided into three areas, the bar, a dining area, and a reception area with a beautiful mural covering one wall. Location on Lorain is just a few blocks west of 117th St.
Service has always been great, friendly bartenders, interesting clientel.
The draft beer selection is very good, 7 or 8 German beers on tap, as well as La Chouffe, usually a Unibroue selection, and another rotating Belgian selection or two. ( St Bernardus 12 on my last visit ! ) They also have a fine selection of bottles, with some harder to find German selections. Beers are served in proper glassware. Excellant.
The food is also very good, with both pub fare, and above average German dishes.
Well worth a stop if you are in the Cleveland/ Lakewood area. Cant wait to go back.
909 characters

4.4
/5
rDev
+3%
vibe: 5 | quality: 4 | service: 4.5 | selection: 4.5 | food: 4.5
Located in a working class neighborhood on the west side of Cleveland. Had been itching for some German food so I made the trip. Parked around back and entered in the front. Bar area is first. Dark and lots of old wood. Mounted deer heads and cuckoo clocks abound as well as alot of breweriana on the walls and shelves. Still has a very neighborhood bar quality to it that I liked, as if people had been eating and drinking here for generations.
Anyway, I sat down at a wooden booth in the dining area and was handed the extensive beer list. Lots on draft and even more in bottles. A quick count was 16 taps and 50 bottles. La Chouffe was on tap, lots of various German beer too. I ordered a Mai Bock. Bottles included lots of Unibroue, Aecht Schlerneka, and lots of German beers that I quite frankly had never heard of.
Food was great. Pierogies, potato soup, cabbage and spatzle were all terrific. The sauerbraten was good too, though not quite as tender as I would like. But that's splitting hairs overall.
Was not crowded when I went for dinner but the service was prompt and friendly and the waitress was even able to recommend a pils to me for my second beer. So they obviously educate their staff. A bit pricey but worth the extra scratch.
1,256 characters

4.38
/5
rDev
+2.6%
vibe: 4.5 | quality: 4.5 | service: 4 | selection: 4.5 | food: 4.5
Add one more to the list of "must-see" on a beer tour of Cleveland. A huge selection of beer, as well as food, make Der Braumeister
a welcome surprise.
Atmosphere: a welcoming, dark wood panneled bar and resturant
with cloth tablecloths, and dimly lit wooden booths. Not trying to
look antique, the resturant/bar IS antique, if you know what I mean.
Quality: Tried a pils and weiss on-tap, and both were good. If you are a local, you can sign up for their tour-of-beer list and get your
own attractive stein after drinking their list.
Service: Good. A little slow, because there was a large wedding party in their side room. Better next time, I'm sure.
Selection: for those who know beer, this is a bar I think you would like to be at. Down-to-earth, comfortable, great selection, and great
food as well. The store attatched next door had a great selection of to-go wine and individual beers. Got a St.Bernardus ABT 12, and a Delirium on the way out.
Food: Chicken Paprikash-they give you almost 1/2 a chicken
with a terrific sauce over spatzels. Left-overs today, woohoo! Sauerkraut balls were good(get extra horseradish tho), weisswurst
were garlicky good and grilled, and the Schnitzel-tender and lean.
Recommended to go with an appetite.
If I'm looking for a reason to get over to that side of town to get back to Der Braumeister asap, I think that says it all. Along with the Brew Kettle, this was well worth the 45 minute car ride. Thanks to BA for telling me about this place.
1,506 characters
4.33
/5
rDev
+1.4%
vibe: 4 | quality: 4.5 | service: 4.5 | selection: 4 | food: 4.5
Finally, I was able to visit this restaurant!! We had Warsteiner Dunkel, Delirium Tremens and an Oktoberfest. They have a large cooler with a NICE selection of imports..German and Belgian beers being the most plentiful. There are several good draft options also. Any place with La Chouffe on-tap is worth a stop.
The food and service was better than anticipated. We walked in on a Saturday and our server was able to suggest some good brews and food. Everything we tried was just fantastic and we didn't feel rushed to finish.
If you are a fan of good traditional Hungarian and German food this restaurant is well worth the stop.
636 characters
Der Braumeister in Cleveland, OH
4.27
out of
5
based on
14
ratings.