Jubel 2000 (Millennium Ale)

Deschutes Brewery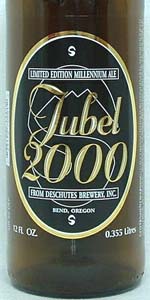 Rate It
Beer Geek Stats
| Print Shelf Talker
From:

Style:

ABV:

6.7%

Score:

90

Avg:

4.14

| pDev:

11.35%

Reviews:

7

Ratings:

Status:

Retired

Rated:

May 18, 2019

Added:

Dec 20, 2005

Wants:

Gots: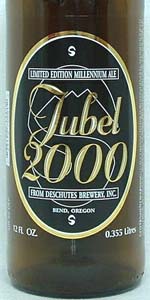 Recent ratings and reviews.
| Log in to view more ratings + sorting options.
Ratings by msubulldog25:
Reviewed by msubulldog25 from Oregon
4.31
/5
rDev
+4.1%
look: 3.75 | smell: 4.5 | taste: 4.25 | feel: 4.5 | overall: 4.25
My friend, "It's Pub Night" Bill (Balok), held a 10 year Jubelale vertical tasting on February 17, 2013, years 2003-2012 represented, at The Beermongers in PDX...it was interesting to taste what age and recipe tweaks have done to this Northwest winter staple over the years. On top of all those 'regular' Jubels spread across the table, not one... not Two... but THREE Jubel 2000s showed up to commemorate the event. All 12 oz. bottles (thanks to goodbyeohio & others who shared) - I was able to get two pours, each over an ounce, into my PIB taster.

A: Deep mahogany, rusty and crimson hints depending on which direction the class is held. There's little carbonation left, just a thin swirl of almond head and a slim ring. No lace to speak of. Clarity is shockingly good, considering the age - it's only in the last ounce or two of a bottle that any flaky sediment begins to show.

S: Wow, LOVE the aroma. Big, sweet fruit - plums, dates, raisins - and apple and pear notes to follow. Sweet treacle, molasses, figgy pudding. Sugary and intoxicating.

T: Toffee but with a notably tangy and citrusy bite. For such an old beer, this has held up beautifully - pine and orange/tangerine are still remarkably juicy. Cakey/bready at times with veiled spiciness and even hints of mint and cut grass.

M: Smooth, even carbonation. Medium body with lasting cocoa bitterness. Coating, oily mouthfeel.

O: Enjoyable aged beer, among the oldest I've tried. Very impressive how well it has stood the test of time and perhaps very good for years to come. Thankful to have had the chance to try this, one of my 'bucket list' beers.
Feb 17, 2013
More User Ratings:

Reviewed by woosterbill from Kentucky
4.66
/5
rDev
+12.6%
look: 3.5 | smell: 5 | taste: 5 | feel: 3.5 | overall: 4.5
12oz bottle into a Weyerbacher tulip. Gigantic thanks are due to HopStoopid120 for hosting the tasting and Knifestyles for sharing this ancient beauty.

A: Slightly murky brownish-orange body with just a rough ring of bubbles. Looks old. Which it should.

S: Hugely malty, perfectly (i.e., very slightly) oxidized aroma of brown sugar, caramel, toffee, leather, cinnamon, and just enormous awesomeness. I can't get enough.

T: Super sweet, and yet perfectly drinkable assault of hugely complex malts. Everything from the nose comes through, with extra emphasis on leather, tobacco, and spice on the finish. Amazing.

M: Smooth, sticky, and still. What can you expect?

D: Slight alcohol is present, but only in the background, and I could enjoy sipping on this almost infinitely.

Notes: Wow. Getting to sample this beer was one hell of an experience. Paired beautifully with some Smashing Pumpkins (on vinyl, of course), this blast from the past showcased everything that beer can become over time. While some (coughKnifestylescough) would argue that vintage beers should get 5s for being flat and ugly, since that's how vintage beers usually are, I'm of the mind that there's often a tradeoff between such relatively unimportant criteria as appearance and mouthfeel and the crucial ones of aroma and flavor. Jubel 2000 is a case in point: boring to look at, not much to probe tactilely with your tongue, but an absolutely divine experience in terms of smell and taste. I count myself blessed to have had the opportunity to sip it.

Cheers!
Dec 12, 2010
Reviewed by ChainGangGuy from Georgia
3.97
/5
rDev
-4.1%
look: 3.5 | smell: 4 | taste: 4 | feel: 4 | overall: 4
Appearance: Pours out a very dark, garnet-hued body with a scant, bubbly head (though it's a bit of stretch to call it that).

Smell: Sweetish dark caramel malts, touches of toastiness and woodiness as well, and a fruitiness of cranberry and cherry compote. Tiny sniff of chocolate, too.

Taste: Modestly sweet maltiness akin to dark caramel and brown sugar rounded out with a nice level of toastiness. Subdued cocoa hints. Subtle herbaceous, though the hop bitterness has all but deteriorated over the last decade. Punchy fruitiness carrying over from the nose. Little spritz of sherry. Very light alcohol warmth on the malty finish.

Mouthfeel: Medium-plus body. Medium-low carbonation.

Drinkability: Though time has tired this one out somewhat, it's still a pleasant, decade-later sipper. Now, then, on to the 2010!
Aug 03, 2010
Reviewed by JohnGalt1 from Idaho
3.25
/5
rDev
-21.5%
look: 3.5 | smell: 3.5 | taste: 3 | feel: 3 | overall: 3.5
Got this in a great trade with nightbrew a while back .... huge thanks amigo. Shared this with a couple of Boise Peeps side by side with the 2010...

Dark brown with a thin 1/2" head.. clear and deep brown.

Hints of smoke and caramel.. bits of oxidation are not too overwhelming and expected..

Flavor is pretty oxidized with dusty dry cocoa and a cardboard essence that is present throughout.. a bit leathery.. caramel and some toffee essence show on the finish..

body is pretty nice.. carbonation is pretty much not there.. descent small bubbles show some prickles on the tongue... but I wrote "not quite STILL, but close"

Damn glad I got to try this after all these years... I still can't believe I missed it back in the previous millenium. Thanks again.

3.5/3.5/3/3/3.5
Mar 31, 2010

Reviewed by brownbeer from Missouri
4.37
/5
rDev
+5.6%
look: 4.5 | smell: 5 | taste: 4 | feel: 3 | overall: 5
This little gem was popped thanks to ol' Hannaford to celebrate Conan's first episode of the tonight show. Pours a rich dark brown with a good amount of head considering the carbonation was almost gone. Aroma was amazing, straight up malt bomb, brown sugar and molasses. Mouthfeel was a little thin, that's my only complaint. It worked it out though with all of the outstanding malty notes. No signs of oxidation at all, just brilliant. See you all in the year 2000.
Jun 02, 2009
Reviewed by faernt from Illinois
4.82
/5
rDev
+16.4%
look: 4 | smell: 4.5 | taste: 5 | feel: 5 | overall: 5
It's 01.01.08 and I'm having a particularly good English Stilton (Thomas Hoe Stevenson) I went down to the cellar to find a beer to pair with this cheese and chose this Jubel 2000. It was a good choice.

It opened with the slightest hiss. I'm not a fan of flat beer, so this was a good sound for me to hear. It poured with just a hint of carbonation, but the hint makes all the difference. This is a heavy beer and the slight carbonation lifts it up off my tongue so it can sit down again.

The color is dark. It looks opaque until I held it directly up to a light and it became purplish brown and clear. I checked the bottle and there was a skim of yeast so thick on the bottom of the bottle that no light could shine through. It's been sitting for a while. Slight bubbling is coming up the side of the glass.

The taste is dark raisins. There is a hint of bitterness which, strangely, adds to the complexity. I expect sweetness in a porty, old barleywine, but this bitterness is a pleasant addition. The beer pairs well with the Stilton and it might taste different without the addition of the cheese.

This is my only bottle. If any of you have some...it's ready. I'd drink it now.

Cheers
Jan 01, 2008
Reviewed by numenor1 from North Carolina
4.07
/5
rDev
-1.7%
look: 3 | smell: 3.5 | taste: 4.5 | feel: 4.5 | overall: 4
Jubel 2000, not sure if this is the same as the Jubelale? Anyhow, this is courtesy of my secret santa. Definitely the oldest beer I've had at 5 or so years.

Pours dark murky brown with a red tint. There's no head at all, even with a great attempt on my part. Does age cause this? Not a strong scent to it, but what i can smell is a very deep maltiness, seems complex as I can't pick out any specific elements. This one is malt driven all the way. Not sure if it was hoppy at its inception or not, but what remains is a profound maltiness. I detect slight chocolate, some roastiness, maybe some peat, raisins, currants, brown sugar, a hint of molasses and cinnamon? The alcohol, while not pronounced in any way at all is very much part of the flavor in a good way. There's so much here and it's so well integrated that it's very difficult for me to pick out specific elements. Theres just enough bitterness left to balance out the malts, though otherwise almost imperceptible. Mouthfeel is relatively thick, with a medium low carbonation. Altogether a pretty amazing sipper. Super smooth. This may have single handedly piqued my interest in cellaring.
Dec 20, 2005
Jubel 2000 (Millennium Ale) from Deschutes Brewery
Beer rating:
90
out of
100
with
12
ratings