Black Mirror
| Deschutes Brewery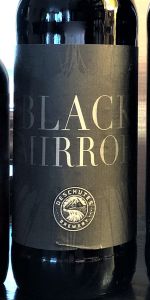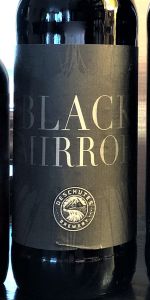 BEER INFO
Brewed by:
Deschutes Brewery
Oregon
,
United States
deschutesbrewery.com
Style:
American Barleywine
Alcohol by volume (ABV):
13.00%
Availability:
Limited (brewed once)
Notes / Commercial Description:
This American style black barleywine is deceptively unique with its dark color and full body. Direct to you from the barrel with aromas of coffee, chocolate, coconut, vanilla, whiskey, caramel and dried fruit. The roch malt character pleasantly surprises, brining a subtl sweetness to balance the oak in this monster of a beer.
45 IBU
Reviews: 8 | Ratings: 24
4.51
/5
rDev 0%
look: 4.25 | smell: 4.5 | taste: 4.5 | feel: 4.75 | overall: 4.5
Picked up a bomber from TW Arrowhead on 4-29-19 for $15.99. Bottled on 2-18-19; consumed on 5-31-19.
Beer poured black with a really nice tan head that has some really good hang time.
Nose wonderful, catching dark fruits, leather, a touch of vanilla, and some bourbon.
Taste follows the nose with an initial blast of dark fruit booze followed by sips that detect some leather and vanilla. Finish is surprisingly balanced despite the low abv factor as the barrel does a nice job.
Mouthfeel is full and viscous, near perfection!
Overall a really awesome beer that did not really appear on my radar until carousing the Total Wine web site. You are always getting a quality beer with the Deschutes Reserve series...just make sure you are down with the style as this guy is a monster!
787 characters

4.43
/5
rDev
-1.8%
look: 3.5 | smell: 4.75 | taste: 4.5 | feel: 4.25 | overall: 4.25
Poured from wax coated bottle from 2/18/19 with abv of 13% into a snifter
Appearance – The beer pours a deep cola color with a tiny fizzy head of off white foam. The head fades super fast, leaving just a tiny trace of foam on the surface of the brew.
Smell – Wow!! This aroma is big and boozy. The smell is massive of some dark fruit smells of raisin, plum, and cherry along with some big boozy bourbon like aromas. Along with these smells comes a good deal of a chocolate and molasses smell as well as some roasted malt and a little bit of smoke and char. With a hint of vanilla and a little bit of leather and oak one is greeted with an overall very dark, boozey, and robust aroma.
Taste – The taste is massive of a sweet molasses and chocolate flavor with a decently warming bourbon flavor right from the start of the taste. Some big dark fruit flavors of raisin, plum, and cherry, while lighter upfront, grow more and more intense as the flavor advances. Along with the fruit gaining in intensity, so too do some of the more roasty and toasty flavors of the brew with some char and smoke coming more toward the end of the taste. Toward the end there is even more sweetness that comes to the tongue, being of more molasses and dark fruit as well as some caramel and brown sugar sweetness as well. The booziness also grows in intensity and leaves on with a sweet, dark, and rather boozy but enjoyable taste to linger on the tongue.
Mouthfeel – The mouthfeel of the brew is interesting. When it first hits your tongue it feels a little light in body for a brew of 13% abv. But as it sits on the tongue and all the big sweet, dark and boozy flavors really unfold the feel seems to grow as well matching the tastes quite nicely. The lower carbonation and the transitioning feel are great for this robust taste and make for a nice slow sipper to be enjoyed.
Overall – Big, robust, boozy, dark, and ohh so very tasty and big. This is one very enjoyable and delicious brew. While I enjoyed this one young I have another to age and can't wait to see how it develops over time.
2,102 characters
4.64
/5
rDev
+2.9%
look: 4.25 | smell: 4.5 | taste: 4.75 | feel: 4.5 | overall: 4.75
This is an epic barleywine - like, King Henry-level... Super-dark brown but clear pour ends up close to obsidian in the glass, with dark brown translucent edges... On the nose and palate, boozy raisin, toffee, plum, fig, dark caramel, dates, and vanilla... Herbal notes of tobacco and leather... Medium-full-bodied, a little sticky, nice shellac; juicier impressions of citrusy fruits spark up and keep this relatively clean-drinking and dangerously drinkable... An excellent beer...
2-Row, "Special Roast," C60, wheat, C150, and Midnight wheat malts; Millennium, East Kent Goldings, Chinook, and Centennial hops; aged in bourbon barrels for 11 months...
655 characters

4.56
/5
rDev
+1.1%
look: 4.25 | smell: 4.5 | taste: 4.75 | feel: 4.25 | overall: 4.5
Poured into a Fremont small snifter. Pours a very dark mahogany brown, appearing opaque black in the glass with a quarter finger dark khaki head with great retention and nice lacing; actually builds a little for a while. Aroma of dark toasted malt, fresh and dried plums, oaky vanilla, whiskey, milk chocolate. Flavor follows, with dark toasted and caramel malt, dried plums, dates, raisins, oaky vanilla, cocoa and whiskey; light hop bitterness in the finish. Medium bodied with light creaminess. This hybrid of stout and barleywine leans towards the latter, but has clear toasted malt character. This is really more of an American strong ale profile, similar to a blended strong ale from one of the masters. No mention of blending here and quite impressive similarity to a blended strong ale for a straight brewed and aged ale. I lean towards the English style of barleywines, but this is really very nice and the light touch of hops is perfect. Black Mirror is a bit different than anything else out there. I think they knocked it out of the park on this one. Fortunate enough to find two bottles, so one to age a bit.
1,122 characters
4.68
/5
rDev
+3.8%
look: 4.75 | smell: 4.75 | taste: 4.75 | feel: 4.5 | overall: 4.5
What would happen if you took Black Butte (reserve series) malts and used Mirror Mirror hops and let is sit it barrels for 11 months?? With luck and skill you would get Black Mirror which has the richness mix of carmelization and hops of Mirror Mirror with the intense malts of an aged Black Butte. If you like yellow beer might want stay away but it you like Dragon's Milk, Mirror Mirror and BB XXX (lets skip the BB XXIX disaster) you might want to try some but quickly so you can go back and get more. PS - Costco just got some but expect to to be gone REAL QUICK. I got several.
586 characters

4.39
/5
rDev
-2.7%
look: 4.25 | smell: 4.5 | taste: 4.5 | feel: 4 | overall: 4.25
Oh boy, oh boy! A huge new black barleywine from Deschutes. I always loved Mirror Mirror and have been hoping for its return - and here it is, in a brand new incarnation that pushes some new characters while keeping all the best features of the original. It's very nice looking, burnt toffee-toned and crystal clear with a dense, dark color that turns opaque at the center. Toffee shows up strongly in the nose too, though not at all burnt. Powerful whiskey, heady vanilla and a zingy little trace of lemon round it out. The taste would take pages and pages to fully describe, as one would expect from any beer from Deschutes with a waxed seal. Molasses, leather, dark fruit, bitter chocolate, whiskey heat, hazelnut richness, dark truffle sweetness and much, much more. The feel is just a touch light and fuzzy for my taste, but it does a good job of keeping the intense flavor from ruling the universe. I am incredibly excited to see what this one will be like after a few years in the dark!
1,004 characters
4.34
/5
rDev
-3.8%
look: 4.5 | smell: 4.25 | taste: 4.5 | feel: 4 | overall: 4.25
Listed as an American Black Barleywine but reminds me more of a Imperial Black IPA. Big flavors of black licorice, anise, Bourbon, brown sugar and pine. Subtle notes of chocolate, smoke, oak, vanilla and toffee. A tad thin but extremely good. Time will do wonders.
264 characters
4
/5
rDev
-11.3%
look: 4 | smell: 4 | taste: 4 | feel: 4 | overall: 4
On tap at Orenco Taphouse.
A very dark brown with a dense brown head with decent retention and lacing, this looks solid. The nose is super fragrant with massive citrus notes, an almost fresh orange zest and juice character. Moderate dark caramel, red wine, brown sugar, mild burnt sugar, candy and toffee. Bourbon is present as mild heat and a little vanilla. The palate opens sweet and fruity with the orange notes complementing the large sugary notes with brown sugar, toffee, honey, mild cake batter, red wine, mild bourbon and vanilla. Medium full in body and softly carbonated, flavors of brown sugar, toffee and red wine dark fruit linger on in the finish. Bitterness that's moderately citrus like and moderately burnt sugar like lingers. Mildly boozy but appropriately so. Good stuff!
794 characters
Black Mirror from Deschutes Brewery
Beer rating:
4.51
out of
5
with
24
ratings