Red Chair IPA
| Deschutes Brewery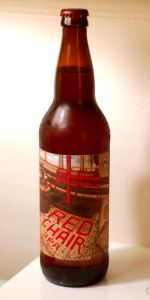 BEER INFO
Brewed by:
Deschutes Brewery
Oregon
,
United States
|
website
Style:
American IPA
Alcohol by volume (ABV):
6.40%
Availability:
Rotating
Notes / Commercial Description:
Feb 2010: This beer is recently 'retired' - replaced by Red Chair NWPA', which is a slight variation on the original recipe.
Added by Tucquan on 02-22-2009
This beer is retired; no longer brewed.
Reviews: 163 | Ratings: 212
3.27
/5
rDev
-15.9%
look: 3.5 | smell: 4 | taste: 3 | feel: 3 | overall: 3
A: Pours a hazy orange color. A two finger white head forms with decent retention. Not much lace is left behind.
S: A big juicy hop aroma up front. Citrus and grapefruit. Some sugary, caramel malt lingers to balance everything out.
T: Tons of juicy and bitter hops. Huge grapefruit and citrus again. that lingers on and on. The balance that was in the nose is all but gone.
M/D: There is medium carbonation. Though this is to much on the thin and watery side for my liking. The bitterness makes this harder to drink than I would like.
A one and done purchase for me. Not one of Deschutes better offerings. Their Inversion IPA is much better IMO, it seems like the brewery agrees since this is recently retired.
★
712 characters
3.27
/5
rDev
-15.9%
look: 4.5 | smell: 2.5 | taste: 4 | feel: 3 | overall: 2.5
Chilled bomber into a glass.
A: Pours a slightly murky amber with copper tones when held to the light. The first pour yields a fluffy off-white head that covers the top 1.5" of the glass. Retention is substantial, so much that I actually notice the head sticking around and preventing me from dipping into the beer. As it recedes into a light cap on the brew, it leaves a sticky web of dense lacing down the sides of the glass.
S: Kind of a muted aroma. Mostly floral hops, maybe some caramel.
T: Follows the nose pretty well. Floral hops lead off, with an undercurrent of pine. An interesting flavor that is a welcome change of pace from the citrus- and pine-dominated West Coast IPAs. There is some malt underneath to provide a contrasting caramel sweetness. There is a slightly spicy citrus bite near the finish, but it's kind of understated. The finish is on the sweeter side, with a mostly malty aftertaste.
M: On the lighter side of medium bodied. Carbonation is moderate and works well. ABV is well masked. The finish is a little weak and it could stand to be drier. This isn't too oily or resiny.
D: I thought this was a solid IPA, but nothing to write home about. I'd probably buy it again though.
★
1,216 characters
3.26
/5
rDev
-16.2%
look: 4 | smell: 3 | taste: 3 | feel: 4 | overall: 3.5
22oz bottle $5.19. nice orange color, healthy head. Smell is average and teh taste is slightly bitter. i can tell it has a decent amount of hops due to the fruitiness but like Inversion and Hop Henge it is juts not my lane. I prefer California style IPA's much more.
★
266 characters

3.23
/5
rDev
-17%
look: 4 | smell: 3.5 | taste: 3 | feel: 3.5 | overall: 3
Poured from a 12oz bottle into my tasting snifter. Pours a hazy golden color with a nice size frothy white head. Head dissipates to a creamy surface. No real lacing to speak of, just a few random bubbles here and there.
Aroma is different. Can definitely pick up the hops, but a strange fruit smell I can't quite put my finger on. Almost like pear? Has a slight malty aroma.
Flavor is ok, nothing special...pretty average. Light and crisp mouthfeel. Carbonation is pretty high...not a bad thing though. Mostly faded hops...not sure if I have an older bottle...but overall, a decent IPA...nothing special thouh.
★
612 characters

3.2
/5
rDev
-17.7%
look: 3 | smell: 3 | taste: 3 | feel: 3 | overall: 4
22 oz. bottle and I must say the label is very cool. Hops all around the red chair and a growler ready to serve. Cool.
Pour a big frothy off-white head with a caramel/amber color. Some lacing abounds but not much.
Sticky sweet aroma with some hoppiness coming through as well.
Taste is rather subdued. There is some mild bitterness, a slight hop presence and malty. Nothing sticks out on the "wow" factor.
I really want to like this more, but it just was rather ordinary to me. Not much happening and not much difference from other IPA's. It's a little too malty for an IPA. A few more hops and this will turn the corner to great.
At 6.4% this is very easy to drink and recommended for someone looking to get into the IPA style.
★
733 characters

3.13
/5
rDev
-19.5%
look: 3.5 | smell: 3 | taste: 3 | feel: 3 | overall: 3.5
Reviewed from notes. Picked up at the brewery, so I assume it was fresh.
Pours a moderate light brown color with a white head and some lacing. Not much in the way of retention. The nose brings some very light citrus hops and some bready malt. Doesn't really take things too far in either direction. The taste is the same way with some really faint malt and not much of a hop presence. Pretty plain feel as well. Drinkability is decent enough, but nothing special.
★
464 characters
3.09
/5
rDev
-20.6%
look: 4.5 | smell: 3 | taste: 3 | feel: 3 | overall: 3
22oz bomber into a standard tulip.
Can't recommend this one too highly.
Looks ruby red and delicious with great head and lacing.
Ripe non-citrus fruits that are too sweet. Where are the hops.
In the taste, the hops are too dry and not flavorful enough. I taste alot of sweet dry apples and plums.
Not a great IPA, especially after all the packaging and hype above the other Deschutes products.
★
396 characters
3.08
/5
rDev
-20.8%
look: 3.5 | smell: 3 | taste: 2.5 | feel: 4.5 | overall: 3.5
A: Crystal clear amber with some small lacing of a white head. Looks tasty.
S: Somewhat oxidized hops, but lots of citrus and pine too.
T: Course bitterness with a surprising lack of hop flavor. There's a ton of malt in there too. The malt is nice, but not what I had expected of an IPA.
M: Light mouthfeel, good carbonation.
D: I can't get past the oxidized hops and overpowering malt profile and didn't feel the need to finish my glass.
I tried this beer twice. I wanted to like it, but both times the beer was oxidized and left me unimpressed. So far I don't know if it's bottle handling or if it's just the beer, but two bad bottles is enough for me. If this was the only beer around I probably wouldn't complain, but I don't think I'll be ordering it again.
★
764 characters
3.06
/5
rDev
-21.3%
look: 4 | smell: 3 | taste: 3 | feel: 3 | overall: 3
Shared with Klym on a farewell session
750ml into Stone Nonic.
A: A golden pumpkin pie that changes in color gradient towards the head, that appears like a crust upon the pie. A money three finger head with sea foam froth to spare. Oh red chair, you know what I like.
S: really quite light smelling. A slight pinch of cardamom that falls into zucchini bread. really just a flat sweetness that comes off a bit hollow. I can't really say any specific origin of the sweetness other than "malt", but even the malt takes a seat in favor of brown leaves.
T: Straight forward malt sweetness with almost no detection of hops. The hops are latent and lingering, but it's so light that I would hesitate in calling this an IPA. Most certainly it falls into the light roasted category of Pale Ales. A two note beer that plays the same song of dried apricots and toffee sweetness. Can't help but mutter "been there done that" a thousand times.
M: mouth is appropriate, it simmers as it should. It has that pleasant lighter-than-soda-pop carbonation that lasts as it should. Though this falls into the same trap that the taste does, in that this has been done for too long and too many times.
O: I would definitely feel sheepish in calling this an IPA. It really just doesn't have that flavor profile that I'd readily associate with the style. I can't help but have that idea really knock my drinking experience of this beer, as it's really treacherous to offer something in that lags in an already well-established style. This beer is an anachronism, It's a pale ale incognito. Somebody get the time machine, and send this thing back.
★
1,631 characters
3.03
/5
rDev
-22.1%
look: 4 | smell: 3.5 | taste: 3 | feel: 2.5 | overall: 2.5
Poured from a 22oz. bomber into a pint glass.
A: A very light tan head forms atop a beautiful clear orange amber liquid.
S: Earthy overtones backed up by some citrus and piney hops in the background. (Im curious if I would have detected them if I had not known this was an IPA)
T: Sweet caramel malt hits me up front with not a whole lot following it. Upon inspecting the label, I discover that this IPA "delivers an intense hop bitterness without the bitterness". Isn't that akin to buying a Corvette with a Honda motor? How is it possible to have "intense hops" without bitterness?
M: A tad on the thin side with fairly intense carbonation.
D: If it doesn't taste greaT, i'M NOT DRINKING IT.
★
700 characters

3.03
/5
rDev
-22.1%
look: 3.5 | smell: 3 | taste: 3 | feel: 3 | overall: 3
nice copper color, thin white head, clear, sweet, banana malt flavors, hop bit at the front of the palate, more malty than hoppy, thin lace, medium body, smooth mouthfeel, non-rewarding flavor profile.
this beer let me down...i was expecting a hoppy ipa true to style instead i got a confused malty ale.
★
304 characters
2.81
/5
rDev
-27.8%
look: 4 | smell: 3 | taste: 3 | feel: 2.5 | overall: 2
so the bottle says it was best 17 days ago, how a brewery release a summer seasonal that expires IN AUGUST I don't really get.
pours a semi cloudy copper orange with white head, dissipates very quickly
pine, a dash of orange a grapefruit citrus with some bready malt in there
pine upfront, but very fleeting, with some citrus and some faint malt, but very shallow
light, a little dry and hoppy, but subsides very quickly, perhaps to do 'age'
really a pretty sad ipa. it looked great, smelled like it might have had some punch a week after being in bottle, but really nothing going on the palate. I thought IPAs were meant for longevity and the use of hops to preserve a beer, so I wonder why this one was only meant to live for a few months. I had had it at the brew pub a month or so ago, and it was just as forgettable, so please, do not take this beer as an example of a NW IPA, there are so many better ones
★
916 characters
2.01
/5
rDev
-48.3%
look: 4 | smell: 3 | taste: 1.5 | feel: 1.5 | overall: 1.5
Poured from a 22oz bomber into my pint glass. Best by 8-19-09
Pours a very light copper color with a huge 3+inch slightly off-white head. Great head retention and very frothy looking leaving soapy lacing clinging to my glass.
Very grassy and earthy like smells come to my nose. Herbal and pine like notes are also to be smelled.
Either the best by date is way off or something, but this is one watery IPA. No hop bitterness or citrus like flavors, and to beat not even a caramel like malt taste either, this is just a simply watery IPA. WTF is going on man?
Mouthfeel is thin and watery and damn it I'am very dissapointed.
I cant believe I wasted my money and time to drink this sorry crap. They definitely need to change the "Best by date".
★
748 characters
Red Chair IPA from Deschutes Brewery
87
out of
100
based on
163
ratings.