Red Chair IPA
| Deschutes Brewery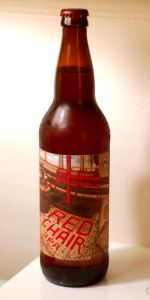 BEER INFO
Brewed by:
Deschutes Brewery
Oregon
,
United States
deschutesbrewery.com
Style:
American IPA
Alcohol by volume (ABV):
6.40%
Availability:
Rotating
Notes / Commercial Description:
Feb 2010: This beer is recently 'retired' - replaced by Red Chair NWPA', which is a slight variation on the original recipe.
Added by Tucquan on 02-22-2009
This beer is retired; no longer brewed.
Reviews: 164 | Ratings: 213
3.51
/5
rDev
-9.8%
look: 4 | smell: 3 | taste: 3.5 | feel: 3.5 | overall: 4
A: Copper with a touch of haze. Thick, sticky lacing is left behind from a persistent two-finger head that is off white and fluffy.
S: Reminiscent of that Orange Glo floor cleaner (in a good way) with muted hops and cut grass. All in all, though, the smell is a bit more subdued than I like in an IPA.
T: This IPA is built on a malt foundation which is not always a bad thing. Caramel malts mixing with the graprefruit and apple tones create an interesting tango of flavors that borders on confused. Rather understated hop presence.
M: Clean, zesty, crisp. Goes down smooth.
D: Medium-bodied and slightly refreshing. Certainly drinkable on warm summer days, nights, mornings (is that a problem?).
Overall, I was not terribly impressed. I like more of a hop punch in an IPA and I certainly require a smell to them.
818 characters
3.3
/5
rDev
-15.2%
look: 3.5 | smell: 3.5 | taste: 3 | feel: 3.5 | overall: 3.5
22 oz. bomber (drink by 8/19/09) poured into the new sweetwater pint glass (fucking AWESOME!)...
decent three fingers of off white head with good lacing and decent retention. orange body with some burning red hues shining through...
spicy hops balanced out with a strong malt spine...some caramel sneaking in behind a toned down citrus front. spiciness (pepper) dominates the experience, and sadly, not in a great way that i have come to expect...
mellow and different to say the least...malty throughout with only the slightest hint of citrus near the end...lots of caramel leads into an alcoholic finish with only a tiny cakey bitterness.
smooth and creamy, but once again, another ipa can't hit the carbonation that i dream of...
very refreshing, but the alcohol in the finish is offputting.
is it old? maybe...but i have had old ipas before that were still balanced. not knowing the actual age, does make me question what i was drinking...but there were hops in the nose, yet not on the palate. as noted in the alesmith ipa review, i think i'm getting tougher on these ipas, so they better be bringing me some balance...another one to review at a later date.
1,168 characters
4.14
/5
rDev
+6.4%
look: 3 | smell: 4 | taste: 4 | feel: 4 | overall: 5
pours a copper orange with a large off-white, frothy head. Smell is citrus, slight pine, and an herbal tinge. Taste is a smooth, lingering toffee up front followed by an easy bitterness. Less pepper than I expected, very herbal. It's an easy bitterness, not harsh at all. Lastly, there's a biscuit-yeast taste followed my a dry, fading toffee similar to the introduction which makes it very drinkable. Good beer!
412 characters
3.08
/5
rDev
-20.8%
look: 3.5 | smell: 3 | taste: 2.5 | feel: 4.5 | overall: 3.5
A: Crystal clear amber with some small lacing of a white head. Looks tasty.
S: Somewhat oxidized hops, but lots of citrus and pine too.
T: Course bitterness with a surprising lack of hop flavor. There's a ton of malt in there too. The malt is nice, but not what I had expected of an IPA.
M: Light mouthfeel, good carbonation.
D: I can't get past the oxidized hops and overpowering malt profile and didn't feel the need to finish my glass.
I tried this beer twice. I wanted to like it, but both times the beer was oxidized and left me unimpressed. So far I don't know if it's bottle handling or if it's just the beer, but two bad bottles is enough for me. If this was the only beer around I probably wouldn't complain, but I don't think I'll be ordering it again.
764 characters
4.25
/5
rDev
+9.3%
look: 4.5 | smell: 4.5 | taste: 4 | feel: 4 | overall: 4.5
A- Pours a medium golden-amber, with a two fingered off-white head that dissipates to one and retains that level.
S- Floral and pungent citral aromas are most present with some sweet caramel malt backing.
T- Grapefruit citrus/fruity hop flavors, with some biscuit-y and caramel malt notes. Nothing too intense, but far from boring.
M- Light to medium body, with a medium level of carbonation.
D- So very drinkable. I think I could kill two bombers of this in a sitting.
473 characters
3.03
/5
rDev
-22.1%
look: 4 | smell: 3.5 | taste: 3 | feel: 2.5 | overall: 2.5
Poured from a 22oz. bomber into a pint glass.
A: A very light tan head forms atop a beautiful clear orange amber liquid.
S: Earthy overtones backed up by some citrus and piney hops in the background. (Im curious if I would have detected them if I had not known this was an IPA)
T: Sweet caramel malt hits me up front with not a whole lot following it. Upon inspecting the label, I discover that this IPA "delivers an intense hop bitterness without the bitterness". Isn't that akin to buying a Corvette with a Honda motor? How is it possible to have "intense hops" without bitterness?
M: A tad on the thin side with fairly intense carbonation.
D: If it doesn't taste greaT, i'M NOT DRINKING IT.
700 characters
3.98
/5
rDev
+2.3%
look: 4.5 | smell: 4 | taste: 3.5 | feel: 3.5 | overall: 5
First of all the label is one of the best beer labels out there.
Nearly a perfect looking beer, clear amber with nearly gold bubbles that havent stopped still a half hour in to this bomber. nice retention and thick off white lacing.
the smell is light but nice of spice and grapefruit.
This is one of the best beers you could ever put in your mouth. grapefruit like hops and very tiny caramel malt in the beginning then such a clean crisp finish you dont even know you are drinking a beer, especially an IPA.
I wish it had a fuller taste with a maltier back bone.
Couldnt help but notice a point another reviewer made, in a blind tasting There is no way this would be considered a respectable IPA
Good thing I only have more, this beer is neither filling nor a challange, goes down very nice.
Where do people draw the line of IPA and Amber ale, because this beer is excellent but too smooth for what you usually call an IPA.
933 characters
3.97
/5
rDev
+2.1%
look: 3.5 | smell: 4 | taste: 4 | feel: 4 | overall: 4
Beer is a nice copper color with a thin white head.
Smell is a nice hop aroma, not too strong. Some malty undertones.
Taste is great. This is a good malty beer with some excellent hop bitterness and thickness to it. Slightly bitter at the end.
Nice hop resin to the mouthfeel, a good thickness to the beer.
A fantastic beer to drink for the evening.
Actually, it tastes a lot like a Sierra Pale Ale clone, it has its own characteristics but if I had to compare it to one beer it would be the Pale. I love the Sierra and this is very good in its own right.
560 characters
3.87
/5
rDev
-0.5%
look: 3.5 | smell: 4 | taste: 3.5 | feel: 4 | overall: 4.5
Shout out to wagenvolks for sending this out to me as winner of his Mystery Label LIF (pt. II).
I was pretty excited to try this beer and it showed in my aggressive pour with a dense cream head multiple inches tall. This was pillowy and clingy. Lace does not even begin to describe my glass. The beer itself is a nice clean looking copper.
The smell is what I imagine a walk in the redwood forests of the Pacific NW would be like. Lots of BIG pine. Really nice.
The taste is a slight letdown though with not as much hop bitterness or flavor coming through as I'd like. Though there is a decent bready malt that keeps it interesting.
The mouthfeel is pretty good. About as thick as I'd need in an IPA with just a little slickness.
This is pretty drinkable. Quite well balanced actually.
786 characters
4.2
/5
rDev
+8%
look: 4 | smell: 4 | taste: 4.5 | feel: 4 | overall: 4
Pours a very nice amber orange,cloudy and hazy. Nice thick frothy 2 inch head that leaves a nice sheet of lacing behind. The smell is very balanced, nice pine scent with a splash of citrus and a nice malt in the background. The smell is very subtle, not over the top, but balanced, I have smelled much stronger IPA's, this one is subtle, but nice.
The taste is very balanced as well, the hops are of a good blend of pine and citrus, neither dominates, rather they compliment each other very well. There is a bit of caramel sweetness that lingers on the tongue followed by a nice hop bitterness that is not overpowering, but is noticeable. There is a hint of fruit as well, I can't place it, but it is subtle, maybe apple?
The beer goes down very well, not too much carbonation and very little alcohol burn at all, I could see myself having this on a regular basis.
This not a hop bomb like the Hop henge, just a well balanced, if not subdued IPA. Very well done, it will not WOW you, but if you appreciate a tasty beverage, this will satisfy.
1,046 characters
3.84
/5
rDev
-1.3%
look: 4.75 | smell: 3.25 | taste: 4 | feel: 3.75 | overall: 4
A: deep red hue, slightly red (although this is a dark bar), very thin head
S: fruity and bitter, freshly cut wood (elm?)
T: Immediate bitter bite, nodes of grapefruit, lemon-peel, and woody. The last sips were better than the first (maybe due to warming)
M: Tingly and dry (gingerale mouthfeel without carbonation level) Flavor sticks to the mouth longer than most.
O: Drinkability- decent. It is comparable to Surly furious with water-downed citrus. Head dissolves very quickly. Aftertaste is good at first, but stayed into the next lager. Not bad- would drink again, but not rave worthy.
594 characters
4.51
/5
rDev
+15.9%
look: 5 | smell: 4 | taste: 4.5 | feel: 4.5 | overall: 5
Snagged a bomber at Rosauers Supermarkets in Missoula, MT. Wanted to try something new. This is my first beer from Deschutes. . .
Poured an awesome deep red color with a large 2 finger head. The smell was mostly hops with a hint of floral and citrus. Taste followed the smell and was very hop forward but still not overpowering. Overall this is an IPA that I could really enjoy even though that is not my favorite style. Would be a great beer to use to introduce someone to the style.
Highly recommended.
507 characters
4.3
/5
rDev
+10.5%
look: 4 | smell: 4 | taste: 4.5 | feel: 4 | overall: 4.5
A-Slightly cloudy amber color. pretty light head that fades pretty quick.
S-Smell is tangerine,grapefruit, nothing to overpowering.
T-Lightly sweet citrus taste, followed by a light pine/hoppy finish.
M-The mouthfeel is nice. light-medium carbonation with a soft lingering finish.
D-I feel like this beer has excellent drinkability. it's not to sweet and not overly hoppy I feel like I could easily drink multiples in one sitting.
Overall I really enjoyed this beer. It is crisp, refreshing, and has just the right amount of hoppiness to make it an excellent IPA to suck down. I say it's the lighter more drinkabled ogfishhead 90 minute. So if you like the DFH IMO you will probalby like this.
699 characters
4.9
/5
rDev
+26%
look: 5 | smell: 5 | taste: 5 | feel: 4 | overall: 5
This beer claims to have 55IBUs yet lacks the bitterness usually associated with high IBU beers. Deschutes must have added an enormous amount of hops late in the boil. This would prevent too much alpha acid isomerization but still infuse the beer with the esters and aromas of the hops. The result is a beer with a tremendous amount of hop flavor but minimal bitterness. I should note that without the hop's bitterness, the beer is a bit on the sweeter side.
Only real complaint is that the mouthfeel is a bit thin.
Good work deschutes.
539 characters
Red Chair IPA from Deschutes Brewery
3.89
out of
5
based on
213
ratings.