Black Butte XXII
| Deschutes Brewery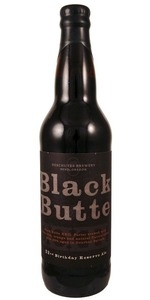 BEER INFO
Brewed by:
Deschutes Brewery
Oregon
,
United States
deschutesbrewery.com
Style:
American Porter
Alcohol by volume (ABV):
11.00%
Availability:
Limited (brewed once)
Notes / Commercial Description:
Released June 2010, Draft-only, after a problem with bottles detailed here: http://www.deschutesbrewery.com/blog/2010/06/28/black-butte-xxii-cancelation/
Imperial "Porter brewed with cocoa nibs, orange and natural flavors added, with 25% aged in Bourbon Barrels"
Added by msubulldog25 on 06-17-2010
This beer is retired; no longer brewed.
Reviews: 54 | Ratings: 125
3.88
/5
rDev
-6.1%
look: 4.5 | smell: 4 | taste: 4 | feel: 3.5 | overall: 3.5
Glad I got a chance to try this since the bottles were destroyed. Pours a really nice black with an off-white head. Smell is subdued and some roastiness and difficult to translate malts, but as it warms much more of the orange peel emerges with a touch of alcohol. Flavor when cold was a bit disappointing and just the roasted flavors and some orange were present, as it warmed the mouthfeel really smoothed out and much more orange, lemon, and cocoa came through. However, this is a subtle beer, you have to search for these flavors, nothing knocking you over the head here. I wanted more of everything, and I didn't detect the chilis. I wore out from this after about 8oz. Good beer.
★
685 characters
4.13
/5
rDev 0%
look: 4 | smell: 3.5 | taste: 4.5 | feel: 4.5 | overall: 4
Served (2x) to a .3l snifter, a bit above the fill line each time, at the Portland Pub.
A: What a great start - an Abyss-ian blackness topped with a full finger of sudsy mocha cream. Head drops to a fine sheen interrupted by clustered bubbles, a sticky film/lace hanging around as a slim ring. Look away and the lacing wanes then vanishes altogether.
S: Dark chocolate and a veiled soot, ripened fruit and sweeter booze. Sounds pretty great but really doesn't leap from the glass; it takes a deep inhalation to grasp this, yet it really doesn't entice as much as it should. Hard to call a 'disappointment', but aroma isn't the strong suit here...
T: ...but flavor is. Oh lord, how tasty; dark fudgy chocolate, brazen earthiness, blatant fruits (orange + fat blackberry and blueberry). Sweet coffee and a building darkness with enough sugar to offset a lurking tartness. Woody, syrupy, a glazed brown sugar ham crust - vanilla and oak notes, too. Opens as it warms, delicious.
M: Wonderful feel - creamy and smooth with a subtle warming. Not too heavy in the mouth, a tongue-numbing glow and stealthy cheek draw. Medium-full body, some sticky malts glue my lips together, if only a little...
D: Not too hot now, but I'll bet this could improve with a few more months of age. Oh, what a tragedy that bottles will never see the shelves (something to do with chunky, coagulating chocolate/butter fat ruining the appearance); this is as fine as any of the Reserve brews Deschutes has produced. I will have more...
★
1,514 characters
4.53
/5
rDev
+9.7%
look: 4.5 | smell: 4 | taste: 4.5 | feel: 5 | overall: 5
On tap in 7 oz servings at the Portland location for their 22nd birthday party.
A - Jet black, almost no head, but it may have been from the serving size and pour. Good lacing for the serving glass (a 7 oz plastic cup).
S - Chocolate, chocolate, and more chocolate, with some oak. I wasn't in the prime area to get all the smells of this beer, being in a closed off street with grills nearby and plenty of that grilled food being carried around everywhere. I really tried to pick out more complex aromas, but chocolate and oak were all I really got, with maybe a little coffee, but I can't be sure.
T - Black Butte, but with much more added on. Starts off with a very rich chocolate/coffee balance, hints of oak, a very subtle orange taste, but I was looking for it. Very fruity under-tones to complement the rich chocolate, they work very well together.
M - It isn't as thick as you would expect from the ABV. Definitely thicker than the regular Black Butte, as I had the regular Black Butte immediately after having this, and it felt like water. There is a faint tingle on the tongue, and I'm not sure what it is from, it doesn't feel like an alcohol burn. Lingering chocolate aftertaste with the warmth from the alcohol is great, made me wish they had larger servings than 7 oz.
D - Amazingly drinkable. For 11% ABV, you cannot taste it at all. I was surprised with such a light body it didn't show up more. Definitely a dangerous one to drink, if you happen to get a growler of it. I could have seen myself easily drinking 2 or 3 pints of this in a sitting without realizing how much alcohol I had actually drank.
★
1,622 characters

4.75
/5
rDev
+15%
look: 5 | smell: 5 | taste: 4.5 | feel: 4.5 | overall: 5
On tap at Deschutes' 22nd Birthday Bash in Bend, served in tulip snifter.
A - pitch black, one and a half fingers of tan, brown-sugar head.  Thick lacing that lingers throughout.  Perfect.
S - espresso, dark chocolate, roasted malt, lots of chili, undercurrent of fruit, orange peel, hints of bourbon.
T - coffee and dark chocolate up front, orange and chili come through to provide balance; finishes semi-sweet with hints of chili, chocolate, and bourbon.  Coffee and chocolate flavors peak again and linger with retro-olfaction.  The chili and bourbon become slightly more noticeable as the glass progresses -- magnified by aeration.  The chili is very interesting and works very well -- not spicy, per se, more like a mole sauce.
M - smooth, frothy, subdued carbonation, but not flat!
D - exceptionally drinkable.  The 11% is hardly perceptable.  More complex than last year's, but slightly less sweet.  A worthy successor to an already excellent brew.
★
968 characters
Black Butte XXII from Deschutes Brewery
4.13
out of
5
based on
125
ratings.