Deschutes Brewery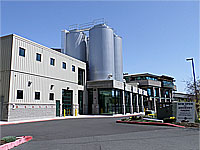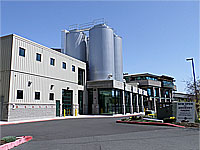 Brewery, Bar, Beer-to-go
901 SW Simpson Ave
Bend
,
Oregon
, 97702
United States
(541) 385-8606 |
map
deschutesbrewery.com
Notes: Brewery includes the 'Mountain Room' for private events.
Free Guided Brewery Tours
1pm, 2pm, 3pm & 4pm
(Tours start on the hour)
Tours limited to 15 guests
Gift Shop Hours
Monday - Friday: 8 am to 5 pm
Saturday/Sunday: 12 pm to 5 pm
Tasting Room Hours
Monday - Saturday: 12 pm to 5 pm

snaotheus from Washington
4.15
/5
rDev
-5.7%
vibe: 4 | quality: 4.25 | service: 4.25 | selection: 4
2021-03-13
Sat inside at the tasting room on a Saturday during the pandemic. If I remember correctly, it was 21+ only. My wife and I each got a flight. The selection was pretty good, but it was fairly heavy on the "Fresh Haze" family. A couple brewery specials, Belgian / sour / barrel aged included, and of course their standard line up. Everything is quality, and their special stuff is generally pretty special (I mean, Abyss, right?). Staff was super friendly (one guy actually called a local distillery tasting room for me to see if they still had bottles of the Black Butte whiskey for me).
Would have liked to do a tour and hang out long, actually have a couple pints (which would have been possible but we had other places we wanted to go). Could totally see it being a regular visit if I lived in the area.
Mar 17, 2021
stevoj from Idaho
3.65
/5
rDev
-17%
vibe: 3.5 | quality: 3.75 | service: 3.75 | selection: 3.5
Free beer! What's not to like. Four samples just for walking in the door. Mostly featuring their flagship beers, with a few small batch beers, and two nitro taps. Tons of merch and selection of bottles from the cellar as well.
Apr 24, 2020
gandres from Philippines
4.61
/5
rDev
+4.8%
vibe: 4.25 | quality: 4.5 | service: 4.5 | selection: 5
Visited during Veterans day weekend. Brewery tasting room in Deschutes production facility Facility is nice and clean, ambiance is excellent for a tasting room in a production environment Quality of the beers is very good Service is very attentive and tour was nice Selection compose of year round as well as current rotational Very good value, tour and 4 tastings are free Overall: very good experience
Nov 13, 2017
Ruger_44-Redhawk from Idaho
4.37
/5
rDev
-0.7%
vibe: 4 | quality: 4.5 | service: 4 | selection: 4.75
Deschutes puts out some top notch high quality beer. The beer selection is worth going. I've been to the Bend location multiple times and the Portland location more than that. Portland is not my thing but Bend is awesome and I'd recommend going there and visiting Sisters and camping up at Three Creeks Lake.
Jul 23, 2017
Cannabend from Oregon
1
/5
rDev
-77.3%
vibe: 1 | quality: 1 | service: 1 | selection: 1
If you want to have a good time in BEND, OR - "SKIP THIS PLACE!!!!!!!!"
A friend, visiting Bend, and I stopped by the brewery last night (11/28) around 8 pm, we were served 1 beer each and then never addressed again. Never offered menus or anything else for that matter. We were there over an hour catching up, laughing, and trying to have a good time. When we asked for a 2nd drink the bald guy bar-tending told us he could no longer serve us and asked us to leave.
Needless to say having a bar tender insinuate you are a drunk after 1 drink did not leave a good impression of BEND on my visiting friend, and down right angered me. As a small business owner, that level of service is unacceptable and I will no longer recommend this place to friends, family, or my customers.
Never been treated like this anywhere else, guess always one bad apple in the bunch.
If you want to have a good time, laugh, and be around good people and good service, there are a lot better places in town!
Nov 29, 2016
arizcards from North Carolina
4.33
/5
rDev
-1.6%
vibe: 3.75 | quality: 4.25 | service: 5 | selection: 4
Da Boss and I took the tour this past Friday.
Vibe of the tasting room was OK. Some local only taps were available and they did pour samples of BB Anniversary which was cool.
Quality of the beers are very good. It is Deschutes who over my time has had very good consistent products with the exception of the 2009 Abyss Sourgate.
Service of the ladies that run the tour and tap room was excellent. Unfortunately halfway thru the tour Da Boss was not feeling well in the room where they were cooking up a batch (high heat, humidity, and stink). The ladies took good care of her and that is appreciated!
Selection of beers in the tap room was good...maybe 12 beers in all.
Definitely recommend the tour as it provides a history of Deschutes, their approach, an overview of the brewing process, and of course 4 samples at the end of the tour. Cheers!
Aug 30, 2016

TrapJaw77 from Illinois
4.03
/5
rDev
-8.4%
vibe: 4 | quality: 4.5 | service: 4.5 | selection: 3
Very lively and loud. Took the tour, it was informative and I've been on several brewery tours, so A+ there. For such a huge operation I would have liked to see more options on tap though. 4 free samples I believe.
Aug 09, 2016

DezPerate from Texas
4.75
/5
rDev
+8%
I have never had anything bad from Deschutes . Every beer has in the very least been "Good " and most have been " Great"!! Deschutes is one of my favorite breweries and you can't go wrong if your choice is a Deschutes brew! "Complex but refined "is a good description of their brews.Cheers!
Oct 11, 2014
bwood06 from Wisconsin
4.2
/5
rDev
-4.5%
A -Beer is as black as the night sky. Dark tan, 2 finger head that is very creamy and rich. Head is very slow to dissipate. Lacing remains on top of beer and down sides of glass. 4.5/5
S - Notes of dark toast, roast and dark chocolate. A bit of espresso as well. This beer smells extremely heavy. Aroma is all about the malt. No fruitiness or hopiness. 4.25/5
T - Bitter of espresso right off the bat transitioning to a very dark chocolate (almost a cocoa powder) and then to a toasted bread and roasted malt flavor. The flavor profile goes full circle by ending with an espresso bitterness that lingers for a long time. Ever so slight hint of caramel in the beginning. A bit of a yeasty note but it is very subdued. 4/5
M - Very heavy and chewy. Finishes dry though with a long lingering bitterness. Slightly more carbonated than expected. 4/5
O - Awesome stout. Very heavy and very dark, just like a stout should be. Big time bitterness though which threw me a bit at first but once you get used to it, it works well. 4.25/5
Sep 15, 2014
Deschutes Brewery in Bend, OR
Brewery rating:
4.11
out of
5
with
52203
ratings