Wood-n-Tap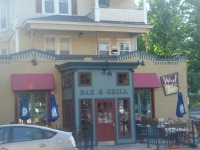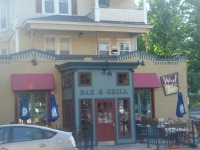 Bar, Eatery
99 Sisson Ave
Hartford
,
Connecticut
, 06106-1131
United States
(860) 232-8277 |
map
woodntap.com
Notes:

3.25
/5
rDev
-8.2%
vibe: 3.5 | quality: 3.5 | service: 3.5 | selection: 2.5 | food: 3.5
This place is a decent pub-chain type place. The Hartford location really didn't have a great tap list, despite it's name and advertisements. The night I went, they had Sierra Nevada Juniper Black Ale, which the owner helped brew at Sierra Nevada. I didn't like it but others did. The tap list seemed to have just about any standard import on it, BMC stuff and a few crafts. Besides JBA, they had Celebration, and special release beers from Magic Hat and Harpoon. It seems like they keep a few options of good craft, but they should have more variety.
The food at Wood-n-Tap can be good, depending on what you order. I've really liked their appetizers, but their wings, burgers, and pizzas (the pub food trio) are average or below.
The good part about this place is good prices, agreeable food, and you can find something good on tap. It's a good atmosphere for a big group of people. I like Wood-n-Tap, but I'd like to see them put more effort into their tap lists. They seem to get enough people to add some more taps.
1,022 characters

4.63
/5
rDev
+30.8%
vibe: 4.5 | quality: 4.5 | service: 5 | selection: 4.5 | food: 4.5
this place must've changed ownership/management, i notice all the reviews, which are poor, are at least 2 years old. i went here for the first time on my birthday (11/03/09) for the Harpoon Tasting Dinner. THe food was incredible. the beer was provided by Harpoon, so i wont judge that based on this visit. i have revisited since and still enjoyed myself thoroughly, no yuppie feel, great beer. i had a Sierra Nevada Belgian Tripel, SN Celebration, Boulder Mojo Risin and DFH Chicory Stout. the food was really good too, especially the sweet potato fries. had a chance to meet a manager at the dinner as we sat next to some people he knew. we had a blast, everyone was so friendly and willing to go the extra mile for us, even though we had already paid with gratuity included. i will make this a regular spot!
810 characters
2.28
/5
rDev
-35.6%
vibe: 2.5 | quality: 2 | service: 2 | selection: 2.5 | food: 3
Stopped to have a bite to eat on a Mon. evening. It was warm , so we chose to sit outside. The noise level from the motorcycles , cars with big ass sound systems and horns in combination with the brick buildings as backdrop was amazing. A cacophony...(always wanted to use that word in a sentence...probably spelled it wrong.).
The Hooegarden I ordered was bad..tasted like mildew...sent it back....the waitress said they changed the tap....the one she replaced it with several minutes later was OK.
Food was OK , but nothing special. Service started out good , but faded as the evening went on and it got more crowded.
My next beer was a Harpoon IPA and it wasn't bad enough to send back...but really not as good as it should have tasted.
Not happy with the beer here... selection was not that good and then it turns out , what they do offer on tap is off tasting.
Maybe their lines need maintenance....?
I didn't come here expecting a great experience. I have been to the Southington location and it was much better , but , I will not go back to the Hartford location.
1,079 characters
3.25
/5
rDev
-8.2%
vibe: 3.5 | quality: 3.5 | service: 3.5 | selection: 2.5 | food: 3.5
This isn't a bad place to go for dinner. The food was quite tasty and the sweet potato fries ruled. The place is surprisingly yuppie for the neighborhood.
My first two beer selections were actually not on tap anymore, so I had a Magic Hat Heart of Darkness. The only other craft brews were from Sierra Nevada. The usual suspects were also on tap. There is no real bottled beer menu.
If you're looking for a beer bar, turn left and hit the Half Door about four blocks away. If you want some decent food and a change of atmosphere, give the Wood N Tap a try.
558 characters
3.13
/5
rDev
-11.6%
vibe: 3.5 | quality: 3.5 | service: 3.5 | selection: 2 | food: 3.5
Only a place to go for beer if a) you don't care about beer or b) you're too lazy to walk the 200 yards to the Half Door. Not a horrible beer selection, but I usually end up with the $2 PBR draft. Good wings and appetizers, but nothing extraordinary. This place emphasizes style over substance.
294 characters

3.65
/5
rDev
+3.1%
vibe: 4.5 | quality: 4 | service: 3.5 | selection: 3
After driving by this place a bunch of times and reading about it in Yankee Brew News, I finally had a chance to stop in. The interior is chic, but casual and comfortable at the same time. The lights are low, the mood is mellow, and the place is clean and neat. Didn't try the food, but there were many people eating, and the selections looked good. I have also heard good things about the food. The beer selection was pretty average. Nothing earthshaking. You will be able to get a Guinness, a UFO, a Sierra Nevada Pale Ale, and a few seasonals, but there are also some trite selections like Stella. There were also some wasted tap handles for Coors Light and Amstel. The bottle list was mostly American macros. This place is very nice and comfortable, and you will be able to find a decent beer at a good price, so it's worth stopping by if you're in the area. But it's not the type of bar that you would travel to as a craft beer destination.
945 characters
Wood-n-Tap in Hartford, CT
Place rating:
3.54
out of
5
with
12
ratings