Dismiss Notice
The Lion Brewery Restaurant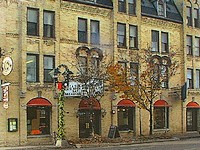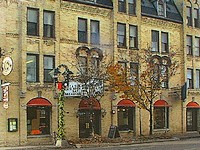 PLACE INFO
Type:
Brewery, Bar, Eatery
59 King St N
Waterloo
,
Ontario
, N2J 2X2
Canada
(519) 886-3350 |
map
huetherhotel.com
Notes:
Located in the Huether Hotel.
Added by BeerAdvocate
HISTOGRAM
Ratings: 9 | Reviews: 9
Reviews by pootz:

3.68
/5
rDev
+2.5%
vibe: 4 | quality: 3.5 | service: 4 | selection: 3.5 | food: 3.5
Went in to get a pint of the new lion pub Hefeweizen...very tasty...now I don't have to drive to Hamilton or Baden to get a good weiss on tap.
History:
For those unfamiliar with the Heuther, it is steeped in K-W brewing history. Kitchener-Waterloo are twin cities which have a German pioneer chronicle. Canada's first lager beer was made here at a time when the Milwakee and St. Louis beer barons were still in their teens...the twin cities wer called Eby-town ( later Berlin, then Kitchener) and Erb-town, (later Waterloo after the Napoleanic battle). In Pre-prohibition era Canada( 1850-1928) K-W was famous within the province abd across the border for the German lager beer its 6 breweries were producing....at the center of this were beer baron rivals the Kunz family of Kuntz lager brewing fame and Christian Heuther of the locally famed Heuther Inn and brewery which was built over the site of a previous brewery that had extensive brick lined lagering cellers beneath it. He lost his Inn and brewery to the Kuntz's in a defaulted loan and moved his operations down the street to Kitchener where he founded the famous Lion Brewery which remained a landmark independent brewery until the late 50s.
The reason I went into this detail is that most of the experience of having a beer at the Heuther is the atmosphere...the Adlys who bought this old landmark when it was the run-down "Kent hotel" ( a rubby tavern) put extensive capital into restoring it to it's former glory and when you walk into the Lion pub in the basement you are in the original brick lagering cellars used by the Erb-town brewer who existed there about 1838-1858...you are sitting in the original epicenter of Canadian lager beer brewing...the founding ground of Canadian lager beer...a sort of shrine to that most fundamental staple of Canadian identity.
A Walk-around:
On the King street side you see the Gold Crown Brewery to the east of the hotel ( where the Adlys brew and bottle the Heuther house beers) which is attached to the Heuther by elevated walkways and the huge patio of the Heuther's Barleyworks pub...the Barleyworks serves-up gallons of fresh Heuther brews with Califoria style Pub-grub, pastas, calamari, wings, pizza, tex-mex and some local German (schnitzel)
Around front at street level is an up-scale coffee house-bistro ( the 1842 Cafe') no alcohol here just teas and coffee drinks and light yuppy fare like "smoked salmon salad", alfalfa sprout sandwiches and "veggie grills".
Then down the side ( Princess street) there is the street level entrance to the Lion Brewery restaurant and pub...this is what you go for...this is the hotel basement that was used as a brewery barrel cellar in the old days. Nice fireplace in the rustic pubby dining area has a short 8 seat Oak bar with antique tap hountains and handles...upstairs there is a classic billiard room with beautiful old slate bottomed tables. All the Heuther beers are on tap here and the chefs serve up a great eclectic menu from local German delicacies like red pepper schnitzel with mushroom/shallot sauce to pastas, to Quesadillas, Curries and baked mussels. Great food at reasonable prices.
Implressions:
Waitresses are friendly, prompt and courteous but a bit blank about the beer selection....fortunately there is a descriptive beer menu. There is a year round late od standard Heuther beers from a red ale to a Dortmunder and there is always one seasonal that ranges from Oktoberfest Marzren , to a heffeweiss to a raspberry aleto porters and bocks. Although I know that the Heither beers are made with malt extracts or extract and some grist malts....the flavors are clean and distinct enough to denote style but the body and heading are always lacking because of the use of extracts...That said I can recommend the seasonals ( hefeweiss, fruit ales) and the Wuertzberger Bavarian strong lager.
The food is always of good quality and variety...among the best in the city...and I eat here when I have time for a sit down meal. The atmosphere in the Lion is the attraction...this is the old heuther hotel basement and laker the lagering celler for the Kuntz brewery and the arched brick cellers go way back blocks under the Waterloo streets...the restoration and decore are well done and complimentary...oak bar and moldings...cozy, historic ambience.
One of 3 places that is a must-visit in K-W. The other is the Brick brewery down the street and the Castle on King in Kitchener.
4,480 characters
More User Reviews:

3.7
/5
rDev
+3.1%
vibe: 4.5 | quality: 4.5 | service: 2 | selection: 4 | food: 4
The food and beers here are great. I've been a patron for quite a few years and have always been a fan of the fare available, though it doesn't change much.
Their seasonal offerings on tap are somewhat uninspired and I usually default to the Adly's Ale (a red), the Serpent's Fang (Aldy's and Lion Light), or the Black & Tan (English Ale and Premium Lager) in order to find something offering good taste whilst being a little on the unique side.
The downfall of the Huether is the service. Waitstaff don't tend to stick around long and it shows both in product knowledge, ability to figure out a bill, and service time... but I like the food, the beer, and the prices. I can't blame the frequently refreshed staff for this lack of prowess as their treatment is notoriously poor (common knowledge around town as nearly everyone knows someone who works/has worked there).
I still go back on the regular though...
912 characters
3.18
/5
rDev
-11.4%
vibe: 4 | quality: 4 | service: 1 | selection: 4
I've lived in Waterloo region for most of my life, and have enjoyed visiting the Heuther Hotel for beer and bar food on quite a few occasions - always considered it to be a high quality spot. I must say that a recent experience there has definitely changed my opinion.
I was out with my wife and another couple recently, enjoying Waterloo night-life during the Jazz Festival and we decided to hit the Heuther (Barley Works) patio for a beer or two. While making our way to an empty table, my friend's wife and a waitress happened to bump into one another, resulting in spilled beer and broken glass everywhere. I watched the entire incident and it certainly wasn't anyone's "fault" - just one of those unfortunate things that can happen on a crowded patio. My friend's wife (we'll call her "Sally") - who felt terrible about it - even apologized immediately to the waitress.
What shocked me was the fact that the waitress not only DIDN'T apologize, but she immediately told Sally that it was her fault, and that she was going to have to pay for everything that was on the tray! After some words about the situation, the waitress went to get "the manager" - who turned out to be the owner, Kelly Adlys. I thought for sure at this point that everything would be smoothed over, perhaps even some genuine apologies offered. [Kelly lived across the street from me for many years, and always struck me as a "good guy", "family man"etc etc.]
He shows up with a muscle-bound bouncer, and explains the Heuther's accidental spillage policy - in a nutshell...whomever is to blame has to pay (whether server or patron), and there wasn't much he could do about the situation since he didn't see what happened. In the end he didn't make us pay for it, and even offered a half-hearted apology - but the overall vibe was "not my problem".
I was amused when he asked if we still wanted to stay. As you might imagine, we let him know we had no intention of sticking around (or coming back any time soon).
This situation could have been handled SO differently!
Was the bar cost of those items on the tray enough to warrant leaving potential paying customers feeling embarassed and unwelcome?
If we were rowdy, drunken students staggering around and knocking things over that would be one thing, but two married couples out for a light night of fun away from the kids? Are you serious?!?
Very disappointed - won't likely go there again.
2,423 characters
3.68
/5
rDev
+2.5%
vibe: 2.5 | quality: 4 | service: 4 | selection: 3.5
This was my first time at the Huether Hotel, (specifically Barely Works) despite having lived in the city all of my life. I suspect it was my growing interest in craft beer that drove me here. The Huether is separated into 3 distinct sections. The Barely Works bar on the upper floors, the Lion Brewery restaurant, and Cafe 1842.
As my visit occurred during a time with few students present in the city, the overall atmosphere was a quiet, and somewhat disenfranchised of any energy. That being said, the overall look is quite friendly and cozy, offering many different seating areas, all rather well lit and inviting.
The waitress serving our table was friendly and fast, although a little ditsy, to be fair it was close to the end of the night and she was probably quite tired. Having read some of the reviews on here prior to my visit, I was surprised to find the waitress was quite knowledgeable on the beer choices, and recommended something rather tasty.
With about 8 beers on tap, I was disappointed to find they had run out of Wuerzberger Lager, something many past patrons have recommended. But I was never the less treated to a sweet and inviting Raspberry beer. Pours a clear golden-red color, with a rather thin head. Tastes of very little hops, an almost overpowering sweetness dominates the senses. Hint of raspberry at the end, and maybe even some coriander? Overall a pretty smooth and decent summer brew, great for a pint or two. However I would not recommend any more, as the sweetness eventually becomes too much.
Did not have the opportunity to enjoy anything from their kitchen. Prices were fairly average for the city.
Will definitely hit up the place more in the coming university years. Hopefully getting to try a few more of their beers. Overall a nice place to visit, and one of the better sites in the city.
1,843 characters

3.83
/5
rDev
+6.7%
vibe: 4 | quality: 4 | service: 4 | selection: 3.5 | food: 3.5
Great setting. Barley Works in the upstairs of the building is a nicely laid out space. Great patio, decent bar. Could stand to have a couple intimate corners, but otherwise clean and presentable.
Highlight has got to be the sting of nine beers brewed on site, alongside one seasonal tap. Sorry, but after that its just run-of-the-mill macro brews.
Tried the Wuerzburger Lager and the seasonal Pumpkin Ale. Both headless, but offering up some lace. Very average looking brews. Served up just way too cold, so there is some patience involved in waiting for your beer to warm up so you can taste it. Best to order the first and queue up the next so its ready to go when the time comes.
The Weurzburger is a decent enough lager with a nice grainy flavour, but is thin bodied.
The Pumpkin Ale is tasty, with a spicy nose and lots of pumpkin spice to taste and a nice properly beery finish. An enjoyable seasonal.
Dropped in during Oktoberfest, so was able to sample the special menu offered up for the event. Tried the Kohlrouladen platter, which is cabbage rolls with a side of veggies and roast potatoes. Also tried out some of the barley soup for an extra dollar. That was a disappointment, because it was basically minestrone soup that subbed in barley for pasta. Behind the spiciness it was just too bland to enjoy. The Kohlrouladen plate was impressively large with two good-sized cabbage rolls tons of roast potatoes and a generous serving of interesting veggies. The cabbage rolls were well made (large, meaty stuffing) but unfortunately covered in the same tomato sauce I suspect is used on the pasta, so were missing that hint of vinegar sourness you get with a proper central European style cabbage roll. Italian style seasoning is just out of place here. Veggies were well prepared, a little toothsome and not cooked to death. Roast potatoes were also well made. Enjoyable, but needing just a little fixing up to be better that faux Oktoberfest in this case.
Staff friendly and attentive.
Worth a try to add a few local micros to your beer belt. There's also hope for the food, but will probably take another visit to explore the menu a bit.
Free wi-fi, too. Wrote this sitting at the bar. Handy.
Visit. Spend your money, enjoy the spave and try the beers.
2,273 characters
3.78
/5
rDev
+5.3%
vibe: 4 | quality: 3.5 | service: 3.5 | selection: 4 | food: 4.5
The Huether's somewhat of a hipster hangout for Waterloo's university students. But it's also a historical landmark, and a pretty good source of microbrewed beer. Their selection is only alright, and the beers themselves are almost never better than average, but the place does some things right.
In terms of atmosphere, there's a lot available: go upstairs and there's the Barley Works, and downstairs there's the Lion Brewery/Restaurant. I've never been downstairs, so my judgement is limited to the Barley Works. They have a great patio (arguably the best in Waterloo), though the tendency to play live music on summer afternoons is kind of annoying (especially when the performers are painfully white men doing painfully white covers of Stevie Wonder). Inside it's a bit more cramped, but there's a cool catwalk-like upper level.
The quality and selection of beer itself are only average. It seems the Adlys use malt extract to do their brewing (this ain't the Merchant Ale House in St. Catharines), and most of their dozen or so entries (some of which rotate seasonally) are pretty typical fare: lager, honey lager, light lager, etc., Still, both the English Ale and the Wuerzberger Lager are very respectable brews. They also sell a ridiculous amount of bottled macros, which I find infuriating with so much fresh keg beer waiting to be consumed (I believe they also have a few premium macros on tap, which is also kind of silly).
Service is decent as well. I haven't had extensive talks about the beers served, but most of the waitresses seem to only be able to repeat the description on the menus. I've also never been able to get a waitress's attention during later-night bar hours. Given the alternatives, though (...nothing?), this doesn't grind my gears too badly.
The food, however, is a highlight. I haven't tried everything, but I've thoroughly enjoyed everything that I have. The blackened chicken pizza (?) is superb, and I've heard similar raves about various other items as well. The menu is interesting in that it encompasses pub grub, but also extends to more traditional dining: pasta, seafood, that sort of thing.
Worth a trip if it's not far out of your way. But that's coming from a BA who's starved for microbrew-friendly institutions in the K-W region.
2,284 characters
3.95
/5
rDev
+10%
vibe: 4.5 | quality: 3.5 | service: 4.5 | selection: 3.5 | food: 4.5
I actually had the opportunity to tour the adjacent Gold Crown brewery (don't go asking for tours, they don't regularly give them but they let us behind the scenes as part of a University research project) and I've gained a new respect for the whole establishment. The owner Kelly Adlys is a great guy, his family bought the premises decades ago, he got his beer education working for Labatt and then applied it to the Gold Crown/Huether, which had been the site of a brewery going way back to the 1840s in Waterloo (if you get the chance, try to go into the private room in the back of the downstairs restaurant, the walls are loaded with beer memorabilia and history.)
The brewery tour itself was great, we had a really knowledgeable guy who clearly cared about brewing. The place is kind of a mess since they're currently renovating, but I still got to see the storage and recycling, bottling line, grain storage room loaded with an assortment of imported German malt, kettles, fermentation area, and the U-Brew site. A lot of people don't know that they operate a U-Brew, but you really should check it out - the prices seem reasonable and there's a mind-blowing assortment of beer types on the wall that they're capable of making, plus they make wine. I learned some other miscellaneous trivia during the tour too, there are apparently underground tunnels that lead out of the brewery in all directions that were built during the Prohibition era (make up your own mind what they were used for) but the city won't let them excavate them.
The Huether next door's actually a maze of different rooms, there's the Barley Works rooftop patio, the Lion Brewery restaurant downstairs with some delicious food, and a cozy little cafe on the main level where you can often see people reading books or browsing on their laptops. The Huether's a local landmark in Waterloo, and you should definitely check it out if you're around.
1,926 characters
3.15
/5
rDev
-12.3%
vibe: 3 | quality: 2.5 | service: 4 | selection: 3 | food: 3.5
A restaurant with about eight taps, including a seasonal. They brew their own, which are on balance, of water and concentrate malt quality. However, if you find yourself in this part of Ontario, you can try a free tasting down the street at the Brick. Or you can eat a regular meal, check your email here, and have what they serve. The Ale was the most drinkable. Good service and surprisingly packed in the cellar. You can also get beer outside in the beer garden. The cafe does not serve alcohol. If you are so inclined, you can get some of these in bottled form next door.
575 characters
3.33
/5
rDev
-7.2%
vibe: 4 | quality: 3 | service: 3.5 | selection: 3 | food: 4
Well, it exists, and that's a good thing. Go for lunch, eat outside, try to overlook the weaker aspects.
To start with the best things about this joint:
1. A sense of heritage. The brewpub and the myriad other service centers in the building are connected by hallways and staircases that seem to jump out of nowhere. A fun old Victorian building (commercial hotel circa 1872) to explore.
2. A nice open deck. Not much of a view, but you could feed at least 80 people on the deck alone. I noticed another review mentions that it gets crowded. A sunny summer Saturday at 1 p.m. found it on 1/4 full in my experience.
3. The food is better than it has to be. There's a chef's touch, not just a line cook's. Handcut fries. Sandwiches on focaccia. Confits, aiolis, reductions etc.
The inevitable eeennnhh bits:
1. The beer menu leans too heavily on the lighter styles. The styles that present themselves as bigger and bolder than a light lager still end up tasting like light lager. The Adly's red is advertised as having a full body and a full taste. It did not. The one pint I had that broke the rule was a very pleasant Wuerzberger Lager.
2. The server knew little about the beers.
1,202 characters
The Lion Brewery Restaurant in Waterloo, ON, Canada
Brewery rating:
2.99
out of
5
with
31
ratings