Piast
| Browary Dolnośląskie Piast S.A.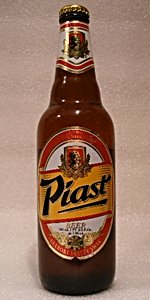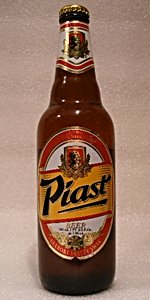 BEER INFO
Brewed by:
Browary Dolnośląskie Piast S.A.
Poland
polishbeerimporters.com
Style:
European Pale Lager
Alcohol by volume (ABV):
5.30%
Availability:
Year-round
Notes / Commercial Description:
No notes at this time.
Added by BeerBeing on 06-28-2007
This beer is retired; no longer brewed.
HISTOGRAM
Ratings: 12 | Reviews: 12
Reviews by Ryan805Beer:
2.13
/5
rDev
-28.8%
look: 3 | smell: 2.5 | taste: 2 | feel: 2.5 | overall: 1.5
From Brezesko, Poland. 500ML, 1PT 0.9 FL OZ, alc 5.3% Vol.
A somewhat confused beer is it a lager or is it an ale? A virtually nonexistent head. Starts off ok, but ends with an almost acidic bitter finish. I almost liked it in the beginning, but about 1/3 of the way though it I began to notice it's shortcoming's and I truly disliked it.
339 characters
More User Reviews:

2.95
/5
rDev
-1.3%
look: 2.5 | smell: 2.5 | taste: 3 | feel: 3 | overall: 3.5
Poured from 500ml bottle into a pint glass. Pours a pale straw color with minimal white foamy head, receding quickly.
Smell is of pale malt. Indistinguishable from any run of the mill adjunct lager.
Taste is relatively clean. Mild hop throughout. Watery.
A good enough euro lager. Mildly tasty. Easy to drink. Easy to repeat. Easy to repeat.
344 characters

2.86
/5
rDev
-4.3%
look: 3.5 | smell: 2.5 | taste: 3 | feel: 2.5 | overall: 3
euro-Lager.
A: Pours a clear, pale straw color with a big frothy white head.
S: The aroma smells like vinyle or plastic.
T: The flavor is pale malt and not much else. Light herbal hopping . No real off flavors, makes a Budweiser taste like a stout and taste watered down.
M: watery mouthful and texture with some light toasted honey malt.
D: Due to the bland and no flavor, you could drink this but why bother.
417 characters

3.03
/5
rDev
+1.3%
look: 3.5 | smell: 3 | taste: 3 | feel: 3 | overall: 3
Poured a dark straw hue with a one finger foamy white head. There was good retention and decent lacing.
The smell featured a very soft grainy malt and faint flowery hops.
The taste was equally light and soft. Light malts and a whisper of hops detected. Light dought finish with no off flavors.
The mouthfeel was on the light side and smooth.
Overall a non offensive, but uneventful beer experiemce.
410 characters
3.08
/5
rDev
+3%
look: 3 | smell: 2.5 | taste: 3.5 | feel: 3 | overall: 3
Had a bottle of this stuff last night and I gotta say, for how cheap this stuff is, it packs a pretty decent punch.
Appearance was golden yellow with a minimal head. Nothing eye opening but nothing to distraught looking. It certainly was thick for a lager and it did have a decent amount of carbonation, but it wasn't anything out of the ordinary.
Smell was barely there. It seemed masked most of the time, save for a few hints of corn and possible grains. Most of the time it didn't have a strong aroma and seemed pretty bland.
Taste however was much the opposite of its smell. It was very crispy with hints of corn, grains and barley with a nice bitter twist at the end. Not bad for a nonexistent smelling beer, but yeah this stuff is thirst quenching.
Mouthfeel wasn't great but not terrible either. Flavor stayed intact but the texture overall was pretty watery.
Drinkability is good however. For how cheap a bottle of this is works in favor. It's got a good taste for a Euro lager and it is satisfying, but it could be a bit fuller on the tastebuds.
1,059 characters
3.15
/5
rDev
+5.4%
look: 3.5 | smell: 3.5 | taste: 3 | feel: 3 | overall: 3
16.9 oz heavy brown glass bottle. No freshness dating.
Poured into my SA glass, the beer is a light gold with a bone white head. Shards of lacing on the glass.
The aroma is of some hops (saz maybe?) fresh grains and a touch of pepper.
The taste is slightly bitter with grass notes and backend metallic bite.
The mouth is a little under carbonated, but has a bit more body than expected.
Drinkablity suffers a bit from the metallic aftertaste, but it would be easy to pound a few on a hot day. Not bad, but not the best example of the Polish Brewer's art.
561 characters
2.85
/5
rDev
-4.7%
look: 3 | smell: 3 | taste: 2.5 | feel: 3.5 | overall: 3
Had this at Eva's Polish Restaraunt in Syracuse.
Poured a clear bubbly golden with next to no head. Minimal lacing.
Smell is of a light wheat with a weird yeast, very mild.
Taste is rather bland, mild hop and a buttery malt. Finish is rather sweet, reminiscent of an iced tea.
Mouthfeel is really smooth and crisp, very easy to drink.
Drinkability is average. I paired this with Polish food and it wasn't bad. Fairly average.
430 characters

2.83
/5
rDev
-5.4%
look: 2.5 | smell: 2 | taste: 3 | feel: 3 | overall: 3.5
500 ml bottle poured into a Pilsner glass
A: Pours a very clear brown color. Very little head and no real look of carbonation.
S: Smell is almost non-existent. It resembles that of a Miller Lite or Bud Light.
T: First taste wasn't as bad I expected after not smelling much of any aroma. You could taste the hops and barley like flavor typical of a lager style. Nothing overwhelming or special. It wasn't overly carbonated tasting as well with a faint but noticeable bitter aftertaste.
M&D: It coats your mouth with a light feel with the slight carbonated feel. The texture was not bad compared to like a Bud Light. It is refresihing and drinkable for a beer of this type.
Not overly exciting but much better than a Bud or Miller. At $1.50 a 500ml bottle not a bad deal. A good "everyday" type of light tasting beer. Worth replacing a Bud or Miller.
855 characters
3.08
/5
rDev
+3%
look: 3 | smell: 2.5 | taste: 3 | feel: 3 | overall: 4
This beer poured a light yellow with a single-finger head. The smell is subtle with just a bit of malt. The taste almost all light malt. There's a tiny bit of hops in the back end. The mouthfeel is a little watery but pretty crisp. This is a very drinkable beer, it's what I image is the Polish equivilent of an American Macrobeer. Worth a try if you can grab it, but don't expect it to knock your screen door off its hinges.
425 characters
3.22
/5
rDev
+7.7%
look: 3 | smell: 3.5 | taste: 3 | feel: 3 | overall: 3.5
500 ml bottle poured into mug. Picked up at a Polish Import market in Stamford, CT
A: Clear, golden straw color. Two incehes of white head on a hard pour, below average lacing. Not a bad looking beer. Not a good looking beer.
S: Nobody else seemed to get this: I get a distinct aroma of buckwheat honey on the nose. Sweet, yeasty, and all the usual aroma of a Euro lager. But the acidity from the almost raisiny buckwheat was interesting.
P: Light, euro lager. Pale malt, very light (if existant at all) hops. Finish is sweet, confirming what I smelled.
Mouthfeel is average. Good carbonation, smooth, crisp and refreshing.
Good drinkability. Would work well with Polish food, or on a hot summer cookout. For the price, really not a bad beer.
751 characters
3.5
/5
rDev
+17.1%
look: 3 | smell: 3 | taste: 3.5 | feel: 4 | overall: 4
The color is a strong golden yellow with some mediocre bubbling and only a flash in the pan head that quickly dissolves into nothingness. The arma is a bland dry pilsner malt with a little grassy hops. The taste is a slightly adjuncty yet crisply hoppylager. Hints of a splash of lemon juice with a little earthy grass. The palate is light and refreshing. Perfect for an after work starter on a hot summer day.
410 characters
3.15
/5
rDev
+5.4%
look: 3.5 | smell: 3.5 | taste: 2.5 | feel: 3 | overall: 4
poored a nice golden amber, small head that left all but to the rim of the glass, not much for lacing.
Smell was familiar and finally figured it out to be very light apple cider
Taste was thin with hints of cider crossed with lager more leaning towards the cider though
Felt somewhat watery in my mouth
Went down easy could very well throw a few of these back
360 characters
Piast from Browary Dolnośląskie Piast S.A.
Beer rating:
2.99
out of
5
with
12
ratings