De Prael Bitterblond
| Brouwerij De Prael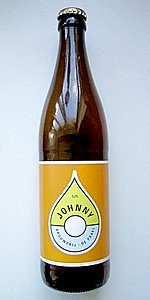 BEER INFO
Brewed by:
Brouwerij De Prael
Netherlands
deprael.nl
Style:
Kölsch
Alcohol by volume (ABV):
5.70%
Availability:
Year-round
Notes / Commercial Description:
Formerly Johnny
Added by paterlodie on 03-23-2006
Reviews: 9 | Ratings: 30
3.81
/5
rDev
+3.3%
look: 3.5 | smell: 3.75 | taste: 3.75 | feel: 4 | overall: 4
On-tap at De Prael Proeflokaal, Amaterdam, Netherlands
A: The beer is slightly hazy pale yellow in color and has no visible carbonation. It poured with a thin white head that died down and left a collar around the edge of the glass.
S: Aromas of bready malts are ore sent in the nose along with notes of floral hops and yeast.
T: The taste has flavors of bready malts along with notes of floral hops and a light amount of bitterness.
M: It feels medium-bodied, clean and a little smooth on the palate with a moderate amount of carbonation.
O: This beer was listed as a kolsch on the chalkboard but seems more in line with a Belgian Pale Ale. Nevertheless, it has some nice qualities.
688 characters
3.72
/5
rDev
+0.8%
look: 3.75 | smell: 3.5 | taste: 3.75 | feel: 4 | overall: 3.75
Tap at the brewery in Amsterdam.
Nice creamy 1 finger thick head fades slowly with lots of lacing, hazy straw orange color.
Nose pretty clean, light straw and sawdust, hint of fruity, grainy dough.
Taste clean as well but brings nice pilsner malts at first, light straw and more grainy dough, hint of salt and lemon too. Some light grassy slightly spicy hops with mild bitterness. Finish is very dry and crisp, clean, light leafy hop bitterness lingering.
Mouth is med bodied, fairly crisp and fluffy carb.
512 characters

3.4
/5
rDev
-7.9%
look: 3.25 | smell: 3.25 | taste: 3.5 | feel: 3.25 | overall: 3.5
Pale, hazy color with huge head. Aroma has lemon notes, something like a witbier. Taste starts really fresh, with some dough and slightly tart, lemony notes. Carbonation is on the high side and the body is quite light. Overall it's a decent, refreshing beer.
258 characters
4
/5
rDev
+8.4%
look: 4 | smell: 4 | taste: 4 | feel: 4 | overall: 4
Purchased at the BSF bar, GBBF 06. Elegant, 500ml brown German lager glass bottle, BB 10/2006, served lightly chilled in a straight imperial-pint glass.
A: the initially light yellow-ish colour is polluted by a dark orangey clouds as the last bit of liquidy yeast-sediments flees from the bottle, resulting in a orangey amber hue; a nice, thick, very creamy frothy head wanes slowly, leaving sheets of tight lacing behind; constant and light carbonation, full of extremely tiny bubbles.
S: a flow of enticing, sweet-biscuity pilsner-malts, sweet lemon-peel like note of weizen/witbier, and generally-speaking "citric" as well as subtly flowery edges like noble-hops (from the beer label it's Hallertau then)--soft yeasty and flowery-estery notes stay firmly at the back...
T: lightly bitter citrus-peel and piney yeasty bitterness abounds, quite rough and chewy on the texture, coming hand in hand with a prevalent wave of mildly sweet pilsner maltiness, laced with faint hints of caramelised+candy sugar, honey-water, estery taste of Chinese green-bean paste (as happens to quite a few yeasty Belgian pale ales), and bitter edges of citrus fruits; finished with a lovely length and depth of bitterness (from both hops+yeasts), chewy at times yet overall quite soothing...
M&D: beautifully-controlled soft carbonation on the mouthfeel, medium-bodied and moderate flavour-wise; the key to this beer seems to lie on the weight of yeastiness and smart niche of hops, making it quite unlike other Belgian Pale Ales--in a sense it's even like some British micro-breweries' bottle-conditioned golden premium bitters!! The website of De Prael says this is a Koelsch style Blond Beer, but I beg to disagree, for the pronounced yeasty theme and the lingering bitter aftertaste surely ain't byproducts of a Koelsch? Anyway, this is MY cup of tea whichever style this beer should belong to.
1,886 characters

3.31
/5
rDev
-10.3%
look: 3.5 | smell: 3 | taste: 3.5 | feel: 3.25 | overall: 3.25
Pale golden pour, semi-hazy with a white head that gives way to a very thin lacing. Smells like boiled corn and caramel. The taste is sweet, with notes of caramel, citrus and malt. Not too good.
194 characters
3.8
/5
rDev
+3%
look: 4 | smell: 4 | taste: 3.5 | feel: 4 | overall: 4
BBE 04-06. Nice presentation with lasting white head and a depp golden beercollor. Nose is very fruity giving pineapple from hops and good esters and bit phenolic with some maltyness and overall fresh and inviting. Taste is richquiet strong alcoholic, malty, bit but not oversweet and shows moderate bitterness. Balanced & crispy mouthfeel and very drinkable brew.
364 characters

4.03
/5
rDev
+9.2%
look: 4.5 | smell: 4 | taste: 4 | feel: 4 | overall: 4
Why didn't rate anyone this beer for the last three years?
Johnny is an interesting, surprising beer.
L: great golden look, with a lasting top;
S: there's the surprise: do I smell geuze-alike-bretts? That's strange; but lovely. Ripe apple and a tiny bit of orange.
T: round taste, with a nice bitterness at the end; the apple is still mentionable;
M: nice CO2, bitterness lasts, alcohol is only 5,7%, but is very clearly there.
O: a nice surprise; if there won't be any (Belgian) beer in stock , I will have this Dutch boy surely again!
538 characters

3.99
/5
rDev
+8.1%
look: 3.5 | smell: 4.5 | taste: 4 | feel: 3 | overall: 4
Pale golden yellow with a small fuzzy white head that fades to a thin ring around the glass.
There's a smell of apples and fruity sweetness, flowery notes, a bit of grain or biscuits and some almost gueze like citrus smells in there as well. It's a surprisingly sweet and fresh.
Again the sweet apples in the taste, reminiscent of home made applejuice with yeast, citrus and a nice sharp bitterness near the end.
Mouthfeel was a little flat and disappointing sadly, my biggest issue with the beer.
Overall I was pleasantly surprised, this is a very enjoyable and fresh beer.
578 characters
3.15
/5
rDev
-14.6%
look: 3.5 | smell: 3.5 | taste: 3 | feel: 3 | overall: 3
This is a good looking Pale Ale that pours golden with a measured head.
There's a subtle fragrance of hard green apple, almost indistinguishable, but still there--like a Dutch Ninja--nonetheless. At first sip you're immediately greeted by a bitter pinch of the tastebuds. This is joined by a wave of alcohol and malt--reminding you that it's stronger than it appears--with a lingering bitter aftertaste.
All in all, it's a decent Pale Ale, but nothing ground-breaking. I feel it could use a bit more hops to mellow out the malt and alcohol, but it's still a suitable option for a late afternoon by the canal.
611 characters
De Prael Bitterblond from Brouwerij De Prael
3.69
out of
5
based on
30
ratings.