Cooper's Tavern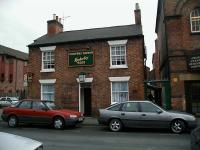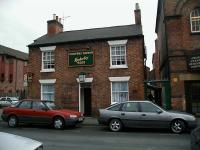 Bar, Eatery
43 Cross Street
Burton-on-Trent
,
England
, DE14 1EG
United Kingdom
+44 (0)1283 532551 |
map
Notes:
Reviews by TheLongBeachBum:
TheLongBeachBum from California
4.13
/5
rDev
-4.8%
vibe: 5 | quality: 4.5 | service: 4.5 | selection: 3 | food: 4
My first visit to Burton upon Trent was in 1988, and it was primarily focused on attending the CAMRA Burton upon Trent Beer festival. After the lunchtime session, which culminated in a small 'nip' sampling of the legendary Bass No.1 Ale, we headed out for a Pub Crawl. Out of all the Pubs I did that day, the Cooper's Tavern was by far the most memorable.
I still return when I get chance, and thankfully, little has changed. Well, except for the fact that when it was my first visit, this was the unofficial Bass Brewery Tap, and "the" place to drink Draught Bass. Can you believe it?, an 18 year old in the Tap of a Brewery that dated from 1777, that had the first registered trade-mark and was a class act when it came to brewing a great range of beers, including the legendary English Pale Ale called simply, Draught Bass. Now though, the Cooper's Tavern is owned by Hardys & Hansons, but it still has the same classic interior and atmosphere that endeared it to me some 15 years ago.
As you enter this authentic, totally genuine 19th Century Ale House, the beer-history associated with this place just makes the hairs on the back of your neck stand on end. A small wooden counter is all that passes for a "bar". It does not really need one, because the majority of beer here is still served by Gravity dispense straight from the Cask. Rows of Casks sit proudly on aged Stillages - a rare, but welcome, sight these days. Hardys and Hansons Kimberley Best Bitter and Kimberley Classic are sold, the latter is excellent. Occasionally, it will sell the Kimberley Mild, a relatively weak (3.1%), but nonetheless, a lovely dark mild. It also still sells Draught Bass, now through a Handpump though, but I care little these days for this mass-produced faded master - sad. Tables are made from wooden casks, old bench seats, old Bass and other Breweriana, as well as the haunting ghosts of a thousand Bass Drayman that once maybe started, and certainly finished, their working day here. A comfortable lounge area is assisted by a no-smoking family room. Lunchtime meals are simple but wholesome and great value, they complement the spartan interior – this place is all about drinking beer.
Coming here again should make me feel good, it usually does, well until I go to leave that is, and I walk past the infamous red triangle Bass symbol with the 1777 date underneath it. Then I realize that it is a sad reminder of the once great British Brewing Industry, how did we let it all go so easily??
Aug 24, 2003
More User Reviews:
EGT1966 from Missouri
4.68
/5
rDev
+7.8%
vibe: 4.75 | quality: 4.75 | service: 4.75 | selection: 4.5
This is what a historical pub should be. No music. No fruit machines. Just good quality beer, historical surroundings, and quality conversation.
Despite the town being dominated by the CoorsMolson logo on their automated brewery that occupies hundreds of acres in town, Cooper's Tavern is the bomb. It began as a little tap room for the directors of Bass when they were still making Imperial stout for the Baltic region and Russian czars (and when Bass was the big brewery in town--later joined by Ind Coope and Allsopps). Then it became a Bass pub. The front two rooms are classical English pub with bench seating and tons of classic Bass and Joule's memorabilia. And quiet.
The servery has no bar! It's just a back room where you ask for your pint from a series of beer engines and kegs sitting on their side. The Bass from the side keg is the best pint of Bass I've had . . . perhaps ever. It's not the crap we get in bottles in the States. The point of this pub is conversation and beer. What else is there? One of the top five pubs I've ever visited in the UK.
May 27, 2016

grantcty from Minnesota
4.56
/5
rDev
+5.1%
vibe: 5 | quality: 4.5 | service: 4.5 | selection: 4.5
I had the pleasure of visiting this pub twice while visiting England as my friend lived in a village close to Burton. What a great little place! Very cozy, with the bar tucked away in the back.
They had an excellent variety of real ales, some gravity, some handpull. The staff were very friendly and knew how to pour a proper pint. One of the nights I was there, they had a platter with several wedges of artisan cheeses available free to patrons!
What a great place and a must stop for those in Burton!
May 09, 2008
JohnW from England
4
/5
rDev
-7.8%
vibe: 4 | quality: 4 | service: 4 | selection: 4 | food: 4
I can only echo LongBeachBum's discription of this tiny ancient traditional bar. I have been visiting this bar for many years, usually when attending the marvellous Burton-on-Trent Beer Festivals, when this is an essentail visit on the day, either before or after! Looks more like an old terraced house (there is an entrance to the bar from both side streets) and the front lounge with fireplace and tables. The tiny bar at the rear, with bench seating for about 8 people at most, with the beer barrels on the counter, gravity fed. The beer is always great, smooth, little or no head as it is not pressurised, and the Kimberleys Ales always fine. Just a great shame the Bass no longer comes direct from a barrel (another price to be paid for COORS taking over, and the almost blasphemous removal of all BASS signs in the town on chimneys and brewing equipment, replaced by COORS !!) Usually 4 or 5 different beers available from the casks, and an essential visit by any real ale enthusiast to Burton. Just 10 mins walk from the Railway Station, come out of the Station, turn RIGHT follow the main road past part of the old Bass Brewery until you see an outdoor clothing and army and navy store. Turn right, and the pub is then down that street.
Oct 19, 2005
Cooper's Tavern in Burton-on-Trent, GB2, United Kingdom
Place rating:
4.34
out of
5
with
4
ratings