Posca Rustica
| Brasserie Dupont sprl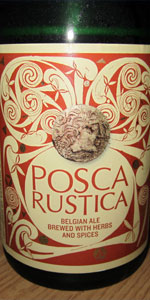 BEER INFO
Brewed by:
Brasserie Dupont sprl
Belgium
brasserie-dupont.com
Style:
Scottish Gruit / Ancient Herbed Ale
Alcohol by volume (ABV):
8.00%
Availability:
Rotating
Notes / Commercial Description:
No notes at this time.
Added by TMoney2591 on 01-26-2003
Reviews: 103 | Ratings: 242
4.7
/5
rDev
+16.9%
look: 4.5 | smell: 4.5 | taste: 5 | feel: 4.5 | overall: 4.5
A - hazy shimmering gold full of tiny streaming bubble topped with a four finger head of fine foam.
S - grassy, tart, and yeasty like a Saison but with some undefined(to me) spice character.
T - heavy sweet grass notes up front with a distinct citrus tart and bitter middle. Leaves a long lasting residual mild peppery light sweet tart bitter combination that is quite enjoyable.
M - ticklish crispy carbonation with a medium body and slightly dry finish.
D - fantastically drinkable if you like Saisons or derivatives of Saisons.
It goes pretty quick and if your not careful you'll certainly miss something. Very interesting, thirst quenching, and just all around plain good.
676 characters

4.8
/5
rDev
+19.4%
Appearance: Pours a tawny gold with a, wait, whoa! STOP! GUSHER ALERT! Okay, see, at first I poured myself a little 2.5oz sample and that had some foam, but nothing unmanageable. I liked it, so I decided to pour myself a full beer into a tall pilsner glass, thinking, well, this is a corked Belgian, it's probably going to need a little room to rise. I guess the tight quarters only exasperated the situation. I got maybe 5oz of beer out of the massive column of foam that filled the glass. Crazy!
Smell: Very "typical" BSPA aroma. Some sour wheat, hay, cracked pepper, and just a little sweetness. All of it subdued, as should be expected.
Taste: This tastes every bit as good as Duvel, which has earned a world-class rating, so I'm rating this high, because if Duvel deserves a 95+ rating, than so does this. Personally, I don't think Duvel deserves that rating, I'd give it more of a 4 out of 5 or something. And, to me, this gets extra points as it, allegedly, doesn't use any hops to achieve the flavor and balance, yet it tastes just like another ale that would. Unfortunately I don't pick up ANY of the herbal, spiced qualities that the label mentions. I just pick up typical belgian blonde notes - a little bit of tang and/or funk, some straw perhaps, pepper, and a fair bit of sweet, pale European malt.
Mouthfeel: This is where the brew differs, for me, from a traditionally hopped ale. This gruit is smooth and coats the mouth very differently than a hopped one. There's no resin to this ale. Most people would use the term resin to denote a flavor, but until you've tried a gruit you wouldn't notice that, a typically low-hopped ale, like a belgian blonde, still leaves your mouth coated with hop resins in a way that the gruit just doesn't. My mouth is left feeling like I've just taken a mouthful of tea, even though the brew was quite attenuated and carbonated.
Overall: Unusual and yet incredibly familiar, I'd say this is the golden standard of how a gruit *should* be done. If you're trying to make a modern gruit and the herbs and spices take over the flavor of the malt or reinvent the style you were aiming for, then I feel like you've failed. Yes, I know, gruit *is* listed as its own style, but the definition varies. I tend to call it anything brewed without hops and with other herbs/spices instead. This was well done.
2,348 characters

4.84
/5
rDev
+20.4%
look: 4 | smell: 5 | taste: 5 | feel: 5 | overall: 4.5
Brasserie Dupont brew my all-time, indisputable (at least until another brewer bests them) favourite Saison - their eponymous Saison. So when I found this corked/caged 750ml bottle of Cervesia at Plonk I was at first intrigued "Do Dupont do anything apart from Saisons?" well apparently this one is a Gruit (before hops were mainstream beers were finished with herbs and spices - Gruit is the name for this mixture) with sweet woodruff (known as Galium Odoratum or wild baby's breath) and bog myrtle along with a dozen other spices. I do like a good Gruit.
Poured from a 750ml bottle into a Duvel tulip.
A: Fully cloudy, I may have stirred up the yeast somewhat, tangerine body with a 2 cm dense white head that soon reduces to a thin blanket of snow on top. Closer inspection reveals suspended yeast particles - I love those guys. 8/10.
S: Sharp sweet spices: Coriander along with cardamom especially, infused with a musty yeast, overripe pears and big floral note... hint of bubble gum coming through too, this is one hugely complex fragrance sitting in front of me. Notes of concentrated orange juice coming through too... damn! 10/10.
T: Sweet upfront, not sugar bomb overly but noticeable, then the spices hit and mid palate everything balances with a citric note... this is a fairly sublime balance. Flavours noted (I need a list): Orange peel, overripe pear, coriander, cardamom, clove, something else bitter and herbal, something coppery/earthy and musty yeast. Aftertaste brings back that orange concentrate noted in the aroma. Flawless taste? Pretty much. 10/10.
M: Medium bodied with creamy almost Weizen-like carbonation. Hard to find faults with this brew. 10/10.
D: Wow. It's been a while since I've had a brew this good, once again Dupont have hit the proverbial nail on the head with this fantastic Gruit. In fact if I had a bottle of this and Duvel (my favourite beer) sitting on a table in front of me I would reach for Cervesia, perhaps I've had my fill of Duvel - which is a brilliant beer no less, who knows maybe these spiced brews hit the spot more in my old age? [35 atm btw]. Regardless this is one fascinating beer from Dupont deserving of a place in my beer pantheon, no two ways about it. Better than their Saison? For me: Shit yeah! 9/10.
Food match: Beef bourguignon or steak frites, or if you're less meat-inclined: Cheese platter with some Bleu de Bresse.
2,408 characters
Posca Rustica from Brasserie Dupont sprl
4.02
out of
5
based on
242
ratings.