Wilburfest
| The Fort Collins Brewery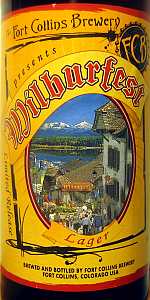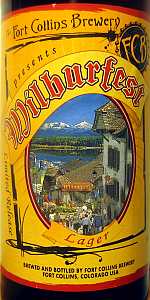 BEER INFO
Brewed by:
The Fort Collins Brewery
Colorado
,
United States
fortcollinsbrewery.com
Style:
German Märzen / Oktoberfest
Alcohol by volume (ABV):
not listed
Availability:
Fall
Notes / Commercial Description:
No notes at this time.
Added by Beaver13 on 10-18-2004
This beer is retired; no longer brewed.
HISTOGRAM
Ratings: 11 | Reviews: 10
Reviews by pmcadamis:
2.19
/5
rDev
-35.6%
look: 4.5 | smell: 3 | taste: 1.5 | feel: 3 | overall: 1.5
A - A nice deep apricot/orange hue with a creamy one finger head that shows really good retention. Big sheets of foam slide down the glass after a swirl, and a shit-ton of really sticky and foamy lace is left behind on the sides of my glass. A quick swirl whips up a big luscious finger of tight foam. This is one pretty brew!
S - I smell salt and cherry candy syrup. Smells a bit like those gooey red licorice ropes....not regular red licorice but the big cheery gooey ones. This really smells nothing like an O-fest, but it smells really good in it's own way. As it warms, more fresh French bread malt notes come out with some flowery hops.
T - This is really more of a creamy Vienna lager or something than an Oktoberfest. It reminds me of an English pale ale or IPA even with it's massive earthy, floral, garden flavors. Way to hoppy for a fest beer, this is not so much Autumn as it is Spring. I dislike the earthy mushroom, soggy toast, and flower petal flavors. There are also some really nasty metallic mineral flavors that almost make this a drain-pour. Not good.
M - Medium bodied and very creamy with a very slightly dry and foamy finish. Soft and mellow.
D - Way, way, way off mark here. In a blind taste test I would not have guessed that this is an Oktoberfest brew. I don't really care for this one at all. That's a shame, since this is a very pretty beer in the glass!
1,388 characters
More User Reviews:
3.65
/5
rDev
+7.4%
look: 3.5 | smell: 3.5 | taste: 3.5 | feel: 4 | overall: 4
The Wilburfest pours a copper color with a light tan head that quickly went to a thin film that lasted to the bottom and laced the glass some.
Its aroma is toasted biscuit and some light hops and a little citrus.
The flavor is toasted biscuit with subdued but crisp, grassy hops backing it up. There are some slight citrus notes. Some sweetness comes out as it warms - I liked it better a little cold. It has a smooth, medium body.
Overall, one of FCB's better offerings. I normally don't go for Octoberfests, but this was nice.
537 characters

3.79
/5
rDev
+11.5%
look: 5 | smell: 3.5 | taste: 4 | feel: 2.5 | overall: 4
I dust off my Warsteiner liter+ sized glass mug for this one. There were a couple surprise leftover Snickers minis waiting at the bottom for me. I think I remember drinking a good portion of a case of Spaten Ofest while giving out candy that night.
Before I forget, 22oz bottle courtesy of SuperWhite92. :)
Straight pour quickly builds a condensed milk-colored head to about an inch under the rim. The deep honey amber beer gains momentum & eventually levels out halfway, leaving a good two inches of slowly seceding felt-like head. Lacing is pretty sticky.
Diving into the mug, I get the impression of tangy sourdough, salt, peppery yeast, a touch of grassy bitterness, & just a hint of clove.
I quickly notice that the carbonation is low here. Taste is definitely sourdough-like, but with a little extra crustiness, paired off nicely with a backend of tingling bitter greens. Crackers on the finish help dry it out. Mildly sweet, hintingly bitter.
A good bit more carbonation is all it needs. :)
1,004 characters

4
/5
rDev
+17.6%
look: 4 | smell: 4 | taste: 4 | feel: 4 | overall: 4
brewed under the direction of Wilbur's staff.
Pretty clear amber kinda washed with tangerine. Nice meringue-like froth.
A sweet and fruity fragrance; fresh sqeezed juice and floral hops.
A very nice session beer because it's light but full flavored. Starts sweet and fluffy. Fresh pear and peach juice. Full spicy hop come forward and play on the palate like twigs of wild mint.. And there's a little nuttiness. I think this is a really good german fest sort of beer. I hope they bring it back.
498 characters
3.15
/5
rDev
-7.4%
look: 3.5 | smell: 3.5 | taste: 3 | feel: 3 | overall: 3
Pours orange/amber with a thin white head that beomes a lasting patch.
The smell is of sweet caramel candy. Some grainy notes - also sweet.
The taste is of sweet caramel candy. Slight toastiness. Some fruity/spicy hops, but overpowered by sweet malt.
Almost syrupy in a medium body.
Too sweet for me, but okay for one.
Not crazy about it, I have to admit, but like I said, not bad to try. Thanks to billerbill for including it!
442 characters
3.18
/5
rDev
-6.5%
look: 3.5 | smell: 3 | taste: 3 | feel: 3.5 | overall: 3.5
An Octoberfest-style beer from Fort Collins brewing in honor of the largest beer store in Northern Colorado, Wilbur's Total Beverage in Fort Collins.
A: Amber body under a smallish white head that fades quickly to a ring that leaves surpising lacing.
S: Grassy citrus with a medium hoppiness. Very light smell.
T: Crisp, mildy hoppy front over a bit of malt. Standard Märzen and Oktoberfest fare, decently done. A refreshingly pleasant taste. Basic session kind of brew. Nothing here to go after.
M: Decent enough roundness here. Nice finish. Refreshing.
D: As all Octoberfests should be, this one is pretty drinkable, fairly normal for the style.
This is a pretty average beer, and frankly, not worth the price.
732 characters

3.35
/5
rDev
-1.5%
look: 4 | smell: 4 | taste: 3 | feel: 3.5 | overall: 3
I'll preface this with "I normally really like beer from this brewer."
I picked up this 6-pack from the brewery's tasting room. I guess this is to celebrate the 4th anniversary of Wilbur's. I think it might be making a reference to some small beer event in Bavaria, too.
Pours a pretty standard orange color with a little foam on the top. It's not as bold/bright as some, but it's normal for the style.
Smell is husky, sweet, and actually does have some hops in there. Not bad.
The taste starts off okay with the usual gingerbread and caramel sweetness. Then all of a sudden I pick up a weird plastic flavor in there. I don't know what it is...but it's just not quite right. After 3 bottles, it's there in all of them, so it's not a bad bottle. I think it might be the way the hops are reacting with the malt, but it takes a good Oktoberfest down to a pretty average beer in general.
Mouthfeel is thicker than you might expect, but it's not too much. This is still really easy to drink as a result.
The issue of that weird plastic flavor keeps coming back for me. This beer has elements of greatness, but this is holding it back. Hopefully next year's fix that. For now, stick to Left Hand's O'fest while in Colorado. Ft. Collins is still THE lager brewer out here, but this is a rare miss for them.
1,306 characters
3.03
/5
rDev
-10.9%
look: 3.5 | smell: 3 | taste: 3 | feel: 3 | overall: 3
Presentation: 12 oz bottle. Picked up a six pack at the brewery a couple weeks ago. A special fest beer brewed in honor of a local liquor store.
Appearance: Pours clear red orange with a nice sized head.
Smell: Biscuity malt and a hint of citrusy hops in the finish.
Taste: The biscuity malt continues to the flavor, with a bit of a grassy flavor as well. Mildly hopped.
Overall impression: Not a bad Oktoberfest, but I've had better.
447 characters

3.78
/5
rDev
+11.2%
look: 4 | smell: 3.5 | taste: 4 | feel: 4 | overall: 3.5
The story on the side of the bottle notes this Fort Collins brew is brewed under the guidance of Wilbur's employees, which is the liquor store (no surprise) that I picked this beer up at. The pour is a clear amber color with a noticeable orange tinge. A decent head that remain through the whole tasting, though id dissipate to the side of the glass.
A nose has a malty aroma and a very distinguishable Fort Collins nose. Mostly from the yeast after tones. Some light Vienna hints and evident floral, grassy and citrus fruit aromas. More tangerine then lemon though.
The taste has more of a malty presence then the nose would indicate. The malt has more of a biscuit flavor and there isn't much of a Vienna or Munich presence. Some what of a yeasty background that all Fort Collins beers seem to have. The hops are light but do finish with that tangerine taste.
The body is good with a full flavor. Very easy to drink and light carbonation to allow the body to really come out. I wonder how many of the Wilbur's people buy this beer.
1,045 characters

4
/5
rDev
+17.6%
look: 4 | smell: 4 | taste: 4 | feel: 4 | overall: 4
This pours from 12oz bottle(2006) a clear deep amber with a smallish head of foam. The foam shrinks quickly leaving just a bit in the middle and around the edge of the glass. There is some lacing.
The smell is a nice caramel malt with a side note of grain.
The taste is big on the caramel malt on first sip but it also has a nice earthiness to it. Judging from the smell, I thought this would be sweeter than it is but there's some hop bitterness in the background that balances out the flavours. Further sips in and I'm getting some good bready tones midway through with the finish being slightly bitter and quite crisp. The mouthfeel is good and the carbonation is on the light side. Nice brew.
Bottom line: This is a nice Marzen that is quite drinkable and has enough flavour to hold one's interest. I recommend it.
827 characters
Wilburfest from The Fort Collins Brewery
Beer rating:
3.4
out of
5
with
11
ratings