Verhaege Kriek (Kriekenbier)
| Brouwerij Verhaeghe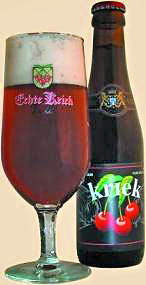 BEER INFO
Brewed by:
Brouwerij Verhaeghe
Belgium
brouwerijverhaeghe.be
Style:
Flanders Red Ale
Alcohol by volume (ABV):
5.10%
Availability:
Year-round
Notes / Commercial Description:
No notes at this time.
Added by brewdlyhooked13 on 06-13-2004
Reviews: 11 | Ratings: 38
3.83
/5
rDev
-2.3%
look: 3.75 | smell: 3.75 | taste: 3.75 | feel: 4 | overall: 4
Also from the Verhaege brewery (just reviewed), this ale also displays the Belgian flair -- nay, quirkiness and self-confidence -- to produce sour beers.
This Kriek had a bit too much cherry for me to have again, but I did appreciate its tartness.
MJ's "Great Beers of Belgium" said this : "In West Flanders, the Verhaege brewery also produces a Kriek variation... that has to aroma and palate of a Kirsch."
408 characters

4
/5
rDev
+2%
look: 4 | smell: 4 | taste: 4 | feel: 4 | overall: 4
Pours a darker reddish tinted brown, moderate cap of off white head, decent retention. Scent brings berries, tart cherry, red wine and apple cider vinegar, lightly herbal and medicinal. First sip brings blended vinegar and berry notes, can pick out each individually but quite even in the taste... tangy and tart, lightly sweet. Medium bodied, a splash bubbly. Not as bold on the cherry front as i had hoped, mild vinegar and bright berry notes.
445 characters
4.43
/5
rDev
+13%
look: 4.5 | smell: 4 | taste: 4.5 | feel: 4 | overall: 5
10 ounce pour on tap into a snifter glass, with a gorgegous appearance of a perfect dark cherry red. Clear, and a nice simple faint ring that renmains throughout of tight simple white bubbles. Gorgeous looking beer leaves a slight ruby/tawny mix port color hue upon finishing on the color.
Bouqueut is a unique sour bent of cherry but also of a framboise/strawberry sweet tinge. There is also a distinct acid that is practicaly red wine vinegar.
A giant taste of fruit cherry and strawberries with a good sour/acid balance. This isn't that sour at all actually and is extremely palatable and just the right amount of minimal carbonation, with perfect ABV drinkability. Just flat out great to drink and I would have another instantly.
735 characters
3.58
/5
rDev
-8.7%
look: 4 | smell: 3.5 | taste: 3.5 | feel: 4 | overall: 3.5
Pours brown with a slight reddish hue. Small white foam head.
Smells ... like berries, actually. Cherries you say? If you say so. Smells sweet.
Taste is predominantly sweet, somewhat medicinal berry/cherriness. Maybe a slight pucker that lingers on the tongue. Not particularly sour.
Pleasant prickly mouthfeel.
314 characters

4.25
/5
rDev
+8.4%
look: 4 | smell: 4 | taste: 4.5 | feel: 4.5 | overall: 4
Ok, ok. It's taken some time. But I've actually gotten a taste for sour beer.
Pours a hazy brown with a nice head that dies into a thin ring and a little bubbly island in the middle.
Smells of sourness and some vinegar-soaked cherries. Surprisingly sweet regardless.
Tastes sour, dry, vinegary and slightly sweet with a dry cherry finish.
Thick and creamy in the mouth. Nice.
Pretty dry and refreshing. Damn good and drinkable.
434 characters
4.4
/5
rDev
+12.2%
look: 4 | smell: 4 | taste: 4.5 | feel: 4 | overall: 5
G - Duvel tulip, pouring from a bottle labeled 'best before 25-03-11'.
A - Translucent mahogany-oxblood hue with a small pinkish head and great rings of lacing.
S - Vinegar, band-aid and hay, basically.
T - Sour, with wood and mustiness, and a sharp tart cherry kick. Clean, dry finish, leaving you salivating for more. The saddest thing is seeing the bottom of the glass.
M - Thinner, with champagne-like carbonation, but creamier mouthfeel, and a dry tart finish.
D - Nice stuff.
486 characters

4.36
/5
rDev
+11.2%
look: 5 | smell: 4 | taste: 4.5 | feel: 4 | overall: 4.5
Had this on draft at Churchkey in D.C. Poured into a tumbler. This beer is RED! Holy redness, I know its a cherry beer and its a Flanders red ale, but this beer is seriously red. Prepare yourselves. Thin white head, bubbles form along the glass but the head leaves no lacing. Carbonation minimal and steady. Clear beer, no haze at all. This is an attractive beer.
Smell is sour, definitely get the cherries (bitter cherries) in the aroma a lot. Lactic acid is there too but it is nicely balanced with the fruit character.
This beer is tart. I'll go ahead and call it sour but really its tart. Its the kind of sour that makes you pucker your lips or when you feel it in the corners of your mouth. Its serious sour / tart. I can detect some sweetness in there through the sour still. The cherries are subtle in the flavor but you can tell they are there. Beer is medium bodied, finishes COMPLETELY. This is another palate cleansing beer. I really enjoyed this beer, phenomenal. I did not think I would like it, but I'm glad I had one.
1,034 characters

3.69
/5
rDev
-5.9%
look: 5 | smell: 3.5 | taste: 3.5 | feel: 4.5 | overall: 3.5
Beauteous violet with rose froth that rises high, and holds well.
Smells very lactic, like cherry kefir; slight horseblanket, and a little vegetal.
Soft and creamy mouthfeel is nice. There's woody astringency. Sour milk, light horseblanket, sweet. This is pretty thin, not so dry--very fruit juicy.
303 characters
3.88
/5
rDev
-1%
look: 4 | smell: 3.5 | taste: 4 | feel: 4 | overall: 4
Served in a wine glass, this is a nice deep purplish amber color with a thin head and a moderate amount of lacing. Smell is a strong cherry smell, kind of like a cough drop, with a slight oak scent as well. Taste is more of the very strong cherry, more tart that sweet, doesn't leave a lingering syrpupy aftertaste. Hard to taste much other than the cherry, although there is a decent malt underlying. Mouthfeel is medium with a fairly high carbonation and a light effervescent feel in the motuh. The only other Kriek I've had was Lindeman's, and this is definitely a better beer. Goes well with desert, especially chocolate.
625 characters
2.47
/5
rDev
-37%
look: 4 | smell: 2 | taste: 2.5 | feel: 2.5 | overall: 2.5
I'm confused on many levels with this beer so I'll guess I'll start at the beginning. I couldn't find a match of the exact beer I drank, however, this seemed to be the closest. Could it be I acquired a really, really old or a really, really new bottle, but I have no clue for sure. The label on the bottle I'm drinking has a coat of arms, 2 cherries and says the ABV is 6.8%.
The best part of this beer is the appearance. It poured a deep, cherry red with minimal head which foamed a bit when swirled. The positive aspects of this beer stopped right there for me.
The smell was the first thing that weirded me out; maybe I was expecting more of a lambic-ness, but the smell had a funk that I found hard to place. What the hell was that smell? Dirty underwear?
The taste started okay with a tart, bitter cherry flavor but followed by a metallic nastiness that almost pressed down on the back of my tongue. Seriously.
The mouthfeel was uneventful and not at all pleasant.
Drinkable? I'll pass.
1,008 characters
4.38
/5
rDev
+11.7%
look: 4.5 | smell: 4 | taste: 4.5 | feel: 4.5 | overall: 4.5
Comes in the same 11.2 oz. bottle as the Vichtenaar but with a higher ABV. Label varies by showing cherries on it (surprise) with the coat of arms.
Pours a deep ruby red with a small head that quickly dissapates to just a ring. No lacing to speak of.
Smell is, of course, cherry, with a sour malty oakiness.
Taste is cherry, sour, sweet, oak & malt. Good complexity, very nicely balanced.
Mouthfeel is smooth medium bodied, with a medium/light effervescence all over the tongue like the Vichtenaar & Duchesse. Good nicely sour aftertaste with a touch of sweetness, not bitter or cloying, very well balanced, fades evenly.
A very drinkable beer, a bit better than Vichtenaar and on par with the Duchesse in my estimation. All three definitely worth a try.
759 characters
Verhaege Kriek (Kriekenbier) from Brouwerij Verhaeghe
3.92
out of
5
based on
38
ratings.