Piccolo's Wine Shop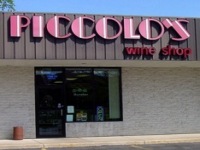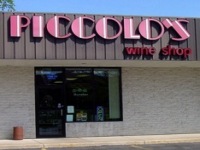 PLACE INFO
Type:
Store
1212 Hull Rd
Sandusky
,
Ohio
, 44870-7196
United States
(419) 625-2714
// CLOSED //
Notes:
No notes at this time.
Added by cokes
PLACE STATS
Reviews:

10

Ratings:

pDev:

18.57%
HISTOGRAM
Ratings: 11 | Reviews: 10
Reviews by giblet:
4.5
/5
rDev
+19.4%
update March 19, 2008.
they have greatly expanded their selection of craft brews. they now have an extensive selection of single 12oz bottles that you can mix and match sixers or twelvers. Good Place!
this is a good place. it moved a while ago. it is no longer on the nort side of the Sandusky Mall, it is on the South side close to U.S. 250. this is a little strip shop of two or three stores with Hammer Huber (outdoors and Carhart gear) next to it.
good service and selection. price is fine. it is hard to find many places like this in this area.
support your local stores and give this one a try! you will find a better selection of beer here than any box store. they also have an excellent selection of wines.
suckem up and movem out!
giblet
752 characters
More User Reviews:

2.31
/5
rDev
-38.7%
vibe: 2 | quality: 2.75 | service: 2 | selection: 2.25
Sandusky is a tough place for craft beer. Thankfully I can find delicious Great Lakes and Fat Heads at Meijer. I read some promising BA reviews so I stopped in. I was disappointed with their selection. The atmosphere was bad - the lady behind the counter was chatting with a friend and didn't offer to help us for several minutes. I didn't see anything exciting, save for one of their coolers that they were trying to sell for a thousand bucks (man, that would look great in the guest room). I don't know if they got cleaned out by some roving packs of beer geeks, but I certainly didn't see the "large selection" mentioned by previous reviewers. If you're in Sandusky (and can't make it to Cleveland), I would recommend going to Bayshore Beverage instead for a much more interesting selection.
794 characters
3
/5
rDev
-20.4%
vibe: 3 | quality: 3 | service: 3.5 | selection: 2.5
I was in the area for a wedding 3/19/11, searched beerfly and found this location ranked as the highest in the area. It was located approximately 2 miles from our hotel...off we go.
I'm uncertain if I just picked the wrong day to visit or if I am completely spoiled by living in PA. For being a wine shop, the place looked like it was just robbed of all it's inventory. Tall wooden racks that could hold a case of wine per selection had hardly more than a bottle or two in each rack. The place looked like it was absolutely ran-sacked except it was very orderly and not messy. I would guess that about 75% or more of their storage/shelf space was not in use. Perhaps they were very busy in the days leading up to my visit and never got a chance to restock? Whatever, I'm not here for wine where's the beer?
The beer selection is situated in the back of the room. A small shelf has individual bottles in the front and 4/6 packs on the other side. The cooler had pretty much the same selection except cold. A small shelf on the side had chimay triple and a spot where more offerings could be but alas, the beer section suffers the same cruel fate of unused shelf space. Nearly every fruited lindemans option was also available. I opted for a sixpack of BBC barrel aged stout ($10) and great lakes dopplerock (4-pack, $10.)
Went to pay for the beer and the cashier was very friendly. Made comment about my selections and how the bourbon stout was "fantastic, best beer in here." Made some other small talk, told me about how the owner just got into homebrewing, etc etc. (Fast forward an hour, opened 2 bottles of the stout, it's an infected drain pour mess. Calling that the best beer in the store was a disgrace to even the 40's of steel reserve.)
I don't have much else to say that's constructive except this: we stopped at a gas station and a CVS pharmacy on our way in to town and both places had nearly identical selections to Piccolo's except for the singles. This is not a shop I would return to again. When we left the store, even my father in law asked me what I thought about the place and we wondered if "something went wrong."
2,140 characters

4
/5
rDev
+6.1%
vibe: 4 | quality: 4 | service: 4.5 | selection: 3.5
As their name says, Piccolo's is first and foremost a wine store. That being said they have a very nice selection of imported and craft brewed beers. One only has to trek past the merlots and chardonnays to find a cache of fine beer choices. Lots and lots of single bottles to choose from. Large inventory of sixers and bomber bottles.
The staff are incredibly freindly and helpful. They are proud of their beers and always let me know what the latest arrival is.
Beer tastings are hosted periodically.
Say hello to Cider, a really cool yellow lab, who wanders around the store on occasion.
596 characters
4
/5
rDev
+6.1%
Like most reviewers, I stopped at Piccolo's on a Cedar Point Trip. Selection was medium at best, but considering the small tourist town I was more than pleased with my choices.
I was able to pick up several Lagunitas bombers at $3.99 a bottle for the hotel mini-fridge. I was also able to purchase a few Bear Republic bombers and Weyerbacher singles that are not available to me in Detroit to take back home.
It was a wonderful luxury to come back to my hotel from a long day at the amusement park, tuck the kids in and have a glass of craft beer while watching the waves gently crash the shores of Lake Erie.
612 characters
4.2
/5
rDev
+11.4%
Stopped in while in town for Cedar Point. A decent selection of beers for a store that focuses mostly on wine. They of course had a full selection of Great Lakes. Also represented were Rogue, Weyerbacher, Bear Republic, Legunitas, Brooklyn, Bells, FFF, and a few others. Most of the beers were kept in coolers. The prices were very reasonable. $4.49 for the Rogue bombers and just around the usual for most of their sixers. They also had a small selection of pint glasses for $2.99 each. While in most other places this would store would be mediocre at best, it is certainly a pleasant surprise for a tourist town.
614 characters
2.45
/5
rDev
-35%
I had to take a trip up to Sandusky for my Daughter's Travel Softball team to play in a big Tournament. I found this place on the Beerfly and saw that it was the highest rated in the area.
All I can say is I feel sorry for the beer lovers in this area. If this place was the best store around I would have to move.
The store is small and most of the shelf space is set for wines, but thats why it's called Piccolo Wine Shop. The beer section was very small. I did find a couple of bottles to purchase. However the Westmalle Trappist was expired in Sept of 06, sometimes age is
a good thing. I was interested in Belgium beers and the staff was helpful in searching the back of the store, but they did not have much to offer.
My overall impression is you take what you can get and here it was very little. Good beer hunting to the locals in this area.
861 characters

4
/5
rDev
+6.1%
I grew up in a small village--Castalia--about seven miles outside of Sandusky, and this is the only place in the area (without driving to Port Clinton) that carries a decent selection of beers. I bought my first legal six pack here on my 21st birthday--Guinness.
If staying in "Vacation Land" this is the only place in which you're going to find a solid selection of imports and domestic craft beers--Stone, DFH, and whatever else they can get their hands on.
Sadly, Sandusky ain't a microwbrew town. I know a guy who works for a beer distributor there and he can't even get Asahi or Sopporo for the lone sushi joint--it won't sell. If it ain't BMC, it ain't selling--Heineken is exotic in Sand Town.
But Picccolo's is the exception. Get in on the weekly tastings if you have time.
793 characters

4
/5
rDev
+6.1%
Located right off Rte 250 in Sandusky (not too far from Cedar Point), the address is Milan Rd but look for Sartor and turn right, it is located in a strip mall and there is plenty of parking. Piccolo's is definitely an oasis in a fairly sparse beer area. There is a Meijer right up the street that carries some of the common micros but Piccolo's stocks a much better variety.
Inside it is obvious this is a wine store. 3/4 of the space is devoted to wine. However the back of the store has some floor space as well as a few coolers devoted to beer. One can find DFH, Brooklyn, Stone (it is pricey), GLBC (including the sampler), Sierra Nevada, Geary's etc. Imports like Grimbergen and Chimay are available too. The selection is limited but they make do with the space allotted.
The owner of the store was very helpful and friendly, asking if I needed help and pointing me toward the cold beers right off the bat when I looked at the floor stock.
All in all you probably can't do better than this if you are in the Sandusky area.
1,037 characters
3.85
/5
rDev
+2.1%
This place is a glimmering cool spring in the middle of a vast beer desert. I make the trip to Sandusky every year (sometimes more) to visit family, and every year, I piss and moan about the beer selection. Hell, it is even hard to find non-outdated Great Lakes sixers here, 50 minutes from the brewery.
Things done changed when I walked into Piccolo's, a little wine/liquor store right off the main drag. Hard as hell to spot, and you'll probably drive right past it a couple times. It is between Meijer's and Walmart, and it is in a mini-strip mall with a large "big and tall" sign. That is your key to turn.
For all practical purposes, this is no great shakes. Sort of a standard beer store for most areas of the nation. But they have Stone. Goddamn it! They have it! Priced through the roof, but I didn't care. The rest of their stuff is more reasonably priced. Limited import selection (and limited selection overall), but this is the only Sandusky (read: Cedar Point) area stop that even remotely caters to the beergeek. Along with a bunch of Stone, I walked out with some Rogue, Great Lakes, Firestone Walker, Zywiec Porter, and 3 Monts. But otherwise, there wasn't a whole lot of interesting stuff.
Staff was friendly and helpful and somewhat gloating about the beer selection. I was gloating too.
A refreshing change of place in a area that seems to ask which style of Bud do you prefer.
1,406 characters
Piccolo's Wine Shop in Sandusky, OH
Place rating:
3.77
out of
5
with
11
ratings