Dismiss Notice
Dismiss Notice
Cloud Hopper Imperial IPA
| Free State Brewing Co.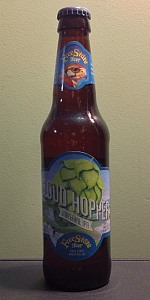 BEER INFO
Brewed by:
Free State Brewing Co.
Kansas
,
United States
|
website
Style:
American Double / Imperial IPA
Alcohol by volume (ABV):
9.20%
Availability:
Rotating
Notes / Commercial Description:
No notes at this time.
Added by LambicPentameter on 05-10-2013
Reviews: 15 | Ratings: 89

3.82
/5
rDev 0%
look: 4.25 | smell: 4 | taste: 3.75 | feel: 3.5 | overall: 3.75
Solid DIPA had on draft at the brewery. Wasn't crazy bitter, nice balance of malts and hops, not boozy at all. Clean finish with no cloying bitterness afterwards. Would get again if I was in the area. Don't know if I ever will be again though.
★
247 characters
3.56
/5
rDev
-6.8%
look: 3.25 | smell: 4 | taste: 3.5 | feel: 3 | overall: 3.5
Being an IPA lover I found this to be a bit much the hop flavor was great smell and color but the bitterness was very high. Having had beers with more of a hop profile with half the bitter I would not buy this one again. Perhaps it is just the difference in imperial vs. Double or triple IPA. I will still continue trying free state beers this having been the first one. I am still very hopeful for the brand.
★
409 characters
4.25
/5
rDev
+11.3%
look: 4.25 | smell: 4.25 | taste: 4.25 | feel: 4.25 | overall: 4.25
Pours a hazy, gold color. 1/3 inch head of an off-white color. Great retention and good lacing. Smells of piney hops, citrus hops, alcohol, slight sweet malt, hint of yeast, hint of citrus, and strong resin. Fits the style of an American / Imperial IPA. Mouth feel is smooth and clean, with an average carbonation level. Tastes of piney hops, citrus hops, strong resin, sweet malt, alcohol, and a hint of yeast. Overall, good appearance, aroma, body, blend, and feel.
★
474 characters
4.67
/5
rDev
+22.3%
look: 4 | smell: 4.5 | taste: 5 | feel: 4 | overall: 4.75
12 oz bottle. Pours hazy orange amber with a small creamy off white head that goes to a thin film that leaves some lacing.
The aroma is sweet caramel malt, tropical fruit and some piney hops.
The flavor is sweet caramel malt, tropical fruit and piney resiny hops. The mouthfeel is medium to full bodied with low carbonation.
Overall, a very nicely balanced DIPA. Great blend of sweet caramel malt, fruits and piney hops.
★
426 characters
3.7
/5
rDev
-3.1%
look: 4.25 | smell: 3.5 | taste: 3.75 | feel: 3.5 | overall: 3.75
BBD : 9 14
Dark hazy orange, saturated color, lots of visible carbonation. Clinging collar of parchment colored foam, thin broken skim eventually forms after the thin cap of foam subsides.
Aroma of toast, dried citrus peel, and caramel malt. Flavors of pine, dried grapefruit peel, dried florals, and caramel malt. Firm residual bitterness in the aftertaste. Body is medium to full, thankfully not sticky sweet. I was able to drink two over the course of an hour. Would try this again fresher, it seemed to be a decent DIPA especially for the price.
★
551 characters

3.86
/5
rDev
+1%
look: 4 | smell: 3.5 | taste: 4 | feel: 4.25 | overall: 3.75
12oz bottle from LambicPentameter (thanks man!). Best by 8/14, so I assume bottled 5/14. Served in a goblet.
Pours a brilliant orange gold with a one and a half finger pale cap. A halo and island of head remain, depositing a good bit of lace.
Dank, sweet nose. Floral, rubber, citrus, bread and mild caramel. Not bad but a bit "off" from expected for the style.
Flavor is notably better than aroma. Bitter sweet tangerine, petals, mildly dank (but not overpowering) onion/garlic, grapefruit, caramel, bread, peppery spice and a pronounced but fitting alcohol. This strikes a balance between dank and citrus hops that I've not experienced before.
Sticky, slick medium feel with lively carbonation. Lingering bittersweet aftertaste of rind, earthy floral and bready malt sweetness.
Good stuuf here. Well balance on a few levels- between types of hop flavor, between hop bitterness/ malt sweetness and between strength/ drinkability. Perhaps not earth shattering but this is really nice.
★
994 characters
3.05
/5
rDev
-20.2%
look: 4 | smell: 3.25 | taste: 2.75 | feel: 3.25 | overall: 3
Aroma: Medium sweet caramel malt aroma behind the hops. Medium hop aroma lower than classic examples. Pretty catty, hints of guava, low orange pith. No DMS, medium-low diacetyl that detracts.
Appearance: copper with golden highlights. Thin rocky white head that dissipates quickly.
Flavor: Medium American hop flavors with a medium-high bitterness level. Mostly citrus, a hint of pine, and tropical notes. Low neutral malt flavor. No DMS, nlow diacetyl. Bitterness lingers into the finish for several minutes.
Mouthfeel: Medium body with medium carbonation. Bitterness lingers on the sides of the tongue. Slightly cloying finish.
Overall: Decent double IPA, the hop profile doesn' t have the greatest balance. The bitterness level is too high for the body and the aroma is lacking.
★
788 characters
3.57
/5
rDev
-6.5%
look: 3 | smell: 3.5 | taste: 3.75 | feel: 3.5 | overall: 3.5
Pours a very transparent light amber, very clean appearance indicating a heavily filtered beer
Very light floral aroma on the nose, nice light hops.
Taste is good, an earthy flavor with floral hoppiness, again very light in flavor for an imperial but a quality summer beer.
Good carbonation in mouth feel last from start to finish.
Very clean beer, the best of the midwest imperial IPAs I have tried thus far, but high hopes still from some of the midwest breweries I have yet to crack.
★
492 characters

3.5
/5
rDev
-8.4%
look: 3.5 | smell: 3.5 | taste: 3.5 | feel: 3.5 | overall: 3.5
Very cloudy, and hop aroma is very muted for an Imperial IPA. The aroma does increase as the beer warms, and the aroma notes I get are floral and grassy, not much pine or citrus. The taste introduces some citrus. The malt flavor is very nice, seems like a Maris Otter base. There is minimal bitterness, barely enought to balance the heavy maltiness. It's drinkable, but I wouldn't seek it out.
★
393 characters

4.08
/5
rDev
+6.8%
look: 4.25 | smell: 4.25 | taste: 4 | feel: 4 | overall: 4
Single 12oz bottle poured into a Tallgrass Brewing cervoise style glass. Best by 06/14.
Appearance: Pours two fingers of creamy, thick head. Lots of bubble action in the middle. A really nice gold colored body. Good head retention with plenty of lacing. A delicious looking DIPA.
Smell: Lots of bright citrus fruits right up front, follows with a bit of orange and peach. Finish with plenty of pine and spruce. I can't wait to taste it.
Taste: Lots of sweet orange, lemon zest, and big almost minty pine. A medicinal, sticky sweet malt backbone and finish. Some bread crust. While some of the awesome hop flavors from the nose are present, the finish is kind of strange and leaves a weird taste in your mouth. Not much bitterness, which I like.
Mouthfeel: Medium with low carbonation. Smooth and sticky. Just a hint of heat. Impressive for a 9% abv.
Overall: A solid DIPA with an awesome nose. The only thing is the odd finish in the taste, it's a bit too sticky and cloying. Overall a recommend, great interpretation of the style.
★
1,043 characters

3.36
/5
rDev
-12%
look: 3 | smell: 3.25 | taste: 3.5 | feel: 3.5 | overall: 3.25
Rich copper color. Minimal head and brilliant clarity. Looks more like an a maibock. Pine like hop aroma with a bit of a caramel malt aroma. If I had not known it was supposed to be a double IPA I'm not sure what I would call it now. The taste is heavy pine hops with a strong malt backbone. The grapefruit hop flavor is intense,followed by a strong malt presence,and then a long, lingering bitter grapefruit fade. Mouthfeel is a bit chewy and sticky,appropriate to the style.
★
476 characters
3.81
/5
rDev
-0.3%
look: 4.25 | smell: 3.75 | taste: 3.75 | feel: 4 | overall: 3.75
BBD of either June or July of 2014, not sure about that, but smells fresh...
Pours an effervescent copper/orange with a finger of cream colored head. Great lacing & pretty good head retention
S: Catty notes, leafy hops & tangerine
T: Pineyness, orange peel, cattiness & pineapple up front. Some cakeyness as this warms, but mostly leafy hops, a touch of pine & tobacco & dryness, plus grassiness. Finishes dry, with a hint of aspirin, much pine, some lemon grass & pineapple & just a flash of booze heat & leafy hops
MF: Medium bodied, firm carbonation, good balance, warming
Solid DIPA, not great, well worth picking up a 4-pack, drinks very easy
★
652 characters

4.1
/5
rDev
+7.3%
look: 4 | smell: 4 | taste: 4.25 | feel: 4 | overall: 4
Poured into a Free State shaker pint glass.
Look: A dark rich copper color with slowly rising bubbles. A cream colored head sits on top and recedes to a wispy film. Beautiful dreary looking lacing clings to the glass.
Aroma: A very woody, piny note dominates.
Taste: Begins very much like the aroma with a rich almost barrel-aged type of syrupy wood note. Brighter citrusy and piny hops follow.
A very dry finish.
Mouthfeel: For 9.2%, its about as expected. Very dry, too.
Overall: The really woody notes stick out to me. This is an excellent brew.
★
555 characters

4.02
/5
rDev
+5.2%
look: 4 | smell: 3.75 | taste: 4.25 | feel: 3.75 | overall: 4
Served on-tap in a tulip glass.
One finger head with good lacing. Has a golden-copper body.
Aroma of hops, fruit, floral and pine.
Taste is malty, with tropical fruit and alcohol.
Mouthfeel is tangy and light for an imperial IPA.
Overall - Pour me another!
★
257 characters
3.97
/5
rDev
+3.9%
look: 4 | smell: 3.75 | taste: 4 | feel: 4.25 | overall: 4
Had on-tap from Blanc Burgers + Bottles in Leawood, KS. Poured into a Belgian-style tulip glass
Appearance - An enticing golden-orange hue with some haziness throughout. Head is a generous finger of creamy foam. Lingers for quite awhile and leaves moderate sticky lacing as I drink it down.
Smell - Could be more aromatic, but the notes that I do get are pleasant and floral, however I detect a little bit of fruitiness as well. Perhaps a promise to come in the taste?
Taste - Very easy-drinking, with the floral aroma giving way to more of a grapefruit taste. However, the floral element is still there and softens the pungency of the grapefruit and citrus notes. Some hints of piney resin as well as a subtle malt base.
Mouthfeel - Medium-bodied and an excellent brew to pair with food. Carbonation is just enough to give a some depth to each drink, but doesn't overpower.
Overall a solid IIPA that is very drinkable. If given a choice between Cloud Hopper and some other similar-strength IIPAs, I would probably choose Cloud Hopper on principle of supporting a local brewpub. Not as hop-forward as many IIPAs, but a very good beer nonetheless.
★
1,161 characters
Cloud Hopper Imperial IPA from Free State Brewing Co.
85
out of
100
based on
15
ratings.