Volkscafé De Cam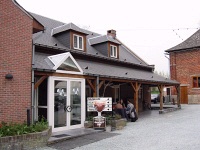 Reviews by TheLongBeachBum:
TheLongBeachBum from California
4.28
/5
rDev
+0.5%
vibe: 4 | quality: 4.5 | service: 4 | selection: 4.5 | food: 4
After a superb visit around the Gueuzestekerij De Cam at Easter 2002, the newest Gueuze blender in Belgium for some 40 years. The Blender, Karel Goddeau, suggested we sampled more of his fare in the VolksCafé de Cam, which lies just opposite just across the courtyard.
They share the same Postal Address, but the Café is a completely separate business from the Gueuzestekerij, a point which Karel was at pains to point out. It is only about 5 years old, but the VolksCafé de Cam building is sympathetically designed & built in the style of a bygone era from quality materials. It forms one edge of a small courtyard, which together with some other buildings houses the Police Station & a Folk Museum, to which you should head towards when wanting to visit the shared Restrooms.
It may be new, but the Café has plenty of character, the inside is open & comfortable with lots of wood & green plants. You should seat yourself to get served at your chosen Table.
Beerwise, if you have come here to visit De Cam, then the focus on traditional lambics will not come as a surprise. Traditional lambics from Boon, Girardin (hell yeah), Cantillon & a few from Lindemans are on sale, I also managed to pick up a bottle of Millennium Gueuze made for the Drie Fonteinen, Beersel – which was simply incredible! De Cam's offerings are on sale, but do not expect to find the Kriek, it was not on Sale during our visit, sold out allegedly, the local Folk Club drinks it all whenever it is available. In addition it sells a small range of other Belgium favorites, including Trappistes, but only those that do not appreciate traditional lambic would ever even consider ordering one of these, which would be a serious crime whilst you are here.
We decided to grab a bite to eat during our visit, & I ordered the "Local Platter", which arrives on a well used rectangular wooden board, & contains; salad, tomatoes, cold meats, cheese, onions, bread, mustard, etc. It was excellent & accompanied the range of traditional lambics extremely well.
You can sit outside if you want to, in a small patio area at the front of the Café, which is protected by an extended roof. Gooik is a quiet village, yet it contains a genuine lambic marvel, & is well worth a trip off of the beaten track to get here.
Afterwards, if you feel like stretching your legs, there are 2 other excellent establishments that are well worth trying; "In De Groene Poort", just up the hill, & "Den Haas", which is a bit further (see BeerFly for details).
Sep 02, 2003
More User Reviews:

emerge077 from Illinois
4.21
/5
rDev
-1.2%
vibe: 4.5 | quality: 4.25 | service: 4.25 | selection: 4
Visited during Toer de Geuze 2019.
I'd heard some previous reports that ownership changed hands and they stopped carrying De Cam, but the Oude Gueuze was available.
The decor is very quaint and cozy, a nice vintage De Neve sign on one wall, some birdcages, worn wooden tables, and exposed wood beams overhead. Peaceful, though there was a line out the door for the restrooms due to the TdG crowd at the gueuzestekerij and festival hall across the courtyard. YMMV.
They list nearly 2 dozen traditional lambic options, which is impressive. Flights are offered, which is a great way to compare & contrast lambic from a limited variety of lambic producers. My (completist) knock is that they don't carry any Tilquin, Hanssens, Lambiek Fabriek, Den Herberg, or Mort Subite, when they easily could. Or more De Cam bottles.
Food menu looked great, but we were saving ourselves for the numerous pig roasts during Toer de Geuze.
Overall I highly recommend a visit, and stay down the street at B&B De Nieuwe Cam, housed in a former lambic brewery.
May 21, 2019

HopBelT from Belgium
4.18
/5
rDev
-1.9%
vibe: 4.25 | quality: 4 | service: 4.5 | selection: 4 | food: 4.25
May 06, 2017

Huhzubendah from District of Columbia
4.38
/5
rDev
+2.8%
vibe: 4.5 | quality: 4.5 | service: 4.5 | selection: 4 | food: 4.5
Stopped in for a visit during my trip to belgium last month. The atmosphere was serene and chilled out. An old gentleman was sipping a lambic and reading the paper at a nearby table, but otherwise the place was empty of patrons.
I ordered a flight of kriek, faro, lambiek. All the beers were tasty, as expected. I was thoroughly impressed with the meat and cheese plate I ordered. A few different meats surrounded a gigantic pile of delicious cheese. Additionally, the pickles and pearl onions were delightful. A perfect compliment to the beers.
Service was friendly and prompt. No complaints there.
Overall, this was a nice stop. I am glad I made the journey to De Cam. I would definitely go back.
Nov 17, 2012
Volkscafé De Cam in Gooik, Belgium
Place rating:
4.26
out of
5
with
4
ratings