O'Hara's Irish Pale Ale
| Carlow Brewing Company
BA SCORE
83
good
30
Reviews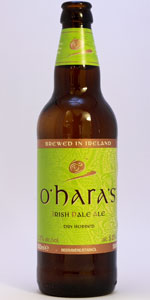 BEER INFO
Brewed by:
Carlow Brewing Company
Ireland
carlowbrewing.com
Style:
American IPA
Alcohol by volume (ABV):
5.20%
Availability:
Year-round
Notes / Commercial Description:
A Contemporary style IPA with an Irish twist. Combining the balance of European IPAs with the generous dry hopping of American pale ales (APAs), this beer is everything an IPA should be and more.
Zesty and refreshingly bitter, the finish is long. With a copper tone body topped with a lightly carbonated head, the dry hopping brings an intense aroma and lasting array of fruit and floral notes.
Added by StJamesGate on 03-21-2010
Reviews: 30 | Ratings: 161

3.4
/5
rDev
-7.4%
look: 4 | smell: 4 | taste: 3 | feel: 3 | overall: 3.5
500 mL bottle brought back from Ireland, thanks Alex! Pours a clear, light gold color with a fluffy white head. Lots of lace. Nice looking brew.
Nose is pretty bright and hoppy. Toasted bread maltiness, maybe even a little biscuity. Floral for sure and some light toffee as it warms.
Taste is a not-so-good combo of chalk, resin, light fruit and toasted malt. I can see some others liking this, but I dont really like the English Ale profile with a hoppy tilt. Not bad by any means, just not really my style.
★
510 characters
4.36
/5
rDev
+18.8%
look: 5 | smell: 4 | taste: 4.5 | feel: 4 | overall: 4.5
I have had this beer on Cask, Keg and bottle.
I have to say I love them all but for the purpose of this review I will stick with the bottle.
There is nothing I do not like about this beer. The aroma and taste are just lovely.
It may be an American inspired IPA but it is unlike any American IPA I have ever had. There is a lot more caramel and body to it. It borders on chewy but at only 5.20% it is a beer you can drink a number of.
To me it feels like a bigger beer than it is.
★
482 characters

3.28
/5
rDev
-10.6%
look: 3.5 | smell: 3 | taste: 3.25 | feel: 3.5 | overall: 3.5
Served on draught at the Bull & Castle, Dublin, where they also have it available in the bottle.
A: Two finger head of poor cream but decent thickness. Clear blonde colour.
Sm: Smells like a pale ale. Wheat barley, bittering hops. The usual.
T: Clean barley taste with a bit of cream on the open and a clean bittered finish. Avoids being overbittered. Built very simply, but balanced well.
Mf: As coarse as the style can be without taking a turn for the worse. Very carefully constructed. Buttery, actually.
Dr: I'd have another. It's quite nice off draught, but might not work out of the bottle.
★
605 characters

3.88
/5
rDev
+5.7%
look: 4 | smell: 3.5 | taste: 4 | feel: 4 | overall: 4
I tasted this bottle in August 2010. I have had this before (as a taster at a small beer festival), and was not all that impressed with it. With this bottle however, I am converted. To me, this is the best bottled beer I have tasted from the Carlow Brewing Company.
I poured the 500ml bottle into a Korenwolf pint glass. Nice clear amber body with a white head that thinned, but easily returned with a swirl of the glass. Smelled floral with a touch of citrus (?). The taste was really satisfying; well hopped (dry hopped says the label) with an unusual blend of bitterness and yet sweetness in the finish. Overall a very solid brew; I will definitely make this one a regular for my fridge.
★
691 characters
4.22
/5
rDev
+15%
look: 4 | smell: 4.5 | taste: 4.5 | feel: 4 | overall: 3.5
On cask at the Bull & Castle.
Pours strawberry blonder with a frothy pure white head that leaves trailers. Huge sticky flowers and sap hop nose. Papaya and honey malts, followed by a stinging hop bitterness, then a burst of citrus and cedar chips. Long aspirin linger. Medium, chewy and oily.
Cask lets all the dry hopping come out, and suddenly this beer is Californian. Bitterness is a bit hard to take, which is funny to say about an American-inspired Irish beer. Cloys over time, but still the best serving type for flavor.
Third review for the sweep! Unless Carlow start canning or the B&C does growlers, my last review of this beer; promise...
bottle
(3.5; 3.50 3.50 3.50 3.50 3.50)
15/08/2010
Now added to the O'Hara's bottle range.
Pours pale amber with a puffy pure white head that doesn't hang around. Nose is pale malt, a bit of caramel and faint orange hops. Toast and autumn leaves up front with tea leaves and earthy spice hops. Metallic finish. Light to medium, fizzy, no cling.
Not a patch on the draught version. I don't know where the American hopping went. Suddenly a very average pint of bitter.
EDIT: There seem to have been some questionable early batches. Floral hops coming out much more now, so +.5 to taste.
on-tap
(3.9; 4.00 3.50 4.00 4.00 4.00)
21/03/2010
On tap at Bull & Castle, Dublin.
Pours pale red-gold with a cratered dense white head that rings. Fresh flowers and a hint of sour grain on the nose. Nutty, toasted bread malts with hops that show branch, hints of mint and orange rind, backed by a pure chalky bitterness. Nettle linger, tight finish, medium bodied and fizzy.
Not Goods Store, but a new ""IPA"" from Carlow. Compares favorably with Galway Hooker, which I suspect is the whole idea."
★
1,746 characters
O'Hara's Irish Pale Ale from Carlow Brewing Company
3.67
out of
5
based on
161
ratings.