Wine Expo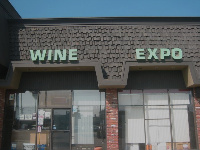 PLACE INFO
Type:
Store
2933 Santa Monica Blvd.
Santa Monica
,
California
, 90404
United States
(310) 828-4428 |
map
earthlink.net
Notes:
No notes at this time.
Added by Rumrunner
Ratings: 10 | Reviews: 9
Reviews by mickeymac:

4
/5
rDev
+5.5%
This is a big shop but, as the name would suggest, it's dominated by wine and particularly Italian reds. I must say that walking past Barolo, Barbaresco, and Brunello di Montalcino to get to the beer cooler is no easy task. Unfortunately, the beer selection is not as overwhelming as the Italian wine selection. US micros are in decent supply, but the specialty is hard to find Belgians. Interestingly, the Belgian selection is not huge but it is somewhat exclusive in its inclusion of top-notch stuff. Cantillon and Dupont are among the Belgians that don't occupy shelf-space in every shop in town. Despite the wine emphasis, finding someone knowledgeable on beer is never a problem. WE has put on wine dinners and events for years and now is sneaking in beer events occasionally. Unfortunately, I missed the Belgian event the shop put on this summer at a Santa Monica restaurant. Also, the shop's newsletter is worth receiving. It's more literate and entertaining than most books on the Amazon best-seller list.
1,013 characters
More User Reviews:
3.07
/5
rDev
-19%
vibe: 3 | quality: 3 | service: 3.5 | selection: 2.75

3.35
/5
rDev
-11.6%
I've been shopping off and on at Wine Expo for several years now. Though not as amazing as it used to be (thanks mainly to the Euro/Dollar imbalance), it remains one of the best places to pick up a reasonably priced bottle of wine. The staff is very friendly, helpful, and down to earth - although after a while I realized that all the "personal" service they offer leads to different people exiting with the same few bottles of wine (whatever the store has large quantities of at the moment)...amusing, and not really worth complaining about because the wine really is fantastic. They have a decent tequila selection as well, and probably the best proseco/champagne selection in L.A.
Unfortunatley, the beer selection is not really up to snuff, and seems to be getting worse. Pretty much everything is kept in a cooler towards the back - there are many six packs, but far too much is taken up by import lagers, and (when I was visiting) they sometimes have more beer from New Orleans than they do from California. Two or three bottles of Green Flash stout, one or two standard Bruery offerings, and maybe a winter Yulesmith - but not much else. Several German offerings, including some harder to find examples (e.g. Bayerischer Berliner Weissbier), a few Scottish ales, a couple Hair of the Dog offerings, etc. Overall, it seems like the emphasis is on Belgian ales, but upon closer inspection, most of their stock is limited to a handful of breweries (they have nearly the entire Dupont brewery line-up). Organization and re-stocking is mediocre at best. Prices range from rather high to exhorbitant (expect a $1 - $3 mark-up on most single bottles).
If you come here for wine (which I still highly recommend you do!), you'll be able to find a beer or two as well, but I would never go to this store specifically for ale...
They should be opening their tasting room as soon as they can finalize their permits with Santa Monica, but I expect their emphasis will remain on fermented grapes...
1,995 characters
3.35
/5
rDev
-11.6%
Walked here since I was staying a block away. Walked in to a big room of wine and champagne. Coolers of beer at the back. They had about 5 or 6 coolers: 2 of them local craft and the rest was Belgians. I picked up a YuleSmith Holiday which had a cooler life, Lost Abbey and 07 Vertical Epic. They also had 2007 Old Stock and Old Foghorn. I would find another beer store if I were seeking local craft. Given the prices are little on the pricey side(I thought), and the sheer lack of SD craft brew give the area is unsat. Having lots of Belgians is good but it should be balanced with a vast amount of craft beer just a few hours down the road. A bit one-sided. I really expected to see more Stone, AleSmith, Port products. Maybe it is distribution but I was a little let down.
775 characters
4.2
/5
rDev
+10.8%
My wife and I stopped off her for the first time after a recent pilgramage to Father's Office, and I for one was quite happy we did. In a small strip mall on Santa Monica Boulevard, about as far away from the beach as you can be and still be in Santa Monica. I actually saw a "Los Angeles" City Limit sign- where is this place really? Not that it matters.
As previously stated, mostly a wine store with about 4 coolers in the back with a very interesting collection of unusual beer finds. Want Bush (I mean Scaldis), both regular and Prestige? Here's the place. Quite a nice Belgian, French craft (no Fischer here), German and some American craft selection. Not a huge selection at all, but it is a beer geek's heaven. I've been doing this several years now, with a focus on Belgian beer, and this place had at least a half dozen Belgians (the beer, not the people) I had never heard of. Quite a pleasant surprise. Of course I grabbed several, we have yet to see if they are any good.
A small glassware selection at the front is also available.
A nice niche for the craft beer lover.
1,093 characters

3.6
/5
rDev
-5%
Needing to bring something to a bbq, I popped in the Wine Expo on Labor Day after finding out the hard way that Beverage Warehouse was closed. As far as Los Angeles goes, the selection was reasonable: some interesting Belgians and Germans and your California crafts. I looked long to find something special to bring. There was this glorious looking English Stout with "bottled in 2000" on the label, so I had to get that. I really wish I remembered the name. When I opened it at the bbq, I took one sip and BLAM - soy sauce. Fucking gross - I spat it out. Obviously, avoid this one.
Apart from that mistake, the other beers were fine. The employees were friendly. As the name suggests, the place is mostly about wine. There are bottles of wine everywhere - it's almost difficult to navigate your way walking by them all.
Overall - it's worth a stop if you need quality beer and are in the Santa Monica area, but probably not a destination to travel for.
959 characters
4.5
/5
rDev
+18.7%
I finally made it over to this beer haunt and I was not dissapointed. Wine expo is in a modest small building and is stacked high with wine taking up the entire floor space. The beer is entirely in the cooler on the back wall. There is not a huge selection but what is there is usually hard to find. For example I picked up 3 german beers and none of them have been added to the data base yet. Their claim to fame in my opinion is the belgium selection. They take pride in stocking belgians that are not regularly available at say...BevMo. Don't go here looking for US micro's. They do stock a handfull of the common products like, stone, left coast, couple six packs of rogue, but thats about it. Red Rice Ale from Japan, and I did manage to snag a bottle of Stone's Imperial stout, which has been absent since shortly after its release at the stores i frequent. The guy running the till was friendly and showed me some pictures of the massive amounts of Westy he found while in Brazil. I signed up for their email updates because he said they have tastings every few months. I can't stress enough that this is not a place to go to re-stock your beerfridge. Its a place to go and find some obscure and hard to find brews, and enjoy the Brazilian regae/rap over the sound system.
1,279 characters
4.7
/5
rDev
+24%
As others have mentioned, they are primarily a wine shop and a damn good one. But it's a hidden gem of beer too. The selection is a little small compared to Beverage Wharehouse or Hi-Times but the quality is great. On my last visit they had Oud Beersel, Cantillon (Vignerone, Gueze and Rose) all the DuPont US imports, Nora, Super Balladin, some DeDolle beers and a good selection of Bock beers. Also a handful of US micros. I've been in when some aged stuff gets released ('96 Cantillon, 5 year Avec Les Bon Veoux, and properly stored previous Anchor Christmas seems like every December.)
Prices here are a bit higher for commonly stocked items at other local places, but there will be stuff here you can't get without making a serious drive to the OC or San Gabriel.
771 characters

4.35
/5
rDev
+14.8%
Smallish place that is dominated by the wine trade. Room is big bright and airy and stacked to the gills with bottles of vino and a major collection of spirits. (including good but obscure Czech liquors as well)
Mixed selection of Cal micros (Big Bear, Stones, etc) and a really interesting collection of Belgians including Cantillon Rose de Gambrinus with the not safe for US consumption satyr / nude fawnling label.
Nice place to stop and pick up a few things special. Service is always good and you'll need it in case you want to pick your way through the massive supply of champagne that's available.
610 characters
3.65
/5
rDev
-3.7%
The business card of this establishment states; "Southern California's best selection of Champagne, Italian Wines and Belgian Ales."
A very plain medium sized room. It is not near the size of the Wine House or the Beverage Warehouse. It is on a busy street but it does have a parking lot in the front.
They have a large stock of wine and champagne. The spirit selection is quite large as well. Plenty of Tequilias.
The beer selection of course has the macro and macro imports. As far as the craft beers are concerned they have a small but ample selection. Stone, Rogue, Steel Head, Redhook, North Coast and a few others. It is a decent selection.
As far as their claim that they stock the most Belgian beer in SoCal? More than BevMo, The Beverage Warehouse or Hi Times? I doubt it but I could not say for sure. They do have quite a selection of Belgians though. A nice selection of German beers too. Big bomber bottles. They also have some japanese beers and a small but nice selection of British beers. For U.S. craft beers this is not the place but for Belgian and German beers stop by.
The service was very good. I was asked upon entering if I needed assistance or had any questions. If you are looking for Belgian or German beers and you cannot find what you want I would give this place a call. They might be able to track it down for you.
A big negative. This place is expensive. The Stone beers were much more expensive than I have seen them at other stores. Even more expensive than Whole Foods.
If you are looking for craft beers or other European beers then there are many other places that are less expensive. If you are looking for a Belgian or a German beer that is obscure then I say call this place and ask. It is probably worth the extra expense to get what you want.
1,808 characters
Wine Expo in Santa Monica, CA
3.79
out of
5
based on
10
ratings.