Kelley Brothers Brewing Company
BEER AVG
-
none
Awaiting 10 Ratings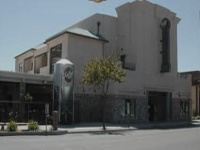 PLACE INFO
Type:
Brewery, Bar, Eatery
112 E Yosemite Ave
Manteca
,
California
, 95336
United States
(209) 825-1727
// CLOSED //
Notes:
No notes at this time.
Added by BeerAdvocate
Ratings: 4 | Reviews: 4
Reviews by Troyone:
3.9
/5
rDev
+21.9%
vibe: 4.5 | quality: 4.5 | service: 3.5 | selection: 3.5 | food: 3.5
This place is located in a spacious brick building that used to be a theater. Different settings for dining including an upstairs area with another bar and an area to the East of the buiding that might be a beer patio (appeared to be under construction).
All stainless steel tap nozzles and the kitchen was in the open with a real grill. L-shaped wood bar, metal stools with cushioned seats, nice wood bar cabinets with windows to view the fermenters, hardwood tables, and wood chairs. Restrooms were clean.
Service was business like.
Most of the beers had a similar sour spice taste, had two cask options, and did not see any guest beers. Possible notable was the IPA and a definite notable was the Oktoberfest. The Stout was on cask and was so/so.
The food was ok, cooked on the grill, but overcooked.
reasonable
829 characters
More User Reviews:
2.68
/5
rDev
-16.3%
vibe: 4 | quality: 2.5 | service: 2.5 | selection: 2 | food: 4
Ok, here is the deal with this place.
If you like old downtown/historic brick buildings in a downtown setting this would be a good place to visit, for me that is where most of the good ended.
From a beer quality and selection perspective it was pretty terrible, There were only 3 house beers on and a very odd assortment of guest drafts.
I ordered a Stone IPA (should be a solid beer right??) I have been drinking this for years and love it. I think their lines must have been very dirty as the beer had a very tart/sour taste. I then moved to the pale ale with was ok at best.
From a food perspective we ordered several happy hour items and they were all actually very good, so i would say go here for food and not beer.
Overall, I was excited to go here and the location and building have all the potential to be an awesome brewpub unfortunatly you cant have a great brewpub without great beer and great beer selection. I hope in the future they turn it around because i am in the area frequently and hope i only got a snap shot of what they are about!
Cheers
1,069 characters

3.05
/5
rDev
-4.7%
vibe: 4 | quality: 2.5 | service: 3.5 | selection: 2.5 | food: 4
Atmosphere - I love places like this that are old building that have been updated to house a restaurant and brewery. As you walk in theres a large room with a L shaped bar on the right and to the back. The brewery is behind a glass wall behind the bar. Lots of tables all over the place with more seating in an upstairs balcony. Some cool old breweriana is on the walls like old hammer in cask taps old cans and growlers around the bar.
Quality/Selection - During my visit they only had three house beers on tap and sad to say they weren't very good at all. Which is too bad because this place isn't too far from where I just moved to.
Service - I stopped by on a weekday night and there was only one waiter and a bartender working. It never got real busy so the short staff was never an issue and the waiter was kind and seamed like he knew the house beers.
Food - For my meal I ordered the Tortilla-crusted
Tilapia & Mexican Shrimp and I must say that it was very good.
Overall this is a nice place to have a meal unfortunately the beer isn't so good but they have guest taps to make up for it.
1,100 characters
3.18
/5
rDev
-0.6%
vibe: 3.5 | quality: 3 | service: 3.5 | selection: 3 | food: 3
Visited 12/31/2010.
Stopped in on my way back south for New Years Eve. The building is fairly large with a plenty of upstairs seating in addition to the downstairs area. There is a long bar with plenty of room too.
I saw one server and one bartender but it was 2pm so I guess it's understandable. The bartender seemed to know a decent amount about the beers and was helpful.
Here's a little anecdote that I'd like to share.
I've never been to Manteca before. All I know about the place is that there used to be an awesome water park here (I could never go as a kid) and that the Jurassic Park beer is brewed here (see Fossil Fuels Brewing).
So I park right in front of the door in my little ratbox Pontiac Grand Am SE 1994 and go inside. 10 minutes later I have a flight of all 7 house beers in front of me when two kids that couldnt have been older than 16 (5'6" 110 lbs soaking wet) burst through the back door. One of them is hunched over and holding his side while the other is stuttering and whose eyes are wide open and popping out of his skull. Both were wearing red hats.
The one who isn't hunched over tells us that they were shot at and that his friends were shot (presumably by a drive by) and that there was a third kid that lying in the street outside. He was so freaked out that he was feeling all over his torso for bullet holes and even asked the lady at the bar to tell him if he'd been shot.
The bartender grabs the cordless and dials 911 while he tells the kids to go sit out in the parking lot while they wait for the ambulance. He didnt want any reports of this happening in the brewpub, makes sense to me. By this point everyone is freaking out, the lady goes behind the bar and grabs some salt, water, and a rag to try to clean the wound (turns out it went through his side and he'd be fine, who knows about the kid in the street).
I thought about getting up but just then my parmesan garlic fries showed up and I decided that I'd rather finish my ticking and enjoy my fries than help some wannabe gang banger who got shot for trying to be a petty thug. The kid who wasnt shot was walking around aimlessly in shock and so I just laughed at them and their situation and went back to my beer and food. The guy next to me didnt know what happened. He assumed that nothing was wrong as I was laughing. When I told him he stopped telling me about all the brewpubs he's visited on his business trips, his eyes went wide open, and he got up and left, didnt notice if he paid his bill or not. I do know that he was worried about the shooters still being outside, to which I laughed and he agreed that they were probably long gone.
I forgot to mention that the kid was on the phone, not calling the authorities, not calling family, but calling his friends to tell them that "Eric was shot, come down here." Haha. I guess it's a phase that you either outgrow or will kill you.
So in the 45 minutes I've ever spent in the town of Manteca two people were shot, I learned how good the Maui brewpub is, and I had a wheat beer made with million year old yeast reanimated from some amber.
If I ever find myself near Manteca again I might stop in again to try the Fossil Fuels Amber.
3,204 characters
Kelley Brothers Brewing Company in Manteca, CA
0
out of
5
based on
0
ratings.