Das Rheinland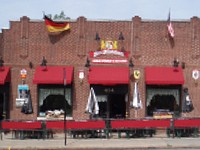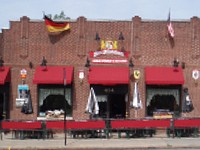 Bar, Eatery
414 S 10th St
Omaha
,
Nebraska
, 68102-2802
United States
// CLOSED //
Notes: As of early Nov. 2006, this place has closed.
Per Omaha City Ordinance, as of October 1st 2006, this establishment is non-smoking throughout.
Reviews by TheLongBeachBum:
TheLongBeachBum from California
3.53
/5
rDev
+0.3%
vibe: 3 | quality: 4 | service: 3.5 | selection: 3 | food: 4
Another business visit to Omaha, Nebraska gave me the chance to finally try Das Rheinland, a place which I had walked past many times before whilst in the Old Market area only because I was heading towards the close-by Upstream Brewing.
Das Rheinland is situated on 10th Street, I decided to park in the adjacent Parking Lot which cost $4 for the night, there is parking on the cobbled side streets available but in the height of Summer the spaces were virtually non-existent, so I dipped the cash and parked the Rental Car with little hassle.
The outside has a limited hint of its Teutonic theme, though the German Flags and Old German Fonts on the Signage do tend to give it away. There is an outside selection of tables and chairs, which are clearly separated from the sidewalk by a black waist high fence at the front; in fact you have to walk through this area to get to the entrance to the interior. Once inside, you enter a small entrance room; to your left is a cabinet that contains many Germanic glasses & steins as well as a comfy looking Sofa for punters waiting for a table. I didn't have this problem though, for I was the only punter in here during my visit! Having the pick of the tables I decided to take one of the wall mounted booths on the far right hand side wall. The interior has a strong restaurant feel about it. The front area is populated by small tables and chairs which all have neatly arranged napkin wrapped stainless cutlery and glasses at the ready. The far right wall has a row of high seated booths, whilst the bar area is situated at the back of the main room in the middle of the back wall. The bar area looks like a large Edwardian Four-Poster Bed, manufactured from light wood it has an imposing feel but does not dominate the interior; which is rather sad I feel as the overall restaurant feel could put you off drinking here, as it has me on one previous occasion when I walked in here and thought it was just a Restaurant. The atmosphere is a little staid and reminded me of some high end Curry Houses that I frequented in England, only the music and vague Germanic decor including flags from the 16 regions and Federal states offer some differentiation.
The Beer Menu comprises around 4 taps and 40 bottles. The Hacker-Pschorr Hefe was in sparkling form, fruity and immensely thirst quenching, though the heatwave at the time may well have suppressed any of my geeky nitpickings about this brew. I finished with a bottle of the rather excellent Aventinus Weiss-Bock once I had finished my meal. The bottle range is nothing outstanding but if you are looking for some Germanic brews in Omaha then this is the place to be, it's a great range from the Fatherland. Both the beers I had cost $5.50, which didn't seem too bad given the restaurant niche feel of Das Rheinland.
I was starving after my flight from LAX via Denver, so I immediately ordered a plate of the Goulash, it arrived in good time (although I was the only one in the Restaurant at the time) and the portion was ample to say the least. Quality of the food was good, the meat was succulent and the bread which accompanied the meal was also very good. Service was decent enough, attentive and always on the look out, though again, I was the only punter here so who knows what it is really like ay busy times. Prices are pretty high for the food and area I thought.
I had walked past Das Rheinland several times during my many visits to Omaha over the last 18 months or so, and to be honest it always seemed empty. On the one time I ventured in it also seemed to lack any atmosphere to invite the drinker to stay at the smallish bar area, which is one reason why I always walked past and headed straight for the Upstream. But knowing that my most recent visit may well be my last to Omaha for some time, I broke the duck and headed in. I wasn't really impressed, and I most certainly would not come here if I was just drinking for sure. For a themed meal, it's not that bad, grab some German fare and accompany it with some Teutonic libations for an hour and it's OK. But much beyond that, it is hard to recommend this place, especially if you just want to drink Bier and when the Upstream is literally a block away and has a Cask Ale…..
If you have done the other places of merit in Omaha then give this one a whirl, but don't make too much of an effort to get here. More of a German Restaurant serving a decent enough range of German Brews, rather than a Bier Bar.
Last Visit: Monday 1st August, 2005.
Aug 07, 2005
More User Reviews:

woodychandler from Pennsylvania
3.7
/5
rDev
+5.1%
vibe: 4 | quality: 3.5 | service: 4 | selection: 3.5
Well, this was just a case of poor planning on my part. I had wanted to eat here, but when I arrived, they had just closed the kitchen from lunch and dinner was not scheduled for another three hours.
There was a fenced-in patio out front; a foyer with a couch; a sea of restaurant tables, each covered with a red and white checkerboard oilcloth; and a row of six booths along the far right wall. The bar was a "U"-shape with three taps dedicated to Warsteiner products (it was the Pils for me) and one tap each for Kostritzer, Ayinger, and Leinie's. There were lots of German flags from pre-unification and the music made me wish that I could sprechen zie Deutch. It had a very German feel, but without the "Achtung!" atmosphere of The Heidelberg in Ann Arbor, Michigan. Finally, a flat-screen television tuned to a baseball game seemed a bit incongruous.
Nov 09, 2006

bditty187 from Nebraska
2.83
/5
rDev
-19.6%
vibe: 4 | quality: 3 | service: 1.5 | selection: 3 | food: 4
Another Update: My last visit WILL be my last. The service is a joke. Period. I wonder if it is a race issue as my girlfriend is black. I hate to say that but there is something fishy.
Furthermore, of the six taps only 2 poured the beer the handle showed. For example, the Celebrator handle poured Michelob Amber Bock. The Warsteiner handle poured Boulevard Unfiltered Wheat. What a joke.
Never again.
Update: I have now visited here a half dozen times and I don't think I will ever go back. My first visit was flawless but it went rapidly downhill from there. I see Das Rheinland's true colors now, the service here stinks. I have been ignored twice and once they wouldn't give me and my girlfriend the table we were waiting for. Shady. Besides, if I want German bier I am going to Huber-Haus.
I can no longer recommend Das Rheinland.
Old Review (from 05-10-04):
Das Rheinland is located on the far eastern end of Omaha's Old Market. It is actually very easy to find, located on 10th Street, near the Marriot Hotel. There are some on street, metered parking. Just look for the German flags!
I have been to Das Rheinland a few times but I have not "experienced" it enough to write a review. That all changed on a warm Saturday evening. My girlfriend and I decided to take advantage of their small outside patio seating. After our waiter sat us we took a look at the menu, beer first of course. All of the beer is German (okay, they offer Bud and Bud Light). Warsteiner and Bitburger on-tap, around 30 bottled beers are offered, Paulaner, Spaten, Ayinger, Einbecker, Erdinger, and Beck's. What I absolutely love about this place is they care about beer, the beer is not served too cold and everything comes in either the proper glassware or the breweries' glassware. IMO, that kicks ass. I have never had a bad beer here. It must be noted I find the prices to be a bit high, for example bottles of Aventinus Weizen-Eisbock run $6 each.
The food is authentic German food; I have liked everything I have tried. Modestly high prices but well worth it.
It also should be mentioned that the inside of the restaurant is formal looking, white tablecloths, heavy silverware, cloth napkins, in other words, it is classy. But don't think you can't wear shorts and a t-shirt. There is a smallish bar if you'd like to stop in for a bier. This is a top-notch German restaurant.
May 22, 2006

elmocoso from Nebraska
3.78
/5
rDev
+7.4%
vibe: 3 | quality: 4 | service: 3.5 | selection: 4 | food: 4
A German restaurant on the edge of the Old Market in downtown Omaha. Great idea!
I have visited this place a few times, the most in depth was probably my 2 anniversary. We ordered a few biers and i ordered the Roladen and my wife got some vegetarian dish. We sat outside, it was late May.
Food was pretty good and the beer seemed well taken care of. Quite a selection of German biers.
I have also went here with a German couple this summer. Though we did not eat, they were happy to see some local favorites on the bier menu.
The only problem i have with this place, besides some of the prices, is the atmosphere of the inside. It is very sterile and looks kind of like a banquet hall or company break room or something. Not very homey or classy, though they think they are classy. I give the atmosphere score for the outside patio, which is a treat to sit at.
Sep 28, 2005
neonbrown82 from Nebraska
3.75
/5
rDev
+6.5%
vibe: 4 | quality: 4 | service: 4 | selection: 3 | food: 4
After appetizers and a beer at the Upstream, my parents and I wandered into Das Rheinland to compare their authentic German food to my mother's homecooked second-generation recipes.
The place seemed to be very clean and cozy with the expected German bier haus decor. It seemed to me that the white stucco walls were a bit out of place for authenticity, but this was not a big deal whatsoever, as the German theme prevails in the end.
The service was decent. Nothing more than average, but just enough to get a good tip.
I was a little disappointed with the selection. There were quite a few German biers on the list, most of which I had tried, but only a few are offered at any given time apparantly. I settled for a Franziskaner Dunkel Weiss, though I really wanted to have an Ayinger Ur-Weiss (not such a bad trade-up, but disappointing nonetheless).
The food was good, but even with personal allegiences aside, my mom makes WAY better rouladen, which is my favorite German dish. Unfortunately, nobody else reading this has experienced my mother's cooking to compare, so I would have to say that the food is good, but not great, as was the consensus at the table.
Be prepared to drop a pretty penny on food, and the beer is not cheap either. Worth a try at least once, but I don't think I will return if only because of the high prices.
May 28, 2005
Das Rheinland in Omaha, NE
Place rating:
3.52
out of
5
with
5
ratings