Dismiss Notice
Dismiss Notice
Nut Brown Ale
| Ithaca Beer Company
BA SCORE
82
good
214
Reviews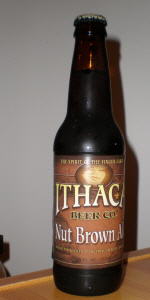 BEER INFO
Brewed by:
Ithaca Beer Company
New York
,
United States
|
website
Style:
English Brown Ale
Alcohol by volume (ABV):
5.40%
Availability:
Year-round
Notes / Commercial Description:
The rich mahogany hue of the Nut Brown is the first thing you will notice. You'll find subtle hints of both chocolate & coffee. We delicately blend chocolate & caramel malts with four others to make this flavorful, easy drinking beer. The malt character will appeal to those looking for a moderate dark ale, but the smoothness is what will surprise all.
Added by BeerAdvocate on 10-18-2001
Reviews: 214 | Ratings: 437
3.03
/5
rDev
-16.5%
look: 3.5 | smell: 3 | taste: 3 | feel: 3 | overall: 3
This beer was just average for me.Pours a nice brown color. Tan head went away too quick.The beer was a bit too sweet for me. It has a dry finish that left a chalky taste in my mouth. It think this is a personal taste issue with me. Other folks my like this beer,so give it a shot.
★
281 characters

3.03
/5
rDev
-16.5%
look: 2.5 | smell: 4.5 | taste: 2.5 | feel: 3 | overall: 2.5
Deep russet with a single finger of light tan foam. Retention isn't so hot. Lacing isn't either.
Coffee, toast, some dark chocolate, roasting nuts. Deep, inviting, and soothing.
Deep malt, stale coffee, toasty, nutty. Pretty good, except for the acidic twang from the stale coffee note. Check yo mash pH when using dark malts, son!
Medium bodied, low carb, helps to keep it drinkable.
The stale coffee taste kinda ruins this beer. If it didn't have that acidic gas-station coffee twang, it would be damn good.
★
513 characters
3.01
/5
rDev
-17.1%
look: 4 | smell: 3 | taste: 2.5 | feel: 3.5 | overall: 3.5
Note: the bottle I had expired a month ago so I will re-review this again the next time I have the chance
A - poured deep transparent brown with 1/2" tan head that disappeared soon after. Very little, if any, lacing
S - malty, bready, slightly nutty, and some dark chocolatey tones
T - coffee, roasted malts, very light hops. Somewhat nutty but the flavor on the whole seemed very washed down. Clean finish
M - light bodied, medium/heavy carbonation
D - decent drinkability, it is well carbonated and has the potential to be quite flavorful
Overall - This particular batch, like I said, was expired last month, although I don't know how much one month's difference will affect the taste. It tastes rather washed down but has lots of potential. Hopefully my next tasting of this beer will be better.
★
804 characters
3.01
/5
rDev
-17.1%
look: 2 | smell: 3.5 | taste: 3 | feel: 2.5 | overall: 3
A: Translucent cola brown. Very very little head with no retention and no lacing - it soon entirely fades away as though it was never there at all.
S: Mild and malty aromas of caramel, vanilla, hazelnut.
T/M: Again, very mild but pleasant flavors. Vanilla, a slight nuttiness, sweet caramel malts, some tea-like flavors that linger at the end of a sip. Body is a little on the thin side.
O: This goes down really easy and is pleasant in its unassuming way, but there's no oomph to it, nothing special. Easy to drink and totally inoffensive. A little more body and better head/carbonation would go some ways towards making it an entirely average brew.
★
653 characters
3
/5
rDev
-17.4%
look: 3.5 | smell: 3.5 | taste: 3 | feel: 3.5 | overall: 2
This is a middle of the road ut brown. It's not bad, but it had a few flaws that could easily be fixed. The taste was chocolate with a coffee aftertaste. I was slightly bothered by a slight metalic taste.It kind of tasted mediciney. The colour was nice dark brown with a thin tan head that didn't last too long. The smell was of chocolate. I don't feel good drinking it. I feel very uncomfortable with it.
★
405 characters

2.95
/5
rDev
-18.7%
look: 3 | smell: 3 | taste: 3 | feel: 2.5 | overall: 3
A- Bought at the brewery last weekend. Deep dark brown/black... thin and whimpy tan head that disappears instantly and leaves no traces of lacing.
S- Roasted coffee, slight hints of cocoa, a mixed bag of roasted nuts. Nothing dramatic or fantastic, but pleasant none-the-less.
T- More black iced coffee than roasted nuts. A touch bitter but not overwhelming. Some roasty Macadamia nut/Walnut/Almond flavors shine thru as it warms up.
M- Kinda thin... a decent bitter-sweet blend. No carbonation to speak of. Lots of coffee flavor stands out and I do love a nice cup of coffee!
O- Certainly not a great brown ale by any means... worth a try for sure, but I've had way better. Nothing impressive here, a decent coffee/nutty taste.
★
735 characters
2.94
/5
rDev
-19%
look: 3 | smell: 2.75 | taste: 3 | feel: 3 | overall: 3
A: A nice solid brown color, nor overly red or black with minimal cloudiness.
S: Caramel and sweet grain notes which are similar to of aromas generated during the mashing process.
T: The main component of this beer is the malts as it should be. This beer trends toward the sweeter side with a very minimal bitter finish which could come from either bittering hops or the darker malts, likely the later.
M: Very light in body and mouthfeel, which combined with the average ABV makes this especially smooth and easy to drink.
O: This was one of the 4 original beers offered by Ithaca beer. No outstanding qualities but a solid brown ale. Hard to find on tap but readily available in bottles in the Northeast.
★
711 characters
2.91
/5
rDev
-19.8%
look: 3 | smell: 2 | taste: 3 | feel: 2.5 | overall: 4
Big cream head over a Hires rootbeer body. Very carbonated; it even sounds like a soda.
I smell chocolate malt and no hops. That's about it.
Biscuity and somewhat like hazelnuts. Mildly sweet with little bitterness. Too much co2 bite.
Thin mouthfeel. I like a little richness to my browns.
Pure session beer. Not challenging. Very drinkable, although, I'm not sure you'd want to.
Boring. Probably good for someone who doesn't like "dark" beers. Might be a nice gateway brew.
★
489 characters

2.86
/5
rDev
-21.2%
look: 2.75 | smell: 2.25 | taste: 3.5 | feel: 2.5 | overall: 2.5
It's ok. I don't get much nut out of it. I was expecting more of a hazelnut-ey flavor. Not that great, but not bad. I wouldn't get it again but I'm not pissed that it's all I have to drink during this blizzard. Ooga chakka booga filling up space for two hundred fifty words.
★
274 characters

2.85
/5
rDev
-21.5%
look: 2.5 | smell: 2.5 | taste: 3 | feel: 3 | overall: 3
I picked up a bottle of the Ithaca Nut Brown on a trip to Albany a while ago. It is a very dark brown color with ruby highlights and a foamy tan head that fades really fast. A few spots of lace are found on the glass as it empties. The aroma is faint, but mainly roasted malt, dried nuts and slightly earthy. Each sip of the medium bodied beer begins malty. Flavors of coffee and chocolate move in and it finishes slightly sour. Some malty flavors are left behind.
This is a good nut brown that is rather drinkable and would definitly buy again, however I think I was looking for stronger malt flavors and more lacing.
★
621 characters

2.54
/5
rDev
-30%
look: 2.5 | smell: 3.5 | taste: 2.5 | feel: 1.5 | overall: 2
A: Reddish tones, thin body with a head that dissipates quickly
S: Malty caramel tones, just as you would expect with a brown ale
T: Very thin in flavor, slight malt flavor and a bit of sweetness. After the nose the taste is a disappointment. Leaves a less than pleasant aftertaste
M: Very thin mouthfeel, just slides down your throat
O: Smells great but overall just a disappointment
★
385 characters
2.53
/5
rDev
-30.3%
look: 4 | smell: 2.75 | taste: 2.5 | feel: 2.25 | overall: 2
well it looks great in a glass but that a about it if you like english brown ales look else this offers little to good drinking beers the last sip taste wonderful but the rest of the beer lacks my wanting to drink so move on and keep looking for some great beers pass on this on
★
278 characters
2.5
/5
rDev
-31.1%
look: 2.5 | smell: 2.5 | taste: 2.5 | feel: 2.5 | overall: 2.5
Thanks azurelimits for this one. Small capped bottle poured into a pint glass.
Dark brown, reddish highlights, minimal head with no retention or lacing.
Faint nutty aroma, thin on the palate with just faint caramel and nutty taste. Very weak, did not even finish mine. Disappointing.
★
285 characters
1.98
/5
rDev
-45.5%
look: 4 | smell: 3.5 | taste: 1 | feel: 3 | overall: 1
The beer is a deep raspberry brown with a creamy, lumpy tan head that leaves good lacing. The aroma yields a little sweet malt, a little roast, a little medicinal hops. It is a medium-bodied beer that feels a bit watery and a bit chalky. Now, the flavor... ew. It's strangely chemically. I can't even tell what this is supposed to taste like. Something has gone awry. I just held my nose and chugged it just to get it down.
(rated Mar 6, 2007)
★
443 characters
Nut Brown Ale from Ithaca Beer Company
82
out of
100
based on
214
ratings.