CascaZilla
| Ithaca Beer Company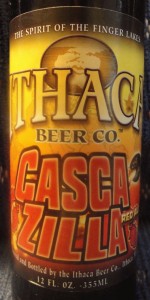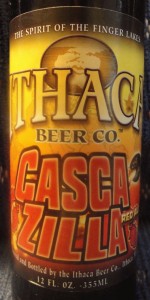 BEER INFO
Brewed by:
Ithaca Beer Company
New York
,
United States
ithacabeer.com
Style:
American Amber / Red Ale
Alcohol by volume (ABV):
7.00%
Availability:
Rotating
Notes / Commercial Description:
The name CascaZilla (Cas-kuh-zil-uh) is a play on both the name of a gorge in Ithaca called Cascadilla and the monster amounts of Cascade Hops we use to make the beer. The predominant flavor and aroma of this beer comes from fresh American hops. CascaZilla gets its distinctive red color from a healthy portion of caramel malt, which also lends to the beer, a hearty body and sweetness. It is a hoppy red ale!
Added by shippos on 07-14-2004
HISTOGRAM
Ratings: 1,239 | Reviews: 589
4.02
/5
rDev
+5.2%
look: 3.5 | smell: 4 | taste: 4 | feel: 3.5 | overall: 4.5
I was turned off by this beer for a good month or more due to the awful label, but finally gave in and ordered a pint. I was still cringing as they brought me the 20 oz pint completely devoid of anything resembling a head, but alas.. the beer was a beautiful shade of red.
While not "monstrously hoppy" or whatever the label suggests, this is one hopped up and refreshing beer. From what I've read this one is brewed with Cascade hops, and having cut my teeth on these western flowers, this beer kinda tastes like home. Very crisp, very hoppy, yet light. Something to drink on a hot summers day, if they're still making this fine brew by then.
644 characters

4.22
/5
rDev
+10.5%
look: 4 | smell: 4.5 | taste: 4 | feel: 4 | overall: 4.5
The beer pours a ruby red color with a thick frothy offwhite head that quickly fades to lacing. The aroma is great. It has a mildly malty scent with a boat load of Cascade hops, which were grown in NY. It is quite bitter and floral. The taste is good. It is refreshingly bitter and hoppy all the way through. The malts add a nice buffer and balance. It goes down easy and finishes smooth. The mouthfeel is good. It is a medium bodied beer with adequate carbonation. This is a great American red ale. I love the hops and the balance. This is a great offering from Ithaca; a good drinker.
586 characters

4.25
/5
rDev
+11.3%
look: 3.5 | smell: 3.5 | taste: 4.5 | feel: 4 | overall: 5
Nice crystal clear, ruby red body, moderate light tan head. Not much head retention. Lots of citrusy and flowery hop aroma. As the beer warmed, I could smell more of the sweeter malt. For all the hop aroma, the beer isn't nearly as bitter as I expected. It's much less hoppy than an IPA, and the bitterness doesn't stay around long in the mouth. It's actually pretty sweet tasting. There is a definite hop presence, just not as much as I expected from the bottle. For me, this isn't a bad thing, though, it's quite a drinkable and great tasting brew.
550 characters
4.2
/5
rDev
+9.9%
look: 4 | smell: 4 | taste: 4.5 | feel: 4 | overall: 4
Wow, we have an East coast IPA here that drinks like a West coast IPA. OK, so it's not quite as hoppy as some of those hophead wet dreams, but it's damn fine. In fact, this thing almost drinks more like a "double" IPA, and looking back at the alcohol percentage, I see that it's close.
This is just a good all-around classic IPA, with a great herbal/citrus/pine aroma, and more of the same tickling your tastebuds. There is also that more east coast typical herbaceous hop thing going on, with hints of cannibus, but this is not as prominent.
There is also a nice sweet backbone, which coaxes a sweet orange flavor from the hops, and lends some caramel and toffee flavors. The mouthfeel is very rich, and does feel like a double IPA. Drinkability is high, would be an excellent session IPA. Good job Dan and crew...
818 characters

3.9
/5
rDev
+2.1%
look: 4 | smell: 4 | taste: 3.5 | feel: 4 | overall: 4.5
Pours a dark copper and amber color with a minor dark white head.
Aroma is heavy caramel and a baleful of cascade hops.
Flavors of caramel, burnt toffee and large resiny, piney and citrus hop bitterings.
Mouthfeel has some initial malt sweetness but quickly cut by strong but not overpowering pine and some citrus hop notes.
Drinkability is very solid for a large hopped beer, malt cuts bitterings just enough to make very enjoyable.
438 characters
4.15
/5
rDev
+8.6%
look: 4 | smell: 4 | taste: 4 | feel: 4.5 | overall: 4.5
12ozer bottle from a six pack from Oliver's Beverage in Albany, NY.
Poured into an imperial pint glass, formed a 1" beige head above the dark copper brew. Head exhibits reasonable retention, with okay lacing. Aroma is slightly malty, with piney hops effects everywhere. Taste continues where the nose left off, slight initial malts, which quickly fall to the strong hops character. Mouthfeel and drinkability excellent. Don't see that many sweet yet hoppy brews that are easily drinkable. This is one.
504 characters
4.1
/5
rDev
+7.3%
look: 4 | smell: 4 | taste: 4 | feel: 4 | overall: 4.5
Like so many other very good new brews, I've been too busy enjoying Cascazilla to bother reviewing. It's one of those beers. Generally speaking I've been doing more drinkin and less geekin. But here goes...I am enjoying this crystal clear ruby copper colored beauty as I pen this nonsense. The cascade nose cuts through the senses and gives a clue of what's to come. This is a boldly hopped brew. But one dimensional it is not. Quickly shifting gears, the aroma turns caramel sweet. The first taste is sharp bitterness, smoothed out promptly by malty graham cracker goodness. Lingering, oily bitterness and citrus finish it off. The hop flavor is big too. Drinkability is outstanding. Big ups to Ithaca for this brew.
717 characters
4.1
/5
rDev
+7.3%
look: 4 | smell: 4 | taste: 4 | feel: 4 | overall: 4.5
Copper in colour with a thick white bubbly head. Cascade in aroma with a strong caramel taste. Very smooth and very drinkable.
I have always enjoyed Ithaca beers, though they don't seem to get much recognition or respect as a great beer. Casczilla is a very easy to drink amber that makes anyone comfortable with it in their hands. A great session beer.
354 characters

3.35
/5
rDev
-12.3%
look: 4 | smell: 4 | taste: 3 | feel: 3.5 | overall: 3
From a nice fresh growler that was the finishing leg of GIF2. Thanks shippos!
Beer pours brown red into the glass with a deep deep haze and a almost non-existant white head.
Aroma is of fresh green cascade hops with a bright slightly vegetal hop flower holding court over a fruity estery background.
Flavor starts with a slightly sour caramel malt with a bright bright veggie and soapy hop flower that races through the whole beer.
Its a little unfortunate that this sour character really detracts from what could otherwise be a fine beer.
552 characters
4.47
/5
rDev
+17%
look: 4 | smell: 4.5 | taste: 4.5 | feel: 4.5 | overall: 4.5
Fellow BA's Cooter and Charthepirate went on an ultimate Frisbee tournament this weekend, and as a nice surprise they brought back a tasty growler of this. I have now found a beer unlike any I've tried before! I would describe it most as an American India double red.
Pours a clear mahogany color, with medium brown-white head. Smell is immediately attractive, deep and potent, composed of nutty, earthen flavors. Taste is excellent. First of all, the hops are extremely complimentary; they draw you into this beer, yet they don't have the sharp bite one would often find in highly-hopped beers. Meanwhile the malt is meaty and strong, filling yet still makes for a refreshing beer. A flavor hard to describe, but easy to compliment. Try this beer when given the opportunity – you will find yourself demanding more.
822 characters
3.96
/5
rDev
+3.7%
look: 4 | smell: 3 | taste: 4.5 | feel: 4 | overall: 4
Picked up a growler from an small gas station down the road from Ithaca college. They told me it was a new beer, and with that, I was sold.
1 night later, after a stressfull night I pour a glass. Deep red with a biege head, llittle lacing, though it was not a well cleaned glass.
Aroma is very mild, and and doesn't add or take away from the beer. What's there is generally kind of a soft malt.
Flavor is where it's at here. Strong upfront fruity-sweetness, a little peach, and straight sugar. Then bam a big slap hard hitting piney stickey citrussy hops. Ohh yea. Leaves the mouth with a gritty aftertaste that reminds one of caramel. Theres some other flavors that remind me of other styles, hints of brown ale at the start, and stout at the back. Awesome stuff.
Mouth feel is a little overcarbonated, which adds sharpness. Otherwise though, it's interesting to delicious beer.
895 characters

4.39
/5
rDev
+14.9%
look: 3.5 | smell: 4.5 | taste: 5 | feel: 4 | overall: 3.5
From a growler from just outside Ithaca College, driven home, and refrigerated overnight; so not precisely tap. Dude at the pizza place/gas station said it was one of the first kegs, who knows if that's true.
First--wow. A radically new taste for me, my pirate friend and I decided it feels like an Indian Red Monster Ale. Kudos to the brewer for imagination.
First glance shows a deepest indian red, not very cloudy atall. Slight but persistent head, good lacing and miniscus foam but not much surface. Smells of IPA with mango-pineapple, pine, and a sweet, biting tinge. A slight swirl brights back a good deal of head.
First reaction to taste was that it has a very impressive flow of flavor, a spectrum that shifts extra-ordinarily from front to back. Reminiscent of a belgian in that taste "delta." Front is a lot like the nose, pine and pale-ale hops. The middle has to be imported from Ireland, it's so frikkin red it's got freckles. Very smooth turning into foamy/carbonated towards the end of the swallow. The finish allows the malt its fun, brings back some pineapple and introduces citrus, I think. Very fun to taste. Has a solid kick, the aftertaste is cloying the roof of my mouth and tastes burnt, but simultaneously piney and light. Peach seems to be present about midway through till the end.
Hell of a kick here, I'm 2/3 done with a 1/2 liter share of the growler, and it's slapping the bejeezus out of me. Not something I'd drink more than one of in a night, but hey--that's the point of creative brews. I keep wanting to take another swig to figure out the ever-elusive two or three tastes I can't name, but they don't come to me. This is a solid beer, and an excellent beer for a beer advocate; do you dig the distinction?
1,754 characters
4.05
/5
rDev
+6%
look: 4 | smell: 4 | taste: 4 | feel: 4.5 | overall: 4
Brewery fresh growler
Pretty nice resinous piney hop aroma. Solid, foamy yellowish khaki colored head leaves a bit of scattered lace. Clear, dark amber colored beer with streams of tiny bubbles. Solid body, easy drinking, hops are just a tad chewy at first. Fresh piney hops dominate without overpowering, mabye a little caramel malt underneath. A tasty, fresh hop flavored beer that by today's standards probably falls as a solid IPA. Supposedly their new fall seasonal and the recipe is not yet set.
Update 8/24
Bottles should be out mid to late September. They're billing it as a hoppy red ale made with 100% cascade hops. The label looks pretty cool, it's got a lizard breathing firey red hops along the bottom and the lettering (can't remember if it's Ithaca Beer, or Cascazilla) is a cut out of a waterfall picture.
830 characters
4.38
/5
rDev
+14.7%
look: 4.5 | smell: 4 | taste: 4.5 | feel: 4.5 | overall: 4.5
Package: ½ gallon screwtop growler (and draught pints)
Cost: $5 growler refill at the brewery; $3.50 pints at The Chapter House
Presentation: Shaker pint glass at ~45º
Appearance: Pours a clear, medium amber brown; with a densely foamy, off-white head. Carbonation appears very fine, with tiny bubbles streaming through the glass. Head resolved down slowly, lacing the glass pretty thickly.
Smell: Ithaca Beer's brews tend to be very distinctive. The hops used don't have that overwhelmingly citrusy, grapefruity character. Instead, they express a very floral, fresh, herbaceous aroma that intrigues with its spiciness. They also tend to balance the hops very well with a nice cushion of hops. Overall, this beer smells quite similar to the Flower Power IPA, with more intensity.
Taste: Here's where the beer departs from the Flower Power IPA, while still bearing a family resemblance. The flavor extraction here is much stronger, with the higher alcohol levels and greater hopping levels intensifying the hops balance beyond the more English-like Flower Power. One reviewer commented that this beer doesn't have the classic "Cascade" flavors. No, it doesn't, because the name "Cascazilla" probably refers to Cascadilla Gorge and Creek that run through Ithaca, and not necessarily to Cascade hops, (or it's a combination thereof). Ithaca Beer does use Cascade and I wouldn't be surprised if they were used in this beer; but as usual, Ithaca has expressed the floral, fruity, and spicy characterstics, which I really like. In a way, this beer seemed like a "baby" version of Ithaca's Double IPA. Finishes fruitily and long.
Mouthfeel: Exhibits a medium to rich mouthfeel and body, with the now-expected smooth carbonation. Encourages a full savoring of the flavors before swallowing.
Drinkability: I think most of Ithaca's beers are amongst the most drinkable in their categories, and this is no exception. Despite the relatively high ABV, this is very quaffable and provides much of the flavor impact of the Double IPA at a lower ABV level. Much like a British ESB, this can be quite a session beer. Our first growler didn't last 15 minutes. However the Pale Ale probably makes a better session beer.
Backwash: Maybe I'm way off the mark, but this is now IB's best beer, aside from the super-limited Double IPA. Ithaca Beer has chosen to explore a fairly consistent (and I think very successful) house style rather than making another West Coast IPA clone. If you crave citrusy, grapefruity flavors, you might want to look elswhere; but you'll be missing some pretty interesting, flavorful beers. I for one haven't had too many American micros that really do "finesse" as well as Ithaca does, and these latest beers have improved upon the slight lack of flavor concentration apparent in some earlier beers (actually the whole line seems to have improved, especially the reformulated Pale Ale).
2,942 characters
CascaZilla from Ithaca Beer Company
Beer rating:
3.82
out of
5
with
1,239
ratings