Winterizer
| Ithaca Beer Company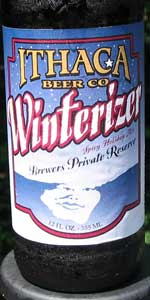 BEER INFO
Brewed by:
Ithaca Beer Company
New York
,
United States
ithacabeer.com
Style:
Winter Warmer
Alcohol by volume (ABV):
8.00%
Availability:
Winter
Notes / Commercial Description:
No notes at this time.
Added by WesWes on 11-06-2006
This beer is retired; no longer brewed.
Reviews: 15 | Ratings: 18

4.37
/5
rDev
+14.1%
look: 4 | smell: 4.5 | taste: 4.5 | feel: 3.5 | overall: 4.5
Frshely tapped keg yesterday at Consumer Beverage in Orchard Park,poured a deep clear rich copper with a bit of amber tint thruout a well formed but quick to fade slight off white head atop.Wow rich would be the word to describe the nose in this brew roasted nuts and brown sugar with notes of vanilla and cinnamon really coming on as the beer warms a bit, it really jumps out at ya.Complex and warming flavors mulling spices with a hint of candied orange a touch of vanilla and a nice drying earthiness really shows itself in a long lingering finish.A tad thin for such a rich beer but it only adds to its drinkability,very well done.
635 characters
4.27
/5
rDev
+11.5%
look: 4.5 | smell: 5 | taste: 4 | feel: 4 | overall: 4
It flows smooth with a a white head. The body is a dark, caramel, copper color. When you smell it, the cinamon, ginger and nutmeg really come out. The taste is equally as impressive. First you get that intense flavorful of all the previously mentioned ingredients. The taste after is of hoppiness. Overall, a nice seasonal beer put out by Ithaca.
346 characters
4.12
/5
rDev
+7.6%
look: 4 | smell: 4.5 | taste: 4 | feel: 4 | overall: 4
Pours a very dark brown that some light comes through. Minimal crème head. Nose is very nutty and leafy and earthy. Very nice indeed. Flavor is robust and sweet. This seems like a mix between a winter warmer and a brown ale. Distinct sugar-laden characters with noticeable earthy qualities there as well. Liquid feel is smooth. Carbonation is low, but still nice.
364 characters
4.09
/5
rDev
+6.8%
look: 3.5 | smell: 4.5 | taste: 4 | feel: 4 | overall: 4
This brew pours to a dark amber color with a fair sized tan head hat broke down quickly. The two I have had have left hardly any lacing. The aroma seems to be mostly malts that give it a nut like character along with caramel, brown sugar, and some nice spices while also giving off a slight alcohol scent. The taste is seems to embody the aromas that where mentioned before with a slight hop twang in the aftertaste. Also the alcohol is a little more pronounced but is very welcome in the way it mixes with the malt and hop flavors. As I sit here this morning with this brew sitting next to the fire, I really cannot think of a better/relaxing tome of the year. This is a great winter brew, one that I feel I will look for through out the winter as it truly is a very good, warming brew.
787 characters
4.09
/5
rDev
+6.8%
look: 3.5 | smell: 4.5 | taste: 4 | feel: 4 | overall: 4
A very dark mahogany color with a whispy bit of off-white head and a modest bit of lacing. The aroma is scotch malt with peanut chocolate candy, very nice. The taste is smooth sweet rhubarb malt and raisin with a fair portion of charcoal. It has a nice medium body feel with subtle carbonation, quite drinkable for the style. Very palatable and worth a try any time.
366 characters
4.09
/5
rDev
+6.8%
look: 3.5 | smell: 4.5 | taste: 4 | feel: 4 | overall: 4
12 oz. bottle poured into my Selin's Grove goblet, I was told by Chief that this years version is a Belgian Brown Ale so I figured the glassware was appropriate.
Pours a dark opaque brown with a one finger off-white head that quickly dies down to a thin layer of tiny bubbles. Stickiness is pretty weak. So much in the smell department going on here; molasses, orange peel, brown sugar, yeast, banana, corriander, and cocoa paste. So complex in the nose, yet nothing stands out too much to the point of distraction. First flavor I notice is a sweet nutty taste followed by a subtle citric orange sweetness. Some mild banana and yeast from start to finish, but it's just the right amount. Aftertaste is a bit weaker than I hoped, but caramel malts and some orange peel linger on the tongue. Smooth and silky mouthfeel with a medium to strong carbonation. Very unique beer, I wouldn't doubt if Chief tweaks this one some more to make it even better in '08.
956 characters
4
/5
rDev
+4.4%
look: 3.5 | smell: 3.5 | taste: 4 | feel: 4.5 | overall: 4.5
I found myself a new favorite "winter" beer. Deviating from the average "winter warmer" styles that pop out in this season, the Winterizer opts for a brown ale with tasty Belgian yeasts. I had the privy of the last pint of the keg and the first from the new.
appearance: medium-dark brown, slight head that dissolves after a few seconds
smell: hints of orange and some spices, but not overpowering on the spices
taste: first things I tasted were hops, chocolate and malt, which quickly gave way to a hint of spiced orange that lingered nicely
mouthfeel: deeelicious. I really enjoyed that they used the Belgian yeasts, did I mention that?
drinkability: At 7% this isn't weak, but this beer goes down easy
709 characters

4
/5
rDev
+4.4%
look: 4 | smell: 4 | taste: 4 | feel: 4 | overall: 4
The beer pours a dark ruby red color with a thick tan head that slowly fades to lacing. The aroma is good. It has a mildly spicey scent that boasts of cinnamon, nutmeg, and ginger. It has a solid malt base that provides enough balance to the flavor. The taste is good also. It has a smooth malty flavor with a nice spicey finish that is dry and mellow. It goes down easy with good carbonation and a full body. This is a pretty good seasonal. It's relatively smooth with just enough spice. It's an easy drinker and a wonderful addition to their new seasonal twelve pack.
569 characters

4
/5
rDev
+4.4%
look: 4 | smell: 4 | taste: 4 | feel: 4 | overall: 4
Pours a dark barely translucent mahogany with a light tan colored loose head that fades fairly quickly leaving stringy patterns of Belgian lacing behind. The smell is good...a semi-sweet malted caramel with a touch of something else that i can't put my finger on. The mouth feel is adequately carbonated, medium bodied and adds a smooth and creamy texture to the cinnamon caramel. The taste lingers nicely. Very drinkable...8% ABV is hidden well...4.3. Recommended.
465 characters
3.97
/5
rDev
+3.7%
look: 3.5 | smell: 4 | taste: 4 | feel: 4 | overall: 4
Thanks to TomDecapolis for sharing this growler...
Appears a deep crimson with a dark chestnut surrounding when held up to the light. A light tan head fades into a small cap and collar. Spotty streaks of lacing is left around the glass.
Smell is of plums, black cherries, bananas, cocoa, and spices.
Taste is of the aromas with raisins, nutmeg, and cinnamon pulling through. This is similar to a dunkelweizen with light spices.
Mouthfeel is medium bodied, smooth, estery, lightly spiced, and semi-dry on the finish.
515 characters
3.88
/5
rDev
+1.3%
look: 4 | smell: 3.5 | taste: 4 | feel: 4 | overall: 4
Pours redish brown. Good size tan head,with excellent retention,and lacing.Aroma is of sweet dark fruits,with slightly roasted malts. This beer is medium bodied with lots of carbonation.Taste has a lot going on.Sweet dark fruit,roasted carmel malts,spices,hops,and a nice burn to the finish,make this very enjoyable.
316 characters
3.55
/5
rDev
-7.3%
look: 3.5 | smell: 3.5 | taste: 3.5 | feel: 4 | overall: 3.5
This 2007 version is, IMHO, much improved from last years (I can't comment on years previous to that). It went from a spice bomb with little cohesion, to a delicious Belgian yeasty beer.
A- Pours just a few shades browner than black, with some crystal clear ruby highlights. Head is minimal from this bottle, even with an aggresive pour, though on the tap version I had there was more. No lacing anywhere however.
S- Bannana bread really comes to mind with this beer. The smell displays both a holiday spice tone, and a sweet soft bread malt tone. As my nose grasps to the depths I notice some slight alcohol, that I dare say warms my nostrils. Good.
T- A strong base of sweet malt that displays the bannana bread characteristics. This is built upon with spice- cloves, and cinnimon in the background, and even a wheaty type spice. The sides of my tongue detect some slight burnt tones and bitter hops. These tones don't exactly balance the beer so much as make it more interesting to drink, as I can swish and detect a whole new set of flavors. Again, good.
M- Quite full bodied, with just the slightest hint of alcohol warmth.
D- I'm very glad this beer was retooled, and I fully enjoy the new version. The Belgian yeast lended itself well, and the spice profile seemed to help the beer fully rather than just provide an amalgam of random flavors.
1,354 characters
3.36
/5
rDev
-12.3%
look: 4 | smell: 3 | taste: 3.5 | feel: 3 | overall: 3.5
Appearance- This is a reddish brown colored beer. It forms a thick head that has some staying power with brilliant lace.
Smell- The malty aroma is the first thing you smell fallowed by some spiciness then for some reason it has not disgusting musty odor but sort of a cologne like musty smell.
Taste- I thought resembled roasted spicy caramel popcorn. It has a real nice spice bite to it. The beer starts off a little bitter than sweetens out.
Mouthfeel - Full.
Drinkability- I found it to be rather enjoyable
515 characters
2.93
/5
rDev
-23.5%
look: 3.5 | smell: 3 | taste: 3 | feel: 3 | overall: 2.5
Dark and glassy reddish brown appearance. Head only lasts a minute but leaves a film on top.
Spicy cinnamon-like aroma over a dark cherry. Ale taste is a slightly more saccharine cherry. Can't tell if the balance will hold.
Roasted malt coupled with a tart (too?-)sweet cherry/berry. Winter ale has that cinnamony spice which adds a dimension but doesn't make it more desirable. At least it's balanced.
Watery but a little thick. A tiny bitter bite at the end. Not my bag. Too sweet for a beer. Beer should be a little bitter. Not stomach-churning (high praise, i know). Just not my thing.
592 characters
2.6
/5
rDev
-32.1%
look: 3 | smell: 3 | taste: 2.5 | feel: 2 | overall: 2.5
[On tap at the Moosewood Restaurant in Ithaca, NY]
Ithaca Winterizer is a slightly hazy amber beer with no head, save for a few white bubbles. It has a resiny aroma that seems slightly fruity, with a possible hint of peach. It has a medium-light body that's metallic and sharp. It's a little bitter and a little sweet. There is a wooden flavor and something funky that I can't quite place. The spices come through in the aftertaste. I feel that this keg may have been sitting around for a while.
495 characters
Winterizer from Ithaca Beer Company
3.83
out of
5
based on
18
ratings.