TEN
| Ithaca Beer Company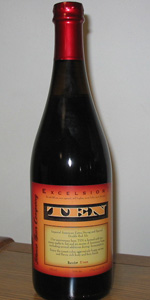 BEER INFO
Brewed by:
Ithaca Beer Company
New York
,
United States
ithacabeer.com
Style:
American Strong Ale
Alcohol by volume (ABV):
10.00%
Availability:
Rotating
Notes / Commercial Description:
Imperial American Extra Special Double Red Ale
"Our Anniversary beer, TEN is brewed with too many malts to list and an excess of American hops, including several additions during fermentation.
Enjoy the russet color, aggressively hoppy aroma and flavor, rich body and fiery finish."
Added by BeerTruth on 03-06-2008
This beer is retired; no longer brewed.
Reviews: 198 | Ratings: 240

4.03
/5
rDev 0%
look: 4 | smell: 3.5 | taste: 4 | feel: 4.5 | overall: 4.5
A cask of 10 for the 2008 Spring Zeno's cask fest.
A-Deep ruby-brown with a fluffy light tan head.
S-Strong grapefruit hops and a TON of caramel malty sweetness.
T-A tons of sweet malt followed up by a generous hop blast. This brew gets better to me with warming as the hops become more assertive. Initial sips were simply too sweet for my palate.
M-Medium body with a very pleasant creamy texture. Very "round" feeling.
D-No idea that this was 10% ABV. Once it warmed a bit the brew became much more pleasant to me. This is like a double Cascazilla, good job IBC...here to 10 more years of continued success!
★
616 characters
4.5
/5
rDev
+11.7%
look: 4.5 | smell: 4.5 | taste: 4.5 | feel: 4.5 | overall: 4.5
I find myself curious about any of the new big brews from Ithaca. I only have beertruth to thank for enabling this addiction. Holy heck, did someone make a pliny with marris otter? This is a hop lovers brew with a beautiful auburn color to boot! IF you haven't had a pliny think tons of piney citrusy resiny hops on a bed of complimentary malts. Color it darker and enhance the malty caramel note and you're there.
I still hold to a shred of me not being a hop head but this was great. The only ding I have is a mental note (hey, no laughing) regarding the ingredients list. This is one of those beers that is more than the sum of it's parts. It could probably be simpler from a recipe perspective but why mess with a good thing. thankfully this is not one of those tons of ingredients brews that does not come together properly.
★
831 characters

4.45
/5
rDev
+10.4%
look: 4.5 | smell: 4.5 | taste: 4.5 | feel: 5 | overall: 4
Man was I glad to see this on the shelves around my neck of the woods before I leave for good next weekend,I really wanted to get some of this and man am I glad I did.Poured a deep hazed brown with some amber-like tinit a very tight put together two finger off white head that settled into a creamy mass after settleing very slowly leaving broken lace behind.Oh the blessed hops all thruought this beer in the aroma and flavors are just awesome whiffs of pine needles and grapefruit rind are intense there is also a big carame and chocolate nose to it as well it all just comes together nicely.First off the mouthfeel is just as lush and full as one could ever expect just smooth as hell,there is nothing flawed in my mind its perfect,flavors hit ya with a huge piney punch melding into a citric blend all along a hefty chocolatey,caramelly sweet malt base keeps pace but doesnt interfere with the great hop profile.Wow this beer was everything I wanted it to be and more,Ithaca should be commended for this one.
★
1,012 characters

4.67
/5
rDev
+15.9%
look: 4.5 | smell: 5 | taste: 4.5 | feel: 5 | overall: 4.5
This only gets better as it warms...
A- Dark, hazy garnet-brown in color. Pours with an amazing creamy tan head that leaves lacing during the entire session
S- Grapefruity citrus hop-bomb, Pliny the Younger-esque. This is nice!
T- Wickedly creamy. As it warms, the sweet malts become more pervasive ending with a strong hop bitterness
M- Mad creamy. The mouthfeel is something sublime. Full-bodied with an ideal amount of carbonation
D- I'd love to open another bottle. :(
★
477 characters

4.77
/5
rDev
+18.4%
look: 4.5 | smell: 5 | taste: 4.5 | feel: 5 | overall: 5
750mp bottle split Batch E!006 10% ABV
A: Simply epic head on this beer. Looks like blow off from a fermenter. The lacing doesn't stain the glass it etches it.
Slightly hazy deep ruby color.
S: Strong hop scent. Grapefruit. Some other assorted citrus in there as well. Smells almost like Pliny which I had a few weeks ago.
T: Sweet zombie jesus this is good. Creamy is part of the taste. Tons of sweet malt. Tons of hops. This is insane. Both the malt and hops are so overpowering yet it is good and neither really takes over. Citrus and some hints of cherries as well.The bitterness catches up in the finish but it is enjoyable.
M: One of the creamiest beers I have ever had. Simply incredible.
D: In heaven Ten is on tap. No hint of the ABV at all. Just a wonderful beer. I was thinking about this all day at work and it lived up. Congrats to Ithaca on ten years and here is to ten more.
★
894 characters

4.6
/5
rDev
+14.1%
look: 4.5 | smell: 4.5 | taste: 4.5 | feel: 4.5 | overall: 5
Pours a hazy dark orange amber color with a big stiff off white head that fades slowly. A good amount of Belgian lacing in it's wake, some 3D. The smell from under the cap was aggressive and grapefruit hoppy over an amazing citrus & berry fruit sweetness. As it warms you get a more defined cherry character. Adequately carbonated, the mouth feel is full bodied and primarily creamy. Hoppy up front, yet well balanced with a substantial fruit and malt sweetness. Silky smooth with gobs of prickly grapefruit bites. Full flavored, this Imperial American Extra Strong and Special Double Red Ale tastes like a cherry grapefruit bonanza. Way too easy to drink, the 10% ABV is well integrated and gently warming. Hats off to the Chief and Crew at Ithaca for this unique celebration of their TENTH! May you enjoy many happy returns. Appreciate the opportunity to share the celebration of this milestone anniversary! Highly recommended. Cheers!
★
937 characters

4.55
/5
rDev
+12.9%
look: 4.5 | smell: 4.5 | taste: 4.5 | feel: 5 | overall: 4.5
The beer pours a ruby red color with a thick frothy offwhite head that slowly fades to lacing. The aroma is great! It has a nice malty scent that boasts of pale, Carapils, crystal, and bisquit malts along with a wonderful hop nose. This is going to be one hoppy brew. The taste is awesome. It has a silky smooth malt flavor that goes down easy and finishes with some light warming. The hops are tremendous! It is one of the hoppiest beers I've ever had. It's a bitter bomb from start to finish. The malts do provide excellent balance. The mouthfeel is great. It is a full bodied beer with adequate carbonation. This is a damn fine beer. What a way to celebrate ten years of brewing. This may be their best beer yet. Happy Anniversary!!!
★
736 characters
4.48
/5
rDev
+11.2%
look: 5 | smell: 4.5 | taste: 4.5 | feel: 4 | overall: 4.5
"Imperial American Extra Strong and Special Double Red Ale
Our anniversary beer, TEN is brewed with too many malts to list and an excess of American hops, including several additions during fermentation.
Enjoy the russet color, aggressively hoppy aroma and flavor, rich body and firey finish."
I first had a taste of this at the 2008 EBF in February and loved it. To put it simply, it's Cascazilla on steroids, hell yeah! Chief told me at the fest that it would be coming out very soon in bottles, so I made my trip down once I heard of the release to pick up a case. TEN is the second installment of the 2008 Excelsior! beers. So here we go!
750 mL bottle poured into my Excelsior! tulip glass, how appropriate.
Pours a semi-foggy dark ruby with a full two finger light khaki colored head. Stickiness is all over the place grabbing a hold of the glass and showing no signs of letting go. The creamy head remains throughout, what a great looking brew. Smell is a wonderful bouquet of fresh citrus hops and slick evergreen. Lots of caramel malt with a slight metallic aroma in the nose. A good amount of dirty earthy hops throughout as well. Taste begins with a zesty hop bite quickly followed by smooth malty balance. Gritty hops from start to finish coat the mouth with an almost wood like flavor. Hops and malt duke it out on the tongue which creates a wonderfully balanced brew. Body is medium to full with a flowing caronation. A mostly smooth mouthfeel with the occasional hop sting. The 10% abv is very well hidden. Most beers with that high of an alcohol content are sippers, but I found myself taking some pretty big swigs with this one. TEN kicks some major ass, get your hands on this beauty for sure. I'm not sure what some age would do to this, but I'll defintely give it a shot.
Cheers to Ten Years Ithaca Beer Co.! Keep up the good work, I can't wait for what the future holds.
p.s. - they have this available for growler fills at the brewery ;)
★
1,966 characters
TEN from Ithaca Beer Company
4.03
out of
5
based on
240
ratings.