Flower Power India Pale Ale
| Ithaca Beer Company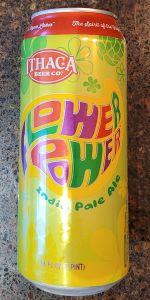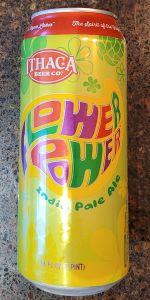 BEER INFO
Brewed by:
Ithaca Beer Company
New York
,
United States
ithacabeer.com
Style:
American IPA
Alcohol by volume (ABV):
7.20%
Availability:
Year-round
Notes / Commercial Description:
Enjoy the clover honey hue and tropical nose. Simultaneously punchy and soothing with a big body and a finish that boasts pineapple and grapefruit. Flower Power is hopped and dry-hopped five different times throughout the brewing and fermentation process.
Added by Todd on 09-17-2002
HISTOGRAM
Ratings: 5,354 | Reviews: 1,307
3.3
/5
rDev
-21.8%
look: 3.5 | smell: 3.5 | taste: 3.5 | feel: 2.5 | overall: 3
On tap at the brewery.
An excellent rendition of a more traditional, british IPA.
Appearance is a bright kettle-drum-hued orange, with a small white head.
Rather than knock you over the head with hops, this beer carries a light hop overtone through a thin ESB- like body, and finishes with an extremely dry hop end. Almost like dry hop petals are sitting on your tongue. What better way to resaturate them than to take another sip, eh?
Very drinkable, like many of IBC's products tend to be. The only complaint I have is that I'd like to see more of a malt profile...but seeing how this is a summer seasonal, I suppose you don't want a really heavy body.
This I think would be an excellent choice to convert a non-BA with, especially one who favors sweeter white wines.
785 characters
4.18
/5
rDev
-0.9%
look: 4.5 | smell: 4 | taste: 4 | feel: 4.5 | overall: 4.5
Presentation: 16oz. Shaker pint. Cost: $3. Also available in the Ithaca Brewing variety 12-Packs.
Appearance: Typical, lemony-yellow, cloudy IPA. Paler than most, but this is not a 9%+ ABV'er. Generated a loose, frothy, large-gauge white head that resolved down to a thin, patchy skim. Fine-grained carbonation.
Smell: Appropriately floral in character, with a resolutely, hoppy, herbaceous aroma. Very fresh-smelling, like a Spring day down at the Gorge.
Taste: For those of you die-hard hop-heads, this will seem pretty mild; but it is an excellent session IPA. The taste, like the aroma, is very floral, with definite hop notes balanced by a sweet fruitiness. Doesn't exhibit the strong, citrus characteristics of many IPA's. Has a very refreshing flavor profile. The draught version is meatier, with more complex herbal notes and a longer, fuller finish; although the bottled version is nice as well. Several people came up to me at the fraternity's Reunion cocktail party to specifically comment on how good the Flower Power was (it ran out first). One brother specifically came up to me and said, "Wow, this is a hoppy beer! I like it!"
Mouthfeel: Delightfully smooth, cool, and satisfying. Finely carbonated. Light-bodied. The bottled version is on the thin side, robbing it of some of its charm.
Drinkability: Frightfully drinkable. Somewhere between a pale ale and an IPA, this beer should have a very wide appeal to BA's and novices alike. Not very strong (either ABV or hoppiness), it is particularly enjoyable when fresh on draught.
This beer really surprised me. While impressed by Ithaca's Nut Brown and the Pale Ale, I didn't expect the Flower Power to be as complex and intriguing as it was. It really cries out to be made available year-round as their flagship brew. While not on the level of a Dreadnaught or HopDevil, it defines its own niche as a "mild" IPA, with a smooth, sweet character. Extremely inexpensive, this is a great Summer beer for quaffing in copious quantities. Flower Power is a beer that proves the aphorism that, "When in Rome…" Like the super-fresh, simple wines one might try in Italy or France, that never seem to travel well, Ithaca Flower Power IPA really shines, especially when fresh.
Bottom Line: If this had been available at The Chapter House (or even on tap in the house) when I was in college, I still wouldn't have graduated!
2,479 characters
3.86
/5
rDev
-8.5%
look: 4 | smell: 3 | taste: 4 | feel: 4 | overall: 4.5
Gold with a thinnish head that hangs on pretty good.
Like, wow, man, this is one mellow IPA! Not much in the way of aroma - this followed a HopDevil, so it had a helluva opening act to live up to, but still, very subdued for an American IPA. The hops are primarily in the flavor and bitterness - they add a pleasant but not overpowering floral/citric/spicy character to the toasty, slightly caramelly malt flavors. A lingering bittersweet flavor finishes it off. Because of the lack of full frontal citrus assault and medium body, you can drink a LOT of these. Not the first choice for a hophead by any mans; however, if your tastes lean toward a more restrained IPA, it's a fine choice.
690 characters
3.68
/5
rDev
-12.8%
look: 3.5 | smell: 3 | taste: 4 | feel: 3.5 | overall: 4
Pale gold, three quarter inch or so foamy white head. The aroma is a bit disappointing, lacking any hops. Flavor is good, though this is a relatively mild mannered IPA, in the English style. Light-moderate toasted malt provides the basis for this brew. Light leafy hops accent each taste without being over-the-top. Flower Power is best consumed with a clean palate, as it might be overwhelmed by following a hoppier beer. Good session brew or thirst quenching starter brew before moving on to something more substantial.
521 characters
Flower Power India Pale Ale from Ithaca Beer Company
Beer rating:
4.22
out of
5
with
5,354
ratings