Schorschbräu Schorschbock 20%
| Schorschbräu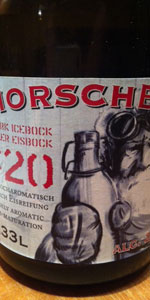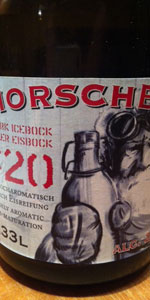 BEER INFO
Brewed by:
Schorschbräu
Germany
schorschbraeu.de
Style:
Eisbock
Alcohol by volume (ABV):
20.00%
Availability:
Limited (brewed once)
Notes / Commercial Description:
No notes at this time.
Added by mattsander on 07-24-2012
This beer is retired; no longer brewed.
HISTOGRAM
Ratings: 15 | Reviews: 6
3.04
/5
rDev
-22.8%
look: 2.5 | smell: 2.75 | taste: 3.25 | feel: 3.25 | overall: 3

3.25
/5
rDev
-17.5%
look: 3.25 | smell: 3.25 | taste: 3.25 | feel: 3.25 | overall: 3.25


3.74
/5
rDev
-5.1%
look: 3.75 | smell: 3.5 | taste: 3.75 | feel: 3.75 | overall: 4
The thing that struck me about this beer was not the alcohol, but the party and smoky flavor. The alcohol wasn't as prevalent as you would expect and almost no carbonation at 20%. Cool to try. Would like to try the 41%er.
221 characters
3.75
/5
rDev
-4.8%
look: 3.75 | smell: 3.75 | taste: 3.75 | feel: 3.75 | overall: 3.75

3.85
/5
rDev
-2.3%
look: 4 | smell: 4 | taste: 3.5 | feel: 4.5 | overall: 4
330ml waxed swinging pop top stubby poured into tulip 24/7/12
A dark, dark brown with just a vanishing act thin dark film that leaves no lace, legs on a beer are pretty neat, there's bubbles popping off the laser engraving on the bottom of my Duvel tulip so I know shes not flat
S nutty chocolate, molasses is strong, dark toffee, and there's booze for sure but nowhere near what I was expecting, dark fruits and some bruised banana linger, smells a little sweet and its just on the deep whiffs the booze hits the nostrils
T some soy and teriyaki on top of what I smell, booze is more noticeable but still in check all things considered
M very thick and syrupy, there's more bubbles then I expected but that still not much, heat but I'd never guess 20% or even 15% for that matter, my lips are stuck together now
O pretty good stuff and quite different, BIG for sure and the booze is in check too an extant, with good smell and decent taste it's not what I expected from a 20%er
my new strongest beer and its a pretty good one, I was surprised by this one as the 13% bock from these guys may have had as much as a booze presence as this monster. I'm going to throw one under the stairs as soon as I get paid and forget about it for a decade or so.
1,255 characters
3.89
/5
rDev
-1.3%
look: 3.5 | smell: 3.75 | taste: 4 | feel: 3.75 | overall: 4
330ml, thick red wax capped swing-top squat bottle. Nice grizzled Arctic explorer imagery on the label, though I have to wonder at the specificity of the term "ice-maturation". Also, could this name have any more 'Schorsch' instances in it? Just askin'.
This beer pours a hazy, deep dark chestnut brown colour, with prominent cola highlights, and one finger of fizzy, very loose brown head, which leaves nothing in the way of lace around the glass as it quickly wisps away.
It smells of dense, somewhat astringent molasses, greasy, oily nuts, some hard to define, soy-like essences, chocolate liqueur, dark, musty, besotted fruit, bready caramel malt, and random twinges of iceberg vodka. The taste is a very large molasses-laden caramel/toffee malt, thick Edo Japan sauce umami, black, drinking-since-noon fruit, smouldering cigar leaf, well-worn leather, some niggling chipotle spice, and an actual tame, relatively speaking, booze warming, seeing how it has been so well spread out thus far.
The carbonation is actually perceptible on the low end, but that's about it, the body a veritable heavy weight, the viscous malt, fruit, and booze notes teaming up in an inhuman triumvirate of strength, with very little in the way of smoothness by the very same measure - living by the sword, and all that. It finishes quite sweet, with a metallic alcohol note on the rise, in the face of a sugary dark fruitiness, dazed grainy malt, and lingering muted smoke.
For what this is, it's actually drinkable, if the drinks are small sips, that is. Acclimatization is definitely in order for this behemoth of a 'brew', but once attained, the fairly complex, meaty flavour is really ready to shine. Thick, heady, and pungent - this is the beer equivalent of those pepper-extract dosed hot sauces - you know at first contact that things here are being played on a whole new, elevated level, and caution is the word, if you wish to continue enjoying the product in question.
1,964 characters

3.92
/5
rDev
-0.5%
look: 3.5 | smell: 4 | taste: 4 | feel: 3.5 | overall: 4
Rich, malty and sweet. Huge and boozy. Tons of candied sugar and cherries. Strangely medium bodied for a monster.
113 characters

4
/5
rDev
+1.5%
look: 4 | smell: 4 | taste: 4 | feel: 4 | overall: 4
Looks like cola, dark brown, no head. Aroma has dried fruits and some brown sugar. Taste leans slightly towards the sweet side with dark fruits and sherry notes. Finish is more bitter but overall really well balanced. Boozy, well carbonated, light bodied and dry. Overall it's quite nice for such a high ABV.
308 characters

4.03
/5
rDev
+2.3%
look: 4.5 | smell: 4 | taste: 4 | feel: 4 | overall: 4
A: Deep chestnut brown, very syrupy. Tints the glass brown, has legs like port. Beautiful 'beer' to look at.
S: An absolute wall of sweet sticky malt, toffee, leather, pepper, smoke, cigars. Huge to say the least, probably one of the bolder smelling things I've had in a glass.
T: Profoundly sweet, but with some beautiful flavor underneath. The smoky finish makes it feel crisp somehow. Tons of booze warmth but not much booze flavor.
M: Was nearly dead flat by the time I finished it (1/4 of the bottle took me 2 hours). Very sticky, very smooth, just gigantic all around.
I'd buy another one of these and save it for a few decades. Was tastier than expected but definitely open it with friends.
711 characters
4.07
/5
rDev
+3.3%
look: 4.75 | smell: 4.5 | taste: 4 | feel: 3 | overall: 4
Pours a deep, viscous dark brown which fades to black as your gaze shifts from the edges to the center of the glass. No head; strong legs of alcohol. Viscosity of hot syrup.
Smells is caramel, chocolate, malt, toffee, wet wood, faint smoke. Reminds me a bit of Gulden Draak.
Taste is a dance of sweet vs. the muted bitter alcohol bite. For 20% this is surprisingly mild; the strong flavors and alcohol are matched and well balanced.
Mouthfeel is viscous, rich, deep, and syrupy. It's a bit too syrupy and sweet to my taste.
Finish lingers. Stickiness, syrup, sweetness, and caramel linger for some time.
Overall a very enjoyable brew. It might be perfect for a cold winter day spend indoors by a fireplace.
711 characters

4.2
/5
rDev
+6.6%
look: 3.75 | smell: 4.25 | taste: 4.25 | feel: 4 | overall: 4.25

4.34
/5
rDev
+10.2%
look: 4 | smell: 4.25 | taste: 4.5 | feel: 4.25 | overall: 4.25
4.59
/5
rDev
+16.5%
look: 4.25 | smell: 4.5 | taste: 4.75 | feel: 4.5 | overall: 4.5

5
/5
rDev
+26.9%
look: 5 | smell: 5 | taste: 5 | feel: 5 | overall: 5
Super creamy! Phenomenal!
25 characters
Schorschbräu Schorschbock 20% from Schorschbräu
Beer rating:
3.94
out of
5
with
15
ratings