Brewer's Reserve Irish Red Ale
| Central Waters Brewing Co.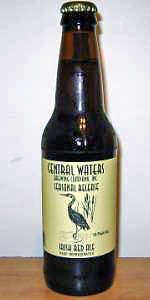 BEER INFO
Brewed by:
Central Waters Brewing Co.
Wisconsin
,
United States
centralwaters.com
Style:
Irish Red Ale
Alcohol by volume (ABV):
not listed
Availability:
Spring
Notes / Commercial Description:
No notes at this time.
Added by brewdlyhooked13 on 03-12-2004
This beer is retired; no longer brewed.
Ratings: 8 | Reviews: 8
Reviews by Skidz:
4.5
/5
rDev
+19.7%
look: 4.5 | smell: 4.5 | taste: 4.5 | feel: 4.5 | overall: 4.5
Straight from Junction City this beer host the cream colored, "Brewer's Reserve" label, only used for limited edition beers.
Pours out a copper colored orange that sits as a murky orange-brown in the glass. Beautiful white, fluffy head with great looking lacings on the side. This is most definately an attractive brew. The look reminds me a lot of New Glarus beers, with the murky look, like you added a pinch of corn starch it, to thicken it up.
To the nose I can pick out some nuttiness along with some mild caramel malts and a beatiful nose filled with hops from here to high heaven. Tastes pretty much along the lines of the smell of it. It's quite flowery, with a nice mild sweetness to it that finishes with a bitterness that is very refreshing. This beer is smooth, well-balanced and extremely refreshing.
Medium body, fills your mouth with tons of flavor and packs quite a punch. Rediculously easy to drink, buying by the case seems like an option, considering its limited availability. It would be my request for this beer to become a regular from CWBC. Surpasses the Ouisconsin Red in all categories.
If you can get it, buy it, drink it, then go buy more! I'm definately going back for more.
1,214 characters
More User Reviews:
4.1
/5
rDev
+9%
look: 4 | smell: 4 | taste: 4 | feel: 4 | overall: 4.5
Pours crystal clear, a twilight scarlet shade of golden, with a narrow off-white head fed with trickling bubbles.
Toasted bread nose, glinted with slivers of butterscotch, and braced with a hop note, congruent in its grass and floral expressions.
Begins with a wet breadiness, though it dries promptly with a crust notions, and a mixed-bag nuttiness, heavy on brazils and pecans. Not sweet, or at least not really, but caramel is noted. Clean through the middle, in fact, nearly lager-like. Ends with a well-stated, even grassy bitterness.
It flows so slickly down the tubs that even its modest heft is negated. Quaffable is an understatement. Water flows no faster.
This isn't the biggest, brashest, or most memorable, even by Irish Red Ale standards. Great Lake's Conway's has a leg up on it, but few others can stake that claim.
836 characters
3.58
/5
rDev
-4.8%
look: 4 | smell: 3.5 | taste: 3.5 | feel: 4 | overall: 3.5
Poured from a 12 oz bottle to a pint glass, the liquid was a true to style clear red, with good carbonation. The head was white, about 2 fingers and left nice lace.
The smell was quite light, just a whisper of malty activity going on.
The taste was not bad but had no notable characteristics out side of the usual for this style. Mild hops and a slightly sweet malt body.
The mouthfeel was of medium body and the carbonation was good.
The drinkability is ok, not a good style for me, but drinkable all the same. MK
518 characters
4.2
/5
rDev
+11.7%
look: 4 | smell: 4 | taste: 4 | feel: 4 | overall: 5
Appearance is a nice almost clear amber color with a good two finger head on the pour. Minimal lacing. Smell is scrumptious - lots of malt in the form of an earthy sweet bread smell. The taste is at first full of that nice malty bread again with a nuttiness and mild toastiness well. Mildly sweet as well. Bitterness is there but kept in check. It has the perfect amount of body for a Red Ale and it goes down as smoothly as anything I've had
442 characters

3.31
/5
rDev
-12%
look: 4 | smell: 3 | taste: 3.5 | feel: 3.5 | overall: 3
Appearance - a hazy dulled orange, lots of foam on the pour that quickly falls back, leaving lace fragments all around. Quite a lot of beading keeps the top at a thinned but full cover.
Aroma - starts out with some major butterscotch aroma and as it settles that backs off considerably, blending with light roasted grain. Gets a little non-descript after setup, but there's still a trace there.
Taste - nice biscuity grain foundation. Some tasty caramel and some grain roastiness there. A bit of a salty, palate-clearing thing at mid-mouth, followed by some diacetyl and some very late dry tartness. A busy red with some good parts but I find the salty element to be a distraction.
Mouthfeel - moderately smooth, plenty of crispness, average to slightly thin body.
Drinkability - not exactly my thing but I could drink another. Thanks to thefatkid13 for the trade!
876 characters

2.71
/5
rDev
-27.9%
look: 4 | smell: 3 | taste: 2.5 | feel: 2.5 | overall: 2.5
A signature red ale from the appearance aspect. Brooding orange/mahagony with ruby light interactions. Head is thick and tightly wound with great retention, color is yellow. Thick cascading lace sticks around forever.
Malty floral earth driven aromas. Herbal spiceyness with thick stone fruit aromas that are difficult to pinpoint.
Lacking a mid palate and depth. Violet with bramble spice on the finish. Watery and thin. Hints of melon and herb. Not sure I would drink many of these as I've tried many better options.
525 characters

4.15
/5
rDev
+10.4%
look: 4 | smell: 4 | taste: 4 | feel: 4.5 | overall: 4.5
Poured into pint from a nitro tap this brew has a wonderful amber burnt red color with a wonderful off white head with a great head with thick lacing. This brew has smells of great malts with a balance of floral hops. The atmosphere at the brewery adds to the flavor. The taste is wonderfully smooth with a great balance of oak flavored malt and a hint of cherry. The after taste has some balance of hops and a finish of creamy texture. This is a great brew that I wouldn't have tried if not at the brewery.
507 characters
3.5
/5
rDev
-6.9%
look: 3.5 | smell: 3.5 | taste: 3.5 | feel: 3.5 | overall: 3.5
Thanks to the fatkid13 for this beer.
A: Muted paprika color with a good amount of haze. A cornucopia of bubbles form from the sides of the glass and file up to the surface where a decent head of really light colored foam meets them.
S: Grapenuts, apple, copper and cooked carrots.
T: Begins quite biscuity which leads to a sour streak along the sides of the tongue. A lot of red apple, peanuts, watermelon and some caramel. Finishes with a buttery flavor that last for only moments before the metallic flavors take over. Finishes lip smacking sour.
M: Medium body with an average mouthfeel.
D: Not bad. Fairly simple and surprisingly sour (which always makes me wonder if it went bad).
701 characters
Brewer's Reserve Irish Red Ale from Central Waters Brewing Co.
3.76
out of
5
based on
8
ratings.