Satin Solitude Imperial Stout
| Central Waters Brewing Co.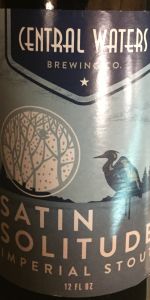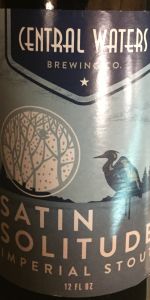 BEER INFO
Brewed by:
Central Waters Brewing Co.
Wisconsin
,
United States
centralwaters.com
Style:
American Double / Imperial Stout
Alcohol by volume (ABV):
7.50%
Availability:
Year-round
Notes / Commercial Description:
No notes at this time.
Added by Bierman9 on 02-19-2002
HISTOGRAM
Ratings: 1,012 | Reviews: 417

3.63
/5
rDev
-5.7%
look: 4.5 | smell: 4 | taste: 3 | feel: 4 | overall: 4
This poured out as a thick, dark head above a beautiful deep, ruby-red liquid. The nose is very much of chocolate malt. I experienced a very pleasant, creamy mouthfeel. The problem that I had with the mouthfeel was that it was nowhere near as hot as what I would expect from am imerial stout. It is actually mush closer to a very good stout, period. The finish is a nice combination of bittersweet chocolate and charcoal. Again, just what I am looking for in a stout, but not an imperial.
Happy New Beer Sunday x 3!
517 characters
3.2
/5
rDev
-16.9%
look: 3 | smell: 3 | taste: 3.5 | feel: 3 | overall: 3
Light brown pour...Imperial stout??
Nose is noce - cherries - dried nuts, roast and alcohol.
ENtry starts watery (!) and then turns alcoholic - some of the cherries and nuts evident in nose come through.
Finsih is firey alcohol.
None of the complexity and all of the alcohol I expect from style. A good buzz beer...but lacking in flavor.
341 characters
4.52
/5
rDev
+17.4%
look: 4.5 | smell: 5 | taste: 4.5 | feel: 4.5 | overall: 4
12 oz bottle courtesy of garymuchow.
Pours pitch black with a very nice, thick, tan head. Collar is also nice and the carbonation seems adequate.
Smell is sweet, fruity and roasty like an Imperial stout should be. Massive hints of caramel, biscuits and chocolate as well.
Taste is very much like the smell, sweet, malty, and just a little bit of hop bitterness to balance it all out. While this might not be the biggest IS I've had, the alcohol kick is still there, but does nothing but add to this beer.
Overall, I would say that this is a fine example of the style. The mouthfeel is good, the taste is great, and I could have this one again were I able to find it
669 characters

4.39
/5
rDev
+14%
look: 4 | smell: 5 | taste: 4 | feel: 4.5 | overall: 4.5
What a nice find. Appearance is fine, but nothing amazing. Possibly a little less dense than I would like in an imperial stout, but nothing else worth griping-over.
The aroma on this beer is perfect. Absolutely no off smells and wonderfully balanced. As one would expect in an imperial, it has the requisite dark and roasted malt smells, but delightful hints of chocolate and raisins add to the aromatic complexity. I could sit and smell this for hours.
Taste surprisingly does not hold-up as well as the aroma, which is its only flaw. I would love to taste exactly what I smell in this beer, but alas it does not happen. The flavors that appear are terrifically balanced, if not slightly hot from the high alcohol content. A slight hit of bitterness on the finish rounds everything off. Raisin and dark pitted fruit flavors seem to appear a little more in the flavor than the aroma, which is also welcome.
Mouthfeel is nice too. It coats the palate well and has no major flaws.
Excellent and extremely drinkable beer for those who enjoy stouts.
1,059 characters
4.05
/5
rDev
+5.2%
look: 4 | smell: 4 | taste: 4 | feel: 4.5 | overall: 4
12oz bottle obtained via trade with Skidz. Thanks for the opportunity...
Poured into an imperial pint glass, formed 1/4" of medium brown head over the opaque dark, dark brown brew. Head retention is minimal, laces okay. Aroma is of coffee and chocolate malts. Taste is similar to the nose, but the roasted coffee turns it up a notch, I'm thinking black, auto-repair shop black. Somehow, though, the smoothness (maybe from the chocolate working the other end of the spectrum) makes the mouthfeel pretty good. Drinkability is high, and the abv is hidden, as far as my palate can discern. A nice imperial, but just doesn't seem imperial enough, maybe just distantly royal or something.
685 characters

4.1
/5
rDev
+6.5%
look: 4.5 | smell: 4.5 | taste: 4 | feel: 3.5 | overall: 4
wow is all I can say. This brewery is very close to where I grew up and never even heard a peep about it until once about 6 months ago visiting a bar back in Wausau. Went to a bar that had it on tap but they had just ran out. Later heard of its greatness and determined I had to try it. Drove 30 minutes to Waukesha to get it and was well worth the drive.
This beer appears thick and black like you would expect most imperials to. Smells of burnt malts and coffee. Tastes are all over the place with this one. Coffee dominates with a nice burnt characteristic, and some bitterness to follow. There is a nice sweetness that balances this out nicely. One of the best imperials to grace my lips
694 characters
3.15
/5
rDev
-18.2%
look: 4 | smell: 4 | taste: 2.5 | feel: 4.5 | overall: 2.5
Pours out a smooth brown brown, finishing jet black with a nice creamy tan head that stands 1 finger tall with nice lacing to boot. Fades as you work youre way down leaving a ring around the side of the glass.
Smells of heavily roasted grains and coffee with sweet chocolate undertones. Tastes strongly of burnt toast and grain, with coffee poking its way through. A bit of sourness makes its way through, mixed together with coffe, its like adding a twist of lemon to your your double expresso. Ends with a nice bitterness, but not without the burnt grains coming back again. The alcohol is pretty easy to taste as it slides across the back of your tongue.
What this beer lacks in taste, it makes up for in mouthfeel. Very smooth and creamy with a nice full body. Not the best beer from CWBC, but it is worth a try. I'm not impressed with the taste, as most people seem to be, I think it's lacking the complexity that a stout should have. If anything, the 7.5%ABV will help you along.
991 characters
4.45
/5
rDev
+15.6%
look: 4 | smell: 4 | taste: 4.5 | feel: 4.5 | overall: 5
Appearance: Pours a deep dark brown color with a good sized tan head. Leaves a little bit of lace on the glass
Smell: Wiffs of roasted malts and coffee.
Taste: Roasted malt flavor bursts into your mouth followed by a coffee bitterness at the end. A very nice tasting stout.
Mouthfeel: It's lighter than you would expect when you initially look at it and for the ammount of alcohol in here I would expect a thicker beer.
Drinkability: It goes down very easily and leaves you wanting more with every sip a great brew!
528 characters
4
/5
rDev
+3.9%
look: 4 | smell: 4 | taste: 4 | feel: 4 | overall: 4
Satin Solstice pours a deep, dark, opaque brown color, topped by a mocha hued, fine layer of bubbles, and leaves some splotches of lace here and there. Good mouthfeel consisted of a body at about the medium to medium-plus level, with a comfortable smoothness on the tongue. The nose was comprised of some burnt, coffee-like notes, with a decent splash of hoppiness keeping things lively. Taste consisted of roasted, burnt coffee (as in the aroma) along with dark fruit and some earthy hoppiness. Finish is a bit dry, and the dark fruit flavors linger along with a mild bitterness. A tasty Midwest offering, with thnx to Jeffboo for the sample! Zum Wohl!!!
overall: 4
appearance: 4 | smell: 4 | taste: 4 | mouthfeel: 4 | drinkability: 4
653
741 characters
4.3
/5
rDev
+11.7%
look: 4 | smell: 4 | taste: 4.5 | feel: 4 | overall: 4.5
This beer is not black (which is how I prefer my Imperials),. but rather a dark shade of burgandy topped with a creamy brown head that has nice retention and good lacing characteristics. A nice looking Imperial nonetheless. A very nice roasty nose with some faint sweet malt in the background. The taste of this Imperial is very pleasant, but doesn't knock my socks of the way some top notch Imperials do. There are nice shades of roasted malt, chocolate, anise, burnt malt, dark fruits and licorice. Their is a nice bitterness lingering, but I just wish it were Bigger. The body seems to be in the medium to full range. My conclusion on this beer is that it is very solid but to make it exceptional, I'd pefer a little less of the sweet fruits/ dark fruits and a little more of the burnt/bitter qualities.
A grateful thanks goes out to cokes for nabbing me some of this tasty Imperial Stout from my Homeland.
922 characters
4.13
/5
rDev
+7.3%
look: 4.5 | smell: 4 | taste: 4 | feel: 4 | overall: 4.5
Update 10/06
I just enjoyed a bottle I'd been sitting on for a t least 2 years. I still enjoyed this beer, but I do need to adjust the scores down a bit. With time it seems the beer didn't change much, unless the loss of roast flavors is the result. This time it seemed quite sweet with the same soy sauce quality. Still smooth, but not quite as thick as I remember.
"I may not know good art, but I know what I like." I suppose the same might be said for me reviewing this Imperial. The aroma has wonderful complexities, including dark roasted malt, and a quality of soy sauce, which may sound weird, but is really quite nice. The head is thin and tan in color. The color is black, but with garnet color when held to the light. It's also clear. The taste is very satisfying overall, having a richness without being sweet or syrupy. Again nice complexity in the taste with the movement of the drink from front to back providing ever enjoyable flavors. Mostly the roasted malt comes through with aspects of coffee and again the soy sauce flavor. The body is medium with the carbonation noticeable. The whole mouth experiences the drink with the teeth even feeling coated. The finish has some slight dryness that's not excessive but lingers nicely for awhile. The alcohol isn't that noticable in the flavor, but the impact will be felt.
1,337 characters
4.3
/5
rDev
+11.7%
look: 4 | smell: 4 | taste: 4.5 | feel: 4 | overall: 4.5
The first beer I have tried from Central Waters, and it is most certainly a winner. Typical stout profile, black/deep ruby in color. Head sticks around for a while. This is sort of a "fringe" Imperial, not quite as strong or robust as many others, seems more like a big-time coffee stout. Some minor burnt prune qualities are located upon close examination. However, there is no denying the taste. Like iced expresso, creamy and delightful.
Warming and temping. Ends hoppy with light pine cone notes. The bitterness is larger than the associated flavor and seems a natural continuation of the charred, roastiness.
ABV is 7.5%, so putting down a couple of these is not a big problem. And trust me, you will want to. Grab some if you can find it.
This is a great stout, but not really a great imperial. I am still giving it some bonus points because I like it so much.
873 characters
Satin Solitude Imperial Stout from Central Waters Brewing Co.
Beer rating:
3.85
out of
5
with
1,012
ratings